Are you wondering what CIBC Costo MasterCard will be? In case you are searching for information on this then this article has everything for you. CIBC will now be the replacement issuer following the announcement that Capital One and Costco's agreement had ended. However, the primary thing will always remain the same when it comes to utilizing the card that is to activate CIBC Costo Mastercard. You will find the process to activate the Mastercard in this post as well. Let's begin with what features it offers first, then we will jump to the process. Your new CIBC Costco Mastercard differs slightly from your Capital One card in a few ways.
Features of CIBC Costo Mastercard
Let's begin with the pointers-
Given that the card is targeted mainly at the typical customer, the travel benefits are somewhat limited. The card's $1,000 in mobile device insurance is its most notable feature. Although this kind of coverage is being offered by credit cards in Canada, it is still rather uncommon on no-fee cards. While you continue to enjoy the advantages of insurance, you won't need to worry about ongoing annual fees.
Additionally, the card offers purchase protection against accidental damage or theft for 90 days and an extended warranty, which is more common on most credit cards and doubles the manufacturer's warranty up to an additional year.
Members will be able to use the CIBC Costco Mastercard as their Costco membership card, just like they could with the old Capital One card. That ought to make it easier to manage a large number of credit cards while keeping your wallet thin.
Other than that, the card doesn't offer any intriguing advantages. Although many CIBC cards come with CIBC Pace It, a low-interest payment plan for your purchases, you won't benefit from it if you pay your monthly account in full.
In addition, a CIBC Costco World Mastercard will be available. There aren't many details yet, but it appears that the only innovative features will be the normal Mastercard World tier advantages. In essence, I'm expecting a Tangerine scenario, where the two products are nearly identical, with the exception of a financial obligation in exchange for a minor improvement.
Earn exclusive rewards with our Shop Your Way Card guide
Rewards of CIBC Costo Mastercard
There will still be no yearly fee for primary or secondary cardholders of the CIBC Costco Mastercard. Additionally, there is no sign-up bonus, so if you purchase this card, it will just be for daily earning and cardholder advantages.
Additionally, it will keep receiving cash-back bonuses. The rates you'll receive on regular spending are as follows-
Restaurants offer 3% cash back.
For up to $5,000 in annual gas purchases, Costco Gas offers a 3 percent cash back, whereas other gas stations provide a 2 percent cash back.
Only online purchases at Costco.ca can earn you 2% cash back on up to $8,000 in annual spending.
On all other purchases, including those made in-store at Costco warehouses, you'll get 1% cashback.
With some noticeable enhancements, these are comparable to the previous prizes. Until you reach the yearly cap, 3 percent cash back on gas is exceptionally high for a no-fee credit card and for a Mastercard.
Previously, the Capital One card offered dismal insults to devoted Costco customers who could actually earn great rewards there by using a rival Mastercard. It only offered 0.5 percent cash back on the first $3,000 spent annually. You can now immediately earn 1% cash back at Costco or 2% online. It's unfortunate that Costco warehouses don't also provide the 2% rate. Fortunately, you may still make significant purchases online for greater savings and to take advantage of Costco's low prices and long warranties. If the card could accrue Aventura points, that would have made CIBC's acquisition more intriguing, so I was interested to know. However, given that they are taking on a new audience.
As before, you'll get your cash back as a Costco gift card once a year in January. Although this is another chance lost by CIBC to make rewards more accessible to customers, it will not be a major inconvenience for frequent Costco customers.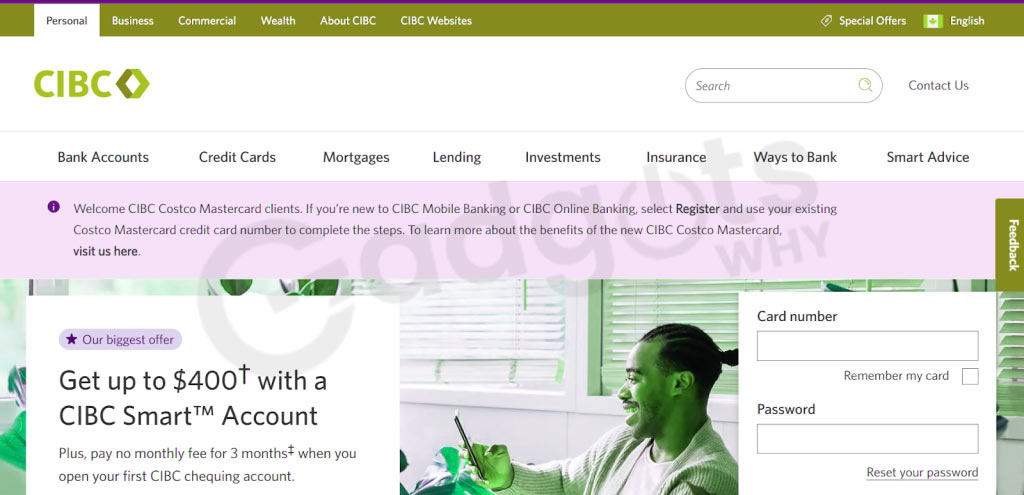 How can you activate CIBS Costo Mastercard?
Your new credit card can be activated using CIBC Online or Mobile Banking. To activate, just choose Activate Card from the main navigation menu in CIBC Mobile Banking or the Credit section of My Accounts in CIBC Online Banking.
Cards are not active until you activate them for your security. This will stop unlawful usage of the card before it gets to you.
Any CIBC credit card can be activated using online or mobile banking. The account's cardholders must each activate their individual cards. After successfully completing the activation steps, your card becomes immediately active and usable. If your credit card information has changed, be sure to notify any businesses that have your card on file for pre-authorized payments and sign the back of your new card.
Remember to destroy your old card after activating your new one to protect your account. Pre-authorized payments won't stop because your card number and expiration date won't change.
However, your replacement card will have the same number but a different expiration date if your current one expires within nine months after requesting a placement. In this situation, you must change the expiration date on your pre-authorized payments. Only the principal cardholder is affected by this.
Also Read: Log in to Netspend account
The registration process for CIBC Costo Mastercard
If you're a new customer of CIBC, you can view your credit card information, such as transactions or payments, by signing up for CIBC Mobile or Online Banking using your current Capital One Costco Mastercard 16-digit card number. These simple steps will let you register-
Visit CIBC.com or download and launch the CIBC Mobile Banking App.
Choose "register."
Select "Continue with registration" under "New to CIBC?"
Enter the card number, expiration date, and the main phone number Capital One had on file for your current credit card. Please call the customer support number shown on the back of your existing card if you are having trouble registering.
Click "next" and adhere to the instructions on the screen.
Insurance coverage of the CIBC Costo Mastercard
Given that this card is designed for frequent Costco shoppers rather than frequent travelers, the insurance features on the CIBC Costco Mastercard are very restricted. Mobile Device Insurance, which provides $1,000 in coverage per event, is the most significant insurance inclusion. This protection is highly uncommon on no-fee credit cards and is relatively new to credit cards in general.
The only other no-fee card that offers this insurance is the Brim Mastercard, which unlike the CIBC Costco Mastercard has a deductible and a far less generous payout policy that is subject to depreciation. CIBC itself does not offer this insurance on any of its other no-fee cards. Common Carrier Accident insurance, which covers you up to $100,000 in the event of an unforeseeable accident on board regularly scheduled transportation and physical injury, is the only type of travel insurance available with the card.
Additionally, it provides purchase protection and an extended warranty that doubles the manufacturer's standard warranty by up to an additional year (against accidental damage or theft within 90 days).
Check out our guide to Activate Aspire Credit Card
Frequently Asked Questions:
How can you pay with a credit card?
There are several different methods you can pay off your credit card.

Call CIBC Credit Card Services at 1-800-465-4653 to set up pre-authorized payments on your credit card account. Use the number 514-861-4653 if you're phoning from outside of North America. They accept collect calls. On weekdays from 7:00 am to 12:00 am ET and on weekends from 7:00 am to 10:00 pm ET, they are available to assist.

You can also transfer money from your CIBC bank account to your CIBC credit card by logging into CIBC Online Banking. To transfer money, your CIBC credit card must be connected to your debit card. Look for a "Link Account" option next to your credit card on the "My Accounts" tab to make sure it is currently connected to your debit card.

Another option is to use CIBC Online Banking while logged into your CIBC bank account to add your credit card as a payee-

From the navigation, choose "Pay Bills."
Then click "Add or Edit Payees."
Select "Search" after entering the payee's name in the text field.
The payee's name should be chosen from the search results.
Select "Next" after entering your credit card information in the "Payee Account Number" box.
Select "Add Payee" after you have checked the payee information.


By selecting "Add Payee" once more, you will be prompted to confirm the payee you wish to add. Additionally, a one-time verification code will be required of you. You will get a confirmation that your request has been submitted once this step is finished. A total of 99 payees may be present at once.

What happens when I try to sign up for CIBC digital banking but the verification code supplied to my phone number doesn't work?
You should wait at least 10 minutes before requesting another code because it could take up to 10 minutes to obtain the code. The 6-digit verification code can be found in the body of the most recent text message that was delivered, so please open it when you receive it.

Calling the customer support number on the back of your current card and providing an updated phone number can allow you to update your account if you still haven't received the code or it doesn't work.

Why does the registration process for CIBC Mobile or Online Banking result in an error message?
0001: Error message

This error indicates when an unforeseen connectivity problem occurred. Please try again in a few minutes to register or log in.

The 0003 error message

This error indicates when your mobile banking session expired as a result of inactivity for your security. You'll have to log in once more. Please occasionally click on the page to let them know you're still there in order to avoid this problem in the future.


0008 message

When you enter your card number, expiration date, or phone number wrong, the error message 0008 appears. For the purpose of signing up for CIBC digital banking, use the same primary phone number that Capital One had on file for you. Make sure you have the right information because you can get locked after several unsuccessful tries.

You can check the option to view your password and reset it if you have password problems. Use the phone number you previously had on file for password reset verification if you have a CIBC Costco Mastercard.

How can I get access to my prior statements, which were sent out up until and including March 4?
On the CIBC Mobile Banking App or CIBC Online Banking, you can access up to six months' worth of prior transactions.

Follow one of these easy methods to get your past Costco Mastercard statements that were sent up until and including March 4:

Through CIBC Online Banking, submit a request.

Opens a fresh window
Go to CIBC Online Banking and log in.
Go to the My Accounts tab after logging in.
On the left-hand side of the page, in the sidebar, select View eStatements.
Verify that you have chosen your Costco Mastercard account from the dropdown menu.
You'll find a box with instructions on how to get previous Costco Mastercard statements below your account number. Select the Request Submission link.
Once there, you can fill out a form to seek access to earlier Costco Mastercard statements that were issued up to and including March 4.
Click Submit after completing the form.

Call the customer support number listed on the back of your credit card to submit a request.
Remember that it may take up to 30 days to obtain your prior statements whether requesting them via CIBC Online Banking or by phoning the customer care line.