If you are here then you must be finding the answer to the question, How to activate a Green dot prepaid card? You will surely find the process of activation in this article, along with this you will be getting more important information as well. In case you have not purchased the green dot card and thinking about purchasing a Green Dot prepaid card then continue reading this article till the end. Prepaid cards, which function similarly to standard debit cards but aren't connected to a bank account, maybe a useful money-management tool for those who need assistance adhering to a budget or want to prevent going into debt with credit cards. The numerous unbanked or underbanked people who have little access to traditional financial institutions can also benefit greatly from them.
One of the biggest sellers of prepaid debit cards in the US is Green Dot. Since then, the fintech business has grown to offer payment processing and other services to household names like Apple, Walmart, Intuit, Uber Technologies, and Amazon. Well, that must be enough as an introduction, let's now see the process to activate the Green dot prepaid card.
Let's Register/ Activate the Green dot prepaid card
Go to the website GreenDot.com/activate or if you are using the app then you can tap on the option REGISTER/ ACTIVATE NOW in the app itself. 
You can also do this process by calling on the number (866) 795-7605.
You will be required to enter some information which includes, your name, address, date of birth, 16-digit card number, expiration date, 3-digit security code, and phone number.
That's it. You are done and now be able to utilize your card.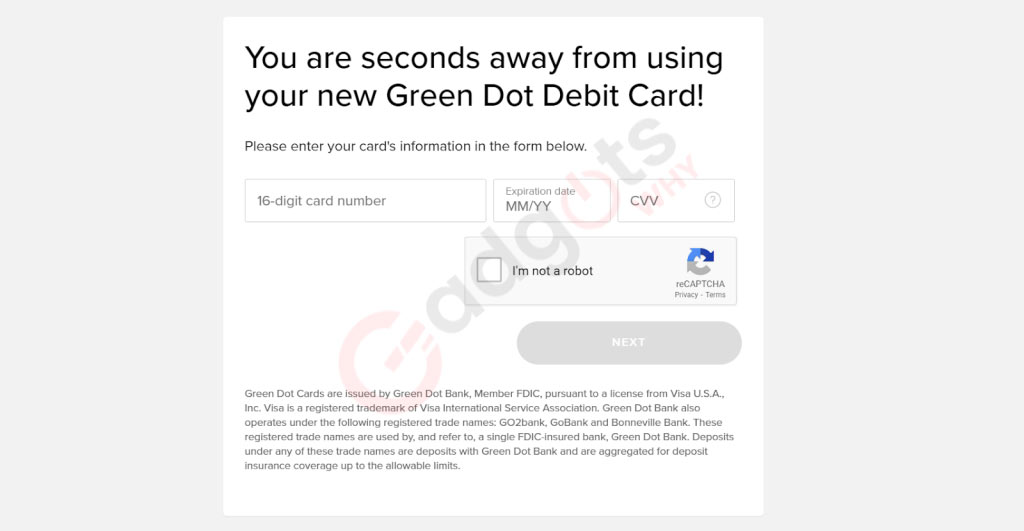 Why should you register/ activate the Green Dot prepaid card?
Your name is not customized on the shop card you bought, nor is your address linked to the account; it is only a temporary card. A new card requires web access, a cellphone number, and identity verification, including SSN, in order to establish an account and use all services when you successfully register your card. For some functionality, an active, customized card is necessary. You may use your debit card to deposit checks, pay bills, transfer money to another bank account, and more once you activate it.
How do prepaid Green Dot cards function?
As was already said, Green Dot cards work like debit cards without the need for an active bank account. In other words, among other things, a prepaid Green Dot card enables you to pay bills, make purchases online, and withdraw cash from ATMs, and cash checks.
You can get some of the same advantages of a traditional bank card with Green Dot's mobile app, including direct deposit, money transfers, lock/unlock protection, configurable account notifications, tap-and-go payments (where available), and compatibility with mobile wallets.
Your spending limit on a Green Dot card is limited to the amount of money you preloaded it with because you aren't using it to obtain a line of credit or draw money from a bank account. You cannot make any further purchases after it has been used up until your balance has been restored. One of the major benefits of prepaid cards is the built-in spending restriction since it automatically stops you from accruing overdraft penalties or building up credit card debt.
Thanks to a Consumer Financial Protection Bureau rule implemented in April 2019, once registered, your Green Dot card comes with federal deposit insurance through the issuing bank (in this case, Green Dot Bank), as well as security against loss, theft, and fraud.
Adding money to a Green Dot card
A Green Dot card may be topped up in six different ways. Prior to setting up free direct deposit with your employer, transferring money from other bank accounts, depositing cash at participating stores, and cashing checks using the mobile app, you must first make an initial deposit (between $20 and $500) at the time of purchase. When you enroll in direct deposit, one significant benefit of having a Green Dot card is that your paycheck will arrive up to two days sooner than it would with a paper check. (Prepaid cards, especially those from Netspend, frequently offer this perk.) Additionally, up to four days sooner than normal, several government benefits, including federal tax refunds, Social Security income, and unemployment payments, may also deposit into your Green Dot account.
In other circumstances, the amount of money available varies depending on the kind of deposit and the time it is received. For instance, monies from a mobile check deposit can be accessed up to five business days after being reported to Green Dot, in contrast to cash deposits made at participating businesses, which are typically available within 10 minutes of being reported to Green Dot.