If you have received a new speed talk sim card and are planning to activate it, then in this blog we will walk through the method to activate the Speedtalk sim card. Obtaining a new SIM card is simple, but activating it and maybe beginning to use it is not as simple as most people believe. This is due to the fact that each mobile phone carrier has its own preferred technique for SIM card activation, which not only adds to the complexity but also lengthens the procedure.
As a result, having a reliable source to offer you all of the necessary information for activating your SpeedTalk Mobile prepaid SIM is always beneficial. As a result, we've developed this comprehensive guide outlining all of the actions you'll need to take before you can start using your SpeedTalk Mobile prepaid SIM right away.
Intro of SpeedTalk Sim card:
Speed Talk Mobile, a renowned MVNO service provider, provides cellular service on the T-Mobile network and caters to individuals who do not want to spend a fortune. SpeedTalk Mobile is well-known for offering low-cost prepaid plans and SIM cards for cell phones, GPS trackers, smartwatches, and other devices.
Before making calls or sending messages, make sure you activate your SpeedTalk Mobile SIM Card. The SIM card may be activated online at speedtalkmobile.com/activate, the official activation page. Please place the prepaid SIM card into your smartphone after activating it and configuring your APN. You may now download the Mobile App on your device and use its features.
How to Activate SpeedTalk SIM Card?
Check out the step-by-step activation procedure below to activate your SIM card and start saving money.
On your computer or mobile device, go to speedtalkmobile.com/activate.
Enter the 19-digits number of your SpeedTalk Mobile SIM card first. (No letters, only numbers)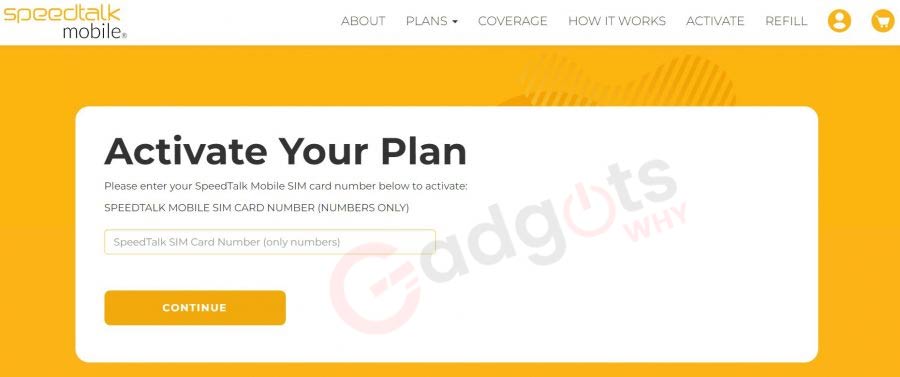 Before proceeding to the next screen by clicking the Continue option, double-check the number.
To show you are not a robot, solve the basic math problem.
Enter your email address and press the Get a PIN button.
To activate the plan, go to your email and enter your PIN.
Continue after entering the verification code.
Next, enter the ZIP code where you intend to use the new number.
Continue by pressing the Continue button.
Enter your contact information and phone number.
Enter your billing information, including your credit card number, expiration date, and security code.
To finish the activation procedure, check the terms and conditions box and click Submit.
Your SpeedTalk Mobile SIM Card has been activated, and you have received a new phone number. This number is also available in your email.
Next, plug the SIM card into your phone and follow the SpeedTalk Mobile APN setup instructions (check your device manual for guidelines).
You may now use your SIM card to make calls and send texts.
Author's recommendation: 10 Best Android phones and their top-notch features
Speedtalk SIM card activation through phone:
If you intend to contact SpeedTalk phone support to activate your prepaid SIM card, dial 1-310-707-0000 or 1-866-701-5577. The helpline is open seven days a week, 365 days a year, and operates from 4:30 a.m. to 8:30 p.m. PDT.
The hotline can provide you with any form of assistance, such as SIM activation or getting APN settings for your mobile device.
Unfortunately, SpeedTalk Mobile does not have any official shops in the United States. However, if you want online assistance with any problem, please fill out the online form located here. The support team will respond as soon as possible.
Frequently asked questions
What phones are compatible with SpeedTalk sim cards?
SpeedTalk SIM cards and service plans work with any unlocked 5G/4G LTE GSM phone, including but not limited to:
The Apple iPhone Series
Galaxy Series by Samsung
Android and iOS phones
Unlocked T-Mobile, AT&T, and Verizon Phones (GSM Compatible)
How long does it take for my phone number to be ported to SpeedTalk Mobile?
The majority of port requests from other cellular providers are fulfilled between 5 minutes to 48 working hours. Requests from landline providers, on the other hand, may take up to 10 working days.
How can I find out how much money is left on my LowCost or Pay As You Go plan?
To check the balance you can Dial 888-373-9887 from your SpeedTalk phone and ask them to check the CASH VALUE balance.
How can I check my mobile phone's remaining airtime?
Dial 611 from your SpeedTalk Mobile Phone to reach the customer care team. You may also reach a Customer Service Agent by dialing 1-866-701-5577 from a landline.
What is included in my service?
With all mobile plans, SpeedTalk Mobile offers Voicemail, Caller ID, and Call Waiting. For each line contacted, airtime costs and any relevant international rate will apply.