Have you just received your new T-mobile sim card? Then you must be searching for a way to activate T-mobile sim card as soon as possible. To quickly activate your sim card phone number, simply follow the T-Mobile Activate SIM Card instructions below.
Make sure you have the appropriate SIM card for your smartphone before we start. You can also verify the SIM Card Carrier. Once you have verified your SIM card, proceed with the instructions listed below.
This is how you activate a T-mobile sim card
You can follow these steps to activate a T-Mobile SIM card if your phone already has one-
Your phone's SIM card is in there. You don't have to do it yourself because SIM cards are already inserted in Apple phones.
Follow the on-screen instructions to set it up.
Complete any further steps required for SIM card setup, such as authenticating onto the account.
To activate your T-Mobile SIM card, you might also need to call their customer support line at 1-800-T-Mobile or 1-800-866-2453.
Depending on the make and model of your device, the steps will change.
There is another way to activate a T-mobile sim card as well which is through the Online procedure. Let's see the steps for that one as well so that it would be convenient for you in case you would like to opt for that option.
Online T-Mobile SIM Card Activation
You may also activate your SIM card online at the T-Mobile website. To rapidly activate your T-Mobile SIM card on your smartphone, simply follow the steps-
Visit the T-Mobile login page.
You may register for T-Mobile ID.
You must provide details like your phone number and PIN after signing in.
Click Submit to activate the SIM card.
Your T-Mobile SIM card has been successfully activated after completing these procedures.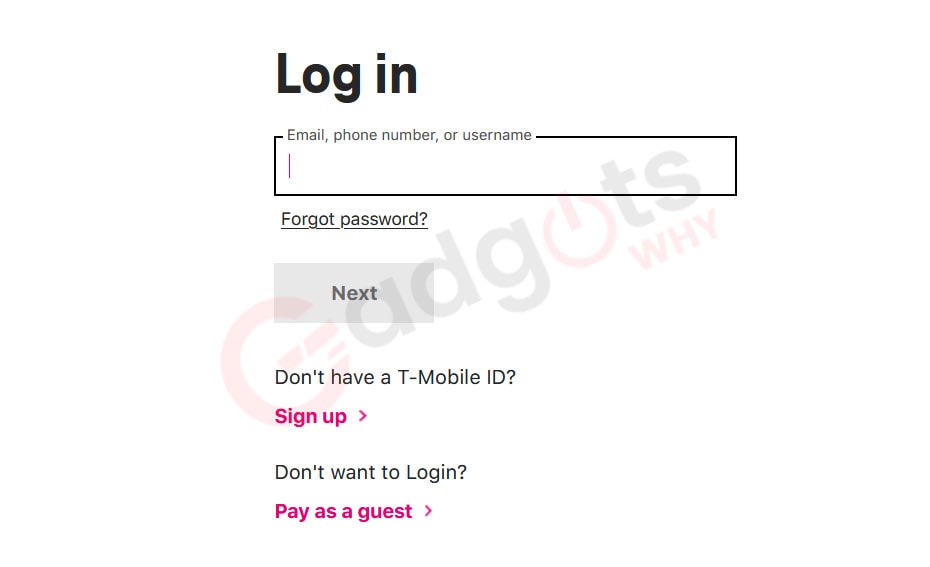 Note- Restart your phone once to restore the correct operation. Try adding T-Mobile APN settings to your device to help resolve any network or connection issues you may be experiencing. If there are no signal bars on the network, you may also look at No Service Troubleshooting or get in touch with T-Mobile customer service.
Trending: Login to Walmart Family Mobile
How can you activate your iPhone's T-Mobile SIM?
Depending on the phone you're switching to, you can do this-
Android to iPhone- Use the SIM card that comes with your phone and complete the setup tutorial on your iPhone if you're switching from an Android to an iPhone. The Migrate to iOS app may be used to move data.
iPhone to iPhone- Swipe up on the Hello screen on both phones after turning them on and placing them side by side. Check the Apple ID after that, then hit Continue. Select Finish on New [Device] after comparing the animation on your new and old devices. Put the password for the previous device into the new one. Follow the steps to configure Face ID or Touch ID. When Transfer Cellular Plan displays, choose the phone number to transfer if your old device supports an eSIM. The data transmission procedure should continue. If your previous phone contains a physical SIM, you need either transfer it to the new phone or use an eSIM.
Blackberry to iPhone- You must use the SIM card that comes with your phone and complete the setup process on your iPhone to transfer data from a Blackberry to an iPhone. Data may be transferred via the Blackberry Link app.
Windows to iPhone- Use the SIM card that came with your phone and continue the setup process on your iPhone, Windows to iPhone. An additional choice is to open a fresh Apple account. You may add your Windows account as an extra email.
Also Read: Activate Sprint Sim card
T-Mobile sim card costs
The $25 cost is charged regardless of whether you order new SIM cards or phones. It is applicable to any order requiring a fresh SIM card. You probably can get a new SIM card for your current phone if it uses GSM technology. Simply make sure it is "unlocked" before using it. Software that connects the SIM card and the phone's serial number is included by some carriers. The phone won't function if the two don't match.
In the event that your smartphone utilizes a nano, micro, or standard card, T-Mobile SIM cards come with adapters. Postpaid accounts: To buy a SIM card online, visit their SIM card website. A T-Mobile shop may also have one. What sort of SIM card does T-Mobile use, furthermore? Bring Your Own Device to T-Mobile with a SIM card. Use this free SIM card to connect to the T-Mobile network while using a BYOD device and start taking advantage of their unlimited plans. A Nano SIM card and Micro and Standard SIM adapters are included in the 3-in-1 SIM Starter Kit.
Way to check your T-mobile sim card
From its home screen, hit the option ''APPS''.
You will find the option ''Settings''. Hit that option.
Go to the About phone tab.
Visit the ''Status''.
And lastly, you will find the ''Sim Status''. 
Can a SIM card be switched?
With unlocked phones, switching phone services between devices is as simple as taking out the SIM card and relocating the phone. Now comes the question, How are your previous phone's contents transferred to your new phone?
Well, the solution is here-
Be careful to turn off your phone.
Search for the tiny hole on the side of the phone.
Insert the provided tool or a paperclip into the hole to release the SIM tray.
After removing the old SIM card, place the new one in the same manner.
Reintroduce the tray gradually.
Turn on the phone.
You are done! That's it. I hope this post covers everything you have searching for whether it's the process to activate a T-mobile sim card or how you can switch the sim card.