You probably have a Target RedCard if you're a regular Target shopper. Even if you don't have one, you've probably heard of it and pondered purchasing one. Sit tight and let us answer all of your burning questions, whether you're new to the Target RedCard or a seasoned shopper with some inquiries regarding your card. This article sums up how you can activate Target RedCard to utilize it.
Target RedCard is a credit, debit, or Mastercard card that can be used at Target. Target Credit and Debit Cards are only accepted at Target stores, Target.com, and within the Target app, however, the Target Mastercard is accepted anywhere Mastercard is accepted.
Everything about Target redCard
The automatic savings you'll receive with each swipe, chip-dip, or online purchase are the primary draw of the Target RedCard. It will be even more rewarding if you can shift some of your general spending to Target, such as grocery shopping.
You'll typically see substantial extra incentives in categories like groceries with major issuer rewards cards, but they are normally bound by spending limitations. For example, the American Express Blue Cash Everyday Card offers 3 percent cash back at U.S. supermarkets up to $6,000 each year, then 1 percent after that. Assume you spend $10,000 on groceries each year. You'd get $220 in cashback if you used the American Express Blue Cash Everyday Card. That same dollar amount would save you $500 if you used the RedCard. As a result, making Target your principal pantry-supply stop gets you a leg up on several non-store cards. However, not all Target locations sell groceries.
Why do you need to activate Target Red card?
When you first sign up for your Target RedCard, you'll need to go through a few procedures to activate it before you can use it to shop. Take the actions outlined below.
Activate your card- To activate your new Target RedCard account, call the number indicated on the back of the card or go to the Target website.
Create a pin- This will be covered throughout the activation procedure.
Update your automated billing information- In order to make payments using your RedCard, you'll need to link it to a bank account.
Is it possible for me to use my Target RedCard before it arrives?
Yes! Even if you don't have the physical Target RedCard in your possession, you can use it. However, you will have to wait until your application has been approved and your account has been activated before you may do so. You'll be able to add your Target RedCard to your digital wallet in the Target app once this process is complete. You'll receive information once you apply for the card that will allow you to register your card for online transactions.
Steps to activate Target RedCard
If you're new to Target RedCard and don't have a RedCard account, you'll need to register one before you can activate your account online. You can also activate your card over the phone, which is quick and easy to do regardless of whether you have an account.
The phone number (800) 424-6888 will be printed on the back of your Target RedCard when you receive it. You will be guided through the process of activating your card if you call this number. You'll need to input your name, social security number's last four digits, zip code, and the 3-digit security code from the back of your card.
Go to Target's website. If you already have a RedCard account, sign in. If you're fresh and new to the service, create a RedCard account. From your RedCard account, activate your card. Sign up for internet banking with your Target credit card. To sign up, you'll need your credit card number and personal information. Activate your card online with your account.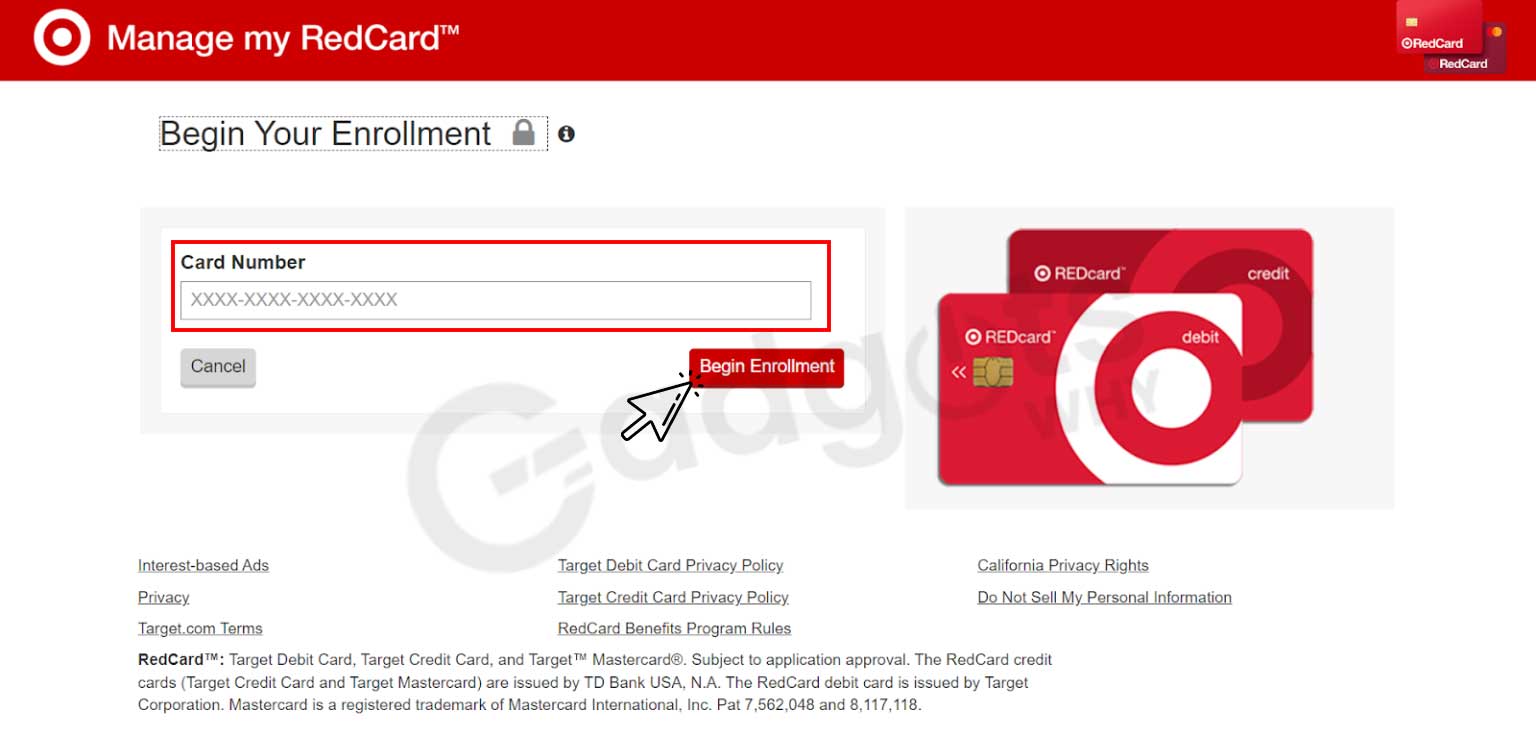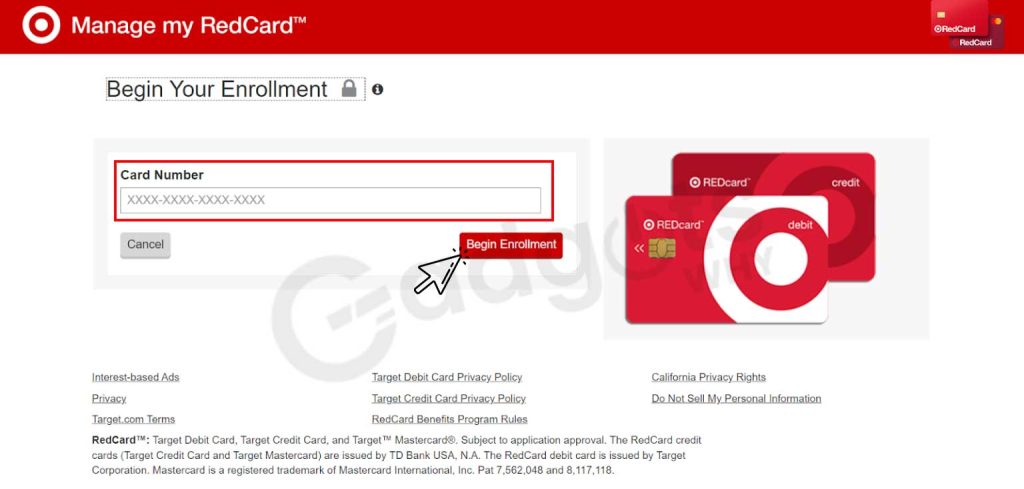 Log in to your Red card account
Visit the official website of Target RedCard.
Tap on the option ''Manage my card'' that will appear on the home page of the website.
You will need to enter your username and password in the given empty fields.
Hit the button SIGN IN to proceed.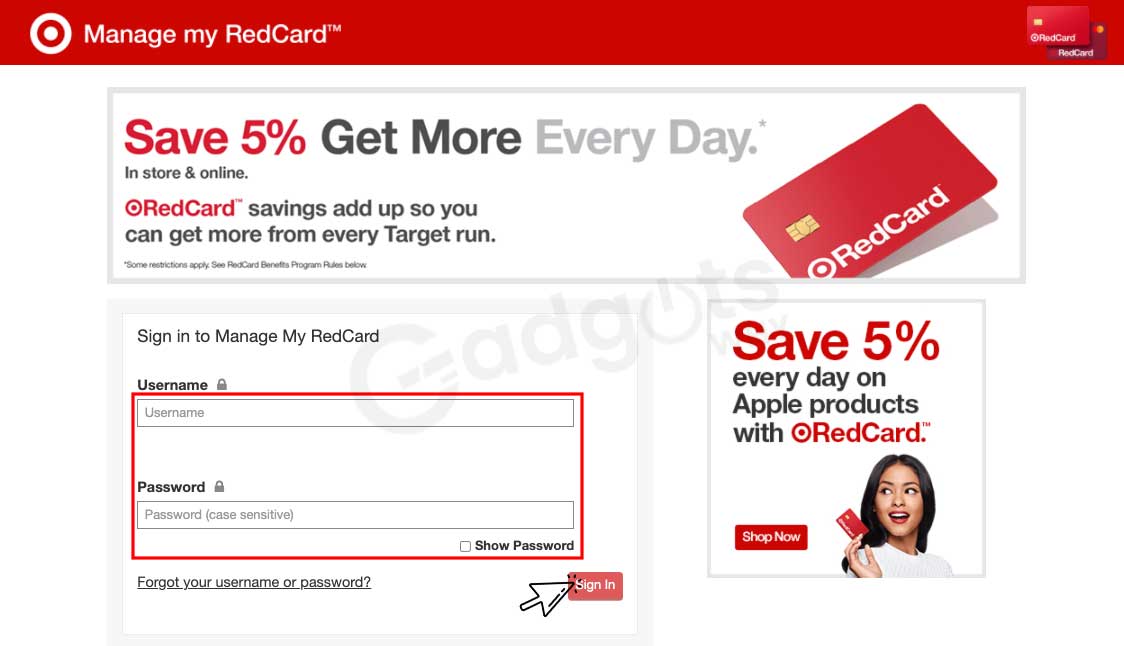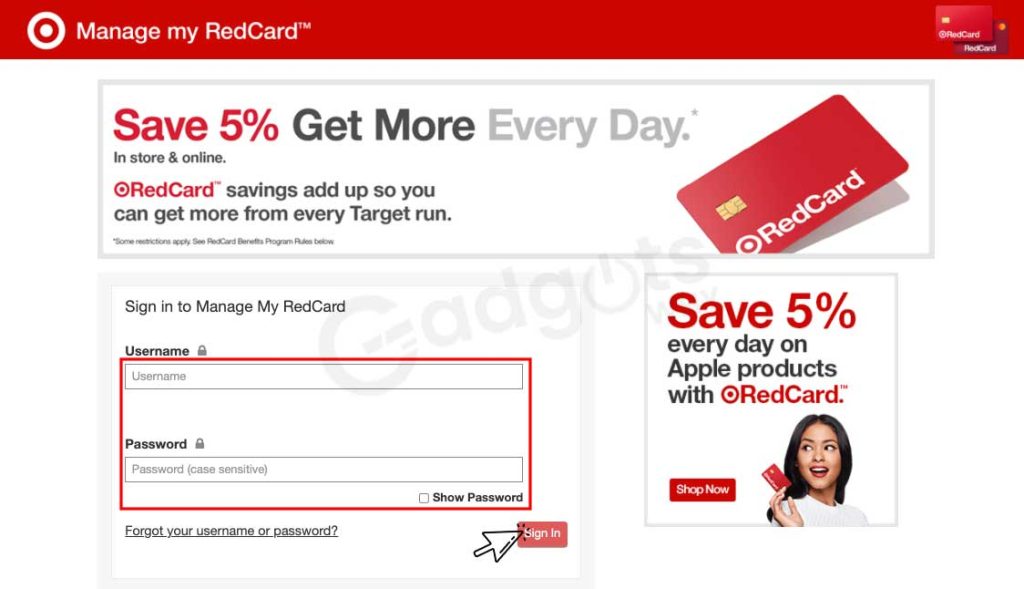 As easy as that!
Recommended: Activate GO2bank Credit Card in just 3 steps
Get your Target RedCard
You can receive a Target RedCard by filling out an online application. The main website has a RedCard credit application. You'll need to verify your employment and income, go over the terms, and make a pin. You may be able to purchase online right away if Target authorizes you right away, or you may have to wait seven to ten days for your card to arrive.
A Target RedCard can be obtained by completing an online application. A RedCard credit application can be found on the Target.com website. You must verify your employment and income, read the terms, and create a pin. You may be able to make an online purchase right away if Target approves you straight away, or you may have to wait seven to 10 days for your card.
Benefits of Target RedCard
Target and Target.com are offering a 5% discount on all purchases. Prescriptions, eye exams, optical supplies, gift cards, and other items/services are not included.)
There is no annual charge.
Target.com offers free two-day shipping on hundreds of thousands of goods.
Exclusives on RedCard (special items, gifts, and offers)
Returns and exchanges are extended for an additional 30 days.
At checkout in-store, you can get up to $40 in cash back (Target Debit Card on
Essentials that need to be considered about Target RedCard
The card's purchasing power is restricted. The RedCard can only be used at Target stores or on the company's website.
The spectrum of perks and advantages is limited. There will be no points, miles, or cash back to be redeemed for statement credits, travel, or gift cards.
If you opt to carry a balance from month to month, the high APR will negate any savings you may have gotten, resulting in you paying more than market value for common items.
The discount isn't available in every category at Target stores. The 5% discount does not apply to items like prescription drugs in pharmacies or gift cards.
The RedCard does not have any of the purchase protections that Visa, Mastercard, or Amex cardholders have.
Aside from the savings from frequent Target shopping, you won't have much of an incentive to get a RedCard. There is no welcome bonus, intro APR, or 0% interest balance transfer option available.
Comparison with other store cards
When deciding which shop credit card is ideal for you, you should think about other options. Competing retailer cards, such as the Capital One Walmart Rewards Mastercard, only offer a bonus cashback reward on in-store Walmart purchases for the first year. Following that, the prize is only valid for online purchases. The Citi Costco Anywhere Visa Card will be more difficult to obtain, as it requires a good credit score and a Costco membership to be eligible.
Instead, consider a non-store card. They frequently feature a reduced APR, better bonuses, and the ability to be used at many locations. The Wells Fargo Active Cash Card, for example, offers 2% cash back on purchases, has no annual fee, a generous 0% initial APR for purchases and balance transfers, and includes Visa Signature safeguards. Consider the Blue Cash Preferred from American Express if you're looking for something with a little more reward potential. It has a $95 annual charge ($0 for the first year), but it earns 6% cash back at U.S. supermarkets (up to $6,000 spent annually, then 1%), as well as on select U.S. streaming services. It also gets 3% on gas stations and public transportation in the United States. Even spending $2,000 on groceries per year would earn cardholders $120 in rewards, more than enough to pay the annual cost. That's without taking into account its other bonus categories.
Trending: How to get a Bank of the West cash back credit card with an invitation code
Frequently asked questions
How Does Target RedCard Works?
The Target RedCard functions in the same way as any other credit or debit card, with the exception that it can only be used within the Target universe. To apply for a Target credit card, go to their website and fill out the application. Click here to apply for the debit version. You can also look at the store's RedCard guide for a detailed overview of what you'll get with each card variant.
What Credit Score Does the Target Credit Card Require?
When it comes to credit restrictions, Target is tight-lipped. However, because this is an in-store credit system, we can assume that you'll get authorized with a lower credit score than other credit providers. This card does not have a "pre-approval" process, yet it is not difficult to qualify for. Remember that applying for a credit card lowers your credit score (temporarily), so make sure you're sure you'll be approved before you submit your application.
How can I see if my card is active after I activate Target RedCard?
Sign in to your Target RedCard account to check the status of your card. This online portal allows you to manage every aspect of your card and account. Continue reading below for complete instructions on how to access your account and manage your card
Is it a credit card or a debit card if you have a Target RedCard?
The Target RedCard is a credit and debit card in one. The organization provides both alternatives so that you can select the one that best suits your needs.
Is the Target RedCard a Visa or a Mastercard?
Target's RedCard comes in three flavors: Target Credit Card (valid only at Target), Target Debit Card (valid only at Target), and TargetTM Mastercard (valid anywhere Mastercard is accepted). You can visit the company's program rules for additional details.
Is there a limit to how many Target RedCards you can have?
Your credit limit may vary based on your specific credit situation, and it might be as little as $200 or as high as $2,500. Customers who have had a long relationship with Target RedCard and have consistently made on-time payments may be eligible for higher credit limits.
How can I make a Target RedCard payment?
RedCard payments can be made in four different methods, according to Target.com.
Target.com/myRedCard is where you can pay online. Call 800-659-2396 to make a payment over the phone. Pay at the guest services counter in-store. Pay by mail by mailing your money to the billing statement's address (do not send cash).