Health emergencies can occur anytime. In this era of high inflation, paying medical bills and managing expensive medicines can be a huge task. Many people are not able to get quality medical care because they are unable to pay the high costs of the treatments. The health insurance providing companies help in such moments of distress. They support an individual or a group of people in times of urgent need of money. Aetna Health insurance is one of the United States' largest health care insurance providing companies. The company has a huge network across all the 50 states of America. It is one of the leading health care insurance provider companies. In this article, we will look at the Aetna Health Insurance reviews. We will also know about the login and payments.
Aetna is a key health insurance provider in the united states. It was founded in the year 1853 and it has headquarters in Hartford, Connecticut. One will find health insurance, dental insurance, Medicaid insurance, group life insurance, pharmacy insurance, and disability insurance. Its services are available in all 50 states of the United States of America. If you talk about numbers, more than 18 million health insurance policies have been provided by it. A total of 13 million dental policies have been sold and about 8 million pharmacy policies have also been sold. At Aetna, there are more than 1 million health care providers. From this, you can get an idea about the size of the network of Aetna Health Insurance. So, let us take a look at the Aetna Health Insurance reviews.
What are the benefits of Aetna Health Insurance?
As a matter of fact, there are various benefits of Aetna Health insurance. These range from making an affordable choice to easy claims. One should always consider all the pros and cons of any healthcare insurance provider before investing in any policy. Some of the benefits of Aetna healthcare insurance are:
Affordable policy options
Aetna healthcare insurance provides a huge range of insurance options and healthcare policies. These all are budget-friendly. You can easily find plans that provide huge coverage at affordable prices. You can choose a plan based on how much you can pay monthly.
Additional preventive care
At Aetna healthcare insurance, you can get the benefits of preventive care. This means that you are eligible for immunization, doctor's visits, and many other types of preventive care.
Family plans
One can get amazing and extremely useful family plans. Usually, healthcare insurance providing companies focus more on individual plans. Here you have the advantage to get a plan that is suitable for all the members of your family. These plans cover hospitalization, prescription drugs, doctor's visits, and preventive care.
Claims
Well, making claims to get the insurance money can be complicated at times. Hence, one should always look for a healthcare insurance provider that allows one to make easy claims. At Aetna, you do not have to fill out huge forms to make claims if you are using an in-network care provider.
Large network
A good healthcare insurance company will have a good and wide network of healthcare providers and physicians and doctors. The Aetna healthcare insurance has a network spread across all the 50 states of the US. Hence, one need not worry to look for its services in a new state.
Also Read: United Healthcare Insurance Review
Aetna Healthcare Insurance reviews
By now, you have seen the benefits of Aetna Healthcare Insurance. Now, we proceed to the Aetna Healthcare Insurance reviews. Usually, the list of benefits of anything is really helpful in making a decision. However, looking at Aetna Healthcare Insurance reviews will provide a better picture.
Aetna Healthcare Insurance is a great platform if you are looking for good customer service and great financial strength. They have a wide variety of plans to choose from. You can even enjoy and take great help from their app called "Attain by Aetna".
One will find great family insurance plans, easy claims, and a lot of preventive care. It has even got great customer reviews, wherein everyone praises their customer service and calls it very user-friendly. As a matter of fact, the number of complaints against Aetna Healthcare Insurance is extremely low! This is a very strong healthcare insurance company. Your invested money is going in good hands only! And you will definitely benefit from their service!
However, there is something about Aetna Healthcare Insurance reviews, that you should know. Well, as a matter of fact, you will not get any short-term insurance plans here. Also, there are no individual plans at Aetna Healthcare Insurance. Hence, this insurance company is great only if you are looking for family insurance plans or insurance for a greater number of people at one time!
What are the different plans available at Aetna healthcare insurance?
Medicare plans– These are for older people and people who qualify for disabilities.
Medicaid plans– This is an affordable plan that is jointly funded by the state and the federal government.
Student plans– These plans are for university students.
International plans– This plan is for people who often have to travel out of the country.
Recommended: Blue Shield of California Healthcare Insurance
How to log in to Aetna healthcare insurance?
Start the process by launching the web browser of your device. You will have to then search for the official website of Aetna Healthcare Insurance. The official URL is www.aetna.com.
On the website, you will see the login option at the top right side of the screen. You have to tap on it to open the login page.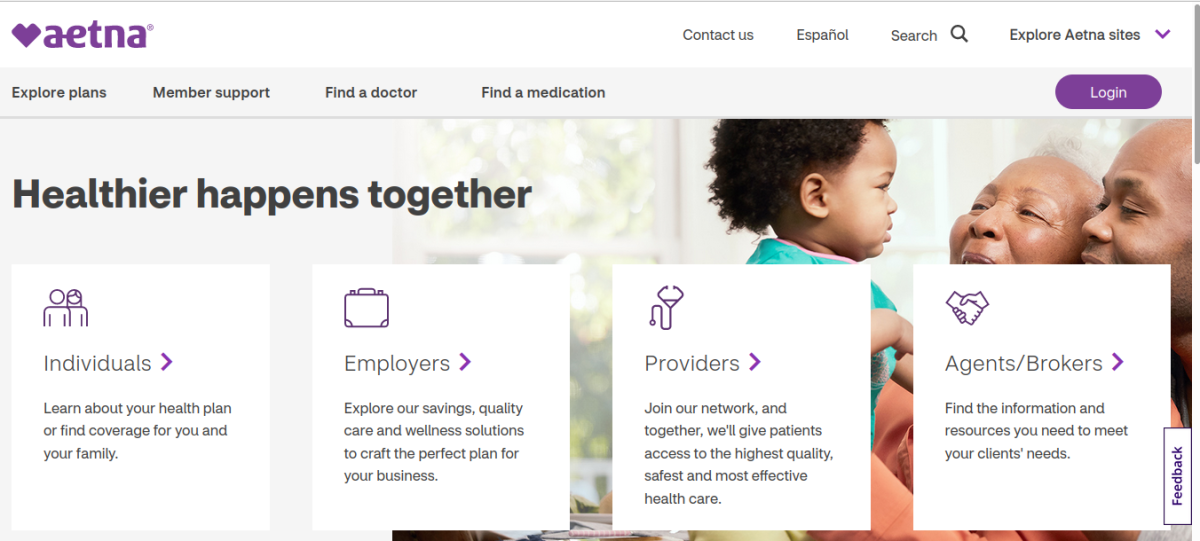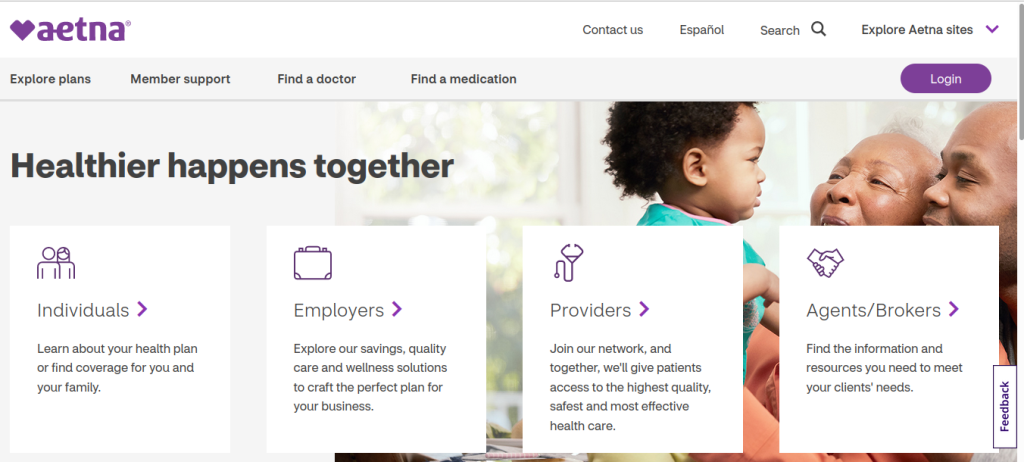 There on the login page, you will get the option of how to log in. Select accordingly. You have to select as a member if you are going to buy the services of the insurance company.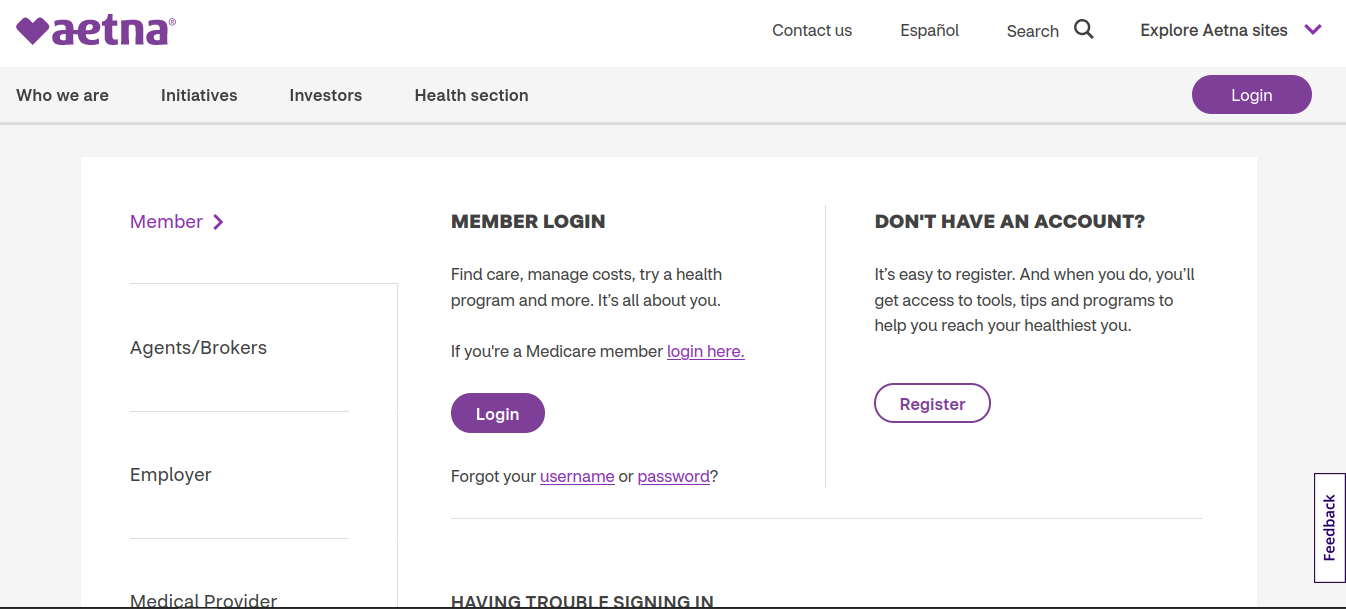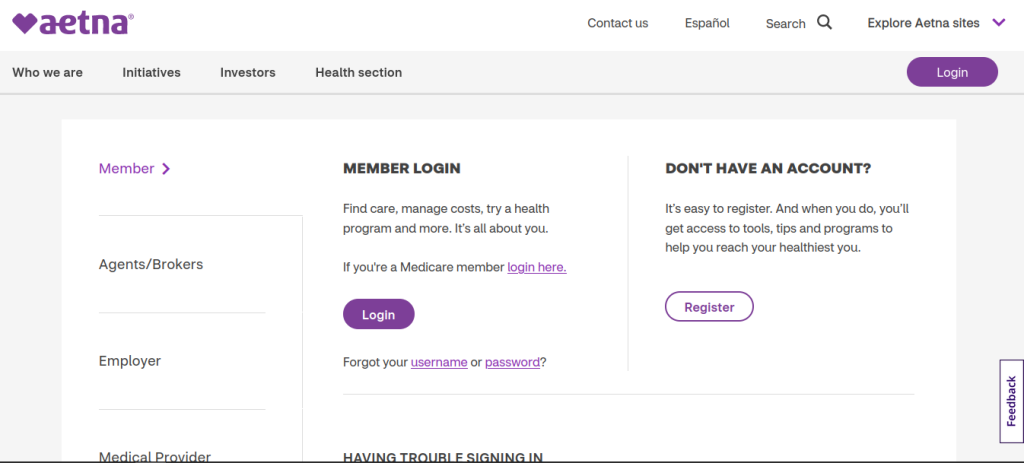 Now, if you are a new member then you will have to register. Click on the register option and carry on. You will have to provide personal details and follow any more on-screen instructions to complete the registration.


Then you will have to validate your identity followed by creating an account. Later you have to go through the terms and conditions. Now, your registration is finished.
To log in, go back to the login window and click on the login option. You will be asked about the username and passwords that you made while creating an account. Enter the right details and you are good to go!