Bank of the West cash back credit card: You enter an electronic devices store, select a headset, try it out, proceed to the checkout counter, flash your credit card, get the bill and receipt, and exit the store with your purchases. The entire procedure was simple and took only a few minutes. Nobody needs to be concerned about whether or not your bank knows and trusts you to repay the money it spent on the shoes.
You don't need to go to the bank for a loan or explain why you need the money. Instead, you may use your credit card to pay for anything, pay only interest on revolving credit, and pay off your balance whenever you want. A credit card has revolutionized the way people shop by allowing them to have instant credit. You may have multiple credit cards from different banks, and anyone can use a card to pay for purchases or services. Are you wondering why I'm talking about these? don't be excited guys, in this blog I would like to talk about Bank of the west credit card with invitation code. So let's move forward to know more in detail. Before going into the topic have a glance at Bank of west and credit cards.
Know about the Bank of the West?
Bank of the West is one of the largest banks in the United States, with assets of roughly $95 billion and 565 banking offices in 25 states in the western and central United States. Deposit accounts, credit cards, insurance, investment goods, and financial planning are all available through the San Francisco-based corporation. It offers consumers, corporations, and government entities a wide range of financial services. Bank West Investment Services, a subsidiary of the company, provides retail customers with brokerage services for a variety of investments, including equities, mutual funds, options, fixed income, and insurance products. BNP Paribas, a French bank, owns Bank of the West.
Services offered by the Bank of the West:
Bank of the West offers a wide range of services to customers. Below given are important services of Bank of the west.
There's no minimum balance requirement and easy-to-waive low fees
Fraud protection with no risk of liability
Mobile banking app with over 100,000 5-star ratings. The app has a secured Biometric login and you can check your transactions at any time.
With just one click, you may transfer or request money and check your monthly cash flow.
Provides various loans including personal loans, home loans, mortgage loans, car loans, RV loans, etc.
Offers savings and checking accounts.
Provide a Platinum Mastercard with a low-interest rate and a Cash Back Mastercard with great cash benefits, and a Secured Mastercard for credit repair or establishment.
Tools to Assist You in Investing Like a Professional
Offers you to use their straightforward trading tools and detailed third-party research to take a hands-on approach and confidently apply your investing ideas.
Cash Management on an International Scale and much more.
What is a credit card?
A credit card is a sort of payment card that uses a line of credit rather than the account holder's cash deposits to make purchases. When someone purchases with a credit card, their account accumulates a balance that must be paid off each month. While not paying off a credit card on time can result in interest and late penalties, credit cards can also help users establish a good credit history.
Here are some great options for credit cards with their reviews: Frontier Credit Card
How to get the Bank of the West cashback credit card?
If you want to apply for a Bank of the West credit card, visit the local bank branch or you can also apply online from their official website. To apply for the card online follow these simple instructions.
Initially, open any browser on your mobile or PC
Visit their website https://www.bankofthewest.com/.
After visiting the website login with your credentials to enter into your account.
Now navigate to the credit cards section at the right corner.
Then click on the credit cards icon and from the drop-down menu select the cashback credit card.


After that click on "Apply Now" to move into the further process.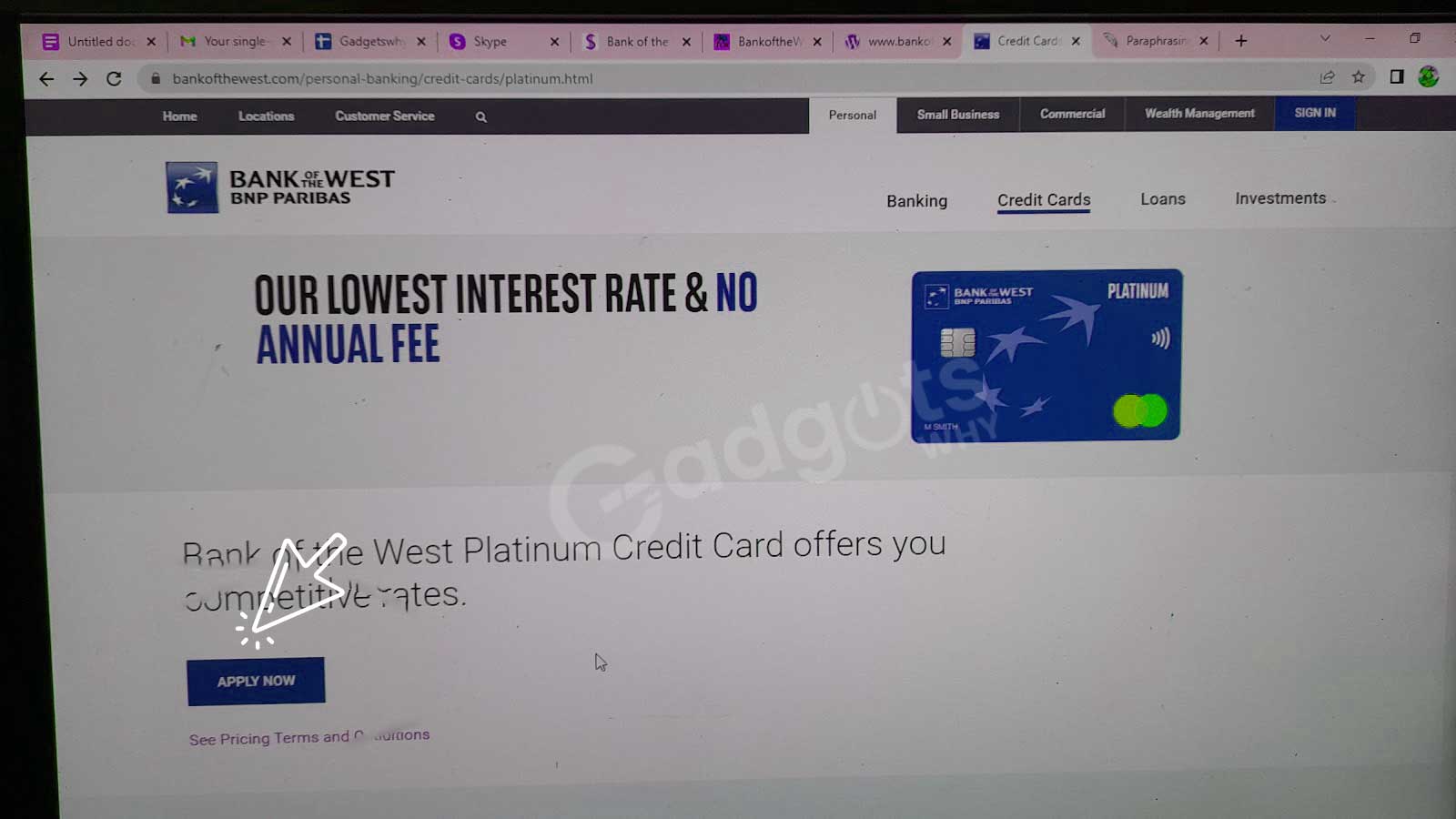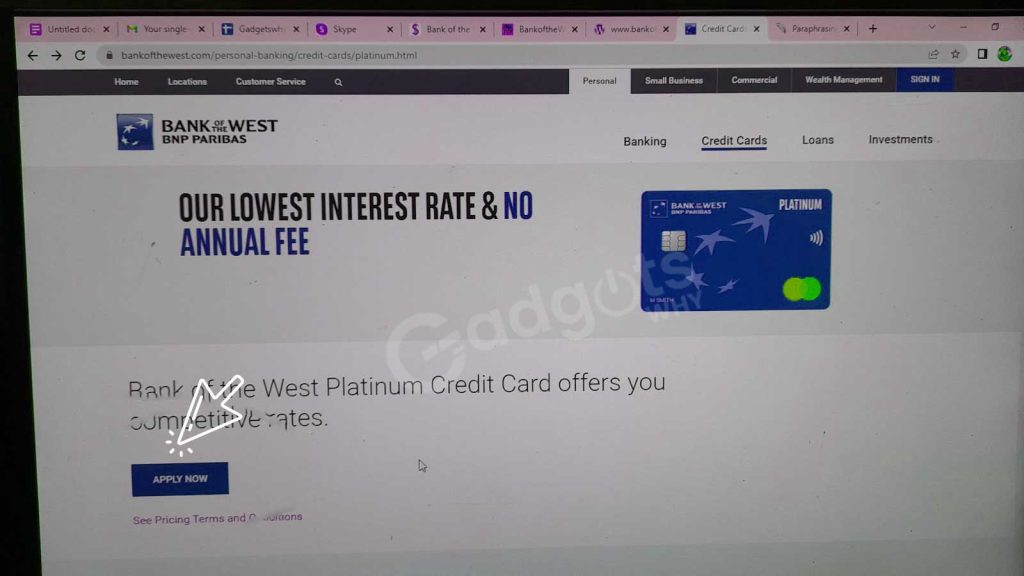 Then you will be asked to select your state.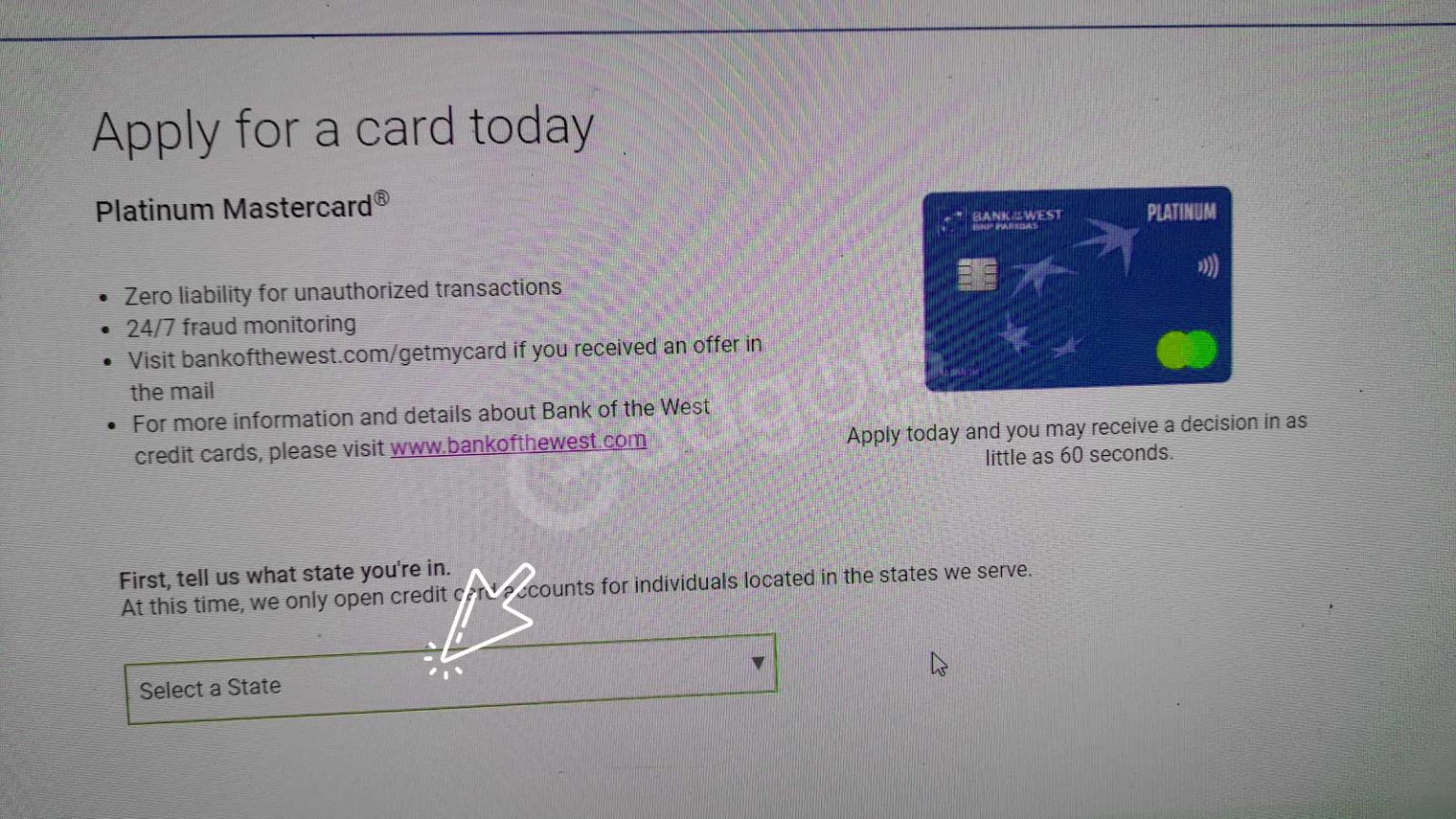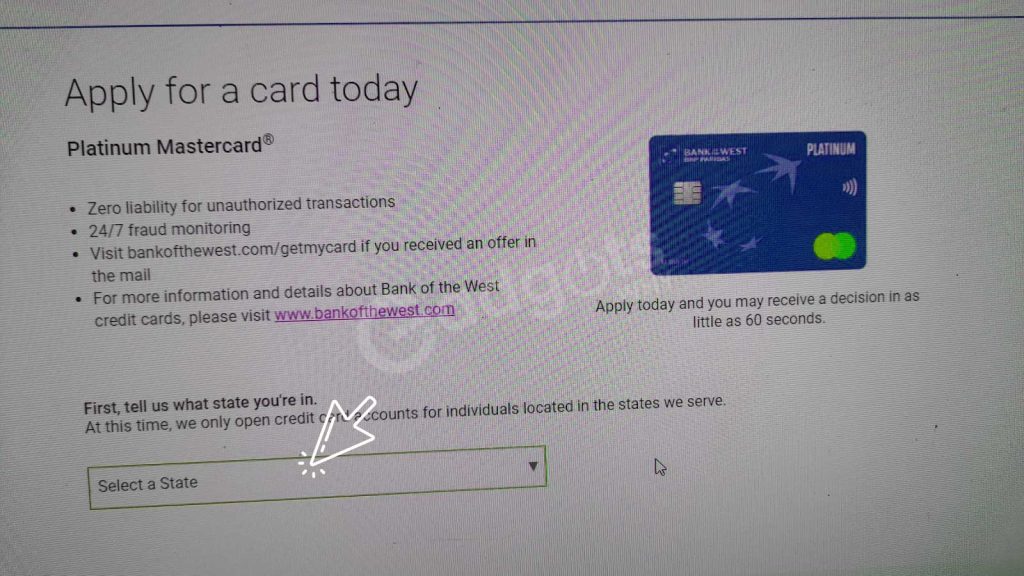 Note: currently Bank of the west offers credit cards in limited states.
After selecting your state you will be asked to fill out an application that contains your details like name, address, social security number, contact details, income proof, etc.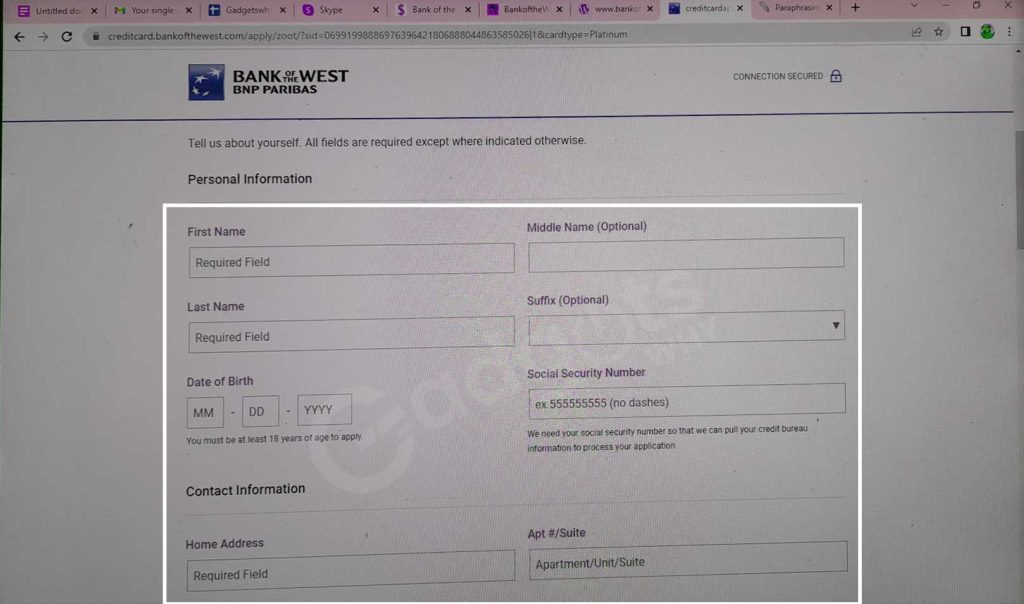 Once you fill all the mandatory columns. Click on Continue and apply.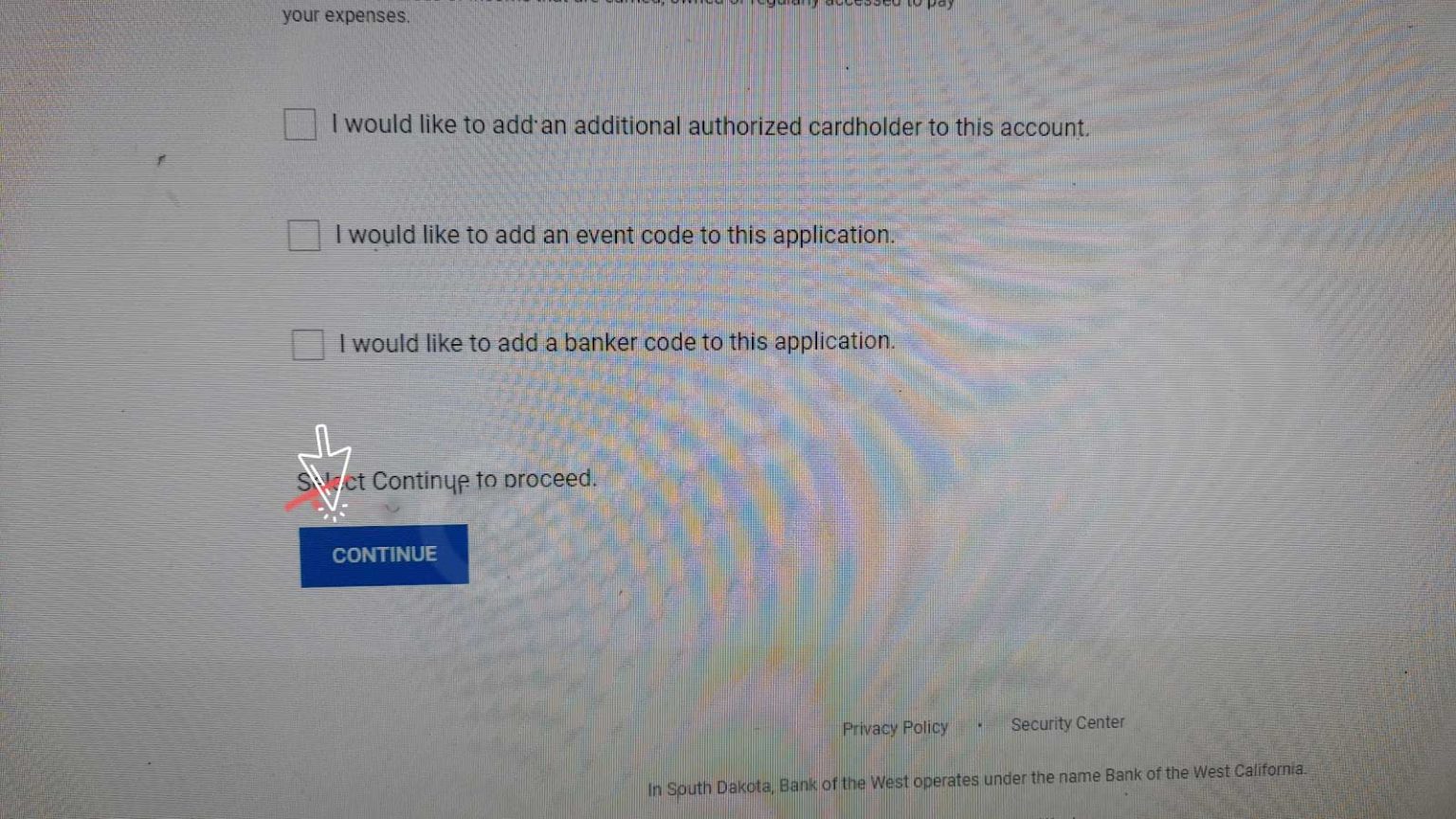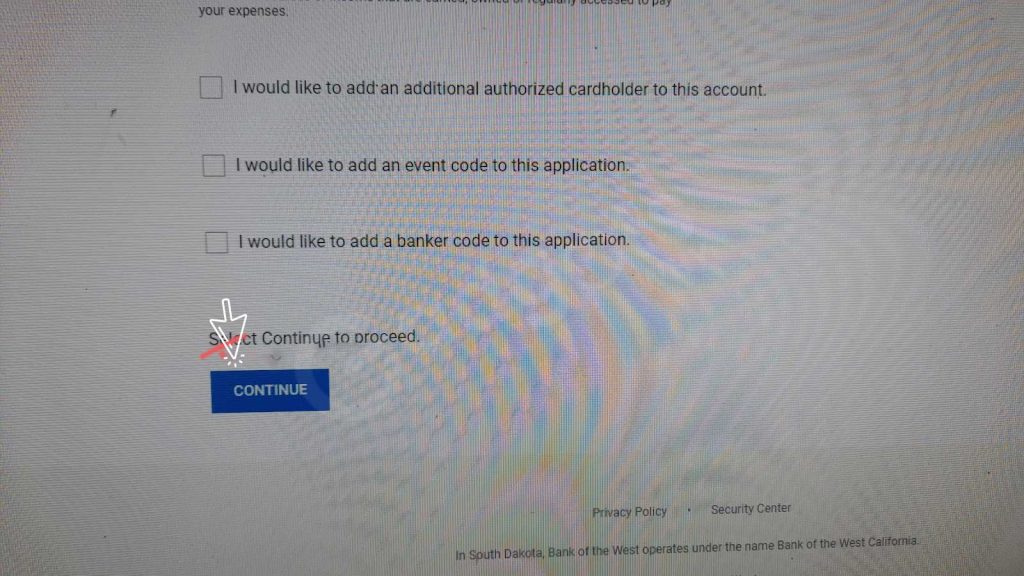 You will get a call from bank executives once they receive your application. Followed by approval of your card after completing official proceedings from their end.
If you find difficulty in applying online you can contact customer care (call 1-866-269-2327, TTY 1-800-659-5495) to apply for the Bank of the West credit card.
Also Read: Activate Flipkart Axis bank credit card
How to get the Bank of the West cash back credit card with an invitation code?
Sometimes Bank of the West sends mail with invitation codes to their customers to apply for a cash back Mastercard. In such cases, you can simply use that code and apply it to the card by following the instructions given in that invitation mail. Take advantage of the pre-approved mail offer you received from Bank of the West by applying for their Bank of the West Cashback World MasterCard, which allows you to earn unlimited cash back and has no annual fee.
For further information, go to www.bankofthewest.com/getmycard and enter the invitation code (this code can be found on your offer letter).
Note: You must be at least 18 years old and a legal resident of the United States to participate.
What are the advantages of having Bank of the West cash back credit card?
You can have these benefits with a Bank of the West cashback credit card.
On eligible dining, gas, and grocery purchases, you get 3% cashback.
You get on all other purchases,1% cash back indefinitely.
On purchases and balance transfers, you'll get a 0% introductory APR for the first 12 months.
If that's not enough, Bank of the West has thrown in a nice bonus. spend $1,500 in qualified purchases in the first 90 days of your account's existence to receive a one-time $150 incentive.
Cashback from Bank of the West On top of MasterCard's global acceptance, the World MasterCard will provide unrivaled personal service. Take advantage of the infinite cashback offer, which you may use at any time.
Recommended: Activate GO2bank Credit Card in just 3 steps
Conclusion:
In a nutshell Bank of the West cashback credit card is a damn good deal provided to customers. This card offers pretty advantages like a $150 bonus, 3% cash bank on dining, gas purchase, etc. honestly having a credit card is advantageous in many ways, in addition, if we get cash back on purchases that will be like a cherry on the cake. In this article, we have mentioned perks and applying procedures of Bank of the west cashback credit card. Hope this blog is informative, if you have queries please do leave your comments.
Frequently Asked questions.
How to contact Customer Service at Bank of the West?
Please call Bank of the West at 1-800-488-2265 if you have any queries about bankofthewest.com/getmycard If you want to apply for the Cashback World Mastercard in person, call 1-844-222-2689 to set up an appointment.
Bank of the West is owned by which country?
The Bank of the West is a financial institution based in San Francisco, California. It is a subsidiary of BNP Paribas, a French international banking organization with over 600 branches and offices throughout the Midwest and the Western United States.
How do I pay my Bank of the West credit card bill?
Visit www.bankofthewest.com for more information.
Select Sign In after entering your username and password.
Your credit card will be mentioned under Banking Overview. 
Choose the Pay Now option.
Is the Bank of the West a reputable institution?
It provides personal, commercial, and wealth management customers with a diverse range of banking and investing solutions. That's why, in its annual rankings, GOBankingRates named it one of the Best Regional Banks of 2022 as well as one of the Top 100 Banks of 2022.
What do you need to apply for a Bank of the west cashback credit card?
If you are planning to apply for a Bank of the West cashback credit card you need the following documents.
Social Security Number
Gross earnings
Name of the company (if applicable)
Amount of rent/mortgage