When it comes to the bathroom there are some essentials products and some luxurious bathroom gadgets which fit perfectly in there. In the hectic schedule nowadays, consume most of our time. At the time when technology is heightening, we can adapt some of the bathroom gadgets to move forward in coordination. Bathroom gadgets have been developing with every other tech-gadgets along with the new and interesting modernizations. The category of bathroom gadgets has become luxurious and acute. Technology is something that has been considered as the desired classification. Most of the market spin around automatically operated home gadgets.
Best Bathroom Gadgets
To make it a bit easier we can have some bathroom gadgets that works automatically to save up our time are mentioned here-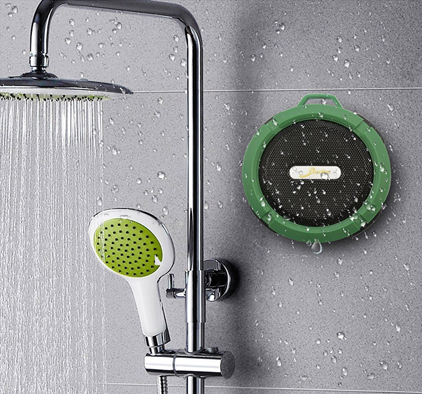 Description-
Everybody enjoys listening to music no matter where they are. It always excites them and takes away their stress instantly. VisTsing shower speaker is waterproof and dustproof. You can take this portable mini-size speaker everywhere with you whether it's a swimming pool, beach, shower, etc. The design of an outer shell is solid and shockproof. It will be your out-of-doors companion. The battery life of this mini speaker is up to 6 hours. The battery percentage displays on the screen of the mobile phone from which the speaker is connected. The bass of this speaker is amplified with stable Bluetooth connectivity and pair-up quickly. It has a built-in mic which enables receiving and making calls from anywhere. This mini speaker is compatible with phones, I phone, tablets, and echo series as well. It can be one of the best things you can have in your bathroom.
| | |
| --- | --- |
| Brand | VisTsing |
| Type | Outdoor |
| Special Specification | Portable, waterproof and dustproof, built-in mic |
| Connection | Wireless |
| Colors available | Green. Blue, grey, orange |
| Price | Amazon- $17.99 Walmart-$22.79 Overstock-$22.79 |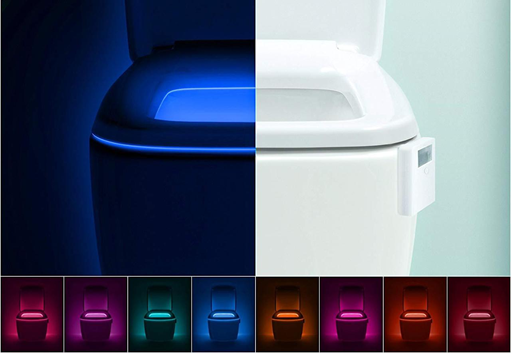 Description–
Glowing lights attract everybody whether children or adults. Lights transform an average product into an interesting and striking product. LumiLux toilet light makes an average toilet an amazing one. It features a motion activation light that activates the light by catching the heat of the body. It automatically turns on when you enter the bathroom and turns off when you leave the bathroom. The features of the LumiLux toilet light make your average toilet a smart toilet. It offers a range of 16 different and vibrant colors. You can always change and choose the color according to your mood. It has an adjustable arm that is fit across the rim which furnishes a perfect fit along with the succession cups. It has 5 levels for brightness, you can make the lights glow as vibrant you want and make them subtle as much as you want. It offers one of the best policies among others which is the life replacement policy. No matter when you can always replace that whenever it malfunctions.
| | |
| --- | --- |
| Brand | LumiLux |
| Style | Modern |
| Light source | LED |
| Special Specification | Turns on instantly, motion activation light |
| Color | 16 colors |
| Price | Amazon- $14.95 |
Zadro ultra luxury free standing electric towel warmer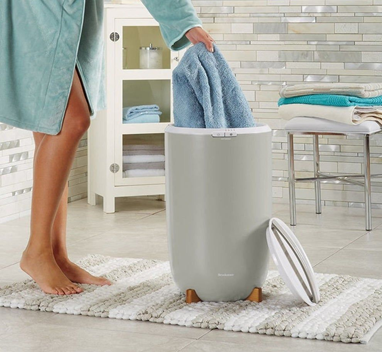 Description-
Are you tired of seeing a wet towel lying on your bed or couch? Then this bathroom gadget will save you. Zadro has come up with a towel warmer. As soon as you come out of the bathroom you can put your wet towel in this warmer and set the timer and here you have your dries-up towel. It has a different time setting such as 15, 30, 45, or 60 minutes and the last time it automatically shuts down if not done manually. The automatic feature can save you from over-heating and related issues. It has LED time indicators and caution indicators as well. Collectively it an\ warm-up two towels measure 40"x 70". The dimension of the warmer is 12″L x 12″W x 21.25″H. It's sleek and slim which doesn't consume much space and can be kept anywhere. It offers a 1-year warranty. It comes with the warning of not using any incompatible charger or cords as it might result in short-circuit or other accidents. It has built-in cords to keep the power long enough and hidden when not in use.
| | |
| --- | --- |
| Brand | Zadro |
| Type | Freestanding |
| Connection | Plug-in |
| Item type | Plastic/metal construction |
| Weight | 8.5 lb |
| Color | White, grey |
| Price | Bloomingdale's- $139.99 Wayfair- $149.99 Bed bath and beyond- $139.99 |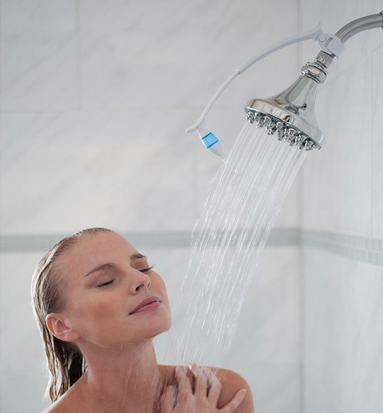 Description–
Do you have a hectic schedule and want to relax on regular basis but Spa is too expensive for a regular basis? you can have aromatherapy at home every day at a reasonable price. This aromatherapy shower kit is a perfect bathroom product for you. The essential oils in this kit are incredible and 100% original. No artificial elements are added. This relaxes your mind and your body too. ESSIO has made this amazing kit so you can experience luxurious spa-like, at home every day. It's super easy to set up even within 60 seconds. The essential oils it comprises are- Breather, Passion, and Unwind. These 3 are the most popular and in-demand essential oils. It offers a 30-day money-back guarantee which is a great deal for a reasonable therapy kit. This can turn your simple at-home shower into an extravagant spa.
| | |
| --- | --- |
| Brand | ESSIO |
| Fragrance | Breather blend, passion blend |
| Weight | 0.4 pound |
| Special Specification- | Aromatherapy |
| Color | Blue, green, purple, orange, pink, light blue |
| Price | Amazon- $40.94 |
Spiski shower wine glass holder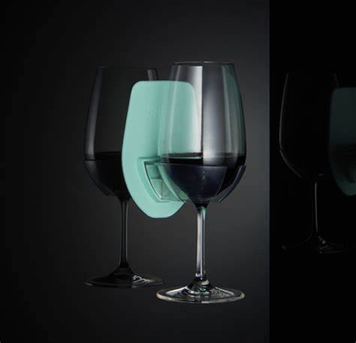 Description-
What's better than having a bubble bath and a glass of wine after a rough day. Your glass of wine needs to be held while bathing. Here Spski wine glass holder will be your stand. This holder can be stuck to any structure like- smooth, glass, marble, etc. It encompasses silicon and plastic. It's time for you to relax and enjoy your drink. It measures 5.5″ L x 4.25″ W x 4.13″ H. It can hold both stemmed and stemless glasses. It's water and mildew-resistant. The assembling process is super easy.
| | |
| --- | --- |
| Brand | Spiski |
| Material | Plastic and silicon |
| Weight | 0.2 lbs |
| Color | Pink, grey, sea-green |
| Price | bed bath and beyond- $14.99 Urban outfitters- $18.00 World market- $14.99 |
Toto washlet C100 Bidet toilet seat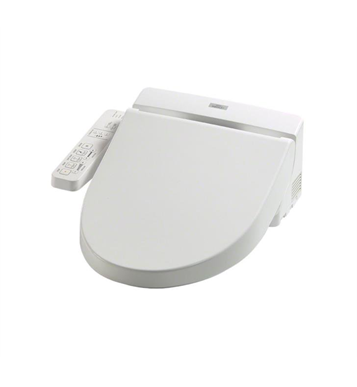 Description-
Does not like roughly slamming your toilet seat? Here TOTO has come up with a washlet that is luxurious and has a sleek design that fits perfectly on your toilet. It offers warm water which is better and comfortable than toilet paper which can be harsh. It features rear spray and cleanses, front cleanse along the oscillating watercourse. All the settings and controls are on the arm panel for convenience. It has an elongated washlet in addition to the connection of hardware. It offers 3 different controls for temperature and 5 controls for pressure. It comes up with a deodorizer for reducing the odor which operates automatically. It has a wand that performs self-cleansing. The wand cleans up before and after usage. It has a soft-close feature for easy closing of lids. It releases quickly, the seat removal is super easy for further cleaning of washlet and toilet.
| | |
| --- | --- |
| Brand | TOTO |
| Type | Plastic |
| Special Specification | Rear and front spray, automatic deodorizer, soft-close |
| Color | White |
| price | Walmart- $516.41 |
Simple Human sensor mirror pro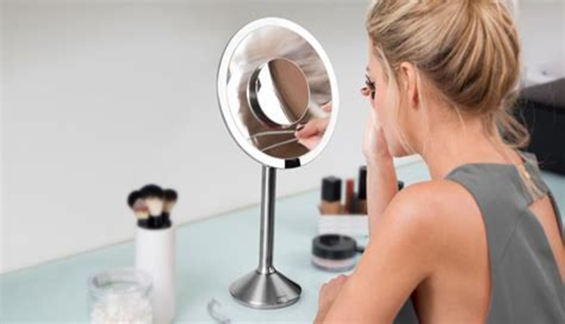 Description–
Everybody wants to have a clear and exact look of their faces, even the minor details. Simple Human launches 3 views in one mirror- 5x magnified on one of the sides, 1x with 10x window on the opposite side. It has a truly-lux system of light that automatically operates and provides natural sunlight and candlelight. The sensors in the mirror automatically actives the light when your face comes near the mirror. It provides the control of brightness with touch. The side of 5x allows you to see the entire face and the side with 1x true, 10x window shows you a detailed version of your face. It has an amazing battery life, even the single charge lasts up to 5 weeks. It is cordless and recharges with a standard USB. It offers a 5-year warranty.
| | |
| --- | --- |
| Brand | Simple Human |
| Type | Freestanding |
| Special Specification | 3-in-1, sensors, touch-control brightness |
| Color | Silver |
| Price | Simple Human- $200.99 Neiman marcus- $225.00 Bed bath and beyond- $300.99 |
Lasko small portable ceramic space heater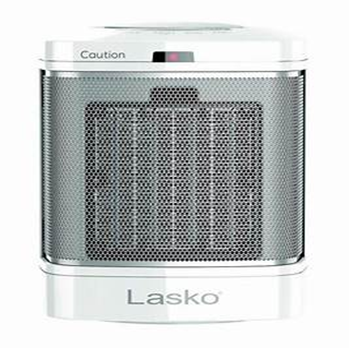 Description–
It feels so cold when you come out of the shower. Doesn't it? To give you warmth right after a good shower here is the Lasko portable heater. It comforts you after taking a shower. It's a bathroom product however, you can use it anywhere in your house. You do not need to wait for a long time, it quickly heats your bathroom. It turns your bathroom steamy and warm within few minutes. It is a small yet powerful heater that will save you from chills. It features 3 heating controllers. It measures 6.25 inches x 6.25 inches. As it is small in size, it doesn't consume much space and can be fit anywhere. It's easy to use, doesn't need any assembling. It comprises of ALCI safety plug along with Automatic overheat protection. Lasko has been manufacturing products for over 100 years now, hence, it is a trusted company.
| | |
| --- | --- |
| Brand | Lasko |
| Color | White |
| Source of power | Corded electric |
| Method of heating | Convention |
| Price | Amazon- $ 39.9 Walmart-$39.9 Bed bath and beyond- $39.99 |
Simple Human touch-free sensor liquid soap pump dispenser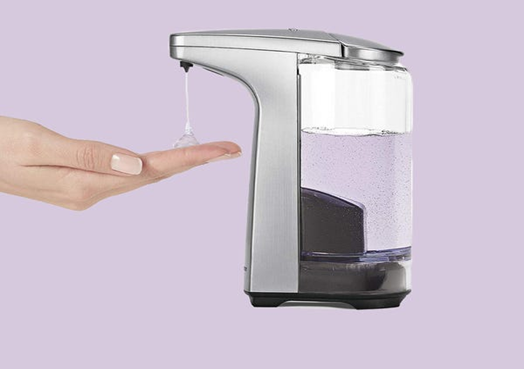 Description-
Tired of messy soaps? Simple Human has your back. The compact sensor soap pump dispenser offers a silicone valve to halt drips of liquid soap. The efficient working of the dispenser results in precise supply.
It has buttons that make it easier to control the amount of soap needed. The refilling process is effortless due to the wide opening. The soap needs to be filled in manually. The soap chamber is clear and visible to acknowledge the soap level. It measures 2.8″ W x 5.7″ D x 7″ H. It has a precise zone of triggering which allows the speedy dispensing. It offers a 2-year warranty which is a great deal for a soap dispenser. The soap dispenses speed is 0.2 seconds. This soap dispenser can be used with both sanitizer and soap.
| | |
| --- | --- |
| Brand | Simple Human |
| Type | Modern |
| Color | Brass brushed, rose gold, white, polished |
| Special specification | Speed of dispensing in 0.2 seconds |
| Price | Amazon- $47.99 Bed bath and beyond- $49.99 Macy's- $49.99 |
Tubshroom drain protector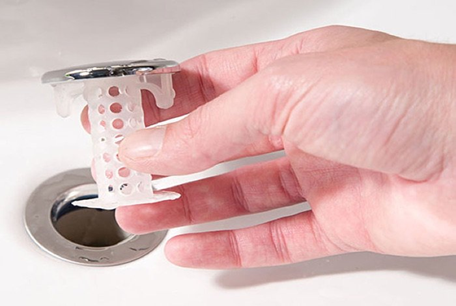 Description–
Are you fed up with clogged drains? This is the most common concern among people. Tubshroom drain protector is at hand for you. It hinders any solid substance to get through the drainage. It collects human hair or pet hair and allows the water to drain smoothly. It's different from the regular hair catchers which tend to be messy. Tubshroom drain protector does it nicely and tidily.
It comes under the list of bathroom essentials as it takes no time for cleaning it's super easy to get it clean. Additionally, it doesn't harm the pipes of your drainage systems as it contains no chemicals. Tubshroom drain protector has been recognized as the 2018 KBB product innovator award winner in the category of home improvement and bathroom gadgets.
| | |
| --- | --- |
| Brand | Tubshroom |
| Type | Plastic |
| Special Specification | Designed specially to collect every hair |
| Color | Orange, green, blue, white |
| Price | Amazon- $12.99 Home depot- $11.99 Ace hardware- $ 12.99 |
All the gadgets are luxurious as well as essential. It's totally upon us what gadgets we would choose to make our average bathroom a smart bathroom. Hope this product's information will be beneficial for you and you would be easier to choose from!