It is a bit difficult to capture the moment when we collectively moved to wireless earphones and started thinking about this sort of device as a necessity, not a luxury. But in the real world, you might find cords a hassle task and might be wanted to have something hassle-free. So, here we have listed the best wireless earphones you might be looking for, in 2023. Either you want it for fitness or work, leisure, or assistance, here we have a great variety for earphones of every type you wanted to look in a market, oversized, big sound, and expensive over-ear, all these are in the real sense true wireless earphones that will kill the excessive noise around you while you are enjoying your walk or jogging in the morning or evening, not only this, these are also budget-friendly earpiece or budget headphones that offer almost every feature, but also the most high-end features like Active Noise Cancellation, but will do the trick for your WFH Zoom calls. Here we are with the best wireless earphones ever of 2023.
Best Wireless Earphones Of 2023
1. Boat Rockerz 255 sports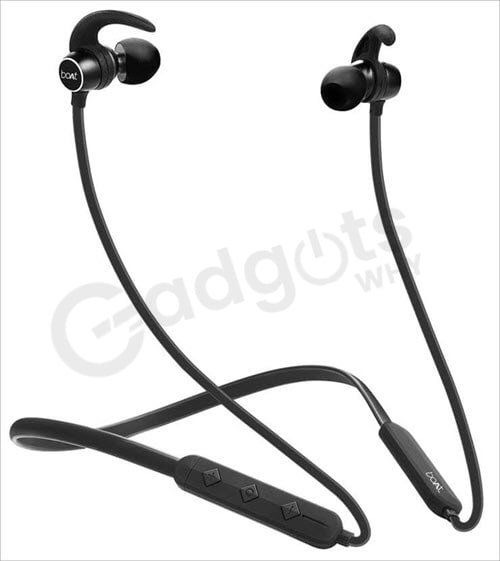 In the case of boAt Rockerz 255 Sports design, its look and feel are solid. Also, it is made up of premium metal and is comfortable to fit. Its cables are flexible, strong, and robust, and talking about its ear tip is comfortable and fits well in the ear. It has superb aesthetics. It has various internal features like, its connectivity is with Bluetooth 4.1 version with the Qualcomm CSR 8635 chipset, which makes its functioning easy and hassle-free. Now, next is to make it sweat and water-resistant, it has IPX 5 certification. Its sound quality is exceptional and has extra bass, not only this, but it also has a CVC noise cancellation that provides good quality voice calls. Further, coming to its battery life, the battery life of these bands is 6 hours, and also supports fast charging with 45 minutes of playback time with 15 minutes of charge, having a surprising feature that, it has dual connectivity, and at last but not least, it has a 1-year warranty.
Features:
Consists good bass
It has a clear and crisp sound
Its battery life is good with quick charging
It is also Sweatproof
Cons:
You will find no auto on off for saving battery
Mic could have been better
It has very loud music
Price: Rs 1399
2. OnePlus Bullet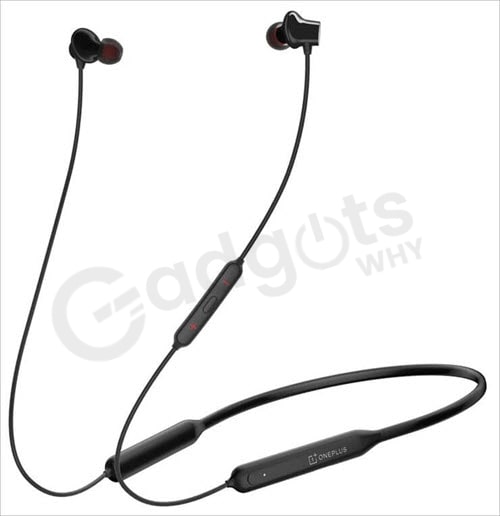 Now, another comes the Oneplus, which is capturing the attention of its customers in the mobile market gradually with its innovative and exceptional products. It has a superb design and best fit and also it has IP55 certification that makes it sweat and water-resistant in rain and around water. Coming on to connectivity, it has the latest Bluetooth version 5. Bullet Z is comes packed with its wrap charge technology that provides fast charging to charge the band, it also has a Type C USB port, which runs the battery for 20 hours and 10 minutes of charge, giving it 10 hours of playback, which is massively fast. For its easy usage, it has various features like Quick Switch, Quick Pair, and Magnetic Control. It also has one feature, low Latency mode, which gives you a real-time audio experience, and the range is 10 meters, which will allow you to move freely with earphones on. Also, you can choose from vivid color options that have been provided in the piece.
Features:
It has Light-weight to wear
Its sound quality is excellent
It has a superb battery backup
It has fast pairing and easy to switch mode
Rapid charging is also available
Cons:
It has average bass
You will need its Mic to be brought near the mouth for proper sound
There is no switch for on and off
Price: Rs 1999
3. Boult Audio PreBass Curve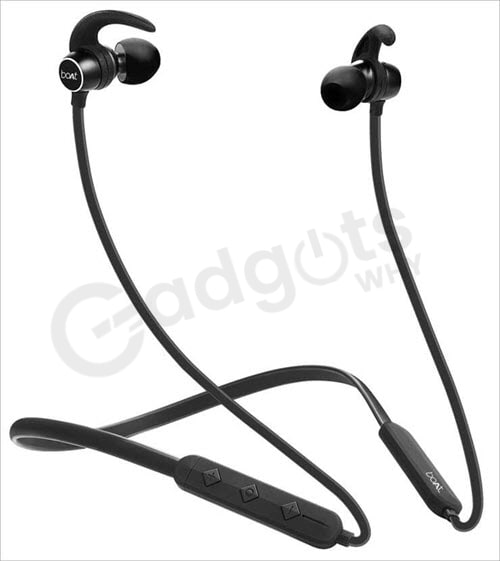 Another on the list is the Boult Audio ProBass Curve, which has a plastic design with a band and wired earbuds, you will find that its design is curvy to fit around your neck properly and fit perfectly. But its ear tips are at a 60-degree angle that sits and fits inside the ear perfectly. There you will find vivid and bright colors available. Besides, for clarity of calls, it has an in-built mic in it. It has earphones that are IPX5 certified and makes it water and sweat-resistant. Also, it has noise isolation to cancel the outside disturbances that you will find. It is powered by the famous Qualcomm's CSR8635 Bluetooth chip. Also, it has an extra bass feature that you will find for good sound quality. If you want it for a long playback time then it has 12 hours of battery life with a charging time of 2 hours.
Features:
It has an elegant design
It is very light in weight
It has good sound quality
It has an extra bass feature
It also has a sweat resistance feature
Cons:
You will not be much comfortable with it while jogging
it could have a better noise isolation
Price: Rs 1199