With the Blaze Credit Card, those with less-than-perfect credit can improve their credit score without paying exorbitant fees. This cost-effective card won't charge you activation fees, monthly maintenance costs, or other pricey fees, and it doesn't demand a security deposit to be eligible. It is issued by First Savings Bank and is handled in South Dakota by Capital Services. The Blaze Mastercard is a better option than fee-heavy unsecured card options or if you can't afford a security deposit for a secured credit card. Here are the essential details of Blaze credit card Login, Payment, and Customer service.
Things to know before getting Blaze Credit Card:
1. Annual Charges
Although there is a $75 annual fee for the Blaze Mastercard, you might not be forced to keep using it. According to Alfred Furth, portfolio chief and senior vice president at Capital Services, after establishing a history of on-time payments and responsibly managing your account, you can get in touch with customer support to inquire about being eligible for a lesser cost.
When compared to other unsecured credit cards, the cost is on the lower end, but it's important to remember that it's money you won't receive back. With a secured credit card, the security deposit may be more costly upfront—in some circumstances, several hundred dollars—but you'll at least earn that money back with a strong payment history and prudent credit usage.
2. Payment delays won't increase your APR
If you use the Blaze Mastercard, you won't be penalized with a penalty APR, which could be applied to your account balance over several months and raise your bill. Instead, your credit scores may suffer as a result of your missed payment. If you miss a payment, there is a late cost of up to $25, but that is still on the lower end given that late fines can occasionally go as high as $40.
To maintain your progress toward your credit goals, avoid paying late. All three major credit bureaus receive payment reports from The Blaze Mastercard (TransUnion, Equifax, and Experian). You may build a solid payment history, which accounts for a significant component of your credit score, by making on-time payments.
3. It charges fair prices
In addition to late penalties, the Blaze Mastercard has a 2 percent per transaction cash advance cost and a $25 maximum returned payment fee. But aside from those potential expenses, the Blaze Mastercard is a realistic and cost-effective choice because you won't have to worry about monthly fees, activation fees, or other exorbitant fees.
It is also prepared for overseas travel as a Mastercard with wide merchant acceptance and no foreign transaction fees.
4. Potentially high credit limit
For those who qualify, the Blaze Mastercard has a maximum credit limit of $1,500 and a minimum credit limit of $350. It is more generous at the higher end than the one you may receive with a secured credit card. After all, the amount you deposit determines how much credit you have available.
The lower the restriction, the less room there is to spend. Your available credit will also be reduced by the annual charge, leaving you with just $275. But, especially with this card, a modest credit limit isn't always a deal-breaker. If your account is in good standing and you meet the debt-to-income standards, you can be eligible for a larger credit limit in as little as six months.
5. Blaze Credit Card PREMIUM Club membership
Prescriptions, lodging, food, vehicle rentals, and entertainment are all discounted when cardholders choose to join the PREMIUM Club. Your billing statement will contain the membership fee, which is $4.95 per month (or $60 annually). Only if you can use the discounts to cover the cost of the membership fee will the program be worthwhile. Given that there is currently a $75 annual fee for this card, the cost to maintain it would be around $135. That comes very near to the price of a security deposit for a secured card, so if this amount fits within your budget, you should think about getting one.
If rewards are important to you, the Discover it Secured Credit Card, which has no annual fee, gives you 2% cash back at petrol stations and restaurants on up to $1,000 in combined quarterly purchases. Earnings from all other purchases are 1%. The Discover it Secured Credit Card needs a minimum $200 security deposit, but its sign-up bonus can help offset part of the expense. Additionally, the possibility of upgrading to an unsecured Discover card makes the purchase worthwhile. If you are prepared to switch to an unsecured card, the issuer automatically analyzes your account each month. You can receive your security deposit returned if you are.
Trending: How to get a Bank of the West cash back credit card with an invitation code
How to Login to a Blaze MasterCard?
Customers can sign into their current accounts using the Blaze MasterCard Login service. It only takes a few minutes to log into your account. You can sign up on the Blaze MasterCard website if you haven't done so already.
If you have previously created an account, you can log in from any location at any time. By logging in, a user can access a variety of features, including the ability to view prior transaction history, change personal information, view credit card invoices, conduct transactions, pay bills, check available credit balance, and more.
Steps to Blaze Credit Card Login:
Follow these snappy steps to log in to your Blaze credit card account.
Customers must go to the Blaze MasterCard login page at https://blazecc.com/
The green "Account Login" button is located at the bottom right of the page as you scroll down.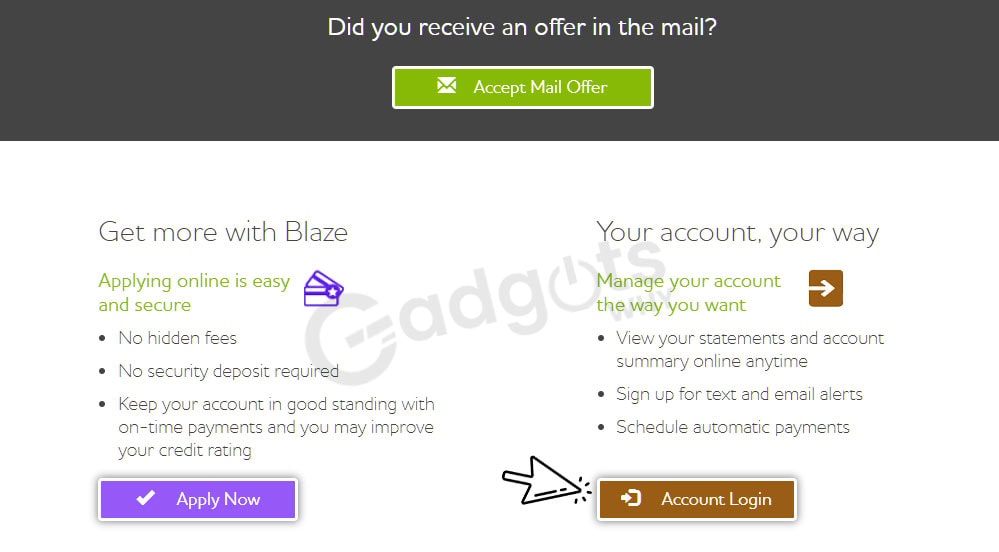 A new page titled "Welcome to Cardmember services" opens when you click on it.
Fill in the blanks with the username and password.
You will be sent to the account administration interface after clicking the "Login" button below.
How to recover your username and password?
If you don't remember their login credentials, they should go to the Blaze Credit Card login page.
Navigate to the 'Forgot Username or Password?' link is located beneath the login button once you opened the website,
A new page with the heading "Recover User Name or Password" appears when you click on it.
Complete the security verification procedure by clicking the "Continue" button there.
To authenticate your identity and retrieve your credentials, enter the following information:
Account number
Card Expire date
Security code of the card
Last 4 Digits of SSN
Recommended: Activate GO2bank Credit Card in just 3 steps
How to Sign Up for a New Blaze Card?
You can register as a new user on the Blaze CC website if you don't already have an account.
Visit the Blaze Credit Card login page.

The 'Register New User' link may be found at the top right of the login section.
You can click on it to go directly to the registration page.
To sign up as a new user, enter the information below:
Account number
Card Expire date
Security code of the card
Last 4 Digits of SSN
Finally, click on the continue button to get your account.
How Do I Pay My Blaze Credit Card Off?
Your Blaze Credit Card payments can be made in four different ways. The methods are listed below.
Paying online
Pay by Phone
Customer Service Number
Pay through the mail.
Online Blaze Credit Card Payment:
To make an online Blaze Credit Card payment, follow these steps:
Visit the official Blaze Credit Card website.
Enter a valid username and password to access your account.
Select Make Payment from the menu.
Now enter your payment information, including the desired payment amount.
Click the next button after double-checking the payment information.
Blaze Credit Card Payment by phone:
You can pay your Blaze credit card payments using your phone.
To do so you can simply download the Blaze specified app on your android or iPhone from the play store or app store.
Login to your account using your login credentials.
Navigate to the payments section and follow the onscreen instructions to complete your Blaze credit card payment.
Blaze credit card Payment by mail:
You can also make credit card payments by mail. Simply mail your money order or Cheque to the following location for the Blaze Credit Card.
Blaze Mastercard
PO Box 2534
Omaha NE 68103-2534.
Blaze customer service number:
You can also make a phone call to the Blaze Credit Card Customer Service Number to make a payment. Simply dial 1-605-782-3472 for Blaze Credit Card customer service, then follow the on-screen prompts to make your credit card payments.
Recommended: Activate Milestone credit card
Bottom Line:
Blaze credit card is a cost-effective card. It offers many benefits to customers. All those details are mentioned in this article. Also covered the Registration procedure, Login process, various payment methods, and customer care details. If you still have any doubts regarding the blaze credit card drop them in the comments section below. Hope this article is useful to you. Thank you and will meet you with another informative stuff.
Frequently Asked Questions
What is the Blaze credit card customer care phone number?
Call the customer service line at 1-866-205-8311 if you have any inquiries or concerns regarding this Policy or privacy practices in general.
Blaze Mastercard belongs to which bank?
First Savings Bank offers the Blaze Mastercard, an unsecured credit-building card. The card comes with a $75 annual fee, a fixed-rate APR on purchases and cash advances, and respectable credit limits (with the potential for upgrades).
When can you expect to receive your Blaze credit card?
After being authorized, it should take 7 to 10 business days to get a Blaze Credit Card. Call customer care at (866) 205-8311 if your card doesn't arrive within that time range.
Is a Blaze credit card legitimate?
Unsecured credit cards like the Blaze Mastercard are created especially for folks who are trying to improve their credit. Cardholders may be eligible for an increase in credit limits after making six on-time monthly payments. But customers need to pay an annual fee and authorized charges.
Can I get a cash advance on my Blaze credit card?
A cash advance must be at least $20. Illegal charges cannot be made using your card or account. The credit limit can be found on your statements and in the material sent with your card.