If you want to watch any of the thousands of BBC, ITV, Channel 4 TV programs, or Film4 movies accessible on BritBox for free, there are a few options and we've listed some of the smart ways to get a Britbox Free Trial. If you're searching for something new to binge-watch this weekend, BritBox could be worth a look.
About Britbox:
BritBox was first released in the United States and Canada in 2017 as a means for expatriates and their North American counterparts to enjoy some of the most talked-about UK television programs and movies. The Netflix competitor, on the other hand, arrived in the UK in late 2019 for Brits eager to rewatch some of their favorite episodes in a single digital library. BritBox promised some ambitious original material when it first launched. Spitting Image, the first of these unique exclusives, aired last year to considerable acclaim.
In fact, in the 24-hours after the release of Spitting Image alone, BritBox saw a tenfold rise in the daily rate of new subscribers. And a second season has already been commissioned for release later this year. The Beast Must Die, starring Cush Jumbo and Jared Harris, will be BritBox's first original drama commission and will premiere on the platform in May.
BritBox customers can now view fan favorites. This includes Top Gear, Downton Abbey, Happy Valley, and Gavin & Stacey, thanks to the addition of the Channel 4 series and movies last year. Film4's British films, including Trainspotting, and Royal Shakespeare Company filmed productions are also accessible. Subscribers will also get access to programs like Cold Feet, Doctor Who Classic, and Broadchurch that aren't accessible anywhere else. Channel 5 material is also being migrated to the platform.
In the future, the BBC has promised to negotiate fewer partnerships. This is done to send its old boxsets to Netflix, instead of keeping them exclusive to its catch-up services BBC iPlayer and BritBox.
"It's fantastic that, with the addition of BritBox on Prime Video Channels, we'll be able to provide UK Prime members with access to the largest British box sets," said Julian Monaghan, Director of Amazon Prime Video Channels Europe. "BritBox is a fantastic addition to our Prime Video Channels entertainment lineup, offering consumers even more options for finding the TV shows they love." The announcement comes as BritBox announced that it had reached its target of 500,000 members. It presently provides a seven-day free trial for individuals who wish to try out the service before having to pay. This is accessible via both the standalone BritBox app and Prime Video Channels.
Also Read: Stream Flixtor on Roku
How to get Britbox Free Trial?
This Netflix rival has some of the most popular boxsets from BBC, ITV, Channel 4, and Channel 5 as well as films from Film 4. In addition to classic comedies and dramas, BritBox has created a number of original, exclusive productions. This includes the highly acclaimed reincarnation of the puppet-based comedy Spitting Image. BritBox subscriptions cost £5.99 per month or £59.99 per year if paid in advance. All new clients can take advantage of a seven-day trial period.
However, before you pull out your credit card, you could be qualified for a free trial of the new streaming service. And, if you're anything like us, you already have monthly Direct Debits for Netflix, Prime Video, Disney+, and other subscription services, so the prospect of not having to pay for another subscription service is quite enticing.
If you have a BT home broadband subscription, you can get six months of free streaming. After the introductory time expires, BT subscribers will be offered the option of discontinuing access to the video-on-demand service or continuing to stream for a £5.99 per month subscription price paid straight via their BT account.
If you're a BT subscriber, go to My BT or the My BT mobile application
Add BritBox to your broadband service.
You will be asked for your details. Add them and you can get your free trial.
Customers with BT can terminate their BritBox membership at any time using their My BT account.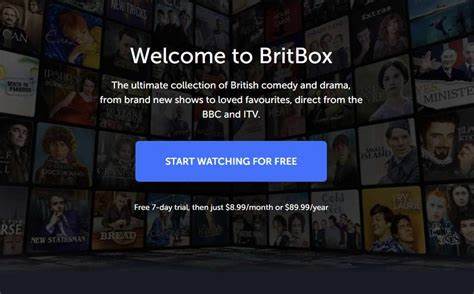 "We'll let you know when these six months are over," BT states under the terms and conditions. So, you should be notified before an additional £5.99 fee appears on your monthly bill.
After joining up, your treatment will be the same as those who pay for the video-on-demand service directly. As a result, you will be able to use the BritBox app on any device. This includes iPhone, iPad, Android smartphones and tablets, Amazon Fire TV, Apple TV, Roku, and via your web browser at BritBox.com. There are also specific BritBox streaming applications for LG and Samsung Smart TVs. Customers with BT TV will be able to tune in through an app created for the set-top box as well.
If none of those options work for you, the BritBox application supports Chromecast and AirPlay. It allows you to wirelessly beam the video stream to a number of HDMI dongles and set-top boxes. Customers with BT may cancel their BritBox subscription at any time through their My BT account.
EE claims that "You can get six months of BritBox for free as an EE pay monthly client. We'll even pay for the data you need to view it. After six months, the price drops to £5.99 per month, with the option to cancel at any time. To begin streaming, text BRITBOX to 150. This offer is valid for new and current 4G and 5G customers. Particularly those who have:
a pay monthly phone,
a 12-month SIM-only plan, or
a tablet on a 4G WiFi pricing plan
Of course, if you don't qualify for any of these deals, BritBox gives a free seven-day trial of their streaming service to everyone. You can join up online for a free trial of the streaming service.
A quick guide on How to screen mirror Paramount Network on Roku
Conclusion: So, that was all about Britbox Free Trial and how it's available on various platforms. We hope you will find our article resourceful.