Want to know how to Cancel AT&T's internet service? You've arrived at the proper location. We will describe every step required to cancel your AT&T internet in this article. Additionally, we will detail the company's cancellation rules and practices. Read on to find out all you need to know, whether you're relocating, need to adjust to a change in your financial circumstances, or want to transfer providers! Before getting into the topic let's know about AT&T Internet Service and AT&T Cancelation policy and the steps to Cancel AT&T Internet service.
Introduction to AT&T Internet Service:
The telecommunications firm AT&T offers AT&T internet, which is frequently bundled with phone and TV services. Depending on your demands and budget, AT&T internet is offered a variety of service options. The most basic plan, AT&T Internet 300, may be had for as little as $55 per month and provides download speeds of up to 300 Mbps. The most costly package, 5 GIG, has a price tag of over $180 and offers speeds of up to 5 Gbps.
AT&T Internet Service cancelation policy:
The AT&T cancellation policy, which specifies that you have 14 days after signing a contract to terminate your subscription without paying anything, must be understood before you cancel your AT&T internet service. A contract is required for any package, although AT&T internet alone is not subject to one. These contracts often run for a year or two.
Instructions to Cancel AT&T Internet service: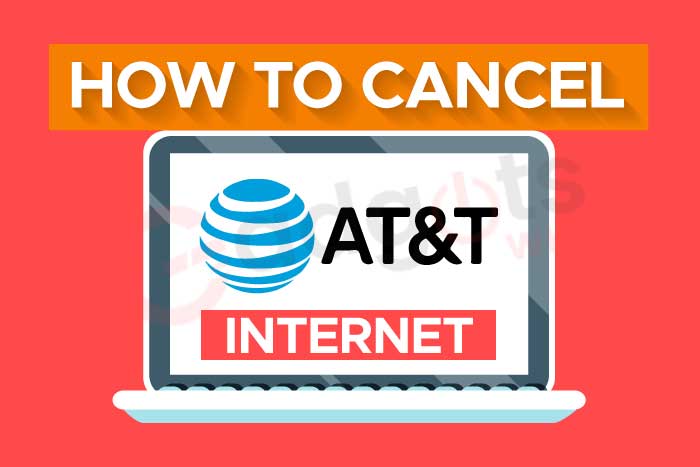 Let's talk about how to Cancel the AT&T Internet subscription now. Here we break down the entire process into four parts. To do so, simply adhere to the directions below.
1. Check if any unpaid bills
Check to see if you have any unpaid bills and settle them if you do before discontinuing your AT&T Internet connection. Other items, such as landline phones, DirecTV, TV, and more, with no connection to the Internet, may have outstanding amounts. After you begin your cancellation, AT&T may impose late fees or other irrational charges if there are any unpaid amounts.
Just be sure there are no conditions when you choose to end your AT&T Internet subscription.
Also Read: Cancel ExpressVPN Subscription
2. Check if you are under any contract:
AT&T has confirmed that consumers who sign up for internet-only subscription plans won't be tied to a contract when they do so. However, packages for phones and TV do not fall under this.
They can sign optional contracts for up to two years. You will be charged $15 for each month that remains in the contract if you cancel the subscription before it expires. The early termination charge is made up of these so-called prorated invoices, which may cost as much as $180 for a one-year contract and $360 for a two-year contract. You won't receive prorated invoices if you cancel your internet-only plan, though. Only an early termination fee of $80 will be applied to your account.
3. Request AT&T for cancelation:
AT&T offers three alternative ways to cancel your internet subscription. They include online, in-person, and phone cancellations. However, if you are a legacy DSL user, you will only be able to Cancel AT&T Internet service online.
If you are an AT&T Fiber or IPBB service user, your sole alternatives are in-person or over the phone. However, because AT&T ceased accepting new customers for legacy DSL service in 2020, we will only explain how to discontinue existing services in person and over the phone. As a result, knowing how to continue AT&T service online is not required.
By Phone cancel AT&T internet service:
Let's start with how to cancel internet service via mobile phone.
To begin, dial the AT&T customer service number: 1-800-288-2020 from your phone to contact AT&T customer service.
Then you must be validated, either by your registered phone number or by other account information.
Then, on your phone, say the words "cancel service" so they know what you mean.
When asked what service you wish to discontinue, you must respond "internet."
You will then speak with a human agent, who will ask you why you want to cancel your AT&T internet service. You can claim that you need to cancel it because you are leaving the country (U.S.)
To avoid paying for another month, request a cancellation date that is before the next month's billing date.
Finally, they will notify you of the need to return your AT&T equipment and issue you with a return authorization number.
Always write this number down somewhere because it is critical for returning the AT&T-leased equipment via UPS.
Recommended: Cancel NordVPN Subscription & Get a 100% Refund
In-store AT&T internet service cancellation
You should probably cancel your AT&T service in person at the nearby AT&T retail location if you want to make sure nothing is missed. This is the procedure.
Pack up all of the leased equipment first, including modems, receivers, gateways, cables, and other items.
After that, deliver the equipment to the AT&T retail location.
Give a reason for your request to cancel your internet service.
Inform them that you are leaving the country, or give any other good justification.
Talk to a representative there about establishing your cancellation date.
Make sure it happens before your subsequent billing to avoid the service being automatically renewed.
Finally, get a receipt from the representative to serve as proof of your cancellation of the equipment return.
4. Return all the Equipment:
The next action is to return any AT&T-leased equipment. You can return the equipment yourself by going to a nearby AT&T retail location, as we already mentioned. In addition, you can deliver it to a UPS location.
You will want a return authorization number from AT&T as well as a prepaid shipping label from AT&T if you choose to drop off your equipment at a UPS location.
If you can, pack your equipment in the original packaging it came in, but if not, you can place it in a box of your own as long as you keep it organized.
Put everything in the box, including the ethernet and power connections. After that, you can deliver it to the nearby UPS location.
You will also be required to pay a damaged equipment fee if the equipment you returned was damaged.
Damaged equipment fees and non-return fees are both replacement costs.
Recommended: Cancel Xfinity Service
Final words:
By following these easy instructions, you will be able to simply cancel your AT&T internet services if you want to. We suggest that you think about different possibilities if you are unsure about your choice. The reason for this is that the organization provides additional options that might enhance your utilization of its services. You may, for instance, temporarily turn off your internet or assign someone else with billing duties. Additionally, if AT&T offers services at that location, you can alter or relocate your service at any time. We hope with this blog you can cancel your AT&T Internet service. Do Share your feedback in the comments section below.
Frequently Asked Questions:
How to avoid the AT&T internet service Cancellation Fee? 
The simplest way to prevent cancellation costs is to terminate your AT&T service before your contract has expired. The internet customer support staff at AT&T is another option for bargaining. They could be prepared to lower the price or provide a deal if you mention that you're about to terminate your account owing to the high cost. Always give it a try!
Are final bills prorated by AT&T?
No, as of 2019, AT&T no longer issues prorated invoices to customers who purchase a TV, phone, and internet bundle. Mobile accounts are the lone exception, for which AT&T prorated the final costs. You will be charged the full amount for the previous month in all other cases.
Does AT&T prorate final bills?
You must pay a cancellation fee of about $80 for internet-only plans. However, if you decide to stop receiving your TV or phone service, you will be charged $15 for each month still left on your contract.
What number do I call to cancel my AT&T Internet?
Call 1-800-288-2020 to terminate your home service. To cancel or delete a line, go to an AT&T store, dial 611 from an AT&T wireless phone, or call 1-800-331-0500.