HelloFresh is One of the most well-known meal kit delivery services. They supply proportional ingredients and recipes that have been approved by chefs. Each week, they provide you with a choice of more than 20 meals. Depending on which provider will send you three to five meals each week, you can select a package on HelloFresh. One can change the schedule to suit their needs, and if they so choose, they can also forgo the weekly delivery. You do have the choice to end your subscription to HelloFresh at any moment. If you're reading this, you're presumably looking for information on how to Cancel HelloFresh subscription.
What is HelloFresh?
Are you one of those people who finds cooking dinner to be tedious, time-consuming, and simply not your thing, and would rather have it prepared for you? If this describes you, you are most likely one of the millions of people who have signed up for the German startup HelloFresh.
HelloFresh delivers a minimum of three to five meal packages per week, depending on the plan you choose for yourself. Meals are delivered chilled and safely insulated to keep them fresh. You have complete control over the type of plan you choose; it can be tailored to your preferences.
HelloFresh is the most popular meal-kit provider in the United States; its menus are designed and curated by chefs to meet your specific dietary requirements. Consider getting a package with easy-to-follow recipes and fresh ingredients delivered to your door.
The service allows you to choose a menu that best suits you and your family from a variety of options. There's no need to break your head trying to come up with a winning menu for each night of the week; everything is already planned out for you, nutrition information is provided with appropriately portioned ingredients, and all you have to do is mix it all. HelloFresh makes it simple to enjoy delicious meals whether you are vegan, vegetarian, or pescatarian.
Also Read: Cancel Home chef membership
Is it simple to cancel HelloFresh Subscription?
Yes! Undoubtedly, you may easily cancel a HelloFresh subscription. And with our assistance, the process will be considerably simpler than it was previously. You will just need to follow a few simple steps that you can complete on any device you own to cancel a HelloFresh membership. If you take the steps we'll provide below, it won't take more than five minutes.
Policy on Cancellations at HelloFresh:
In contrast to other subscriptions, HelloFresh's cancellation procedure is rather straightforward. The only thing to keep in mind is that you must cancel your HelloFresh subscription by 11:59 p.m. PT. for at least five days before the delivery date of your upcoming HelloFresh order.
If you do this, your membership will be successfully terminated and you won't be responsible for the subsequent order. However, if you don't, you'll have to pay for the subsequent delivery and your cancellation won't be accepted. Therefore, keep an eye on your delivery schedule before terminating your HelloFresh membership.
Know the must-have Google Products at home to make life easier
How to Cancel HelloFresh subscription?
What you've all been waiting for is finally here. Finally, let's discuss how to terminate your HelloFresh subscription. Just adhere to the guidelines listed below.
How to cancel HelloFresh Online through the Website?
Through the HelloFresh website, you may quickly cancel your membership. This is the procedure.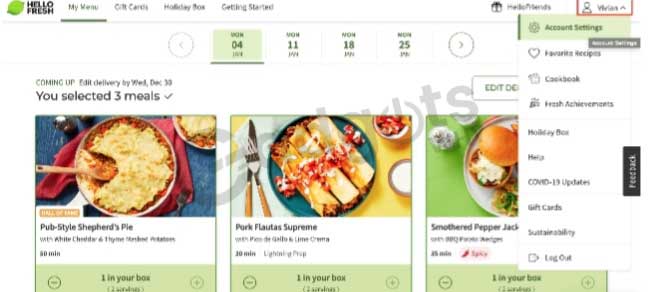 You may find your name in the page's upper right corner. Click on it.
After that, choose Account settings.
The Cancel Plan button can be found at the very bottom of the screen if you scroll down. Once you find the candle plan option click on it.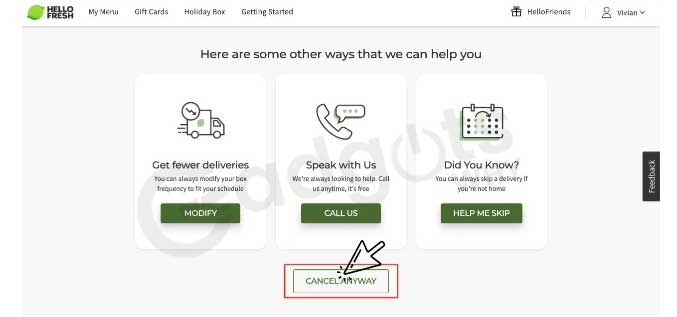 The website will make an effort to get you to stay by suggesting solutions to your problem, but you must click Cancel Anyhow.
Select a justification for your cancellation next.
After completing the subsequent instructions, tap the Cancel Anyway button one more.
A notification letting you know that your membership cancellation was successful will then show up.
Additionally, the final delivery date will also be displayed.
Stream iFood.tv on your streaming device & learn to cook new dishes every day!
How to Pause HelloFresh Subscription?
You may be attempting to cancel your HelloFresh subscription, but you may be relieved to learn that you can put the service on hold without unsubscribing. You heard correctly! HelloFresh has a flexible plan that allows you to skip a week or weeks at any time and resume cooking delicious meals whenever you are ready.
When you'll be away from home for an extended time or want to take a break from cooking, you can skip your weekly deliveries by pausing your subscription this is how you do it:
You must first sign in to your account.
Navigate to My Menu.
Choose the delivery day(s) of the week(s) you want to skip, then click Skip Week.
If you want to cancel your subscription permanently, you can do so as well.
Final words to Cancel HelloFresh Subscription:
If your meals are subpar or if you wish to test another food delivery service, we can understand. Let us assist you in saying goodbye to HelloFresh if it is not the right fit for you. You have now mastered the skills necessary to cancel, modify, and skip your HelloFresh membership with the aid of the preceding step-by-step instructions. In addition, we have addressed some of your commonly asked questions, like whether you may cancel HelloFresh after receiving a free box, placing your first purchase, and making a payment. After reading this post, you will no doubt have all of your doubts answered, so continue! Try canceling your HelloFresh membership!
Also Read: Activate Foodnetwork a one-stop destination for all the foodies wanting to explore more about food!
Frequently Asked Questions
How do I completely unsubscribe from HelloFresh?
Simply follow the steps below:
1. Access your HelloFresh account.
2. Click on your name at the top of the page, then select 'Settings.'
3. From the green tabs, select the subscription you want to cancel.
4. In the bottom right corner, click 'Cancel my subscription.'
Is it simple to cancel your HelloFresh subscription?
Cancellation is simple, but if you have an order on the way, you must cancel it by 11:59 p.m. PST five days before it arrives. You will be charged for the meals if you do not.
How do I contact HelloFresh to request a refund?
HELLOFRESH REFUND AND RETURN POLICY: If you are dissatisfied with any aspect of your Meal Box or a specific Meal Kit, please contact them at hello@hellofresh.com or call Customer Care at (646) 846-3663. Please notify them within five (5) days of receiving the defective item.
What is the price of HelloFresh?
HelloFresh's meal delivery service starts at $7.49 per serving. In other words, you only pay $53.94 per week for three recipes for two people.