Payment mistakes happen frequently. Perhaps you made a payment with an additional digit or chose the incorrect recipient. You might be able to cancel the payment, depending on the specifics of the transaction. In this blog, we will show you how to Cancel your Venmo Payment or Request your money back. 
How does Venmo help you with canceling payments?
Venmo is a fantastic tool for transferring and receiving money, and it is almost as popular as PayPal. You may use this page to transfer money to friends or to directly pay for services on a website. Accidents sometimes happen, though, and you might mistakenly transfer money to the incorrect person, fall victim to fraud, or just require a refund.
Although it could appear challenging at first, especially for new Venmo users, the money return procedure is not difficult to understand. Everything you need to know about receiving money back into your Venmo account is covered in this post. We'll also discuss frequent hazards you can run across so you'll know what to watch out for.
When you send money to a Venmo user, the amount is automatically added to their account balance. Once payment has been sent through Venmo, it cannot be canceled due to the speed of the service. You will need to send the individual to who you unintentionally sent money a request for the money if they are a Venmo user. The sole exception is that payments received to addresses or phone numbers not associated with Venmo accounts may be reversed.
Cancel Venmo Payments:
On the sending side, the situation is the same; you cannot reverse a payment to an active Venmo account. When you submit a payment, the recipient immediately has access to the funds.
You will need to contact the receiver directly to send back a payment for the same amount if you made a mistake and want them to reimburse the original payment.
Tell them in your message that you sent the money in error and ask them to reimburse you.
You may transfer the money from your Venmo account to your bank after you get it.
The same holds if you unintentionally or twice made a payment to your friend.
What can Venmo Support do then? Can payments ever reverse? They can if
The receiver expressly consents.
Their history with Venmo is good.
Since the money is already in their Venmo account, they must contact customer service to get it reversed.
At your (the sender's) request, Venmo Support won't reverse the payment.
Editor's Recommendation: Priceline Payment Options
What happens, though, if the intended receiver doesn't react or refuses to give you your money back? Will Venmo then allow for transaction reversal? They will make an effort to assist, but they can't promise that you'll receive your money back. When you get in touch with them, be sure to mention the following:
recipient's username
Cost of the transaction
Date of the transaction
Username, contact information, and email of the person to whom you sent.
Cancel Venmo payments to Unregistered Venmo Accounts:
You can retrieve your payment from the "Incomplete" area of the Venmo app if you send it to an unregistered Venmo phone number or email address.
When an email address or phone number isn't linked to a Venmo account, incomplete payments can reclaim. There are three alternatives in the situation:
You can return the funds.
With such information, the receiver may set up a Venmo account.
The receiver can validate it by adding the information to their account.
You can cancel the payment and receive your money back by doing the following actions:
Activate the "Me" tab.
Select "Incomplete" by clicking it.
Look under "Payments"
You will find the disputed payment.
Click on the take Back option.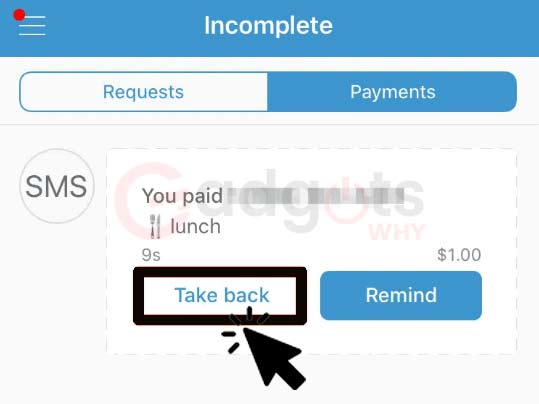 On the other hand, get in touch with Venmo support right away if you suspect you may have paid the wrong person or that you may have been the victim of fraud.
What if you sent Venmo to the wrong person?
If you simply sent the incorrect amount, you can simply request that the excess be returned. After all, you'll most likely recognize each other and realize your error.
However, if you send it to the wrong person, the situation becomes more complicated. You probably won't know that person, and they probably won't know you. They have no incentive to refund your money.
Nonetheless, the first thing you should do if you sent a payment to the wrong person is to politely request your money back.
Explain the situation, admit your error, and apologize for any inconvenience you've caused them. If they return the money, that's fantastic! You are not required to do anything else.
How to return money if someone accidentally paid me on Venmo?
Venmo support may be able to assist you in returning the money if someone accidentally paid you on Venmo. Again, you can't decline it.
You have no idea if the stranger sent the money accidentally or on purpose, or what their motives were. Venmo will assist you in reversing the payment if you get in touch with them.
Only strangers may ask you to make a payment not the money received
Block the user who paid you or gave you a request to make sure this doesn't happen again. Later, more on that.
Rejecting a Venmo Payment from a Friend:
Payments made through Venmo cannot be canceled or denied once they reach your Venmo account, regardless of whether the payer is a stranger or someone you know.
You should return the money to someone you know if they made a payment error or the entire transaction was fraudulent.
It will utilize to fund your payment back to them if the funds are still in your Venmo account.
The payment will be financed using the payment method you choose if you don't have access to a Venmo balance or if you've already paid the full amount.
To sum up:
The Venmo payment app is an extremely useful tool, and almost all of us use it in our daily transactions. However, if you make a mistake while using this app, you will lose your money. You cannot cancel or reverse a payment, but you can compensate for your error by negotiating with the recipient. You can also contact support to notify them, but they cannot guarantee anything. We must deal with these issues if we are to continue using Venmo's admittedly excellent service. But it's understandable if you want to permanently close your Venmo account. You can also check our FAQs section if you have any other concerns including how to dispute a Venmo Payment. Will Venmo refund money if scammed? pending Venmo Payment? And much more. You can share your feedback with us in the comments section below. 
Frequently Asked Questions(FAQs):
How long will it take to clear pending Venmo Payment?
Pending Venmo payments are automatically released after 21 days, allowing you to access the funds from any held payment once the hold period expires. When this occurs, you will be notified in the Venmo app and via email that your funds are now available.

Will Venmo refund money if scammed?
The hard truth is that if you are a victim of a Venmo email scam, a Venmo phone scam, or a Venmo credit card scam, you may not be able to recover your money. Even If you have been scammed using the app, the company does not guarantee a refund.
How to dispute a Venmo payment? 
You can file a dispute with Venmo within 180 days of the purchase date, and then follow the dispute resolution process. Users who file a chargeback for a Venmo payment will have their account suspended and will be unable to send or receive any further payments until the amount is repaid.
How to contact Venmo Customer support? 
Follow the instructions below to get in touch with Venmo support.
Visit their help center and choose the scenario that most closely matches your condition.
After that, you will be sent to a website where you may submit a ticket by completing the necessary information.
Under the "Tell us what's up" area, describe your issue.
Include any desired attachments.
Hit "Submit."
What is Venmo? 
Venmo is a well-known mobile payment application that was first developed to make it easier for groups of people to conduct quick transactions. Initially, family members and friends would utilize Venmo to divide expenses.
How long can you cancel a Venmo payment?
If your recipient does not accept your payment within three days, it will be canceled automatically. Alternatively, you can cancel the payment manually from the Venmo app. You have the option to cancel your payment as long as your receiver has not yet accepted it.
What happens if you accidentally pay the wrong person on Venmo?
You should include a note asking them to reimburse you for the money you sent by mistake, and after they approve the request, the funds will be transferred to your Venmo account. If you haven't heard back from them or need assistance sending a charge request, please contact Venmo support staff and they'll do their best to assist you.
How long does it take to get a Venmo refund?
The timeliness of a refund is determined by the policy of the company from which you acquired the goods or services. When a business issues a refund, it normally takes 1-5 business days for the funds to be credited to your Venmo balance.