Over the last several years, the market for video streaming has seen explosive growth, and it is now quite difficult to find someone who does not watch video content online. As online video streaming firms fight with one another for viewers, consumers like you and me benefit from better products and more enticing pricing, thanks in part to companies like Sky that are contributing on-the-go services like Sky Go. It seems like a fantastic alternative to Sky's multiscreen subscription can be accomplished if you cast Sky Go on Chromecast.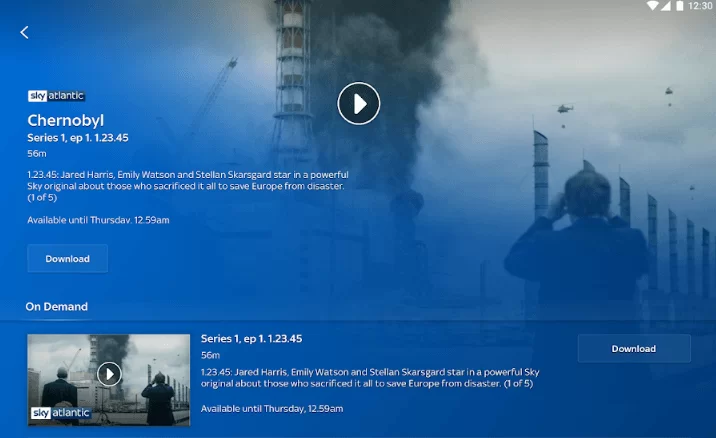 After researching around with Sky Go for a while, we've discovered several tips and tactics that might be of use in resolving the issue. Is it possible to cast Sky Go on Chromecast from any location in the world? Are there any other alternatives available? This post will clear up any doubts about Sky Go and Chromecast that might have been resting on your mind. Some people claim that Sky Go is incompatible with Chromecast, while others assert that it works without any issues; who is right? The right response is both of them. Let's dive right into it.
Is Sky Go currently compatible with Chromecast?
Unfortunately, the United Kingdom is not one of the regions in which Sky Go is accessible on Chromecast. However, it is available in several other territories. The fortunate people who live in New Zealand, where it is possible to utilize Chromecast Ultra and Chromecast 3rd Generation with their version of Sky Go, seem to have things better down under than their counterparts in Australia or other places around the globe.
How to Cast Sky Go on Chromecast Using a Phone?
Casting content from Sky Go to Chromecast is not officially supported in the United Kingdom at this time. If you are in that area, the app will not display a casting symbol for you to tap. Nevertheless, the screen-mirroring mode that is available on the Chromecast seems to be a solution that is effective.
Keep in mind that mirroring the screen on Sky Go is not guaranteed to function. Rather, its success is dependent on a number of different conditions. Nonetheless, it is still worth a try. You can make the video that is playing on the TV fill the whole screen by loading the Sky Go app onto your phone, turning it so that it is in landscape mode, and then rotating it sideways. Even in countries where Sky Go is not officially supported, you can view it on your Chromecast thanks to this workaround. The following are the procedures that you need to take in order to mirror the screen and Cast Sky Go on Chromecast Using a Phone:
Establish a connection to your Chromecast device and activate the screen-mirroring mode.
Alternatively, you can make use of an application such as Momocast to enable screen mirroring.
Start the Sky Go application on your mobile phone device.
Play any media.
Now, there is a possibility that you could have difficulties while attempting to screen-mirror Sky Go to Chromecast, particularly from a mobile device. Sky Go's copyright protection manifests itself in the form of a frequent error message that reads "External Display Output is Blocked." If you get that problem, it is quite likely that you will not be able to mirror material from Sky Go on a Chromecast.
Keep in mind:
Screen mirroring is analogous to streaming the display of your mobile device across a local area network. As a result, you should prepare yourself to experience a wide variety of difficulties, including latency, poor picture quality, and low frame rates. It will not even let you connect the majority of the time.
How to cast Sky Go on Chromecast in New Zealand?
Despite the fact that the most recent version of the Sky Go app officially supports casting to Chromecast, the app is unfortunately only accessible in New Zealand at this time. Casting can be accomplished with only a few touches and will not provide any difficulties inside New Zealand. Proceed in the following manner to Cast Sky Go on Chromecast Using a Phone in New Zealand:
Please ensure that the Sky Go app on your mobile device is up to date.
Ensure that both the Chromecast and the device you wish to cast from are connected to the same Wi-Fi connection.
Open the Sky Go application and choose the casting symbol from the menu (it looks like a TV).
Enjoy Sky Go content on your Chromecast device.
It is, however, rather more difficult for other locations, such as the United Kingdom, in which casting is not officially available for this program. Nevertheless, there are several other choices that you may think about pursuing instead.
Is It Possible to Cast the Sky Go Chrome Tab from Your Computer to Your Chromecast?
You will not be able to cast content from a Chrome browser tab to a Chromecast or any other casting device if you are using Sky Go. In fact, in-browser media will not play at all on Chrome. Instead, you will need to use Firefox or the app, which you can download onto personal computers, mobile phones, and gaming consoles.
Even in places where casting is available, using a Chrome browser tab to cast content is not permitted. Instead, users have to use the company's official app in order to cast content.
What's the deal with Sky Go not supporting Google Chrome in the UK?
You used to be able to use the Google Chrome web browser to view the web-based version of Sky Go, however as of recently, this feature is no longer available. Remember that this could change in the not-too-distant future, so it doesn't hurt to check more than once.
The reason why Sky Go is incompatible with Google Chrome is that Google Chrome has discontinued its support for Microsoft Silverlight, which is the program that Sky Go relies on to function. Chrome has shifted its multimedia support to HTML 5. If you want to stream material from Sky Go inside the browser, your next best choice is Firefox. It does not seem like Sky Go will make any changes to its software in the near future.
Change Your Location Using A VPN:
You might also try using a virtual private network (VPN) to modify the location of your device so that it is located in a country where Sky Go is compatible with Chromecast, such as New Zealand or Australia. The virtual private network (VPN) option is quite tough and unstable due to the fact that not all VPNs are able to unblock Sky Go and you may have issues.
Alternatives to casting Sky Go on Chromecast:
It's disappointing that Sky Go makes every effort to prevent players from performing their spells. In the event that you are unable to get any of the casting functions of Sky Go to function properly, the next step would be to test out a wired connection. We are aware that connecting wires can be a headache, but we have some suggestions that might make things simpler for you. Other compatibility issues prevent us from going into too much depth about it so we won't be discussing it too much more. There is still something to think about with regard to this.
1: Sky Go Through a Laptop Connected to A TV Through an HDMI Cable
The simplest and most apparent approach would be to use an HDMI connection to connect your laptop to your television, and then launch the Sky Go application on your laptop in order to view your programs. Even while it is not the ideal option, it will have to do in the meantime, at least until Sky Go enhances the Chromecast capabilities.
When watching Sky Go on an external screen, a grey screen might appear:
It would seem that Sky Go does not want users to transfer material to displays outside of the app. Some users have reported being able to view it for a short period of time before being presented with a grey screen. It is not abundantly obvious why this is the case. Nevertheless, it seems that the Sky Go software is solely for use on desktop computers or game consoles.
2: Remote Desktop Connection Made from Desktop to Laptop
It's possible that this plan won't work out very well, but it's still something that's worth trying out despite the fact that it's rather difficult. Installing Chrome Remote Desktop on your own computer is a good idea since the Sky Go program functions most effectively on desktop machines.
The next step is to launch Chrome Remote Desktop after connecting your laptop (or phone) to your television, at which point you should see the display of your personal computer. If you launch the Sky Go application remotely on your own computer, you should be able to view programs much like this one. The issue is that Chrome Remote Desktop experiences a dip in frame rate, the severity of which is dependent on the speed of your internet connection. It's not going to hurt to give it a go, right?
3: Connecting a Phone to a TV using an Adapter for USB-C to HDMI
Alternatively, you might use an adaptor that converts USB-C to HDMI to link your phone straight up to your television set. You can also do this using tablets, which, because of their portability and user-friendliness, make for rather good media stations for televisions.
Simply launch the Sky Go app from there, and you should not have any difficulties using it. When linked to an adaptor, the vast majority of mobile devices are able to send out video signals. Moreover, newer Samsung phones are able to utilize Samsung Dex. If you are unable to cast from inside the app, there is a good possibility that you will also be unable to utilize a wired output.
4: Try Running Android Apps on Windows Using an Emulator on Your Laptop
You might also try downloading the Sky Go app onto an Android-to-PC emulator, such as BlueStacks, and experimenting with its casting functionality. This is one of many methods available to you. We are unable to attest to its efficacy, but in principle, it ought to work. It is possible that the performance of your computer will improve if it has links to the router via a network cable or wirelessly.
5: Using Sky Go on one's Xbox console
Watching content via Sky Go on your Xbox is yet another choice. The app is now popular as "TV from Sky," and downloading it does not cost anything. This is the greatest choice if you have an Xbox linked to your television set. Sky Go is also compatible with other gaming systems, such as the PlayStation 4 and 5.
Conclusion: It is important to keep in mind that the procedures in this article are not in stone. And are subject to change depending on the software upgrades. It's possible that they will work for you, but there's no guarantee they will. Instead, you should experiment with a number of different approaches to find out what works best for you. Even if you're not in New Zealand, it shouldn't be too difficult to make Sky Go and Chromecast work together. All it takes is a little bit of ingenuity on your part.