P-EBT is a government food aid program that was launched in the spring of 2020. The Department of Transitional Assistance (DTA), in partnership with the Department of Elementary and Secondary Education (DESE), granted permission to run this program temporarily during the COVID-19 epidemic. Does your child qualify for P-EBT? Do you want to check Balance On P-EBT Card without a card number? In this blog, we explain what a P-EBT card is, how to check your Balance on a P-EBT card, the benefits of a P-EBT card, and everything about P-EBT.
What exactly is P-EBT?
Congress created Pandemic Electronic Benefits Transfer (P-EBT), which is supported by the United States Department of Agriculture (USDA). The guidelines for this program are set by the federal government. This program reimburses kids who receive free or reduced-price meals via the National School Lunch Program (NSLP) for meals lost while absent from school due to the epidemic. The funds on these cards may only be used for food.
P-EBT was first seen in Pennsylvania in the spring of 2020. What was formerly thought to be a short-term effort has evolved into a longer-term federal response to the national public health problem.
How do you activate P-EBT benefits?
If you get a new P-EBT card, you must activate it by phoning the P-EBT hotline listed on the back of the card. You will be prompted to enter the whole number printed on the front of the card. You will next be asked whether you want to activate a P-EBT card or a normal EBT card. When you choose the P-EBT card option, you will be prompted to input your zip code's last four digits. The date of birth for the kid whose name is on the card will then be requested. Finally, you must enter and validate a four-digit Personal Identification Number (PIN). You may choose whatever four-digit combination you like, but you should avoid using repeating or consecutive numbers.
After successfully activating the card and assigning a PIN, the automated voice will inform you that the card has been activated and then end the call. Simply dial the EBT Hotline number to check the card's balance. After the card is authorized, you will receive an automatic list of choices, including the ability to check the card's balance, hear the past 10 transactions on the card, reset your PIN, or challenge charges. You may also check your balance by visiting www.connectebt.com Opens In A New Window or by downloading the Connect EBT mobile app.
Also Read: Check balance on EBT Card
How to create P-EBT account?
To create your account, enter your entire social security number but use 000-00 as the first five numbers, the final four digits of your zip code as the last four numbers, and the child's date of birth as the last four numbers. Families who get the benefit on their normal EBT card can check their SNAP balance via the DHS's myCOMPASS PA smartphone app.
Once you activate, your P-EBT card can be used at any authorized retailer. An EBT sticker will be placed in the window of an authorized store. The majority of supermarket and convenience retailers accept EBT and P-EBT cards. P-EBT benefits can be used to buy most food items, but not non-food goods, alcoholic drinks, pet foods, hot meals, or hot prepared foods (such as a rotisserie chicken at the grocery store). Please keep in mind that P-EBT cards cannot be used to pay for prepared school meals.
P-EBT benefits will keep in the SNAP account for nine months after the account is closed. After nine months of inactivity, benefits will remove from the card and cannot reissue. If you are receiving P-EBT benefits for your child and do not want to participate, just destroy and discard the card.
How do you Check balance on P-EBT card?
You may check your P-EBT card balance by going to DTAConnect.com/pebt. Navigate to the page "P-EBT Case and Balance Information." Enter your P-EBT card number there. Your balance will be shown beneath your P-EBT case number. You can also call the phone number printed on the back of your P-EBT card (800-997-2555).
If you have a DTA EBT card, you may check your balance by visiting DTAConnect.com, using the DTA Connect mobile app, or dialing the number on the back of your card. Please keep in mind that your P-EBT will apply to any SNAP benefits on your account, so your balance will reflect both.
Is your Pandemic EBT card (P-EBT) displaying a $0 balance?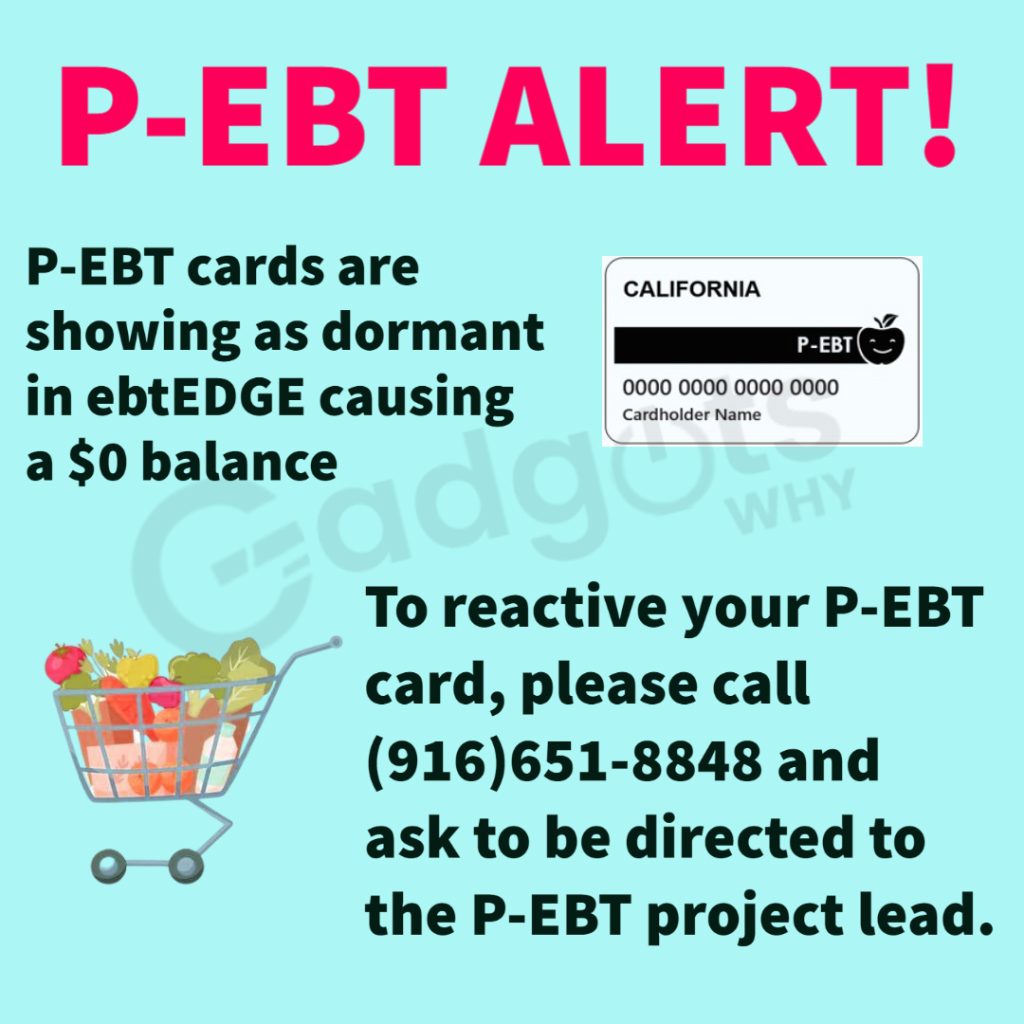 It was identified that P-EBT cards that are not used for 180 days shall become inactive. When this occurs, the P-EBT card cannot be used and displays a balance of $0.
Please keep in mind that money may still be in the account when a card is dormant; they are simply unavailable for use and must be reactivated. To revive inactive P-EBT cards, contact CDSS and ask to be directed to the P-EBT Project Lead. The CDSS phone number is (916) 651-8848. CDSS is also collaborating with its P-EBT helpline (877) 328-9677, which may be able to assist families in reactivating their cards shortly.
Also Read: Check Illinois Link Card Balance
Concluding words: Check the Balance on P-EBT Card
Here is the bottom line of this blog, with a P-EBT card your child can get a discount or reduced price on certain food items. However, after receiving the card one must activate the card to start using the card. The activation process is mentioned above and there are also two ways to check the balance on a P-EBT card. In the first method, you need to visit their website and enter your card number to know the balance whereas in the second method you simply call the number mentioned on the back side of the card. Either way, you can check P-EBT balance. Hope this article is informative and still if you have anything to ask you can drop your concerns and suggestions in the comments section below. Thank you for being with us and will see you all shortly.
Frequently Asked Questions:
Does the P-EBT card reload monthly?
Yes, Your card will be reloaded as long as the promotion is running and you are eligible you should maintain your card in case you are eligible for future P-EBT benefits. 
How to check P-EBT balance without a card number?  
If you want to check the P-EBT balance without a card number, then You can call the phone number printed on the back of every P-EBT card (800-997-2555). While talking with their executive you may be required to provide some details like the child's name, and date of birth so keep that information handy.
What can I purchase with my P-EBT card?
Most fresh, canned, and frozen foods are available, including but not limited to:
Fruits and vegetables that are fresh
Meat, dairy products, and eggs
Rice, beans, and other dry commodities
Plant seeds for growing your own plants
What can't I buy with the P-EBT card?
The following items are not available for purchase:
Hot and ready-to-eat prepared meals
Diapers
Cleaning supplies
Toilet paper, paper towels, and so forth.
Medicine and supplements
Food for pets
Alcohol
Does a P-EBT card expire?
P-EBT benefits expire 274 days after they are issued. Whereas unused P-EBT funds will transfer to next month's funds, after twelve months those unused funds will be removed. 
How long will my P-EBT card's advantages remain valid?
Benefits are automatically withdrawn after 274 days of inactivity and cannot be reinstated. We urge households to use P-EBT benefits to aid their families and the local economy. If you receive numerous cards for different children, it is also recommended that you make at least one purchase on each card to avoid money being depleted after 274 days. Benefits cannot be transferred, given, or donated. If you do not want to use the advantages, you may destroy the card or return it to the address on the back.