Around the world, there are numerous evangelical and Christian television networks. These television networks concentrate on bringing faith into the homes of their viewers by emphasizing religious programs and Christian television series. Even if several of the top Christian TV networks have changed names or shut down, their ministries continue on other channels through syndication. Evangelical and faith-based networks are included in this list of Christian TV networks and channels. We'll talk about the Top 9 Christian TV streaming services in this blog post today.
List of Top Christian TV Streaming Services:
We did a super thorough analysis of all the available Christian TV Streaming services and finally, we selected the Top 9 streaming services that filter all the fluffy content and present Family Friendly and faith-based content for Christian families. And here we go through one after the other.
1. Crossflix Plus: Best Christian TV streaming service
The top Christian films are available on the premium streaming service Crossflix Plus. The service offers animated movies, comedies, documentaries, and modern Christian movies. Instead of just streaming, the subscription-based platform also lets you download movies.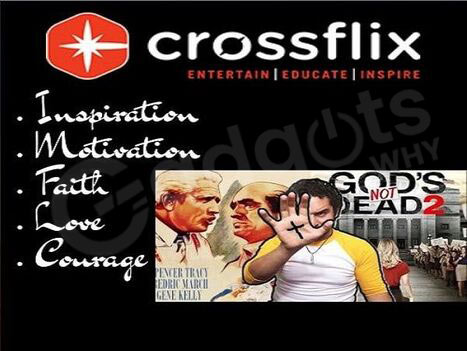 Film producers and directors, Alan Mehrez and his wife are the company's founders. All of the videos on Crossflix are of the highest caliber and are classics as a result of their expertise. It is accessible across all streaming services. However, you may get all of the content through the website if you prefer the web version.
2. Yipee
Yippee can be considered one of the best Christian TV streaming services. Children mostly like this channel because Disney Channel's Christian alternative is Yippee. Tens of new entertaining and educational shows are available on the site. The platform's overall amount of content is more than 1,000 hours. New Veggie Tales, the platform's most well-known program, is only available on Yippee.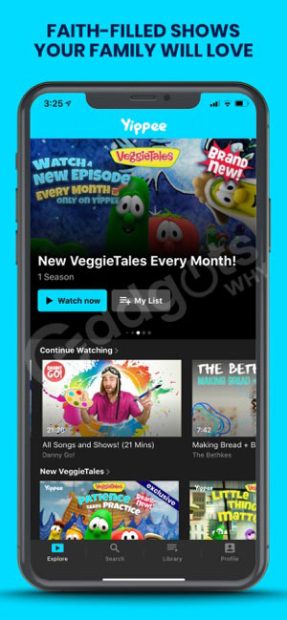 Despite being a subscription-based network, Yippee offers new users a free trial. You can access all of the premium content for nothing during the trial period. You can begin paying the monthly fee if you adore Yippee as a platform.
Trending: Activate Duplexplay IPTV
3. Living Scriptures:
The fastest-growing faith-based portal is Living Scriptures. Although the Latter-day Saints families are the platform's primary target audience, any Christian will appreciate its wide range of information.
One of the broadest selections of Christian films may be found at Living Scriptures. The movies span from animated Bible stories to inspiring flicks. The portal also entertains kids with a strong moral foundation and church documentaries. Living Scriptures are available on a variety of platforms. Roku, Chromecast, Android, iOS, Apple TV, and Android TV all support it. Despite being a subscription-based platform, all new subscribers are given a complimentary one-month trial.
4. Streamingchurch.TV
Streamingchurch.TV has many features that are specifically made for broadcasting church services, like a map of the congregation, sermon notes, the ability to simulate live services, and much more.
Everything is noted, and under particular plans like premium and others, it provides both VOD and live streaming services. The content will not stream across a CDN, which reduces the quality when many people are watching it, and that is the sole negative.
This program provides full live streaming support for church services, guarantees ad-free service streaming, provides an interactive map of participants so that you may learn about their preferences, and incorporates sermons for an improved praying experience.
This is compatible with a variety of mobile devices, including Roku, as well as social media networks like Facebook and Twitter.
5. Pureflix
Positive entertainment and, more significantly, classic and modern Christian films may be found on Pureflix. It has a paywall because it's a premium entertainment site. Once you pay, you can view the largest collection of Christian videos yet. A subscription also gets rid of advertisements.
Pureflix includes various columns for easier navigation. For instance, seeing the most popular movies on the platform is simple. Additionally, the system is sophisticated, and you will receive movie choices based on your tastes in content.
6. Parables:
A substantial amount of Christian streaming programming is available on Parables. Since they don't put as much of a priority on kid-friendly programming as many other streaming services do, their target demographic is generally older. The fact that Parables is a free service with advertising sets it unique from other streaming services. You can access their live streaming channel and receive no advertisements by subscribing. It costs $5.99 monthly or $57.99 annually. It offers advertisement-free live streaming.
Trending: 9 Top Cinebloom Alternatives to Watch HD Movies
7. RightNow Media:
Christians can order the streaming service RightNow Media through their local church. The sermons, bible studies, and children's programming are all outstanding.
Since I started using RightNow Media through my church, it has been a great tool for me to find biblical knowledge that I can apply to my challenges and trials. It Charges churches according to size. It offers the best Biblical education and comprehensive children's programs
8. UP Faith:
A family-friendly entertainment portal is UP Faith. Everyone can watch movies and television series on the site for religious entertainment. It features an expanding selection of documentaries, Christian movies, children's programming, and black movies (and TV episodes).
The UP Faith is one of the greatest Christian streaming services based on personalization in addition to its excellent content library. You may curate your account and watch only the episodes you love because it has a variety of content. On your mobile device, you can download videos and shows to view later.
9. His Channel:
The content of HisChannel is diversified and pertinent to Christian communities. As one of the few Christian streaming channels with Christian-specific news updates, for instance. Additionally, the service offers talk shows with a Christian viewpoint on a variety of topics.
this channel is well-known for its Teaching and Church programming, nevertheless. It includes well-known preachers including John MacArthur, Hal Lindsey, and Dr. David Jeremiah.
The part includes Christian films and documentaries with the well-known Bill Graham Heaven and Life series. All the streaming services offer HisChannel. As an alternative, you can access all of the content on its website without charge.
Also Read: Activate Hillsong Channel on Roku to experience spirituality
Final words about Christian TV Streaming services:
I strongly believe in shifting part of my streaming habits to Christian-based providers.
When children are on these channels, we don't have to worry about what they are seeing, and the content quality is such that we are not ashamed that a Christian produced it.
Every alternative on this list that I have so far tried has a legitimate market for each service, in my opinion. Find the ones that work best for your family by trying a few.
Frequently Asked Questions
Does Netflix offer Christian content?
The Christian version of Netflix, Pure Flix, offers a vast selection of movies and TV shows free of explicit content, drugs, and youths wearing skimpy clothing.
What does a month of Pure Flix cost?
PureFlix requires a subscription because it provides unique entertainment content. Go to pureflix.com and create an account to gain access to the available content. The PureFlix membership plan is then available for purchase, with monthly plans costing $10.99 and annual plans costing $99.99.
What are the best Christian TV  streaming services?
Top Christian TV streaming services in 2022 are listed below:
1. Pure Flix.
2. UP Faith.
3. Living Scriptures.
4. HisChannel.
5. Crossflix Plus.
6. RightNow Media.
7. Yippee.
8. Dove Channel.
What Christian channel receives the most viewers?
The YouTube channel of Emmanuel TV has the third-highest subscriber count in Nigeria and is the most popular Christian ministry channel overall. One of Emmanuel TV's YouTube videos was listed by Google as the fourth most watched segment ever in Nigeria.
How can I watch Pure Flix for free?
1. Visit signup.pureflix.com and follow these instructions to begin your Free Trial.
2. To begin your free trial, click the start free trial option
3. Then, select your plan.
4. Simply press on "Choose Plan & Continue."
5. Add your email, password, and first and last names.
6. Afterward, click "Create Account."
7. Specify the details of your card.
8. To finish, click "Start Your Free Trial."