Mubi is a subscription-based streaming service that gives you access to 30 full-length movies at once. You may consider the MUBI app to be a publisher, a distributor, a publisher of video material, and a movie enthusiast. The software adds a new film almost every day and removes one as well. There are also 150,000 films available for selection. Both new and old movies can be streamed using it. Additionally, it offers a library that includes classic, cult, arthouse, and documentary movies. Additionally, it supports a wide range of languages, including Brazilian, Malay, English, and many more. The annual fee for the premium membership is $95.88 and is $10.99 each month. Google TV is one of the numerous platforms that MUBI is compatible with. You will learn how to Chromecast MUBI to TV in this article.
How about Mubi?
Movies from many languages and nations are acquired through MUBI streams, including both old and current releases.
You can download and watch movies and store them for later offline watching.
Each film is accompanied by a wealth of journalistic information, including essays, reviews, and ratings.
You can enjoy streaming on the large screen with Chromecast support.
Free movies from MUBI are available to stream after they have been released in theatres.
Recommended: Chromecast Tubi Using Android, iOS, and PC
Chromecast Mubi to TV from a smartphone:
You can use your android phone or iPhone to Chromecast Mubi to TV. Follow these simple steps to stream Mubi on TV.
You should initially connect your Chromecast device and your smartphone to the same wifi network.
Go to the App Store (iPhone/iPad) or Google Play Store (Android) after unlocking your smartphone.
Then search for the Mubi app on your phone.
To download the application, tap on the Install or Get option.
On your smartphone, open the Mubi app and log in to your account.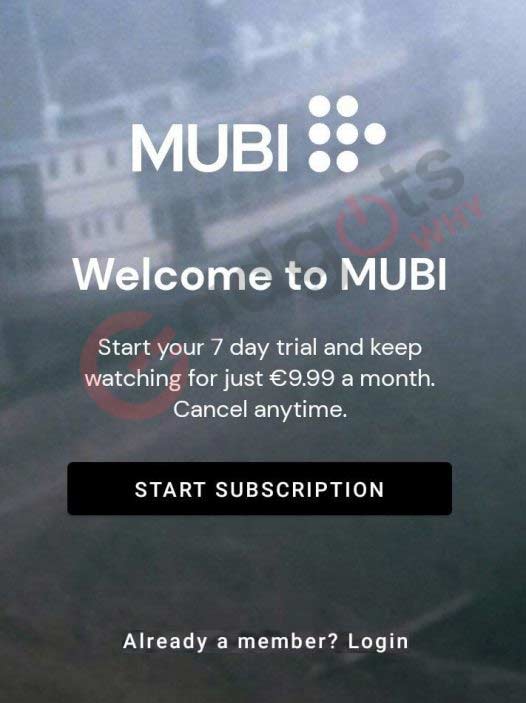 In the top right corner of the screen, tap the Cast icon.
Choose Google Chromecast TV from the list of available devices.
Once connected, you can watch mini media files from your smartphone to the TV.
Also Read: Chromecast Facetime Video Calls to TV or Chromecast Google Duo
Instructions to Chromecast Mubi to TV using PC:
To Chromecast Mubi to the TV from the PC, use the most recent Chrome browser on a Windows or Mac computer.
Use the same WiFi network connection on your PC and Chromecast by connecting them both.
On your laptop or desktop, open the web browser of your choice.
Visit the official Mubi website by using the address or search bars.
Enter the login information provided by Mubi to access your account.
Select the Mubi video content you want to stream from the home page.
Click with the right mouse button on the Mubi website screen, and then from the pop-up menu, choose Cast.
From the list, pick the Chromecast device.
From the Sources drop-down menu, select the Cast tab option.
That's it, you are now able to watch Mubi media files on your TV.
How to Troubleshoot Chromecast Mubi to TV Issues:
You might experience a technical issue when casting Mubi material to a Chromecast TV, but it can be easily fixed using the techniques listed below.
Verify that your computer or smartphone is connected to the same wifi network.
Restart your Chromecast device before attempting to cast it once more.
Ensure that the Mubi app is updated.
Install the most recent firmware on the Chromecast device.
On Your smartphone, you need to uninstall and then reinstall the Mubi app.
Sports lovers, follow our guide to Chromecast BeIN Sports to your TV
Wrapping Up:
MUBI might undoubtedly be a wonderful choice if you enjoy watching movies. By providing a changing selection of 30 titles, MUBI stands out. So, stream them on your TV so you won't miss out on any old and new movies. And you can easily Chromecast MUBI to TV by following either of the methods discussed. If you run into any trouble while you Chromecast Mubi to TV you can ask us in the comments section below. We try to solve them as early as possible. Thank you for investing your time.
Frequently Asked Questions
How do I connect my Chromecast to my MUBI account?
Make sure your phone is connected to the same Internet network as your Chromecast. and then your Chromecast must connect to the TV. Launch the mubi app after setting up your Chromecast. On the top right corner of the mubi app, tap the Chromecast symbol. Then select the Chromecast device you want to connect. 
Is MUBI compatible with Apple TV?
With a MUBI subscription, you have access to the greatest movies on the Web, iPad, iPhone, Apple TV, and other connected devices. A 7-day free trial is available for MUBI's monthly and yearly auto-renewing subscriptions.
Can I use Amazon Prime to stream MUBI?
The Mubi app is accessible on smartphones, tablets, streaming devices, and smart TVs made by Samsung, LG, and Sony. The Mubi website has a list of compatible gadgets. You can stream Mubi on any device that supports Prime Video if you choose to subscribe through one of the Amazon Prime Video Channels.
How to Download MUBI and Register on Amazon Fire TV? 
Go to the Home Screen on your Amazon Fire TV after signing up.
On your Amazon Fire TV, open the app store and type "MUBI" into the search bar.
To install the application, click "Download."
Install it and then log in using your MUBI credentials.
Is it worth it to subscribe to MUBI?
The answer will depend on how much you enjoy the movies they offer. It was for me because I watch typically more than ten every movies month to be interesting, but if it is not your thing, it will be a waste of money. The advantages are that they typically feature films that are difficult to find elsewhere and that they have been carefully chosen.
Is MUBI Free With Amazon Prime? 
Mubi is not free with Amazon prime but If you subscribe to Mubi through Amazon Prime Video Channels then you pay a lower monthly fee. Mubi is only $6 per month if you have Amazon Prime.