Most people take reviews from friends, family members, and experts, and 70% of the population take reviews online for purchasing any gadgets, taking subscriptions for streaming channels, buying any course, watching a movie, and what not to say for everything they rely on the review. Of course, it's good to know before we choose so that we can get exactly what we need. So today I am here to give an honest Crossflix plus review. The feature to consider before you sign up. Let's get into the content.
A little digging into Crossflix Plus:
The Christian content alternative of Netflix is Crossflix. They offer family-friendly programming to inspire, inform, and amuse you. Crossflix delivers to your screen or device the best religious and family films, religiously motivated documentaries, children's animation, instructional bible programs, and inspirational videos. One of the most comprehensive collections of family-friendly and religious movies is available on Crossflix.
Crossflix is committed to providing and creating high-quality religious and family-friendly content across a variety of entertainment genres, such as drama, romance, family favorites, as well as music videos, and live performances. You can always find a wide variety of new religious movies, family movies, award-winning documentaries, and outstanding children's biblical animation at Crossflix.
The 50-episode Living Bible Series, which covers significant biblical stories from The Creation to Revelations, as well as children's biblical animation are just a few examples of the original content that Crossflix produces in addition to licensed material to support Christian filmmakers and artists.
Weekly new content is available to users of Crossflix, including recently released feature films. For exciting upcoming stuff, check out their calendar. For Christian entertainment, instruction, and inspiration, turn to Crossflix! Please visit them at www.crossflix.com for additional details.
Check out our list of Top 9 Christian TV Streaming Services
4 things to know about Crossflix plus Review: 
Based on the Crossflix features, content, and reviews from Crossflix plus subscribers here we present to you 4 things to know about Crossflix plus Review.
1. Dive into learning with Crossflix plus
Hundreds of interactive and interesting learning opportunities about the story, background, and significance of the Bible are exclusive to their service. Did you realize that the Bible fundamentally altered our contemporary morals, art, and culture? Learn everything there is to know in your free time and on the internet, then tell your loved ones. The animated Bible stories and games will appeal to your children.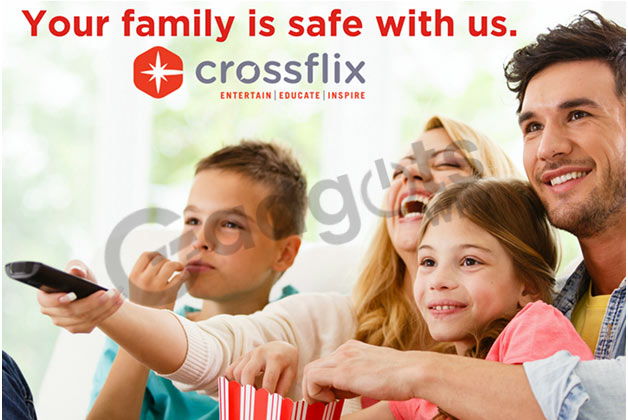 Crossflix is the best source for interactive learning. The platform offers countless fun learning opportunities for the entire family. On Crossflix Plus, the Lesson Feed area contains educational content. You and others can post submissions to the lesson feed.
You may also read other people's postings and respond by leaving a comment or liking them. A post can also be saved so that you can access it later. The material is divided into themes including religion, sermons, ministry, Bible series, family, Christmas, drama, humor, love, relationships, adventure, action, and Biblical movies and documentaries.
2. Streaming family and faith-based content on Crossflix plus
Do you want to watch family-friendly, engaging movies with your family? Are you worried about the content your children are viewing on other channels? They feature a range of genres in their programming, including animated biblical films, drama Christian films, comedy Christian films, Christian marriage films, Christian family films, love Christian films, fantastic holiday films, and more.
As a result, you won't see any content that discusses sensitive or improper subjects like murder, adultery, or genocide. Crossflix+ is focused on Christian ideals and only offers family-friendly programming. Additionally, it contains important videos on the Bible but avoids discussing current societal topics.
Crossflix Plus offers sermons and other religiously uplifting content for your family.
3. Crossflix plus Compatibility with several devices: 
Most streaming devices are supported by Crossflix. On your Android and iOS smartphones and tablets, you may watch it. You can add this channel to your Roku streaming device if you don't prefer a phone. On Windows and Macintosh-powered laptops and desktop computers, Crossflix Plus is also accessible.
Alternatively, you can view Crossflix+ using the most recent browser iterations without installing the app. Google Chrome, Microsoft Edge, Mozilla Firefox, and Safari are the supported browsers. Crossflix plus is available only on certain Smart TVs.
Also Read: Activate Hillsong Channel on Roku to experience spirituality
4. Free content and affordable premium content. 
The cost of the premium streaming service from Crossflix plus is reasonable. A Cross Flix plus premium account must be purchased for $9.99 per month. Contrarily, Crossflix Plus does not provide free trials but does include content that is accessible without a paid subscription. However, to watch the free videos, you must register with the service. Additionally, opening an account is free.
You can only stream on one device at a time using Crossflix. You can sign in on as many devices as you like, though.
Crossflix plus Review: Wrapping up:
The greatest streaming providers for Christian programming are Crossflix Plus. For children and teenagers, it also offers a tonne of interesting and interactive content in addition to movies. This Crossflix plus review covers all that Crossflix Plus has to offer and discusses if a subscription is worthwhile. Hope our review is quite enough to decide on your Crossflix plus subscription. If you are still in a dilemma take the advantage of available free content over there if you liked those services you can buy premium content. So that's it guys, thank you for reading our Crossflix plus review. Don't forget to share your Crossflix plus subscription experience with us in the comments box below and you can also drop your queries reading this if any. Also, read our blog on Top 9 Christian TV streaming services and Pure Flix alternatives to watch family-oriented content on your big screen.
Trending: Activate Duplexplay IPTV
Frequently Asked Questions
What does Crossflix Plus cost?
For $9.99 less each month than the typical price of a single movie ticket, viewers may subscribe to Crossflix Plus, or they can pay $98.91 for an annual subscription to save 25%. Crossflix Plus just expanded its selection of free material.
What is on Crossflix?
Crossflix delivers to your screen or device the best religious and family films, religiously motivated documentaries, children's animation, instructional bible programs, and inspirational videos. One of the most comprehensive collections of family-friendly and religious movies is available on Crossflix.
Compared to Pure Flix, is Crossflix better?
Most of the content is the same on Crossflix and PureFlix. PureFlix, however, has a more affordable monthly fee than Crossflix. The greatest platform to think about is Crossflix if you also want interactive content (both for a fee and for free).
Can I stream Crossflix plus on multiple devices simultaneously?
With Crossflix, you can only stream on one device at once. You can, however, sign in on as many gadgets as you like.