You might frequently want to divide the bill if you frequently go out with your friends or close friends. By enabling you to divide any amount equally among friends or other people and then pay each other, the Cash App has made it simple. But occasionally, for any number of reasons, you might choose to delete cash app account. We'll cover the procedure for terminating your Cash App account in this article.
Cash App: What Is It?
A peer-to-peer money transfer app is called Cash App. In essence, you can use the Cash App to receive money from your bank account or give money to others. Users can also send money requests to anyone on their contact list who has the app. The software links to your live bank account and, as an extra function, issues a Cash App visa debit card. You are now able to utilize and even withdraw money from your Cash App account from any ATM.
Making a Cash App account is free, and after you do, you'll have a username called a $cashtag that you may use. You can give, receive, or ask for cash from other Cash users using that login.
How to delete Cash app Account?
Make sure to deposit all of your funds into your bank account before you delete Cash App account.
How to return money to your bank account-
The general home page where you can transfer or request money from people will be displayed after you connect to your Cash App account.
You can see the home symbol at the bottom. When you press it, the Cash App home page will appear, where you may find the "cash-out" button.
All of your funds will be deposited immediately to your linked bank account after you click that button.
Delete your Cash App account using these steps-
You can cancel your Cash App account after transferring all of your money to your bank account and making a withdrawal from your Cash App balance.
Select the "profile" icon on the same screen where you previously clicked the "cash-out" button in the top right corner.
Select the "support" link from the menu that will then appear.
You can get a list of common help items by clicking the "support" link. You can choose "something else" from the option list at the bottom.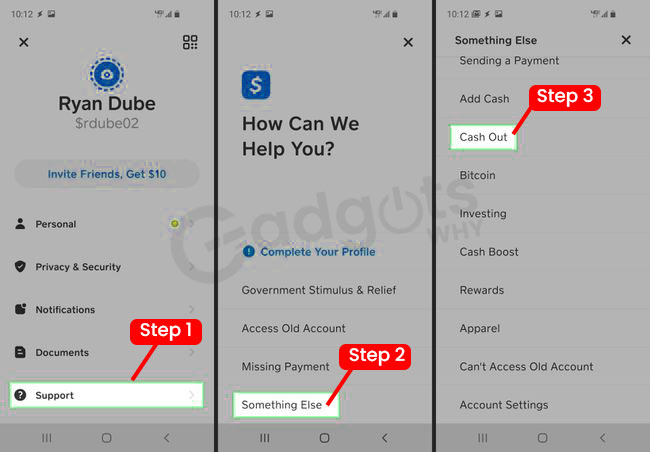 A list of other account choices will appear when you click that. You'll find a selection labeled "account settings" in that list. You will be taken to the account settings page after clicking that.
By selecting "close my Cash App account" after selecting "close account" on the account settings screen, you can remove your Cash App account.
When you do, a new page explaining in detail what it really means to close your account will open. Make sure you comprehend everything by reading it. Click the "confirm closing account" button at the bottom when you're ready. Your account will be deactivated as a result, and your $cashtag will no longer be valid. Any further attempts to transmit money using that login will result in an error.
Also Read: Activate Walmart Money Card
Can You Withdraw Money From The Cash App?
As long as the account already has a card linked to it, you can withdraw money using Cash App. However, there are various ways to go about doing it, notably moving the cash to your bank account or mailing it to a contact. Similar to Venmo, Cash App lets you receive and send money to others while also allowing you to move money at your discretion. Some people have a Square Cash Card, which enables them to utilize the money just like they would if it were on a real debit card. However, you can quickly and easily get the money back into your preferred bank account if this is not convenient for you. However, money can still be withdrawn without a linked bank account. The main drawback is that account authentication is necessary to stop restrictions from taking effect. You will have to deal with the limitations if your bank account isn't linked. You can only send and receive roughly $250 per week and $1,000 per month if your Cash App account is unconfirmed. You can only increase the sending and receiving limits and have the account confirmed by adding a bank account.
Sending money to one of your contacts enables you to withdraw money as well. After that, you can transfer money to that person via a bank. Obviously, a close buddy must be involved.
How to take Money Out of Your Phone's Cash App?
It is quite simple to use your phone to withdraw money through Cash App. However, if you still require direction, you may find the steps you must follow to ensure the procedure is easy to follow below.
First, launch the Cash App. Both Android and the iPhone can use it.
Click the "Banking" tab now. You can do this by tapping the tab symbol in the bottom-left corner of the screen. The emblem resembles a home or a bank.
Next, click the "Cash Out" button that is located to the right of the "Cash Balance" field. Select that button.
You're going to see a menu on your screen. Your complete balance, which the app automatically selects, will already be selected as the balance. Naturally, using your touchscreen, you may modify the transmission amount.
After entering the amount you wish to transfer to your bank account, select "Cash Out" at the bottom of the screen to continue.
A pop-up will appear on your screen asking you to choose a method for making the deposit. If you choose the "Standard" option, you will have to wait one to three days for the money to show up in your bank account. But you can also choose the "Instant" option.
Also Read: Activate my Vanilla Visa gift card
How Much Time Does It Take to Send Money from Cash App?
Depending on the withdrawal type you chose, the time it takes for the money to move from your Cash App account varies. You can select either the Standard withdrawal, which takes one to three business days or the Instant withdrawal, which will immediately transfer the funds to your bank account. There are a few uncommon circumstances in which the money doesn't arrive in the bank account. After the money moves, it either settles immediately or takes up to three days. However, you must make sure to monitor the payment status in order to avoid a scenario where it doesn't.
Open the Cash app on your iPhone or Android device. After that, select the Activity tab. On the app's home screen, it is simple to locate. Select the transaction you performed with your bank next, and then click the button below. It will make the transaction's specifics public. The procedure for determining the status will be the same for any other payment transaction.
Information about the charges for Cash App Withdrawals-
Withdrawals using the Cash App may incur costs, however, it depends on the circumstances. When you request an instant withdrawal, the costs typically apply. You can make an immediate withdrawal for a cost of $0.25 if you require the money right away.
It is possible to avoid costs, but the withdrawal may occur more slowly as a result. You must link a card or bank account to your CashApp in order to avoid costs. After all, sending money would be more challenging if none of them were connected. After that, you can make a Standard withdrawal for nothing. Accordingly, the withdrawal process will take a maximum of three days. It can be a useful approach to avoid getting assessed a withdrawal fee if you don't mind this.
Also Read: MyWalgreens Credit Card Activation
This is how you can withdraw from Cash App without a Bank Account-
Even if you don't link an existing bank account, you can still receive the funds. However, you should be informed that since a Cash Card is required, the received money will only be available in the Cash App wallet and cannot be withdrawn.
Open the Cash App on your mobile and select the "Activity" tab before making a withdrawal without a bank account. Next, select the "Pending Payment" page and press the "Accept" button next to the sender's name. Since you don't have a bank account connected to your Cash App, the money will be placed directly in your wallet.
Remember that having a bank account linked to your Cash App may always be preferable since it speeds up the transfer and guarantees it goes off without a hitch.