Learn how to delete your Fiverr account by following the steps outlined in this article. Fiverr is one of the few websites and online businesses that incorporates a simple and user-friendly deactivation tool directly into the account settings of its users. Sending an email to the support staff at Fiverr after you have deactivated your account will allow you to make a request for Fiverr to permanently remove all of your information from their systems. But first, let's learn a bit about the website.
What exactly is Fiverr?
Do you work as a freelancer or do you wish you could make more cash in your leisure time? If this describes you, then Fiverr is without a doubt one of the best places online for you to quickly turn your aspirations into a reality. Well, of course, there are a lot of other freelancing portals accessible, such as Upwork and freelancer; but, it is somewhat more difficult to secure jobs on these portals in comparison to Fiverr. As a result, to make things even easier to understand, let's take a look behind the scenes at how Fiverr operates.
Fiverr is a platform for independent service providers, where one can have a project done for a real fee of just $5. It began its operations as a freelancing marketplace. For instance, if you need to have a little piece of content written or a logo developed, all you have to do to get it done is post your request on Fiverr. Next, you will start receiving responses from a large number of freelancers that are interested in providing you with work of high quality while staying within your financial constraints.
There are a lot of professionally skilled freelancers that are interested in the assignments since they are simple and can be completed quickly. Over the course of its existence, Fiverr has turned into a fully functional freelancing platform. Due to the fact that $5 is not always the ultimate fee, it has thus become the most popular location for beginners as well as seasoned freelancers.
Now, that you know what Fiverr is, let's find out how to delete your Fiverr account when you no longer need it.
Recommended: Delete BeReal account
How to delete Fiverr account?
Follow the steps below to delete your Fiverr account permanently with just a few simple and easy steps:
First, log in to the Fiverr website at https://www.fiverr.com
You may access your Fiverr account from any internet-enabled device, including desktop computers, mobile phones, and tablets.
If you still have cash in your account when you try to terminate it, you won't be able to do so; thus, you should remove any remaining amount from the account before you get started.
Simply click on the picture of yourself in your profile. If you have already uploaded a profile picture, it will be displayed in the top right-hand corner of Fiver.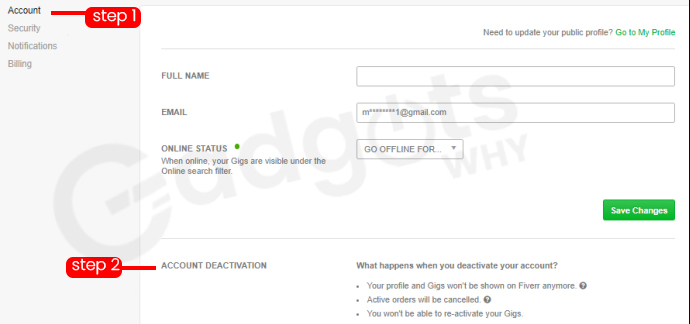 In the event that this is not the case, your first initial will appear in that spot instead.
When you click on this, a drop-down menu will become available.
To change the settings, click the Settings option on the menu. It can be found on the menu somewhere close to the middle.
Make your selection from the available explanations using the menu. You can deactivate your account by scrolling all the way down to the bottom of the page.
Next, you can cancel your Fiverr account for any of the reasons listed in the drop-down menu, which you can access by clicking the menu's name.
Write a description (optional). Fill out the "Help us become better" box with some specifics on the reasons you've decided to cancel your Fiverr account if you wish to provide Fiverr with further information about your decision to cancel your account.

To delete your account, use the green Deactivate Account button. Your Fiverr account will be deleted as a result.
Also Read: Delete Udemy account
Things to keep in mind before deleting your Fiverr account:
In the future, if you want to establish a new Fiverr account, you won't be able to use the same email address that you already have. Changing your email address is the first step you should do if you have any inkling that you may want to sign up with Fiverr again in the future.
Make a request to have your account completely removed from the system (optional). Even if you have canceled your account on Fiverr, some of your information will continue to be stored on their servers until you contact their support staff and ask them to erase it. You can submit your request to info@fiverr.com.
In the message, provide your name as it appears on Fiverr, as well as your email address and phone number, and include the sentence "I have deleted my Fiverr account, please erase my information forever."
Find the methods to delete Badoo Account here!
Conclusion: So, that is all about how to delete your Fiverr account permanently. Please leave your comments or doubts in the empty comment area, if you have any.