You have the option to delete Reddit account in the event that you decide you are no longer interested in utilizing the platform. However, if you want to erase not just your articles but also your comments on Reddit, you will need to go through a few additional hoops. This is the procedure that you need to follow.
What You Ought to Be Aware Of Prior To Deleting Your Reddit Account?
Your account on Reddit has the capability of being "deactivated," if you so choose. This deactivation will remain in effect indefinitely. Once you deactivate (or delete) your account, both your username and your profile will be permanently deleted from Reddit, and your profile will no longer be searchable.
On the other hand, any posts or comments that you've made on Reddit will continue to be accessible on the website. They just won't have your Reddit username connected with them anymore when you delete them. They become "unattributed," which means that nobody knows who originally submitted them, as the term is used on Reddit. It will also be unable to attribute the messages you have sent.
Note: After you deactivate your Reddit account, there is no way to go back and erase any previous posts or comments that you can later decide you want to be deleted from Reddit. Before you can deactivate your account, you have to get rid of those messages first.
Also Read: Delete PayPal account
Should you delete posts and comments on your Reddit before deleting your account?
How you want to utilize Reddit is the single most important factor in determining whether or not you will need to remove posts and comments before you delete your Reddit account.
For example, let's say that your username is Jane123, and you left a remark with the message "lol." Even if you delete your Reddit account, the remark "lol" will continue to be visible on the website; however, it will no longer have your username connected with it. People will just be able to see that it originated from a deleted account, but they will not be able to determine which deleted account it originated from. It's unlikely it will be a significant problem.
Let's imagine, though, that you left a remark stating something along the lines of "My name is Jane. I am employed by [a certain company] and reside in [a particular location]." Even if you cancel your account, that particular remark will continue to be visible on Reddit. In spite of the fact that it won't be associated with your Reddit username, it will still include information about you personally.
Therefore, if you have any posts or comments on your account that include personal information, you should probably remove them before you deactivate your account. We will walk you through the process of deleting them and show you how to double verify.
How Can I Delete Previous Posts and Comments on Reddit?
Go to the official website of Reddit at https://www.reddit.com and login in with the Reddit account you wish to deactivate. This will allow you to examine any posts or comments that you have made on Reddit.
To view your profile on Reddit, click your name in the upper-right corner of the page, then pick "Profile" from the drop-down menu that appears.
Next, to read your posts on Reddit, click the "Posts" link at the very top of the page. To read your comments, click the "Comments" link.
Look through the lists of posts and comments to identify the ones that should be deleted and decide which ones to keep.
To delete a post or remark, hover over the post or comment in question, click the "…" button, and then pick "Delete."
After you have finished, you are free to proceed with deleting your account.
Recommended: Delete BeReal account
How to delete your Reddit account?
To delete your Reddit account, follow the steps below: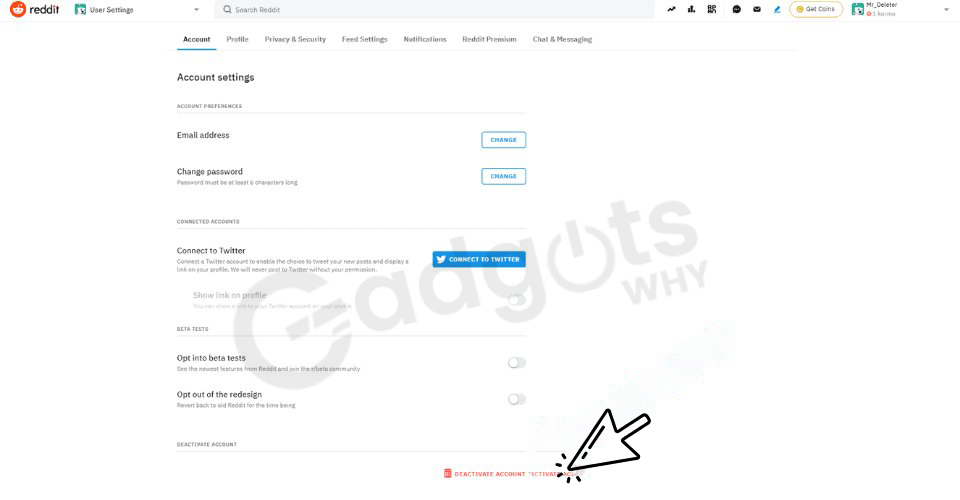 Go to the settings page associated with your Reddit account.
You can access it by going to the upper right corner of the Reddit website. Then, click on your name, and then choose the "User Settings" option.
You can deactivate your account by clicking the red "Deactivate Account" link. It will be present at the bottom of the page.
Reddit will inquire as to the reasons behind your decision to deactivate your account. And will provide you with the chance to provide input.
To proceed, you are going to need to enter your username and password.
Then, check the box that says "I realize that deactivated accounts are not recoverable."
Next, click the button that says "Deactivate."
Note: Completing this action will result in the irreversible deletion of your Reddit account. It will not be possible for you to retrieve it. And you will never be able to use that username to create a new Reddit account in the future. Additionally, you won't be able to delete any posts or comments that you haven't previously removed from the site.
Reddit will ask for your confirmation one more time before it continues. If you are certain that you want to go through with it. You may deactivate the account by clicking the "Deactivate" button.
You can now log out of your Reddit account since it will no longer be accessible.
Find the methods to delete Badoo Account here!
Conclusion: So, this is how you can delete your Reddit account from the comforts of your own home. We hope that you will like our guide and find it useful.