Have you posted any unwanted or personal information as a Snapchat story in a hurry? And wondering how to delete them before everyone sees them or before their expiry time. Then you are at your place. Do you need to know how to remove a Snapchat story? If so, the following detailed instructions will show you how to delete Snapchat Story on iPhone.
One of the most popular social media networks in the world today is Snapchat, which was founded in 2011 and introduced the Stories feature in 2013. The Snapchat statistics state that 293 million daily active users were using the site as of July 2021, an increase of 23% year over year.
With Snapchat now, you can capture and share live videos, find friends on an interesting map, engage in augmented reality (AR), and much more. Amazing, huh? Snapchat is a special tool for both normal users and business owners because of its innovative features, which are at the forefront of the platform.
Snapchat features:
There are tons of features on Snapchat that may be used to increase audience engagement and Raise company exposure. But first, let's look at some important Snapchat jargon.
A Snap is a photo or video that you send through the app to one or more of your friends, and it has been available to all users since day one.
Snaps that you want to share with all of your Snapchat pals are called Stories. The software keeps stories for 24 hours before deleting them.
You may add your face to animated gifs called Snapchat Cameos and send them to your pals.
You are represented with a cartoon avatar called a Bitmoji. Bitmoji, which is fully customizable in the Snapchat app, enables you to give your profile and account personality.
Snapchat streaks are the number of days that you and a friend share Snaps.
Adding an overlay or other special effects to your Snaps with a Snapchat filter is
a fun way to spice them up. Filters may alter in response to particular circumstances.
Lenses are where augmented reality is used. You may add 3D characters, objects, and special effects to your photographs and videos using Snapchat Lenses.
Geofilters are specific to your current location, much like Filters are. You must enable your location in Snapchat's instant messenger for private and public chats in order to use Geofilters. Messages vanish after being read.
Snaps and Stories that you can preserve for later viewing as Memories rather than letting them expire.
Wanna delete your Snapchat account? Here are the steps to do it!
Easy steps to Delete Snapchat story on iPhone.
If you unintentionally posted snaps to Snapchat as well, and you now wish to remove your Snapchat story. Then reading this post will allow you to quickly discover how to do it.
Because I've provided numerous strategies in this article for you to quickly and easily delete your Snapchat stories. I've outlined effective techniques in this article.
So that you may choose from a variety of options and easily learn any simple techniques you want to learn for deleting Snapchat stories. Let's now discuss each step separately.
This is the best option for deleting your Snapchat story quickly.
Although this technique is mostly for the iPhone, it also functions on Android. Therefore, you can also utilize this strategy on Android if you want to.
One of the simplest ways to remove your Snapchat story is by using this method. And many people enjoy and employ this technique.
Simply open Snapchat account on your iPhone
Go and click on your profile icon.
Now go to the settings icon at the top right corner and click on it.
Then tap on your Story at the top of the feed to access your story first.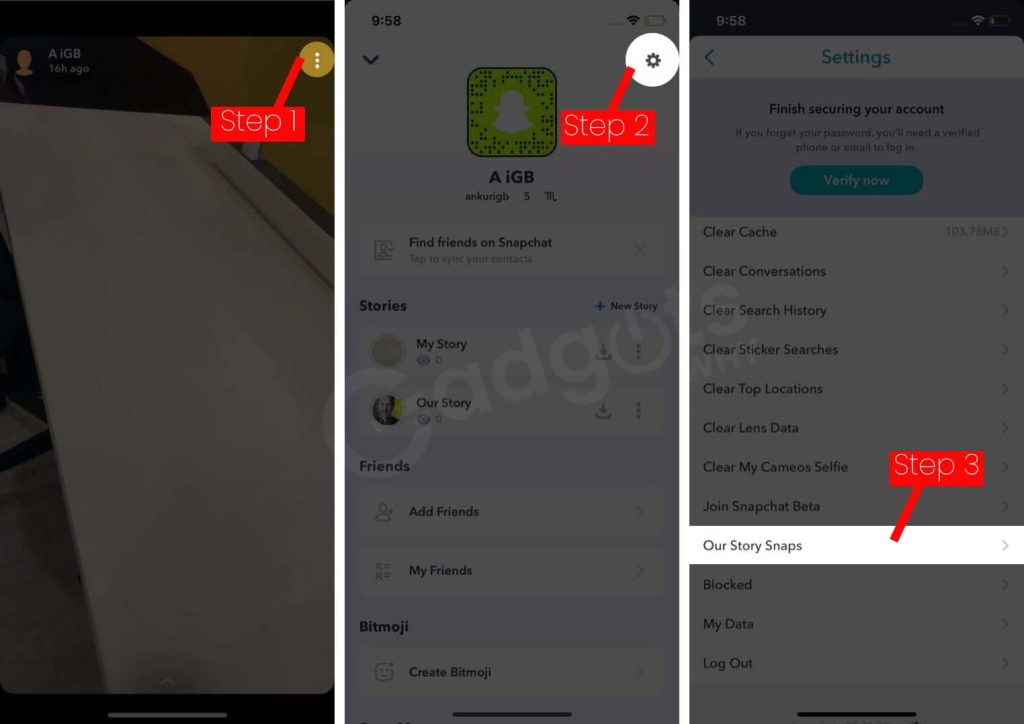 Next, select more from the menu in the bottom right corner of the image or video you want to remove.
After tapping Delete, you have to click on the done button to delete your story.
So, this is how you can quickly delete Snapchat story on iPhone.
So, perhaps you've mastered these procedures and can now erase your Snapchat stories with ease.
One of the reasons to use this method is that it has a relatively limited number of simple steps that everyone can complete, including children.
Additionally, this strategy is incredibly time-saving, which is another justification for employing it.
Is your Snapchat showing up "Pending on Snapchat Error"? Know how to fix it!
How can you save Snapchat Story on iPhone?
This is an added benefit that makes it simple to preserve stories on Snapchat. We frequently want to store pictures from people's stories on our cell phones because we like them. Follow these simple steps to save the Snapchat stories of your friends.
Initially, make sure to have a good internet connection to your phone.
Now open your Snapchat account on your phone.
Now navigate to click on your profile symbol at the top.
Next, You have to tap the Story's name to expand it.
Afterward, tap a Snap to see it.
After that, click on the Save button at the bottom.
However, a lot of individuals are still unaware of how to store Snapchat stories. In such a case, follow these instructions if you're one of them and want to know how to store Snapchat stories.
Delete Snapchat Story – Final words:
I hope you are aware of how to delete Snapchat Story on iPhone by utilizing a variety of approaches by this point. Every option for deleting Snapchat stories on an iPhone is mentioned in this post. Any of the aforementioned procedures can use to delete your Snapchat stories. With the aid of a step-by-step guide, images, and videos, we have attempted to make understanding simple for you.
You can clear up all of your queries and concerns regarding this by reading this article completely. We will do our best to respond to your comments as quickly as possible if you have any questions about how to remove a story on Snapchat.
Frequently Asked Questions
How do I delete my Snapchat Story in 2022?
Open the Snapchat app on your phone first.
Then go to your profile icon. 
Afterward, select "My Story."
Swipe up the story you wish to delete after that.
At the bottom of the screen, you can see a "trash" sign.
Select the trash icon.
People may be able to see how frequently you viewed their Snapchat story? 
You can see how many people have viewed your story, which is a fascinating feature of Snapchat Stories. A list of everyone who has viewed your story is automatically generated by Snapchat. People can easily watch the story more than once because it is accessible for 24 hours.
Is the Snapchat story immediately deleted? 
A Snapchat story can be deleted at any moment before it expires, but it deletes automatically after 24 hours. You must examine each Snap separately and choose which to remove and which to preserve before you may delete your entire story with a single button push.
Are Snapchat Stories private?
Private Stories on Snapchat provides you more control over who can watch your content than other types of Stories do. Of course, you can make your account private based on your privacy settings.
How can you keep our Snapchat story as a private story?
Go to the story you wish to review, then click the "More" button next to the story's name in the top right corner. The generated menu will display. Tap "See viewers." The list of viewers for the private story will appear. Everyone who has authorization will have a blue tick next to their name.
Why does a padlock appear on a Snapchat story?
Here is information about the lock sign on Snapchat and what it accomplishes in case you were wondering the same thing. A Snapchat story that has a lock icon next to it is a private story. Users can share any story just with a select group of people thanks to this feature, which has been available on the app for a while.