We have My Story and Our Story options on Snapchat. Both are distinct. By default, My Story is accessible to your friends for 24 hours. For a day, two days, or possibly much longer. The tales expire and are automatically destroyed after the aforementioned time periods. But if you wanna delete your story manually then don't worry we have got you covered. Here's how to delete Snapchat story from an iPhone or Android device.
Why would you want to delete a Snapchat Story?
Several times, you must have unintentionally posted funny photos online. Not only that, but you might have spoken something because you felt like it but later regretted it.
Even though people who don't use Snapchat constantly can also agree with some of the dumb snap uploads that go along with it. So, in this instance, this is the perfect post to help you figure out how to erase a Snapchat story. It is reasonable that you might wish to delete Snapchat stories for the reasons listed above. However, if you are new to Snapchat, you should understand what a Snapchat story is before learning how to delete Snap stories on the app.
This is how you can save stories before you delete them-
Save the entire narrative as a memory in case you would like to before deleting it.
Launch Snapchat on an iPhone or an Android.
From the upper left, tap on the icon for your profile.
The Save icon is located next to "My Story" or "Our Story."
Hit "Yes."
You can save one snap from a story to your memories-
Launch Snapchat.
From the upper left corner, tap on the icon for your profile.
To enlarge it, click on "My Story" or "Our Story."
To view a Snap in full screen, tap on it.
From the bottom-right, tap the Save symbol. Also, long-press. Alternately, press the three-dot icon.
Click the "Save" button.
Wanna delete your Snapchat account? Here are the steps to do it!
Now save photos from the Memories app-
Let's now look at how to save photos to the camera roll.
Launch Snapchat.
From the center of the screen, swipe upward
Here are all of your saved Snaps and Stories. Click on one. You can also long-press to pick several pictures.
Snap: It opens in full-screen mode if you tap on one of them. Click or press the icon with three dots.
Select Export Snap. Lastly, click Save Video (or Save Image).
Choosing Export Snap. Finally, select Save Video (or Save Image).
Let's look at how to Delete a Snapchat story before they automatically expire now that we have finished saving them.
How to Delete a Snapchat story from My Story on an Android or iPhone?
Launch Snapchat on your mobile device.
In the upper-left corner, tap the Your Story symbol.
Tap on the My Story icon. To extend My Story, tap anyplace else on the page. then press the snap icon.
Give it a long press. Alternately, press the three-dot icon.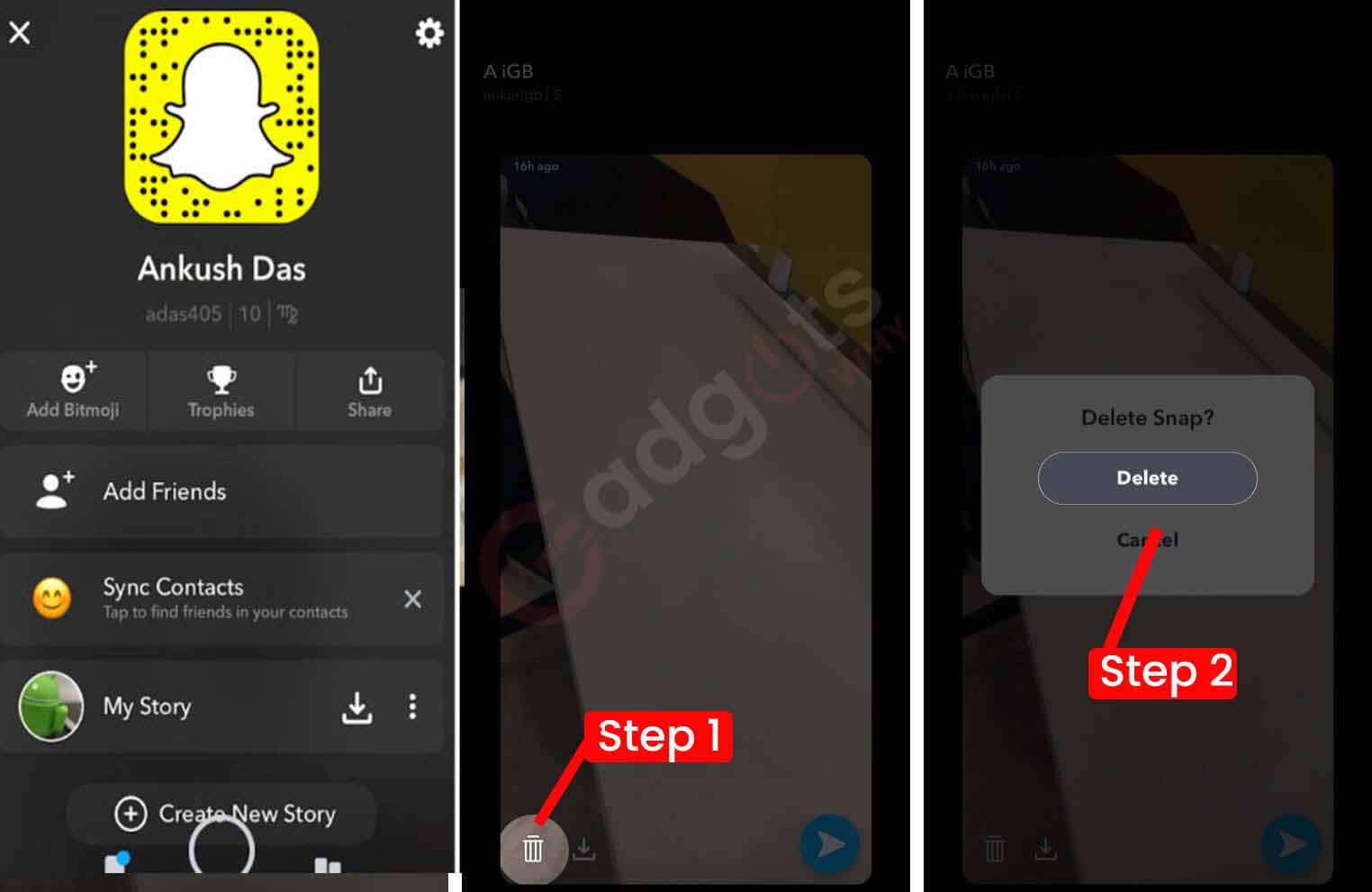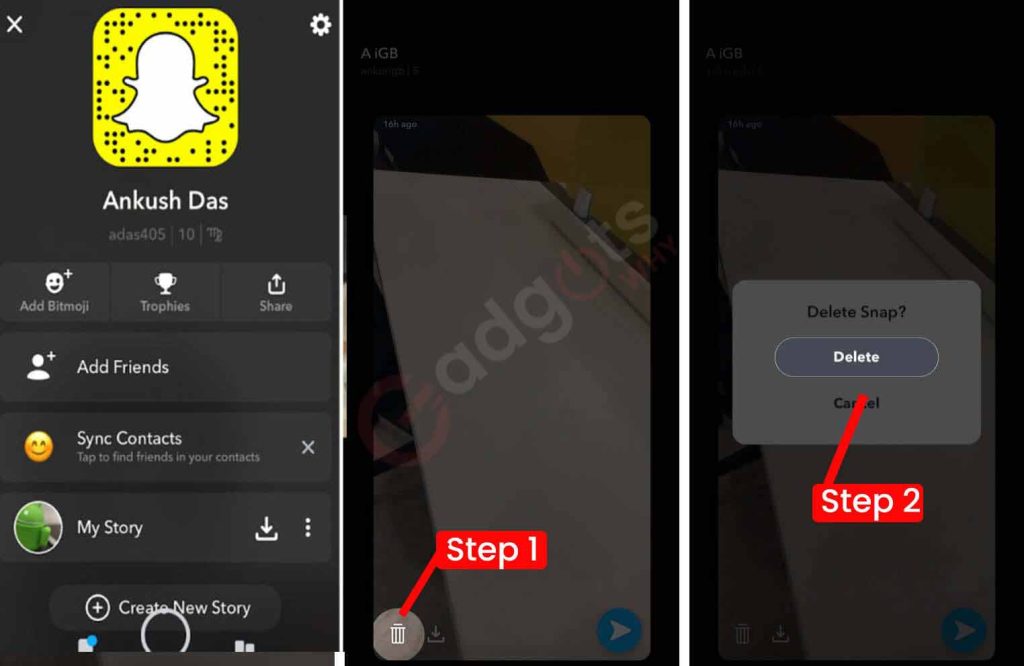 Once you've confirmed, tap the delete symbol.
On an iPhone, delete a picture from my story on Snapchat.
You can also see a delete icon if you tap on a single picture. On it, tap. You can erase a story by tapping the My Story icon, then swiping up from the bottom of the screen.
If you want to remove additional snaps from My Story, repeat the procedure.
How to Delete a Snapchat story from Our Story on an Android or iPhone?
Using the techniques listed above, you can remove Snaps from Our Story. There is yet another approach. Now let's examine that.
On your phone, launch Snapchat.
In the upper-left corner, tap on the profile symbol.
In the upper right corner, tap the Settings icon.
Click on Our Story Snaps after scrolling down.
Click the Delete button.
To confirm, tap on Delete.
Additionally, Our Story by you will be removed from Snap Map, Context Cards, and Search.
Another feature that users are happy about is the feature of Hiding the story. You've come to the right place if you use Snapchat and want to manage the exposure of your story. The top 4 techniques to hide your story on the Snapchat app are outlined in this article. You can also discover how to get back your lost Snapchat streak.
Is your Snapchat showing up "Pending on Snapchat Error"? Know how to fix it!
Hide your Snapchat story from specific users
Your Snapchat Stories' visibility can be restricted
Using the Snapchat app, you may restrict and manage the audience who sees your story. By altering your story's visibility to your new friends, you can stop the public from seeing it. To accomplish the same results, follow these procedures.
Tap on your profile icon in the top-left corner of the Snapchat app when it is open on your phone.
In front of your uploaded tale, tap the three dots icon.
Additionally, select Story Settings to change visibility.
To only allow your added friends to see your Snapchat story, change the story visibility options to Friends-Only.
Hide a Specific User from Seeing Your Snapchat Story
Follow these instructions to hide your Snapchat story from a specific buddy or account that you have added.
To check your profile settings in Snapchat, open the app on your phone and tap on your profile symbol.
When viewing your posted Snapchat tale in the My Stories area, tap the three dots icon next to it and select Story Settings.
Toggle the Friends from whom you want to hide/block your Snapchat Story on by selecting the Custom option here.
All done. Your Snapchat story will no longer be visible to the people you have chosen on your profile.
Control the visibility of stories using the Snapchat app settings
Utilizing the Snapchat settings available inside the app is another useful way to manage the exposure of your Snapchat story. For a simple remedy, follow these steps.
On your device, launch the Snapchat app, and then tap the profile symbol in the top-left corner of the screen.
Now click the Gear icon found in the app's upper-right corner.
Find the Who Can section by scrolling down and selecting View My Story.
Here, you may select the visibility options that are most appropriate for your Snapchat stories.
How to Mute or Hide Someone Else's Snapchat Story, as a Bonus?
You can conceal or mute a friend's Snapchat stories using this easy hack if you're sick of seeing their updates all the time.
To access the Friends Stories feature of the Snapchat app on your phone, launch the app and slide to the right.
To silence a Snapchat profile, long-press the profile's story icon.
Tap the More option from the list after that.
To mute and hide the Snapchat story, select the Mute Story option at the bottom of the list.
The muted stories icon will now keep your chosen Snapchat profile's story hidden.
By tapping on this Muted Stories symbol, you can still see their narrative.