Are you trying to find a way to delete your Udemy account but not having much success? If you answered yes, then I will walk you through the process of deleting your Udemy account for good in this article.
About Udemy:
Udemy is an online marketplace where instructors can sell their courses to students and vice versa. There are around 65+ categories of desirable talents that one may acquire online, ranging from beginner level all the way up to expert level. Not only does Udemy teach the most up-to-date strategies in these very necessary fields such as coding, marketing, blogging, and search engine optimization, but you will also get the opportunity to experience real-world expertise from individuals who are already earning a living doing these things on their own.
In other words, Udemy teaches you how to make money doing what you already know how to do. Furthermore, if you ever want to take your education to an even higher level and actually start charging for it by becoming an instructor on Udemy yourself, you have the ability to do so. This is another perk of using the platform.
Users get access to tens of thousands of online courses and a selection of mobile apps thanks to the comprehensive educational offerings made available by Udemy. Despite this, you can find yourself in a position where you need to delete your Udemy account. If so, the purpose of this brief post is to assist you in doing so.
Recommended: Delete Fiverr account
How Do I Delete My Udemy Account?
Follow the steps below to delete your Udemy account: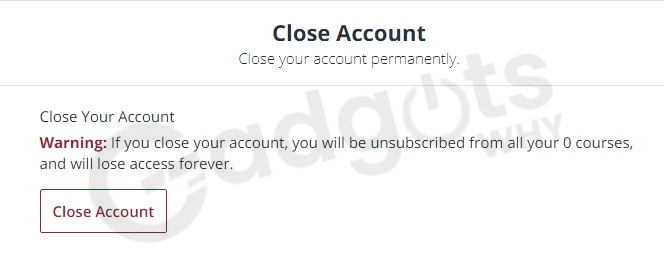 Go over to https://www.udemy.com/login.
Then sign in using the credentials you used to create your account. This will allow you to deactivate your Udemy account.
When you have finished using your account, you will see that there is a link on the bottom right of the window that allows you to delete your account.
Simply selecting the link and providing basic information on the reasons you want to deactivate your account is all that is required of you to complete the process.
Please be aware that after you have completed all of the actions outlined above, your account on Udemy will be permanently terminated. After you have terminated your Udemy account, you will no longer have access to the option to revive it.
Recommended: Delete BeReal account
How Do I Remove a Course from My Udemy Learning Account?
You are unable to remove courses from your Udemy account. They do, however, provide the option to temporarily remove a course, which is exactly the same thing as archiving it; however, there is no way to delete a course completely. They facilitate this by providing instructors with the option to archive courses and erase reviews on courses that have expired for students who have previously attended them. In addition, they provide teachers with the ability to create new courses.
You can access the Udemy website by logging in with the credentials stored on your phone.
When using Udemy, select 'My Learning' from the drop-down menu that appears when you click on the 'Profile avatar.'
Udemy's 'three dots' indicator can be accessed by navigating to the course you wish to archive and then clicking on it.
Next, choose "Archive" from the menu options available on Udemy.
How to Withdraw from a Udemy Course?
Please find below the instructions on how to terminate your Udemy course.
You can use the email address associated with your Google account to log in to your Udemy account on your phone.
Udemy's Purchase History is available by selecting the "Profile icon" and then navigating to the appropriate section.
Locate the class you want to get a refund for.
Udemy has a "Request Refund" option, which you can access directly below the course's title.
After that, choose your desired 'Refund Method' inside the Udemy platform.
Now, inside Udemy, choose the reason for the refund and click the "Submit" option.
How to Delete a Course from Udemy?
If you've decided that you no longer want your course to be available on Udemy, then please follow these steps.
To begin the process, go over to the Udemy website and ensure that you log into your account before continuing.
Proceed to the page titled "Course management" by using your browser's navigation tools.
Then, navigate to the class that you do not want, and then click on the gear icon in the setting section.
After scrolling down, locate the Delete button located under the Course Status heading.
To cancel your Udemy course, choose the "Yes" option from the drop-down menu.
Find the methods to delete Badoo Account here!
Conclusion:
I really hope that you were able to glean some helpful information on how to permanently delete your Udemy account from this blog article. Because we have a firm understanding of why it is vital for you to cancel your account, and because we will be able to assist you in doing so today, we believe that it is safe for us to presume that you will share our material with the individuals who are part of your network. If there is anything that is unclear after reading this, please don't be afraid to ask us questions and leave a comment below!