EDC Wristband Registration – The 2022 Electric Daisy Carnival (EDC) has recently happened and we know you're all eager to know about it still. If you have never attended the event and have questions about how the wristband functions, read this post to find out how to register and activate your EDC wristband. EDC Wristbands are essential if you want to go to the event. Registering the bracelet you got in your gift is necessary if you want to go to the EDC festival.
What is EDC (Electric Daisy Carnival)?
The electronic dance music festival EDC, or Electric Daisy Carnival, takes place yearly in Las Vegas. The first EDC began as a warehouse party in Los Angeles, California, in 1991, and was later picked up by Philip Blaine, a partner of Insomniac. Other locations, such as Orlando and Puerto Rico, began hosting their EDCs. EDC was relocated from Los Angeles to Las Vegas in 2011 following several issues (including stampedes and drug overdoses). Originally, the festival took place in June, but Insomniac decided to move it to the Victoria Day Weekend (the last Monday of May) because of the cooler weather. This was done in response to the rising number of heat-related incidents and drug overdoses every year.
What is the use of the EDC wristband:
You must have the EDC wristband to participate in the event.
Each participant will have a wristband, to monitor their progress throughout the event. This allows the staff to monitor who is coming into and going out of the event. If the wristband is not registered, they also have the authority to bar anyone from entering the event. They also have a number that indicates their entry order into the event. This will prevent anyone from using the same ticket to access the event more than once.
Trending: Home theater setup trends that will dominate 2022
Electric Daisy Carnival "EDC" Wristband Registration Procedure
The wristband needs to get registration when you acquire the official ticket box. So that it can replace if it becomes broken or lost. Please be aware that registering is not required of you, and you will be using your tickets alone. The book includes in the package includes a link for registration. Following registration, you will also receive a confirmation email.
Steps to complete registration:
Go to the EDC official website for the festival.
The festival's website will include a registration option.
Enter the Credential ID from the RFID badge's underside.
To see an example of a Credential ID, hover your cursor over the information symbol on the left.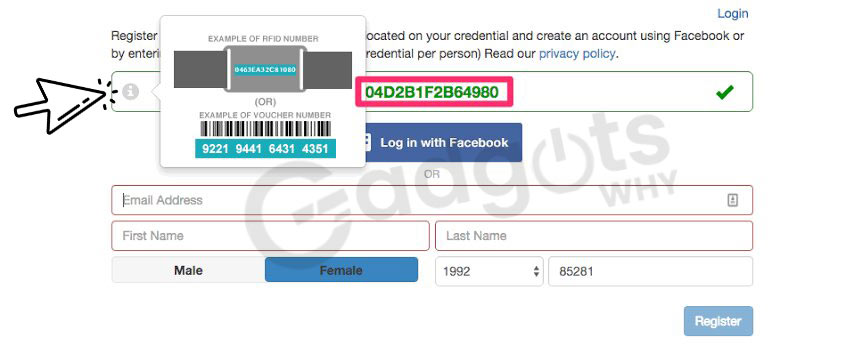 Either use Facebook to log in or register using your email address and personal information.

Each credential can be linked to one of the following email IDs or Facebook accounts.
If using Facebook to log in, make sure the pop-up blocker is off for the length of the procedure.
Follow the Facebook instructions to finish setting up your credentials.
Fill out all needed fields and press "Register" to log in using your personal information.

You'll get an email confirmation of your registration after completing the process.
EDC Wristband Registration Errors:
Sometimes you may get errors while registering wristbands.
If you get this issue, make sure you entered the code accurately by checking all of the letters and digits.
If you are still having problems with registration, customer service at the festival box office can assist you. Additionally, you can email their customer service at support@FrontGateTickets.com.
List of Best Bluetooth earphones and earbuds for Music Lovers
How to Activate the EDC wristband?
To use your EDC wristband you must first activate it. Below are the steps in the activation process.
As soon as security clears you, scan your wristband at the scanner.
Visit the customer care desk by the entrance if you experience any issues scanning your EDC wristband.
Note that in-and-outs are not permitted. Only one entry per wristband per day is permitted into the events.
Keep your wristband on until you're ready to exit the event grounds for good.
Wristbands that are damaged, lost, or stolen can replace at the box office for a $20 replacement fee.
What should I do if the wristband was not there in the box?
You will get a tracking email to your email address once your order has shipped. Make sure to check the junk bin if your email got up there. Most Stubb's and Emo's tickets ship from their offices within 48 hours, unless you opt for expedited shipping. Once the tickets are shipped, a white envelope is used to deliver each USPS mail order. Please get in touch with their customer care at the aforementioned email address if you don't receive your tickets within 48 hours of the event.
Precautions to take while wearing an EDC wristband
You must adhere to the following rules when using your wristband.
Please take caution when handling your bracelet to prevent pulling it closed before putting it on.
Put your right hand through the band and gently fit it on your wrist.
You should only be able to fit one finger between the band and your wrist after pulling the tail through the plastic cover.
Gently tug on the band to make sure it is adequately fastened and won't come off your wrist.
Once it is on, look after it! The wristbands will be declared invalid and seized if they are altered or removed.
Don't put it on anything other than your right wrist. Don't cut it, stretch it, modify it in any way, or tighten it before you put it on.
Avoid cutting the end. It ought to be tucked in with the band instead.
Uncertain if your bracelet is securely fastened? No need to be concerned; security professionals will inspect you and help you if necessary.
How can festival wristbands be removed without cutting?
After the festival, you can remove the wristband without cutting it. Follow the below steps to remove the band from your hand.
To do this use a Plastic Bag.
Put your hand into the plastic bag while removing the bracelet.
Pull the bag's handles through the opening created by the wristband and your wrist.
Take hold of both handles and pull as hard as you can towards your fingertips.
The wristband should start to extend over your hand.
Check out our list of 6 Top Music Recognition Apps to Identify Songs in Seconds
Wrapping up:
As said before EDC Wristband is very important if you wish to attend the Electric Daisy Carnival.
Before you use your band you must register it. Up to a few hours before the start of the Electric Daisy Carnival, you can register for a wristband. It's never a problem to finish your registration at the last minute. One can wear a single wristband at a time, and wristbands can only be tightened before the festival, so you must take extra care by taking them off and putting them back on after the inspection. This is due to the clasp locking into place, making it impossible to remove or loosen it without doing damage. I hope you now have a better understanding of where and how to register your EDC wristband, what to do after you have it, and all the related topics. Your suggestions are always welcome, you can drop them in the comments section below. Thank you.
Frequently Asked Questions
When Should Your EDC Wristband Be Tightened?
Only one wristband can be worn at a time, and wristbands can only be tightened before the festival, so you must take extra care by taking them off after being inspected. This is due to the clasp locking into place, making it impossible to remove or loosen it without doing damage.
What happens if your EDC wristband is lost?
Please visit the box office of your festival to ask about replacements if you tightened or lost your wristband after getting it. Please be aware that there can be replacement costs.
How should my EDC wristband be put up?
Place your RIGHT HAND on your wrist in a comfortable position after passing it through the band. When one finger is all that is left between the band and your wrist after pulling the tail through the plastic casing, stop. To make sure the band is secured and won't slip off your wrist, give it a little tug.
How can I make my wristband active?
For improved customer service, activate your wristband in the app once it has been mailed before going to the festival. Please activate your wristband using the steps provided above on our blog.