Netbeans is an open-source integrated development environment (IDE) noted for its ease of use, intuitive interface, and Java implementation. However, users may have personal preferences for which they might want to utilize one of the various NetBeans themes. And there are several alternatives to select from! However, themes aren't simply employed to make the program appear nice. They are much more than just the UI and truly add significantly to the user experience. Various themes in IDEs serve to keep programs structured and improve readability, reducing eye strain during nighttime. If you are here to learn about How to Enable Dark Mode on Netbeans IDE? Then continue to read till the end carefully.
Brief note on Netbeans IDE:
NetBeans is an open-source integrated development environment (IDE) for programming languages such as Java, PHP, C++, and others. It is also known as a modular component platform for developing Java desktop applications.
NetBeans is written in Java and is compatible with most operating systems that support a Java Virtual Machine (JVM), including Solaris, Mac OS, and Linux.
NetBeans manages the platform features and components listed below:
user settings
Windows (placement, appearance, etc.)
Storage
NetBeans Visual Library
Framework wizard
Integrated development tools
Ways to enable Dark Mode on Netbeans IDE:
We have two methods to enable dark mode on Netbeans IDE. Both methods are explained in the following section.
Apply Dark Mode in Netbeans IDE using the plugin:
By installing the Dark mode plugin in Netbeans you can apply dark themes on Netbeans. To Install the NetBeans Dark Mode Plugin with these simple steps
The plugin may be installed in Netbeans in a matter of seconds.
On your Mac or Windows PC, launch the NetBeans IDE.
Click Tools Plugins in the Menu bar.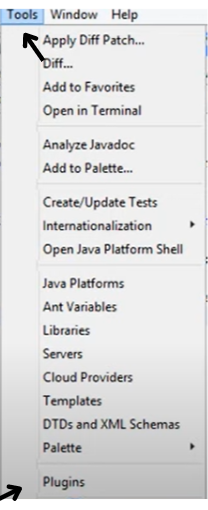 On the subsequent window, click Available Plugins.
On the left, you can now view the list of accessible plugins.
Select Darcula LAF for NetBeans and press the Install button.
Verify the certificate that appears on your screen and click Continue to continue.
On the bottom notice, click Restart IDE. The new dark theme will be applied to NetBeans after resuming.
Asana (Project management software) desktop and smartphone applications now support dark mode.
Author's recommendation: Enable Dark Theme in Notepad++
Manually Enable Dark Mode on Netbeans IDE 
If the theme is not applied even after restarting Netbeans, you can activate it manually. Do so carefully following the outline procedure.
Launch NetBeans and select Tools from the menu at the top.
Click Options Appearance Look and Feel under Tools.
Select Dracula from the drop-down menu.
Click Apply, and it will now resume.
If the restart procedure does not begin, close and reopen NetBeans. You may also close Netbeans IDE by using the + key.
The dark theme will be used by the Netbeans IDE.
If you become tired of the default theme in Microsoft Teams (Desktop & Smartphone), enable dark mode.
Frequently asked questions
How can I change the color of the backdrop in NetBeans?
To change the color of the backdrop in NetBeans you have to Navigate to Tools -> Options -> Miscellaneous. Then Select the Output and/or Terminal tabs to experiment with different color options.
How can I revert to the default theme in NetBeans IDE?
Launch the NetBeans IDE.
Now, in the upper left corner, click "NetBeans," and then select "Preferences" from the drop-down menu.
then click on the "Appearance" Tab, and then pick "Mac OS X" from the drop-down box
Then, when you click the 'Apply' button, you will receive a pop-up message asking you to click and restart NetBeans IDE to restore the default theme. 
Finally, click to restart the IDE.
Is dark mode good for eyes?
Although dark mode does not directly reduce eye strain, it can provide some relief. In a dim environment, for example, a bright screen makes your eyes work harder. A dark screen in a brightly lit room, on the other hand, will have the same effect. 
How can I make my Dark theme white?
Navigate to Settings. Now tap Theme under Display Options. Choose a theme for this device: White background with black text.
How can I improve the appearance of Netbeans?
To improve the appearance of the Netbeans you have to change the font style and colors. Select "Fonts & Colors" from the Options window and fine-tune the fonts and colors to your liking.