The Amazon Fire TV Stick is a great, entry-level streaming device with a low price. You are well aware many of us prefer Amazon Fire Stick as a streaming device. The online merchant offers it as the least expensive streaming device. All of the movies and TV shows on Amazon as well as those on other applications like Netflix, HBO Now, and others will be available for viewing with this device. But before you start watching movies on Firestick you need to register your device and to register the device one must enter the activation code. So, here will let you know what the activation code is, how to use it, where to enter the Amazon FireStick activation code, and what you can do with it.
Amazon Fire Stick Activation Code:
To make it simple for users to connect their Fire TV device with their Amazon account, the Fire Stick device generates a unique PIN code known as an activation code. You can skip manually entering your Amazon account information on your Fire TV by using the activation code.
You must connect to an existing Amazon account or register a new one to complete the transaction. To access Amazon.com/code if you already have an account, use a conventional device such as a computer or smartphone. To finish the registration of your device, log in and use the activation code that was issued on your FireStick. Once you login in, the code will show up on the screen.
Once you've finished, your device will continue to be registered to your Amazon account unless you choose to deregister it later. You can stream videos, install apps, play music, and more on your television with an Amazon Fire TV stick. On the gadget, you may install android apps and use them to play games and listen to music. It can turn your regular TV into a smart TV because it is built on the Android operating system. All you need is an HDMI port on your television to use this HDMI stick.
Where Can I Find the Activation Code for My Fire Stick?
Follow these steps to find out your Amazon Firestick activation code
On your Amazon Fire TV, log in to the Amazon channel.
You'll receive a four-digit activation code from it.
Visit the Activate page found at amazon.com/code on your computer or mobile device and log in with your details.
Next, click on Activate after entering the Amazon Fire TV's code.
Take a look at the TV. On display, you will find a "Fire TV Remote App Connection Request" message.
The 4-digit code can be found below the message.
You just Write down that code or save it to enter later.
On the text field of the Fire TV Remote App, type the Fire Stick activation code.
Trending: ExpressVPN Activation Code
Where do I enter the Amazon Firestick Activation Code to register my amazon account with fire stick?
This paragraph has been divided into two parts. Go to the first section for linking an existing account if you already have an Amazon account. The second section contains information on how to create an account for those who do not have an amazon account.
If you already have an Amazon account, how do you register, or where do you enter the Activation code?
Initially, Go to your Amazon Account page.
Then, select Have an Account Sign In to configure your Amazon Fire Stick.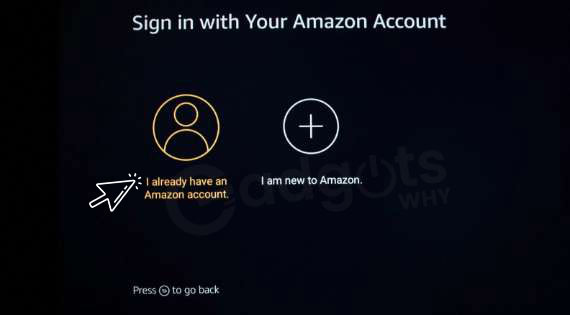 To login into your Amazon account, you need to visit this site and input the activation code.
Go to the same website, amazon.com/code, on your computer or smartphone to accomplish that.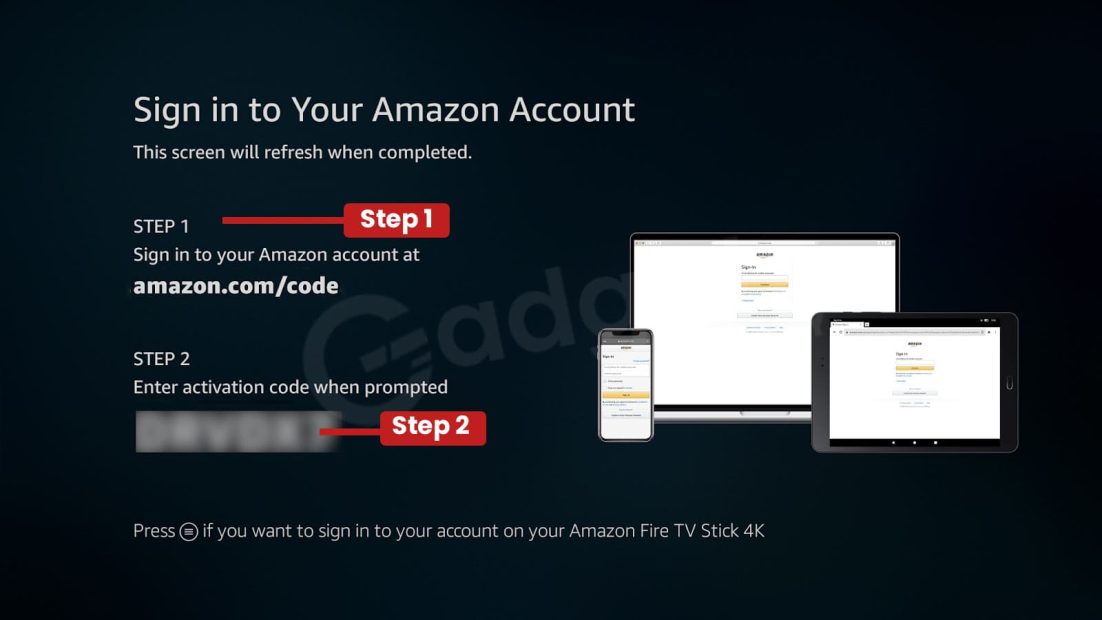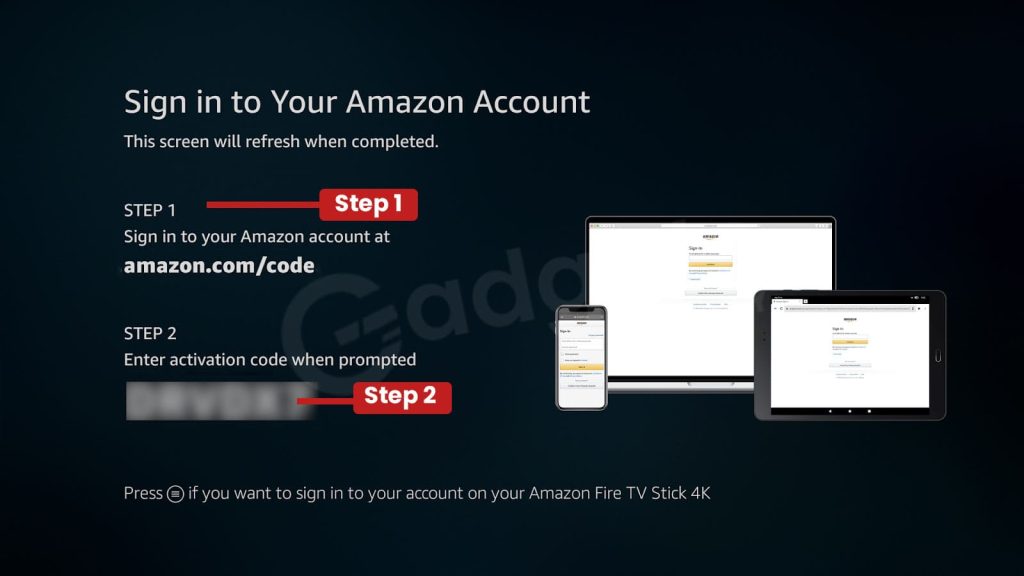 Then, simply sign in with your account credentials.
You will be directed to a screen where you must input your activation code after signing in.
An acknowledgment of success will appear when you enter the code.
The registration of the Fire Stick device will be complete with this
Wait until the registration procedure is complete when you see the notice "Registering your Amazon Fire TV" on your Fire Stick.
You will see a welcome screen after your device registers;
Now, just click the Continue button to confirm the registration process.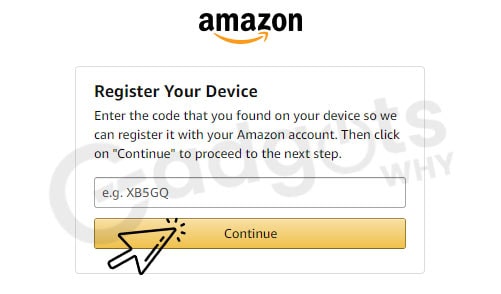 Finally, you can select your profile and begin streaming the movies or episodes you want to watch.
Follow our brief guide on Roku Device & its functionality
If you don't have an Amazon account, how do you register, or where do you enter the Activation code?
If you don't already have one, you must create an Amazon account to use FireStick. And the steps are listed below.
Select the New to Amazon? button. in the setup screen for a Fire Stick.
At amazon.com/code, you must first create an account before being asked to enter the code.
Go to http://www.amazon.com/code on your smartphone or computer and select "Create an Amazon account."
You will then have to enter your name, email address, and password on the screen.
After this on the next page, enter your password again.
Click the yellow color "Create an Amazon account" button after you enter the password.
To verify your identification, Amazon will send a One-Time-Password (OTP) to the email address you provided.
Go to your email inbox in a new tab or window and search for the most recent email from Amazon.
Once you find the email, open it and copy the OTP for your records.
Note: In case you do not receive OTP to your mail you can request to resend the OTP to mail.
Before clicking the Create an Amazon Account button, go back to the Amazon website and enter the OTP.
The device registration page will then appear.
Once you've entered the activation code that appears on your Fire Stick, click the Continue button.
On the following page, you will have to provide your address information.
After filling out the form, click the Add and use this address button.
You'll notify on the Amazon website when your registration for the Fire Stick is finished.
Your Fire TV Stick will then display a fresh screen. Allow your device to wait for some time to register.
After the registration, the screen will then welcome you to your account.
Now, Click the Continue button to confirm.
You'll eventually reach the screen where you may select your profile. Then select your profile to start streaming.
Everything you need to know about Xbox Gaming Consoles can be found in our guide
Conclusion
Everything you need to know about entering the Amazon Firestick activation code, including where to enter it, was in this post. Play around with your Firestick a little and learn all the different things you can do with it.
Please let us know in the comments section below if you have any questions, comments, or concerns regarding any aspect of the setup procedure, and we will like to address them. Visit some of our other related articles to learn more about what you can download to turn your Firestick into an entertainment powerhouse!
Frequently Asked Questions
Why do I have to activate or register my Fire Stick?
Before activating or registering your Fire TV Stick with an Amazon account, you won't be able to use it. According to Amazon, all Firestick users must link their media center to an Amazon account. This enables the device to discern your preferences. Additionally, to monitor your streaming activities across all of Amazon's content.
How can I sign up for an Amazon Fire Stick account?
1. Go to Settings using your remote control from the main Fire TV menu.
2. Next, visit My Account.
3. Select Amazon Account from the screen, then selects Deregister if you want to sign up with a different account.
4. Once your Fire TV has been de-registered, you can click Register to re-register it with any Amazon Account of your choice.
Why I am unable to register my Amazon Fire Stick?
Problems registering your device or application could be caused by out-of-date software or bad account credentials. Make sure your device or application is running the most recent version of the software before you try to register it.
Where can I enter the activation code for my Amazon Firestick?
Select "Have an account Sign In" on the Amazon Account screen while configuring your Fire Stick.
You'll be prompted to visit amazon.com/code on the next screen and sign in to your account by entering the activation code there.
Does using Fire Stick every month charge any fees?
No, there isn't a monthly fee for the Fire TV Stick. The services you will be utilizing, however, can come with a monthly fee. You only need to pay the Fire Stick's standalone purchase price. After that, you'll only be required to pay for the streaming services you use. Amazon may offer free packages.