Fix Discord Login Issues: Discord, which began as a voice-chat and instant messaging platform for gamers, is now utilized by a variety of online communities.
Even though it provides a seamless manner for online users to interact with one another, one of the most common problems with Discord is that it is constantly disconnecting. When you're planning a gaming strategy with your friends in the middle of a game, this may be annoying. It has the potential to completely detract from the enjoyment of playing online competitive games.
As a result, it is critical to resolve the problem as soon as possible. While many users throughout the world have reported the same problem, Discord has not provided an official solution because the problem could be caused by a variety of factors such as low connectivity or the usage of proxy servers.
The following article contains a comprehensive list of troubleshooting options to fix Discord login issues.
Pre-check issues and fixes:
Let's start with a pre-check to identify the problem, and if it's a minor issue, you can address it yourself. Follow the below-mentioned basic troubleshooting to fix discord login issues.
Restart your computer and reopen Discord. Check to see if the issue remains.
Logging in via the web version of Discord restarts the Discord session.
Later, update Discord by launching the program on your PC. The most recent update is available within the program, or you can manually download it from the program's official website.
Check to see if Discord is now unavailable (You can google the instant news or consult the support team)
Have you made any changes to your PC's setup? If you're not sure, delete and reinstall Discord to get a fresh start.
Are you ready to upgrade your Windows operating system? Some users said that updating to the most recent version of Windows fixed the issue.
Still, having problems opening Discord after following the previous steps? It's not a problem.
There are a few more methods that may be able to assist you in re-open Discord without a hitch.
Also Read: 12 Top rated Random Video Chat Apps
Want to Fix Discord Login Issues? Here are a few solutions
To swiftly resolve the issues, let's start with the click-on methods:
1. Log in to Discord and reset your password.
You should try updating your Discord account's password or username using Discord Password Support. Changing your password will not only address the problem but will also increase the security of your account and prevent any additional password leaks.
Simply follow the instructions outlined below:
If your Discord troubles are caused by password issues (forgotten passwords or invalid passwords), you can change your password by following these steps:
Instead of typing your password, select 'Forgot your Password' after providing your email address.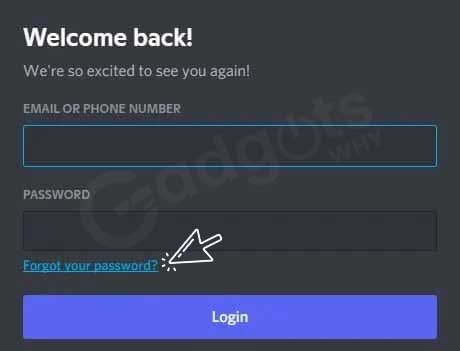 To reset your password, Discord will send you a verification link in your email, as seen below. Go to your email and click the link; you'll be taken to a screen where you may enter and choose a new password before clicking Reset Password.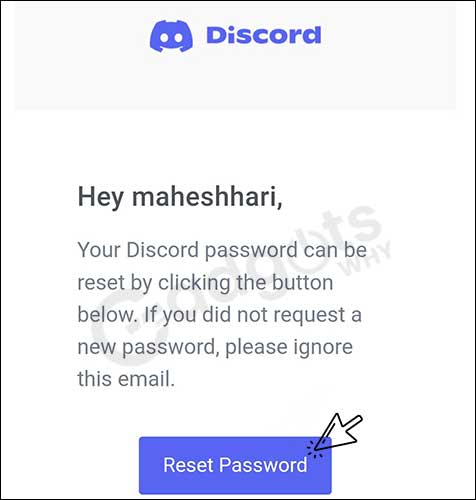 Now Change your password by entering a new one and clicking Change Password. You'll be taken to the browser version of Discord, where you'll be given a new password.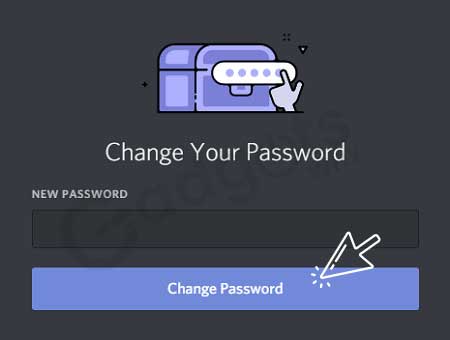 Trending: NVENC vs. X264: Which Encoder is Better
After you've tried the preceding approach, try this one to see if it helps you clear login errors caused by Server Issues:
2. Change your DNS (Domain Name System) servers to Fix Discord Login Issues
If your DNS or IPs are configured differently. Change the preferred DNS to 8.8.8.8 or the alternate DNS to 8.8.4.4 and see if that helps.
For iOS Devices:
Go to the Settings menu.
Connect the WiFi to the Network Select the Informative Icon and toggle DHCP to Static under IP Settings.
Scroll to the bottom of the page and click Configure DNS, then Manual, then your desired DNS Servers.
3. Delete the app's cache data to Fix Discord Login Issues
These trash files might build up in the background, bloating the system and causing problems when using the Discord App.
For Windows:
Follow these instructions to clear cache data on windows.
Go to Windows Data Files and type % AppData /% disagreement in the search bar at the top of File Explorer.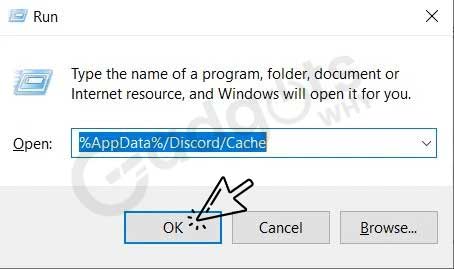 Cache, Code Cache, and GPU Cache all can be found and selected.
After you've made your selections, click Delete.
For Mac:
Go to the Finder menu bar and select Go from the drop-down menu. Go To Folder is located at the bottom of this tab.
In the Go to Folder tab, type /Library/Application Support/discord/ and click the Go Tab button.
Cache, Code Cache, and GPU Cache are the three directories to look for. Delete these three folders as well.
After you've completed the steps above, click Save.
For Android devices:
To connect to your WiFi network on an Android device, go to Settings and select the I tab, which is next to the network.
Select Static in the IP Settings section.
To continue using the Discord App without interruption, enter the Ip Address of your choice in the new box that appears.
For the PC:
Go to chrome:/net-internals/#dns in your Google Chrome or Web Browser.
When you click on the above link, you will be taken to the following screen, where you must click on Clear Host Cache.

Gaming lovers here is our Death's Door Review
4. Remove and reinstall the Discord app to Fix Discord Login Issues
If the procedures above haven't worked yet, try this technique.
Try removing the app and reinstalling it from the App Store, Play Store, or through your web browser.
5. Activate two-factor authentication to Fix Discord Login Issues
Two-factor authentication is vital for the security of your Discord account since it adds an extra layer of protection that stops unauthorized users from remotely signing in.
Additionally, if you believe your account was incorrectly flagged (see step 2), you should enable 2-factor authentication. This is because enabling 2-factor authentication increases your credibility by demonstrating to Discord that you are a human, not a machine.
Google Authenticator and Authy, both available on Android and iOS, are two of the most popular authenticator or software token apps for this purpose.
How to Connect Your Discord Account to Google Authenticator?
As a result, we'll show you how to set up 2-factor authentication in the steps below. We'll use Google Authenticator for this, but the process will be similar to other software token apps as well:
To begin, go to Discord's User Settings. The cog icon is usually placed near your profile photo and the Discord tag in the bottom-left corner of your screen.
After that, scroll down under the My Account menu until you see the Enable Two-Factor Auth button. To begin the process, simply click it.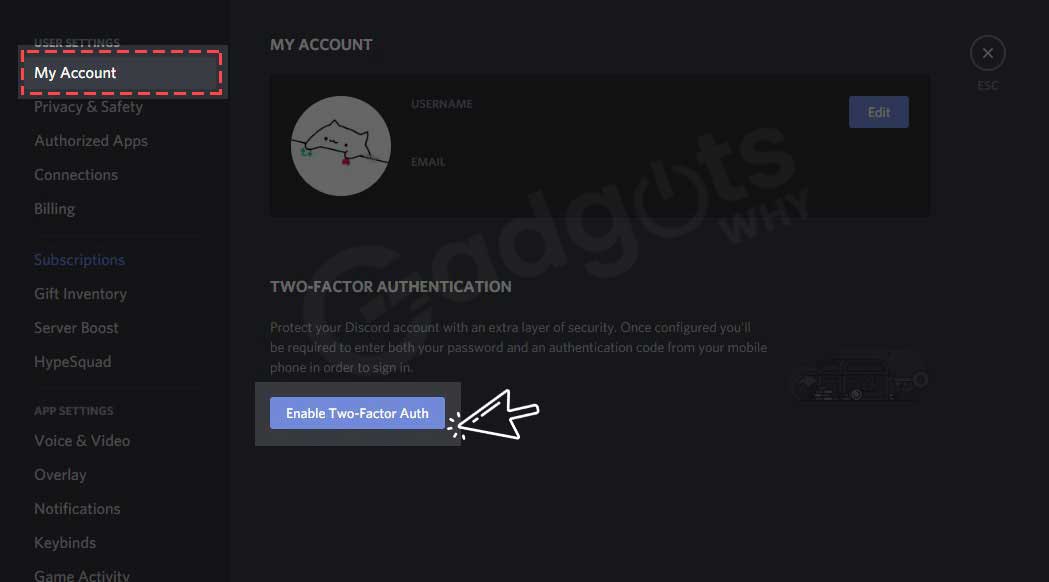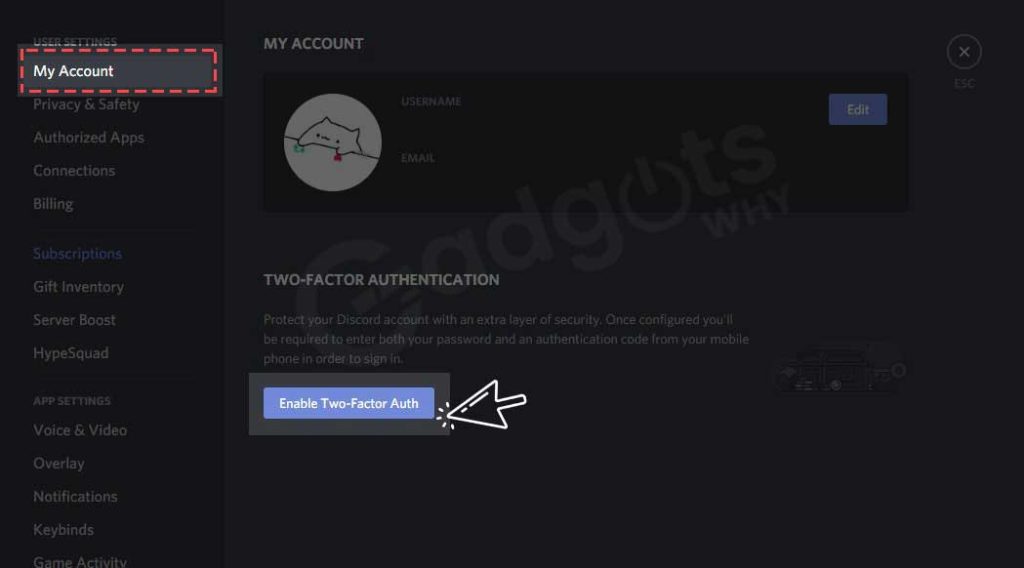 Finally, for the authentication process, you'll notice a three-step prompt to download an authenticator app.
Now, open Google Authenticator on your phone and connect this Discord account to it.
To create a new 2FA key, tap the Add button in the bottom right corner of the app.
You can either use the app's QR code scanner or manually enter the key provided by Discord.
After that, you should see a 6-digit number associated with your Discord account that changes every time the timer refreshes.
After that, click Activate on the Discord app and input the 6-digit code in the last area.
Finally, assuming your code was correct, you should get the following message.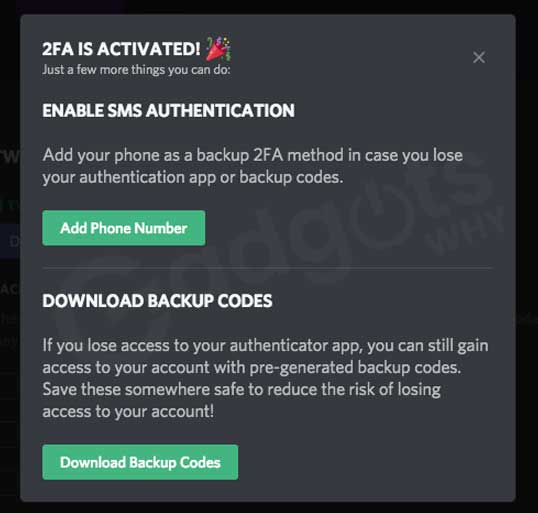 We strongly advise you to do both because you never know when you'll misplace your phone or need to format it. So, save those Backup Codes somewhere safe and secure, or you may lose your account forever!
If you don't have time right now, but want to do it later, you can still do it by returning to Discord settings.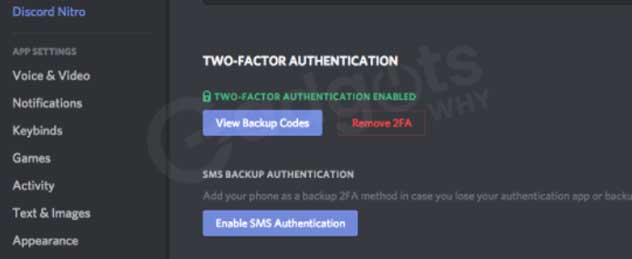 Some of our other Trending game reviews you can check out: Moncage Review, Pokémon Brilliant Diamond And Shining Pearl & Solar Ash Review
Conclusion
That's all guys in this blog mentioned the most common troubleshooting procedures to fix the Discord login issues. Hope this write-up is useful to you if you want to fix your Discord login issues. If you have any queries feel free to ask in the comments section. Stay in touch with us for the latest updates.
Frequently Asked Questions
Why am I unable to log back to Discord?
You can contact Discord Support directly to request a password reset instead of using the "Forgot Password" feature. After you've submitted your request and provided an email address that you have access to, you'll have to wait up to three days for the reset password link to arrive.
How can I tell if my Discord account has been suspended?
Before your account is deleted, Discord usually issues a warning or a temporary ban. When you are banned by Discord, you will receive an email notification, but the account will not be deleted for at least a month, giving you time to try to fix the matter.
How can I repair a new Discord login?
Enabling 2FA on your account will disable the new login location email. Two-factor authentication, or 2FA, is a smart way to add an extra layer of protection to your Discord account by ensuring that only you can log in.