Are you having ''Pending on Snapchat'' shown in your Snapchat? Let's fix this with this super-easy guide. But before we jump to the fixes, do you know what does it mean? In today's world, Snapchat is one of the most popular social networking apps. And, with TikTok's survival in jeopardy, Snapchat is doing everything it can to appeal to its new user base. They've introduced the option to publish short-form content to your account, as well as new body lenses that allow you to compete in dance contests. If you're a new Snapchat user, you may have observed that your messages to various accounts are frequently marked as 'Pending.' What is the reason for this? Now let us have a quick look at the issue and ways to fix the "pending" error on Snapchat.
What does Pending on Snapchat mean?
Unsent Snapchat messages and Snaps are referred to as "pending." There could be a number of reasons why your Snapchat message is pending, but the most common explanation is due to a factor on the other user's end. Most of the time, you won't be able to handle the problem on your own and will have to wait for the other person to settle the problem on their end.
Following are the events that could occur when the message is pending on Snapchat-
When it's ''Pending on Snapchat'' the Snapchat message is waiting, the following events occur.
The recipient will be notified of the pending communication.
The recipient will be able to view your message/friend request even if they do not accept it.
The recipient must decide whether or not to receive communications from you or add you as a friend.
You will have no way of knowing whether or if the person has read your message.
If your communication is pending for an extended period of time, you will not know if the other person has ignored or blocked you.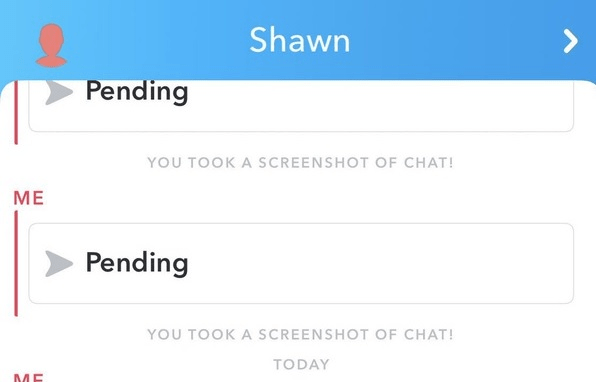 How to fix ''Pending" on Snapchat'?
Your Snapchat message to someone is labeled as 'Pending' for a multitude of reasons. Acknowledge the most common reasons for the issue of ''Pending on Snapchat''.
The network is down
It could be a network issue if you're getting 'pending' on Snapchat but you're buddies. If you don't have an internet connection on your device, your Snapchat message may be pending. Snapchat will save your message in the smartphone's cache and transmit it once the device gets internet access.
If you're having trouble with your mobile data or WiFi, this is most likely why your Snapchat message is pending. Here are some fast fixes you can attempt if you have network connections but the Snapchat app is still unable to receive network connection.
Snapchat should be restarted.
Check to see whether Snapchat's ability to use mobile data has been restricted.
On and off the Airplane mode
Snapchat's cache and data should be cleared.
Restart your computer.
The receiver has deleted or blocked you
To guarantee privacy and ensure that their data is properly protected, Snapchat gives its users complete control over their accounts. This is why Snapchat will prevent access from unknown accounts until the recipient has allowed it. Unknown accounts' messages will be marked as pending, and they won't be able to see your stories or location. Depending on the receiver's privacy settings, you may be able to view their location and stories if their Snapchat account is public. Your messages and Snaps, on the other hand, will be pending until the recipient accepts them.
The account of a buddy on Snapchat has been deactivated
Snapchat also does not notify you when and if a friend's Snapchat account is removed. The offending account will still appear in your buddy list, and any talks you had with it will appear in the 'Chats' section of Snapchat. However, till further time, all of your messages and snaps to the individual will be preserved as pending.
Your account's capabilities are limited
If you do not act as a law-abiding citizen, Snapchat, like other social networking services, takes away some of your powers. So, if you've been breaking community norms, abusing individuals, or giving others reason to report your account, sending messages to people may be difficult.
When this happens, the majority of your messages, including those you send, are marked as 'Pending.' When the temporary prohibition is lifted, this is immediately addressed.
Snapchat isn't functioning properly
Snapchat, like any other website or web service, experiences downtime from time to time. Typically, these disruptions are brief, and service is restored within an hour or so. If you've exhausted all of the above possibilities and still can't find a solution, we suggest you wait for a little and try again.
Unexpected Snapchat bug
In general, Snapchat is a solid social media platform. Even the finest of them, though, run into glitches now and then. So, if you're positive there's no other reason why you're not texting your pal, you may safely blame it on a rogue Snapchat bug.
You have not yet been added to the list of friends
The most common reason for pending Snapchat messages is that you have not yet been added as a friend by the recipient. This could be the situation if you're attempting to message a new contact. They might still be busy, and you'll have to wait for your request to be accepted before the message reaches the appropriate person.
How can you tell if your 'Pending' message/snap has been delivered?
The status of a pending Snapchat message will automatically change to 'Delivered' once it is delivered. In your 'Chats' section, you may keep track of the status.
Snapchat, on the other hand, will not send you a signal when your status changes, so you'll have to manually check it whenever you have a chance. While inconvenient, this is the only way to know if your pending messages have reached the intended recipient.
When you haven't sent anything, why does Snapchat claim it's pending?
If you send a message to a friend who hasn't added you back, your communications will be marked as pending. It can also happen if they block you or remove you from their friend list. All of the other explanations were mentioned in the "Snapchat says pending?" thread. See the "here's why" section above for more information.
Every issue has been sorted regarding ''Pending on Snapchat''. Follow the steps structured above and you would be able to understand the reason behind it and solve it further.