Watching TV is the best pass time one can have! It is quite cheap and very much entertaining. As watching movies and TV shows have increased, simultaneously there has been a more than ever demand for DVR spaces. The Spectrum Cloud DVR is one of the widely used cloud DVRs. However, like any technology, DVR has its issues. Some of these issues include freezing of videos and all. Because of these issues, the experience of watching your favorite show gets interrupted. Such problems have become quite common on the Spectrum cloud DVR platform. Spectrum Cloud DVR is one of the widely used means to record videos. In this article, we will get to know about the guide to fix Spectrum cloud DVR problems. But before that let us gather more information about the DVR.
What is a Spectrum Cloud DVR?
A DVR is a Digital Video Recorder. It is a device that is used for recording videos. These videos are usually saved in digital format on USB flash drives, SD memory cards, disk drives, TV gateways, personal computers, and many other devices. Cloud DVR is a little modified version of it. In a Cloud DVR, the videos are stored on a cloud space on some server. These can be later used at any time or on any device. As a matter of fact, cloud DVRs are much more advantageous than ordinary DVRs. Let us know more about Spectrum Cloud DVR before we get to know how to fix Spectrum cloud DVR problems.
Also Read: Reset Insignia Smart TV
What are the benefits of Spectrum Cloud DVR?
By now you have gained some information about the Spectrum Cloud DVR. However, let's know some of its benefits too.
Well, to start with, you can record as much TV as you want using Spectrum Cloud DVR. Later on, you can watch them remotely as per your comfort. There are two available Spectrum Cloud DVRs. These are Spectrum Cloud DVR and Cloud DVR Plus. Both function similarly.
In order to watch the recordings, you will have to take help from either the Spectrum TV app or the www.spectrumTV.net website. So, simply search for these on your Smart TV or streaming device and continue watching.
The Spectrum TV app is available on most streaming devices. These include Roku, Apple devices, Apple TV, Xbox, and Android devices.
As a matter of fact, one can record 50 live shows simultaneously at once using the Cloud DVR. This number further increases to 100 live shows with Cloud DVR Plus.
All the recordings are saved for three months with Cloud DVR and for a whole year with Cloud DVR Plus.
The recordings are completely remote. This means that you can watch them both in and out of home at any time. However, there is one limitation. A person can watch a stream unlimited times inside the home. But this number reduces to a maximum of three when they are out of the home.
Trending: Get NBC Sports Free Trial
A quick guide to fix Spectrum cloud DVR problems
Like any other technology, this technology also has some minor issues. However, you need not worry as these can be resolved with some simple steps. These are:
Start with connecting the wires and cables properly. Make sure that the TV and the cable are properly powered on and connected.
Check if the coax cable is connected properly to the outlet.
Make room for the exchange of air near the devices. This calls for proper ventilation in that area.
If any of the above is not the issue then go for refreshing the receiver. This helps many times.
You can also try unplugging the receiver and then wait for a while. Now after a minute or so, plug it back into the port and start the devices.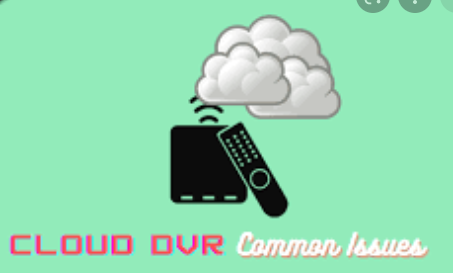 Some of the common issues faced while using Spectrum Cloud DVR
There are some commonly experienced issues that people often face while using Spectrum Cloud DVR. Some of these are:
Playback problems
These occur when someone is watching a recording. These include freezing, fast-forwarding, difficulty in rewinding, etc. To fix this Spectrum cloud DVR problem, refresh your receiver first. You can also try to record a few minutes and then play. This will fix Spectrum cloud DVR problems.
Recording problems
Sometimes one can face several issues while trying to record a video. To troubleshoot this problem, first, make sure that the DVR has enough space. Check if the connection is proper. The recording buttons can also have some issues. However, you should know that On Demand programming can not be recorded.
Complete series recording problems
Many of us want to record a whole series and so we put it on the recording. However, it does not happen so. The reason is sometimes the setting of the device. If you have set it on "record only new episodes" then shows that have no new episodes will not get recorded. Sometimes, the guide is not able if figure out the new episodes. To resolve this issue, the best thing to do is to set the DVR set to "record all episodes". This will record all types of episodes.
Also Read: Activate Showtime Anytime
Wrapping up
The above article was about how to efficiently fix Spectrum cloud DVR problems. Well, whenever you start recording, always make sure that the internet bandwidth is enough. You should keep your devices and apps updated. These updates remove bugs and improve the performance of the device and the apps.