On your Roku device, FuboTV is one of the greatest locations to watch sports. The platform is mostly focused on sports channels, but it also includes top-rated channels from a variety of other genres.
It's easy to watch FuboTV on Roku, so keep reading for step-by-step instructions on how to get started. You'll also discover more about Fubo, including its content and membership options. Later in the article, you will get to know how you can ''Fix FuboTv not working on Roku device'' but first let us see how you can access FuboTV on your Roku device. It has been a common complaint among users that how they can fix the reason for not working FuboTV on their Roku device.
Method to access FuboTV on Roku device-
Download the FuboTV App. To begin, download the FuboTV app (or channel) to your Roku. it is very easy to do, follow along-
Turn on your Roku player.
Choose the option to search on the Home screen and tap OK on the RC.
Enter FuboTV, then push the right RC button to pick the FuboTV channel. You may also add FuboTV to your Roku online by clicking on the link and selecting Add Channel.
Press the right arrow on the remote many times until you discover the Add Channel button with the FuboTV channel chosen on your screen. Tap on the option ''Add Channel'' and then hit ''OK'' to confirm.
The FuboTV channel will be installed directly. When the arrangement is complete, select OK to confirm the channel's inclusion.
Kindly return to your Home screen or tap Go to Channel.
To launch the channel, tap FuboTV and press OK on the Roku control.
Subscribe to FuboTV
If you haven't already, you'll need to join up for FuboTV. You may sign up for a free one-week trial. It's not much, but it should be enough time to see if you like FuboTV enough to pay for a subscription.
To join up for FuboTV using your Roku device, follow these steps:
On your Roku, open the FuboTV channel.
If you're a new user, select Start Free Trial, or if you're a subscription, select Sign In.
In the pop-up box, select Allow. You'll be able to link your Roku account to FuboTV this way. Click Cancel if you want to use another email account.
Add a second email address (optional), your zip code, and a password. We recommend creating a strong password and writing it down someplace. Tap Next when you're finished.
On the following screen, you'll find your subscription options. To browse the list of accessible channels, press View All Channels. Click Let's Go when you're finished.
After that, enter your Roku passcode. Please click the Subscribe button.
Accept the subscription notification by clicking OK.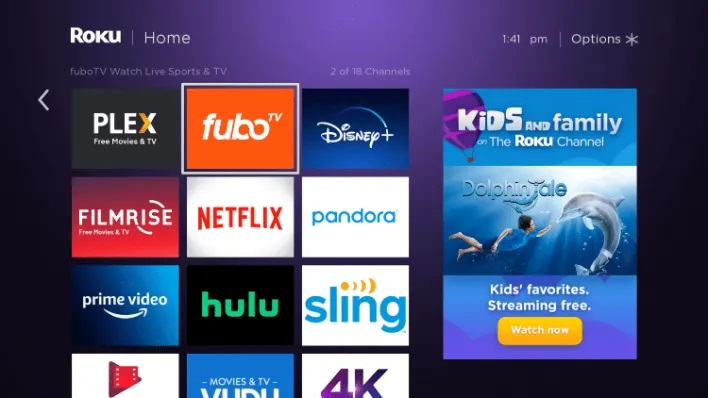 Register on the Website
If you wish to join up for a subscription plan other than FuboTV Premier, you must do it through the FuboTV website. Roku only offers the premium package, which includes automatic invoicing. To sign up for a different subscription plan on the FuboTV website, follow these steps:
Go to the FuboTV registration page in your browser.
Enter your zip code in the empty fields.
Then, enter your email address and password. The other way to sign up is through Facebook or Google. After that, go to the next step by tapping Go to Next Step.
Choose your preferred FuboTV bundle.
Go to the next step by clicking the Go to Next Step button.
If you like, add some other features; this stage is optional. Go to the last step by clicking Go to the last step.
Fill enter your credit card information.
Start watching FuboTV by clicking the Start Watching FuboTV button.
Fix FuboTV not working on Roku
Here comes the part wherein you will discover how you can fix FuboTV not working on Roku device as sometimes some issue occurs while running FuboTV on the Roku device. In order to solve the issue, you will need to follow the given method otherwise if that problem would not solve then you will have to contact FuboTV to get it fixed.
Here are the steps to fix FuboTV not working on Roku-
Navigate to the channel tile.
Hit the ( * ) key on your remote.
Then select 'Remove channel' to remove the channel from the Roku home screen.
Go to Settings>System>System restart to restart your device. Re-add the channel to your player once it has restarted.
If the problem persists, I recommend contacting FuboTV directly to report the problem and request extra assistance. Many Roku channels are built and managed directly by the channel provider, so they'll be able to best assist you. If all the other channels are operating normally and you're just having problems with the FuboTV channel (app), it's probable that the problem is with that single channel. In these circumstances, the channel provider will need to look into the problem in order to assist in its resolution.
Here's how to contact them: https://support.fubo.tv/hc/en-us
Pro tips of FuboTV
Some pro tips that will definitely help you with FuboTV. As there are some ways that can assist you with some of your issues and prove to be really helpful in some cases.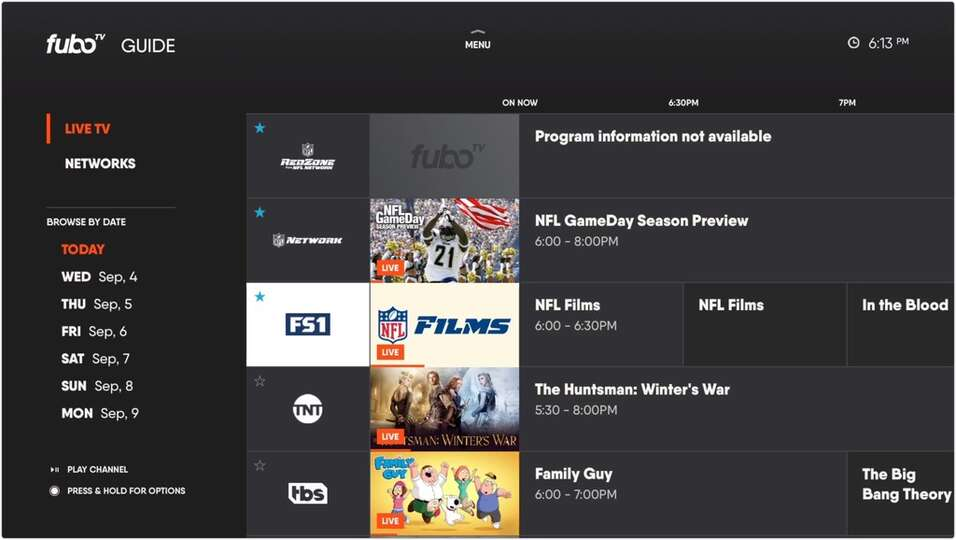 Add up your favorite channels
This function is for those of you who channel surf and constantly wind up on the same 2 to 3 channels. When you choose favorites, those channels will appear first on your homepage or in the program guide when you browse to it. Simply scroll to the program guide, highlight the channel, then press the * button on your Roku remote to pick it. You may unfavorite a channel by reversing the steps.
Experience sports in 4K
This advice will appeal to those who have a suitable 4K TV and 4K Roku player, or just a 4K Roku TV. At the moment, fuboTV is the only live TV provider that streams sports in 4K resolution. Navigate to the Guide to start a 4K game or event, and the channel will have a 4K option for viewing on the day of the event. You may currently watch the complete Women's World Cup in 4K, as well as the whole schedule of 4K events.
Record content
There will be no more single-episode recordings. It's simple to record whole seasons of your favorite shows with fuboTV's DVR. To record a show, go to the Series page, scroll to or search for it, and then click Record Series. All fresh, first-run episodes of your chosen series will be recorded for replay once enabled.
Lookback
Have you ever totally forgotten to record a game? Lookback is a fuboTV feature that allows you to go back in time. Lookback is an on-demand service that allows you to watch previously telecast games up to 72 hours after they were first broadcast. Select All Sports from the sports screen, scroll to the game's original air date, then select the game you wish to watch.
Roku with FuboTV is one of the most appealing cord-cutting combinations on the market. FuboTV provides low rates, high-quality programming, and cross-platform flexibility. Keep in mind, though, that the fees of extra packages and channels can soon mount up. I hope the concern of fix not working FuboTV on Roku device has been solved by now and if not you are free to contact the officially and then your issue will be solved for sure.