You could be perplexed about which streaming app offers the greatest content given the plethora of streaming applications now available on the market. After putting a number of the most popular applications in this category through our testing process, we came to the conclusion that MovieBox PRO is one of the most reliable options for watching an infinite number of free entertainment programs and movies. It includes a massive selection of movies, series, and television programs that users can watch whenever and wherever they choose. Now, you can download MovieBox PRO VIP on both the Firestick and the Fire TV. You will need to get Moviebox for Firestick and perform a Moviebox Pro install on your device. Let's find out how.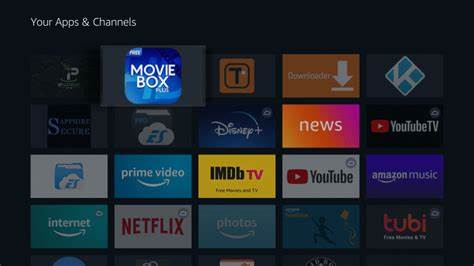 Moviebox Pro Installation Process for Firestick:
How to get Moviebox for Firestick?
If you wish to download the Moviebox Pro app for Firestick, the procedure will be a little bit different from what you would normally expect. And if your television does not have smart capabilities, you will need to utilize an external storage device, such as a Firestick, or another device of the same kind. If you want to get and install the Moviebox Pro app for Firestick, you will need to follow these steps:
Steps to download the downloader for Firestick:
Begin by turning on your Firestick device and clicking on Settings.
Next, choose "Device" or "My Fire TV," depending on the version of Fire TV you have to access. When this happens, the tab's title will change to Developer Options.
Under the "Devices" tab, there is a choice labeled "Apps From Unknown Sources." Turn it on.
Then, return to the Home Screen. In the top left-hand corner of the screen, you will notice an icon that looks like a search bar. Simply tap on it.
Now, enter "Downloader" into the search field, then choose the first result that appears.
After the download is finished, choose "Open" from the drop-down menu.
Next, after you have started the Downloader app, you will be prompted to decide whether or not it is allowed to access your Firestick's files, images, and other forms of media. You will have to provide your approval after seeing this prompt.
After you have completed the prior step and given it your approval, it is necessary to make some adjustments to the Downloader app's settings.
To activate JavaScript, choose the Settings menu option from the drop-down menu.
You can now go back to the Browser screen or the Home screen of the Downloader.
Steps to download the Moviebox Pro app for Firestick:
To download MovieBox, enter the URL into the box designated for URLs.
The download will begin as soon as MovieBox detects that the URL has been loaded. The size of the APK file is close to 26 megabytes.
Depending on how fast your internet connection is, this should take around a minute.
After the download is finished, a new page will load for you to see.
Click the "Next" button that can be found in the bottom right-hand corner of the screen. You will be sent to a new page that gives you the choice to "Install."
Simply follow the instructions at this site to install MovieBox.
Click the "Done" button after the software installation is finished.
After the application has been successfully installed, a dialogue box will display indicating that the APK file was successfully downloaded.
Next, tap the Home button, then choose Apps from the menu that appears.
MovieBox will appear in the bottom right-hand corner of the screen.
Now, you only need to start up the application, and you'll be good to go!
Reader's top pick: Install Distro TV on Firestick
All that you need to know about Moviebox Pro:
MovieBox is an application that gives users the ability to watch videos from the internet. They are able to watch movies, television programs, and other entertainment without having to pay for anything. The program is available to download for users of both Android and Apple's iOS operating systems. It is compatible with both your television and your PC.
What makes MovieBox such a wonderful service?
We have outlined some of the most important qualities that give MovieBox its reputation as an excellent streaming service. These are the most compelling arguments in favor of installing this program.
Several distinct tiers of quality:
You will be able to exercise full command over your stream. The app consists of the following levels:
240p (Low)
360p (Medium)
720p (HD)
1080p (HD)
If you have sluggish internet connections or often suffer slowdowns, this works very well for you. Simply lowering the quality of your stream will allow you to continue watching your programs of choice without interruption.
Functionality available on several platforms:
The fact that MovieBox APK is functional on several platforms is just another reason why it is so fantastic. Using third-party software, you can use the application on any device.
Regular content updates:
You will also have access to the application's frequent upgrades, which will allow you to watch all of the most current Hollywood blockbusters. In a manner similar to those of Netflix and Stan, each user receives an alert whenever they add new material to the site.
Simple Interface:
We have already established that the app's ease of use and accessibility are remarkable qualities. Because of the thoughtful organization of the app's categories, using it is a breeze. It performs incredibly well across the board, and across all kinds of devices.
Also Read: Watch Discovery channel on Firestick
Conclusion:
So, this is all about how to get Moviebox for Firestick TV. The process is fairly easy and if you follow all the steps above, you can complete it in no time. But if you come across any difficulty or have any doubts, you can leave it in the empty comment area below. We'd love to be of help to you.
Frequently Asked Questions:
Is There a Moviebox Pro Version for the iPhone or Other iOS Devices?
No, at this time Moviebox Pro is only compatible with Android-based mobile devices. However, if you look for Moviebox Pro alternatives that are compatible with iOS-based mobile devices, you will discover that there are many of them.
Can I discover content from Netflix and other services on Moviebox Pro?
The answer is yes. Moviebox has copies of all of the films and television episodes that can be found on Netflix and other major online video streaming platforms (OTT).
Should I expect to be required to pay a subscription fee before I can begin watching material via Moviebox Pro?
You do not need to pay anything to begin viewing material on Moviebox. Since this app is free thanks to the backing of advertisers, there is no cost to use Moviebox.