Dear Users! Welcome to the informative post where you can learn more about one of Roku's best features and the specifics. For their own amusement and benefit, everyone watches the Roku channel. You get additional entertainment and unique features to have fun with. It features parental restrictions as one of them. Roku device has the option to temporarily hide the Roku Channels for this purpose. You must read this article if you want to understand the key points of how to hide Channels on Roku for parenteral control.
On Roku, you have the option to hide channels, which may assist you to restrict your youngster from accessing particular channels. One of the key features for parents on Roku is the Kids and Family area, which is available to help handle this. Monitoring online activities, including what kids stream, is not always possible. Kids could have access to a lot of stuff that isn't intended for them without parental control. Roku channel hiding will assist parents in preventing their kids from viewing inappropriate information. How to Hide Channels on Roku for Parental Control is shown here.
What is the necessity to hide channels on Roku?
There is a rhyme or reason to everything. In a similar manner, you need to come up with the best justifications for hiding Roku Channels. Parental Controls are one of the most important justifications for hiding the Roku Channel. The children don't need anything on this Roku. Beginning at that point, the parents should keep some of the undesirable materials or inappropriate actions are hidden. To hide channels on Roku from children, set the Parental Pin. One of the main arguments in favor of hiding Roku Channels is this. So it's time to know how to set a parental pin to keep your children or anyone away from certain channels. Just keep on reading to know more.
Steps Set a Pin on Roku for hiding channels on Roku:
Setting the Roku Pin on the Roku Channel is the first and most important step. Create a security pin to keep tabs on your kids if you want to prevent them from acting out on inappropriate stuff. The steps below must be followed for setting the pin on Roku.
Both a PC and an Android phone must be turned on.
Connect your device to a reliable internet connection after that.
Sign in Here by going there. To set your PIN, you can do it using any online browser.
Click on the "Update" option present below the PIN Preference tab.


Choose the option to always demand a PIN in order to make purchases and add channels from the Roku Channel Store.
Enter a four-digit number to generate the Roku PIN.
Click Verify PIN, followed by Save Changes, to confirm the PIN.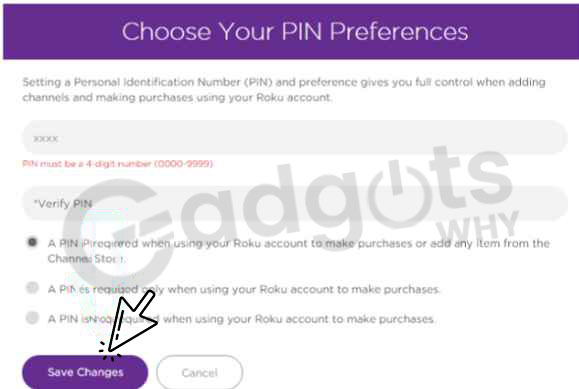 Recommended: Fix AirPlay Not Working on Roku
How can I delete channels from my Roku?
You need to remove the inappropriate and undesired Channels from Roku when the PIN establishing process is complete. It will be the greatest and most effective way to keep undesirable content away from kids. Therefore, you must delete any superfluous Roku Channels. Follow these instructions to do that.
You must use the remote to choose the Home button on the Roku home screen.
Select "My Channels" from the menu.
Navigate the channel you want to delete after that.
You must first pick the "Remove Channel" option, then you have to select the * option.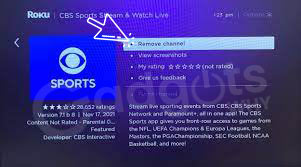 Choose "OK" as your last selection. Your process is now complete. There will be one Roku channel eliminated. Do the same things if you wish to delete more channels.
How to hide Channels from the Roku Store?
We can all agree that it is challenging to police children's activities. They have a number of options for getting access to illegal or pointless stuff. With the Parental Control feature, you may restrict the channels and advertisements that your kids can watch. Additionally, it prevents your kids from accessing adult-only content. This implies that neither your child nor anybody else will be able to add or watch any unwanted channels. Additionally, it will contribute to your kids' safety. Be sure to adhere to the instructions.
It will be beneficial to protect your kids. Don't forget to do these.
Visiting the Home page Select "Home" from the menu.
Choose the "Home Screen" and "Settings" options.
From the drop-down menu select "Arrow" from the menu.
The final option is "Movie Store and TV Store," which is followed by "Hide." The Roku Channel Store app has finally been turned off.
Keep in mind that your Roku PIN is required to unlock these channels. Without the PIN, you won't be able to access them.
If more than one TV in your home is connected to your TV provider, the channels will also be limited on any Roku streaming devices.
Here is a list of some Kids-friendly channels with their Activation Steps:
Can I hide channels on the Roku home screen?
Roku gives you the option to customize your home screen by hiding channels and other items from the home feed.
You can hide channels from your Roku home screen by following these steps:
The Roku home page has a list of Roku channels.
Hold down the star (*) button on your Roku remote control.
You will get a choice that allows you to change or Remove the channel.
If you want to hide a channel, select, the remove option. if you want to reposition it choose the move option.
Concluding Words
The option " Hide Channels" on Roku for parenteral control is quite good. However, because Roku does not permit the creation of distinctive profiles, some parents or guardians could be reluctant to use the option. The implication is that a parent will have to employ the same safeguards as their kids. Roku offers entertainment through an infinite number of channels that will help you forget the stress and tension of your job.
Therefore, the goal of the parent should be to secure the kids in their own special way. Roku Channels, therefore, provide you the choice of hiding undesirable channels from your kids. You must read this page and comprehend the fundamental and easy methods for Roku parental control channel hiding. However, if there are any issues with this topic, please comment in the comment section. We'll offer the remedy as soon as we can.
Frequently Asked Questions:
On Roku, can I hide channels?
On Roku, you may conceal channels, which improves the already strong parental restrictions. On the device settings menu, choose "Homescreen" to hide channels. For the movie/TV store, choose Hide.
Can we set up parental controls on Roku?
Roku has parental control settings available. Users can utilize this to keep children away from channels that provide pointless content. With a secure PIN, the channels can be added back, though.
Can I hide Youtube on Roku the best?
This guide's instructions will allow you to fully conceal YouTube on Roku. The steps are the same. However, by visiting the YouTube settings page, you can enable parental restrictions on the site. This will limit the quantity of YouTube videos that your child or other Roku app users can watch on their Roku device.
How do you prevent children from adding channels to their Roku or How to activate the parental control on Roku?
1. Check out my.roku.com.
2. Register with your account.
3. Update option found under PIN Preference tab.
4. Choose your preferred Parental Controls PIN.
5. Once you have accepted the terms of service, choose Save Changes.
How can I access the Roku hidden menu?
Press the Home button five times, then the directional pad on the remote's Up, Left, Up, buttons to enter this hidden menu. The HDMI secret menu provides information on whether your Roku device and the TV support HDMI outputs including 1080p, 4K @ 60Hz, 4K HDR and more.