Are you experiencing Hulu error code RUNUNK13? Because of this problem, Hulu won't be able to play the movie or program that you want to watch. But worry not. The guide will provide you with three different solutions to fix Hulu error code RUNUNK13, along with its most probable causes. Let's begin.
What is Hulu Error Code RUNUNK13?
Hulu is a website that operates as an over-the-top (OTT) service that offers pay-on-demand streaming of videos, movies, and television shows online in a number of different countries. It has achieved agreements with a large number of well-known television stations and film businesses in the United States to offer users permitted video resources via a model that is based on on-demand streaming.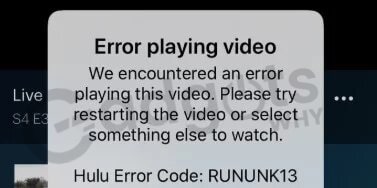 The internet streaming program known as Hulu is consistently ranked among the most popular ones that are accessible in the United States. You can use it on a variety of devices, including an iPad, an iPhone, an Apple TV, an Android phone or tablet, an Android TV, an Xbox One, or a machine running Windows 10.
However, there is a possibility that you may see certain Hulu-related errors sometimes. There have been reports of individuals who have come across the Hulu error code RUNUNK13. This issue prohibits Hulu from playing the movie or program that you have asked to watch on the platform.
The following notice will appear on your screen whenever this problem occurs: "The video cannot be played. While trying to play this video, we came across a problem. You may want to try restarting the video, or you could choose something else to watch instead. Hulu Error Code: RUNUNK13."
Causes:
What exactly is the root of this problem?
The following are the most typical causes of Hulu Error Code RUNUNK13:
Poor connection across the network.
Web browser or application that is out of date.
Corrupt Hulu files.
How to Fix the Hulu Error Code RUNUNK13?
You may give the following solutions a go to see if they help fix the Hulu error number RUNUNK13.
1. Perform a Connection Test on the Network
To begin, you need to be sure that the problem is not being generated by a server that is down at Hulu. You can look it up on the internet. Your next step should be to inspect your network. Hulu has specific minimum speed requirements that must be met by your device in order for you to be able to watch content.
As an example, the streaming of television episodes and movies using this application requires a speed of at least 3.0 Mbps. Speeds of 8.0 Mbps and 16.0 Mbps are necessary, respectively, in order to broadcast live events and material in 4k resolution. As a result, you can evaluate the speed of your devices to see whether or not they satisfy the standards. In such a case, you may want to consider upgrading the network service.
Also, Fix Vudu not working Errors with our guide for a better streaming experience
2. Update the Hulu app or browser
Occasionally, the Hulu error code RUNUNK13 can be caused by an outdated version of the Hulu app or browser. When you upgrade your device, it's possible that the older version of the Hulu app or browser will no longer be compatible with your device. As a result, you need to bring them up to date.
First, please exit the program or browser and restart the device. However, if you are using Hulu on a personal computer, there is no need to restart the personal computer. After that, you may begin the process of updating the Hulu app or your browser.
3. Clear the Hulu app's cache and all of its data
There is a possibility that faulty data is the root cause of the Hulu error code RUNUNK13. In this scenario, you may attempt to delete the cache that is associated with the Hulu app, or you can remove the program and then reinstall it. When using a browser to access Hulu, it's possible that you'll also need to clear the cache associated with that browser.
The following is a tutorial that will show you how to delete the cache on Windows 10:
First, launch Settings by pressing the Windows key in combination with the I key.
Navigate to the Apps > Apps & Features menu option.
Hulu can be located at the lower part of the right panel. You may access the Advanced settings menu by clicking on this application.
Simply clicking the "Reset" button will flush your Hulu cache.
You may also try activating JavaScript and Cookies on your browser if you are using browsers. This option is available to you if you are using browsers. You may get in touch with Hulu for assistance if none of the options described above are successful for you.
Follow this guide to Activate Hulu on any streaming device you own
Conclusion: So, this is all about how to fix Hulu error code RUNUNK13. If you find the instructions useful, please leave your valuable feedback below.
Frequently Asked Questions (FAQs):
What does it mean when you get the Hulu error number 500?
You can run into a server problem with Hulu with the code 500 if you try to access the streaming service through a streaming device or the Hulu website. Your only option at this point is to try refreshing the page to see whether it will load successfully. In addition to this, you need to check that your internet connection is working properly.
What is Hulu error code p-dev320?
A communication fault has occurred between the Hulu app on your device or the Hulu online player and the main Hulu servers, as indicated by the p-dev320 error number from Hulu. It is possible that the error is caused by connectivity issues on your end. Thus, you should verify your internet connection. The issue may potentially be caused by an out-of-date version of the Hulu app or by a technical glitch on Hulu's end.
What exactly does the Hulu error number 406 mean?
Hulu error code 406 indicates a connectivity issue. If your Hulu app is out of date and requires an update, or if your TV's operating system requires an upgrade, you could get this message. It's also possible that something is wrong with the internet connection at your house, the streaming device you're using, or the Hulu app itself is corrupted.