Looking for easy ways to install AllCast on Firestick or your Fire TV? Look no more! Go through this guide to find out what AllCast is, along with the steps to install AllCast on Firestick/Fire TV.
About AllCast:
AllCast is a popular application that allows you to cast media from your Android handset to streaming devices such as Amazon Fire TV, Roku, Chromecast, Apple TV, Xbox Consoles, and other DLNA Renderers. You can download AllCast from the Google Play Store. Both an AllCast Sender and an AllCast Receiver version of the program can be downloaded and installed on your device. The Allcast Sender app has to be installed on the Android smartphone, and the receiver app needs to be installed on the streaming devices.
There is a free version of the AllCast (sender) app in addition to a paid premium version. The free edition only gives you five minutes worth of time to share photos and videos. On the other hand, the subscription edition does not place any restrictions on the number of times content may be seen. Installing the AllCast Receiver on Fire TV or Firestick from the Amazon App Store is a simple process that can be carried out by anyone who has a Firestick. AllCast is an application that is absolutely necessary for Android users who do not already have support for casting integrated into their smartphones.
How to Install AllCast on Firestick or Fire TV?
On Fire TV and Firestick, installing the AllCast app is a pretty straightforward process. You can install the app on Firestick by going to the Amazon App Store and selecting it from there. If you are unable to locate AllCast in the App Store for your Firestick device, you can still download the application by following the procedures outlined below.
Launch your preferred web browser, then go to the Amazon site to see the official storefront.
To sign in to your Amazon account, enter the login information into the appropriate fields.
Enter "AllCast" into the search field and look for results.
Choose the official AllCast app from the list of results that are visible when you run the search.
Pick either your Firestick or your Fire TV from the "Deliver to" drop-down menu.
To install AllCast on your Fire TV or Firestick, go to the Amazon app store and choose the Get App option.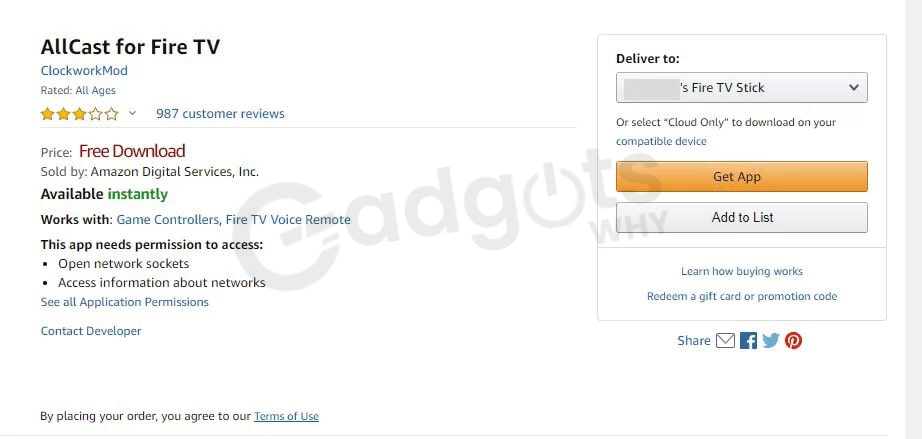 Now, the AllCast application is in the App area of either the FireTV or the Firestick.
To launch the AllCast app on your Firestick, click the icon that looks like a TV.
Trending: Install Distro TV on Firestick
How to Use the Allcast App to Cast Content from an Android Device to an Amazon Fire TV?
After downloading the AllCast software on your Android smartphone, you will be able to easily stream media from your Android device to a TV device that has connections to an Amazon Firestick. Check to verify that the Firestick and Android smartphone you're using both have connections to the same Wi-Fi network.
Start the AllCast app on your Android device as well as your FireTV. Download the AllCast app from the Google Play Store on your Android device if you haven't already done so and if you haven't yet installed the app.
Your Android device's AllCast software will look for other nearby devices that also have connections to the same Wi-Fi network in order to share content with them.

When it displays on the screen, you'll want to choose your Firestick.
To begin sharing the material, you must now go to your Android or iOS smartphone and tap the Allow button.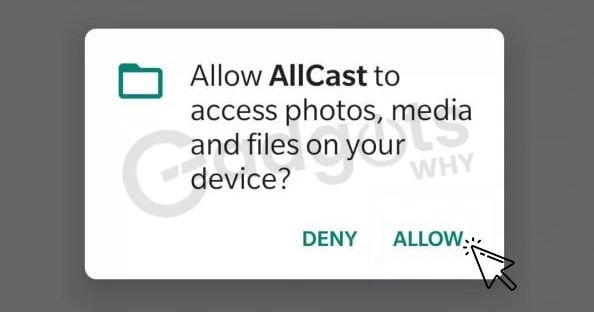 Choose the content that you wish to stream from the menu.
Once you have chosen the media, it will begin mirroring on your TV after you have made your selection.
Recommended: Install VUit on Firestick
Conclusion: So, this is all about how to install AllCast on Firestick or Fire TV. If you find these instructions helpful, please leave your valuable feedback in the empty comment area below.
Frequently Asked Questions (FAQs):
Is AllCast compatible with my Firestick or Fire TV?
Yes. AllCast is compatible and performs well with Firestick. You'll have no trouble casting any of the media files on your Android mobile to your Firestick or Fire TV if you use this device.
Does the AllCast APK support sideloading on the Fire TV?
Yes. On Fire TV, you can use Downloader to sideload the AllCast APK into your device.
What are some other apps that one might use instead of the AllCast one?
Apps like AllConnect or LocalCast are great substitutes for the AllCast app.
AllCast not working on Firestick: What to do?
Trying uninstalling and then re-installing the AllCast app if AllCast is not working on your Firestick.