Looking for some fun in your boring life? Well, the pandemic and the constant fear of getting infected have made us very skeptical about life. The constant lock-down situations have also left a significant impact on our minds and bodies. While some struggled to get back into their usual outdoor life, some found a haven in indoor life. The pandemic was a big lesson to all of us. However, one can not deny that without OTT platforms and online entertainment, spending the lock-down would have been impossible. The pandemic saw a rise in people seeking entertainment from various online platforms like Amazon Prime, Netflix, HBO, etc. Following the same line, in this article, you will get to know about everything related to how to download and install Amazon Prime Video App for Windows 10. Although Windows 10 is not the latest version of windows, this is still the most prevalent Windows OS. So, let us get started.
About Amazon Prime Video App
Well, there is nothing new that you would hear from us. Amazon is such a big brand that whatever is said about it would be less. However, let's talk about the Amazon Prime Video App. This is a well-known OTT platform. This is actually a video streaming platform. On this app one can find huge content to watch. You can watch movies, TV shows, documentaries, etc. Many of the most popular shows are available on Amazon Prime Video App. You can watch all the amazing classic movies of all time. Not only these, but you can also enjoy Amazon Originals.
Amazon Originals are the movies and TV shows that are produced by the Amazon enterprise itself. These shows are not bought or rented from other makers and producers. There is a wide variety of movies and TV originals to watch on Amazon Prime Video App.
As a matter of fact, the watch experience is enhanced when one is able to watch it on a bigger platform. Sometimes, watching a TV series on the mobile screen can be distressing as well. Hence, if possible always try to watch anything on a bigger screen. To benefit the consumers, the Amazon Prime Video App is now available for Windows 10. Yes! This means that now you can enjoy all your favorite shows and movies on your personal computer screen. Below are the steps to download and install Amazon prime video app on Windows 10.
Also Read: Activate Shudder
Steps to download and install Amazon Prime Video App for Windows 10
As a matter of fact, the Amazon Prime Video App for Windows 10 is available on most devices. You can easily find the app in the Microsoft App Store on your device.
Go to the apps section or search for the Microsoft App Store. When you have found the app, just launch it.
Now locate the search option. It is present on the top right side of the screen. Now, in the search field, enter the name of the app you want to delete. In this case, Amazon Prime Video App.
Alternatively, you can find this app in relevant categories of apps. You can find it in entertainment, OTT, movies, TV, etc.
When you have found the app, click on its icon to open it.
There you will find an option like GET/ DOWNLOAD. Click on this option and continue downloading and installing the app.
When the installation is complete, launch the app.
Now, if you are already an Amazon customer, then log in using your Amazon credentials and continue.
However, if it is your first time, then register yourself. For this select the register option and enter the required details.
Since Amazon provides a 7-day free trial, you can avail of that to see if you really like the service or not.
For this, you will have to give your credit card information. If you do not like the service then you can stop this service.
Now, just go ahead and find your favorite movie or TV show that you want to watch!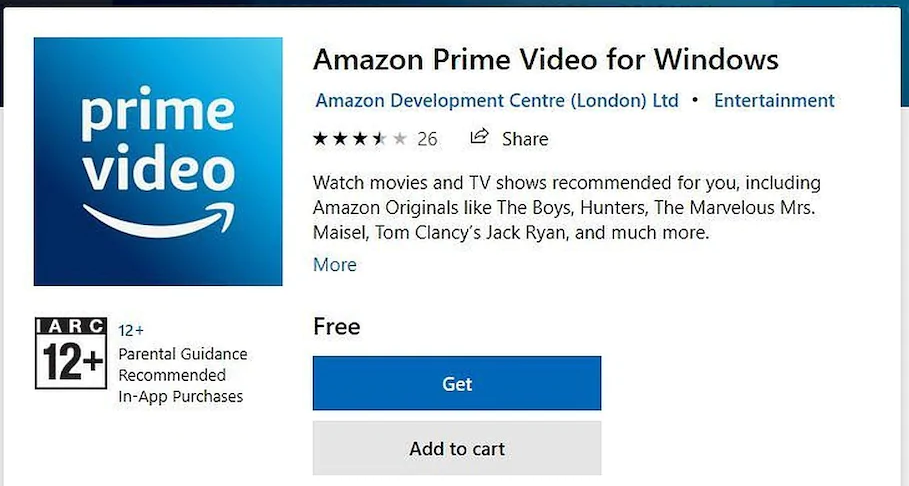 Trending: 6 Top Music Recognition Apps to Identify Songs in Seconds
Top 5 Classic movies to watch on Amazon Prime
If you have finally paid for the Amazon Prime Video App, then watching these five classic movies of all time is a must tradition. These movies have developed an influence on culture, minds, and society at large. These can be a great start to watch if you are starting this hobby for the first time.
Where the red fern grows
This movie is based on a novel known by the same name. This is a classic movie that teaches people life lessons and the truths of life.
Charade
If you are looking for a mystery thriller classic, then this is your stop. Charade was made in the year 1963. The story is about a married woman who falls for a charming guy on a trip. Audrey Hepburn played the role of the woman. This romantic thriller classic will make your day.
Carrie
To all those who are big fans of Stephan King, this teen-based horror movie is still lauded for its story. Tormented by peers and others, she unleashes a devil. This horror classic is a good watch. It was released in the year 1976.
His Girl Friday
Looking for a memorable comedy classic? Well, you have found the right place. This movie is a screwball comedy. The story is about a newspaperman who has the only chance to win back his ex-wife. This is a good addition to your list of classics.
Guys and Dolls
This is a great musical movie. It was based on a 1950 Broadway musical. The movie stars some very famous personalities like Frank Sinatra, etc. It also stars some famous dancers too.