Distro TV is among the top streaming services for watching 150+ live channels. Additionally, it is utilized globally to access the top free television programs, news, and motion pictures. Additionally, it allows access to a wide range of leisure content, including live TV shows, live sports, movies, TV series about different lifestyles, comedies, documentaries, and more. If you enjoy listening to music, you can also watch live performances on all the main music channels. Distro TV is streamable on any device you choose, including LG, Sony, Android, iOS, Apple TV, and Firestick. You can easily install Distro TV on Firestick because it's accessible on the Amazon App Store.
Features of Distro TV
The features that DistroTV provides its subscribers with are as follows:
Nothing to Sign Up For: By forgoing the difficulties of registration, the DistroTV app allows users to view content without having to register or establish an account.
Interface: With a search option to rapidly identify stations, DistroTV provides a straightforward and user-friendly interface. The program makes finding streaming material and navigating through it simply.
Live Television: The Distro Home page offers users the option of live streaming, which is free and offers many options.
On-Demand: DistroTV also offers on-demand content, covering a wide range of categories including Family, Sports, and Fitness, Movie Kingdom, Comedy, Sci-fi, and Action Thriller, among many more.
Contents: There is a Favorites option available in the program, which compiles all of your favorite channels in one location. Additionally, the Categories option offers a range of options for the genre, nation, etc., adding diversity to its huge collection.
Also Read: Watch Discovery channel on Firestick
How to Install Distro TV on Firestick?
Distro TV is simple to install because it is accessible through the Amazon App Store and has native compatibility with Amazon Firestick.
Turn on your Firestick first.
Then Connect to the stable Wi-Fi network.
Launch the Firestick home screen by pressing the Home button on your Firestick remote.
Click the Search tile after tapping the Find.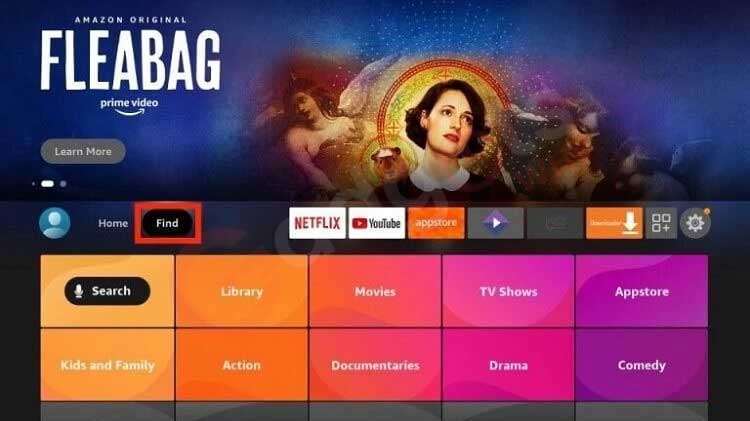 Utilizing the on-screen keyboard to type Distro TV into the search field.
From the list of results, select the official app.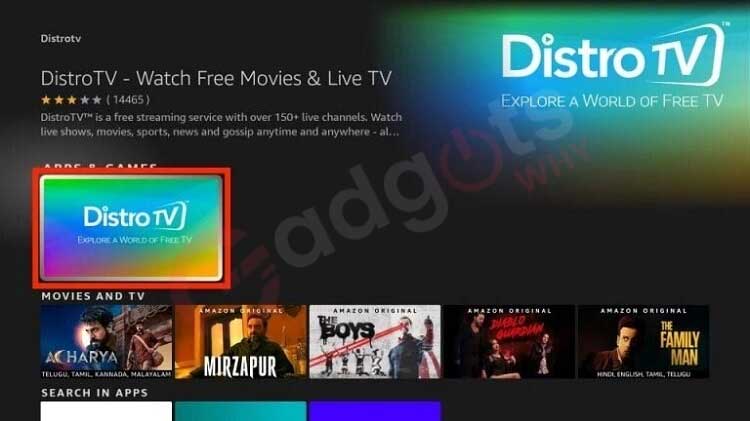 To install the app, click on the Get or download option.
To open the app on your Firestick after installation, hit Open.
Press and hold the Home button on the Fire remote and choose Apps then Distro TV to start it later.
Distro TV shows the terms of use when you use the app for the first time. Users can read the offered material and use the Accept and Continue buttons after doing so.
Wait for the material to load before selecting between the Live and OnDemand area.
Additionally, you may quickly discover the appropriate title by using the Search icon.
Your Firestick will begin playing the selected channel when you choose it.
Recommended: Install VUit on Firestick
An alternative way to stream Distro TV on Firestick:
If you're not interested in downloading dhte Distro TV app on your firestick you can use the Screen mirroring option instead. Follow outlined instructions to watch Distro TV via screen mirroring.
Make sure your Firestick is plugged into the same WiFi network as your Android TV.
To access the menu, use your Firestick remote and press the Home button.
Click on My Apps Library.
Pick Mirroring from the list of alternatives that are shown.
Your Firestick device name will now be shown on a screen that you will be sent to.
Install the Distro TV app from the Play Store on your Android phone.
Go to the notifications section of your Android device right away.
Choose Cast by tapping it.
Choose the name of the Fire TV device you wish to use to cast Distro TV too.
You may now choose any Distro TV material to play on your phone, and Fire TV will receive a screencast of it.
Click the Cast icon and choose to Stop Casting to stop screen mirroring.
Conclusion:
The post has described how to Install DistroTV on FireStick. Distro TV allows free access to live TV channels, TV shows, on-demand movies, and much more on your FireStick, as was previously mentioned. This is a live streaming service that offers without asking for registration more than 100 live channels and video on demand. Its collection has free films and television programs from many different nations that provide the most recent entertainment and news. Although the software is free, it is still sponsored by advertising, which stops as the streaming starts.
These were the two methods through which you could watch your preferred Distro TV shows on a Fire TV Stick. Ace TV, Buzzr, Bonanza, Old Reruns TV, and others are just a few of the must-see classic films and television programs that can be found on Distro TV channels. Users may Chromecast Distro TV using the app because it is cast compatible. Hope this blog is useful to you. If so, share our blog with your friends and family, and don't forget to drop your feedback in the comments section.
Clean up your Firestick with our CCleaner Installation guide!
Frequently Asked Questions
Distro TV offers what channels?
Reelz, Law&Crime, Quello, Magellan TV, People TV, TD Ameritrade, and multicultural channels including Kweli TV, Canela TV, Latido Music, BritAsia Live, Filmeraa, and Venus TV are all part of the Distro TV list.
How can I watch Distro TV?
Visit https://www.distro.tv to sign up as a viewer and discover which channels are available for live and on-demand viewing, or download Distro TV for free on popular smart TV platforms like Samsung, LG, and Sony, as well as on popular streaming devices like Amazon Fire TV, Roku, Apple TV, and Google TV, as well as on mobile devices or Big Screen.
What is the price of Distro TV?
Distro TV is a free streaming service that offers more than 150 free channels with the top free TV series and movies from the US, Canada, the UK, and other countries. Watch live television, sports, news, music, movies, and other entertainment whenever you want, anywhere you are, and it's always free.
What is available on Distro TV's app?
Watch live television, sports, news, music, movies, and other entertainment whenever you want, anywhere you are, and it's always free. Watch Distro TV directly on the web and on a variety of connected TV platforms, including iOS, Android, Samsung TV, LG TV, Sony TV, Google TV, Roku, and Amazon Fire TV.