This step-by-step tutorial will show you how to install VUit on Firestick so that you may access real-time local news on your Amazon FireTV. There are hundreds of news channels available nationwide on the new local news app VUit. Following our step-by-step tutorial, you can install VUit for live local news on Firestick device.
There are hundreds of news channels available nationwide on the new local news app VUit. It can be installed on many other devices, including iOS, Android, Firestick, Roku, and more. Without an OTA antenna, many cord-cutters struggle to find local news stations; this fixes that problem. In a few localities, there are currently more than 200 stations available. But as more channel possibilities become available, this is likely to increase
Brief about VUit:
As said VUit is a local news app. Approximately 200 local and national channels across numerous different domains are available with the FireStick app VUit. Along with news, sports, and business programming, VUit also lets you access documentaries. Only a few local news applications on the Amazon App Store offer HD resolution and a big selection of channels. Even then, most of these channels require a premium subscription to access their content. But for the typical person, spending $50 a month on premium applications is not the most economical course of action. The free VUit App can be useful in this situation. You won't have to pay to view your live events because the app is ad-supported.
Recommended: Pair Bluetooth Headphones with your Firestick
Major features of VUIT on Firestick:
On your Firestick, the VUit app lets you view live news, weather reports, and local sporting events.
Additionally, VUit offers on-demand access to news highlights, sports replays, and previous episodes of regional networks.
VUit provides streams in up to HD quality both live and on demand. In the Fire TV version of the app, you can manually alter the resolution.
In the VUit app for Firestick, you can manually look for local stations.
There are no subscription options for VUit, which can be downloaded for free through the Amazon Appstore.
How to Install VUit on Firestick?
The Amazon Appstore is where you can download VUit, which is officially available for the Amazon Firestick.
Please adhere to the detailed instructions below if you are unfamiliar with the installation procedure.
By placing your cursor on the hand lens icon in the top-left corner of the Fire TV home screen, you may access the search menu.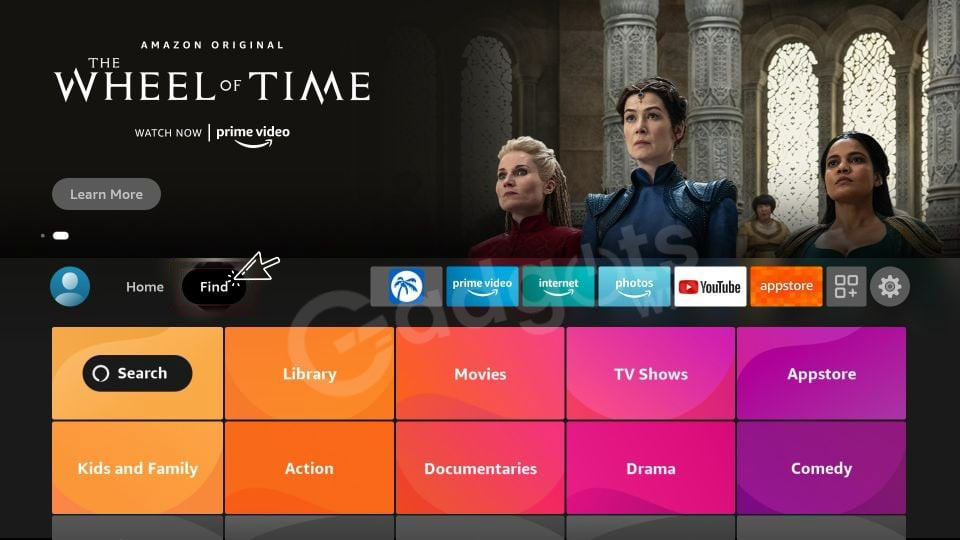 Next, type "Vuit" into the search field using the virtual keyboard or the voice search option.
Next, choose VUit from the search menu's list of suggestions.
The VUit app logo is now highlighted and then simply click on it.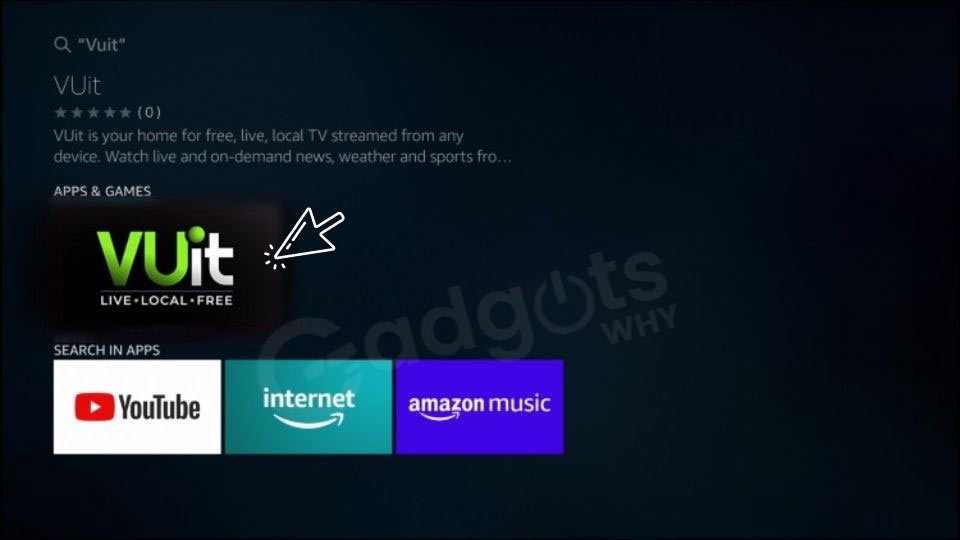 Finally, on the subsequent Appstore screen, just below the description, click Get. VUit app will begin downloading shortly.
Click on the "open" button on the Appstore page to start VUit after it has been installed on your Firestick.
If the app is not present, click See All under the row.
Find and open the VUit app by scrolling to the bottom of the following page.
You can relocate it to the top row of apps on the Fire TV home screen for easy access.
Recommended: Know where to enter the Amazon Firestick Activation code
How to watch VUit on Firestick?
Users do not need to go through any form of activation procedure in order to use and watch VUit on Firestick. When you initially open VUit, the home screen should appear right away. You should see three tabs at the top: Search, Live TV, and Settings.
Every time the VUit app on your Firestick is launched, the Live TV area automatically pops up.
You can browse nearby local channels from here and select to stream national stations.
Additional channel classifications are shown below.
The Search section needs no further explanation. By entering the name of your preferred local channel in the search field, you can find it.
On the right side of the search field, you may also browse the whole list of channels.
Using the up-directional key on your Fire TV Remote, you can display the schedule overlay when streaming a local channel.
The ON DEMAND option allows you to replay previous Channel broadcasts.
In a few channel feeds, closed captions might be incorporated.
Also Read: Change Time Zone on Firestick
Wrapping Up:
If you're looking for a way to watch your favorite local stations on Firestick, you should definitely give VUit a shot. You won't need to sign up for an account or pay for a membership to use VUit because it is an ad-supported streaming service. Hope you understand our blog and now you are able to install VUit on Firestick and can watch your multiple news channels, documentaries, etc. thank you for visiting Gadgets why and will be back with another blog. If you have any concerns kindly drop them in the comment section below and will try to resolve them as early as possible.
Frequently Asked Questions
How can I get the VUit app on Android TV? 
1. Go to your Android TV's Home Screen.
2. On your Android TV, open the app store and type "VUit" into the search bar. 
3. From the search results find the VUit app. 
4. To install the application, click "Download."
5. VUit is now available for Android TV streaming.
On a Chromecast, how do I install VUit?
Ensure that your Android phone, tablet, iPhone, and iPad are all connected to the same Wi-Fi network as your streaming device. Select the Google Cast icon and begin playing the content in the VUit app. When you select your Google Chromecast, your streaming device will begin to show content from it.
VUit is a free app on Firestick.
Free video streaming service VUit offers on-demand access to material created by regional TV news outlets across the country. Lilly Broadcasting, Heritage Broadcasting, and Gray Television are some of its partners.