Confused about Opera Redirects (gt2.redirector.opera.com and g4.redirector.opera.com)? Well, it's time to get rid of those doubts. In this guide, we will tell you all that you need to know about Opera Redirects, and everything related to it.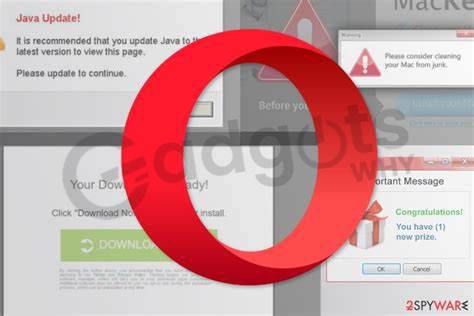 What exactly are Opera redirects?
The Opera redirect virus is a collection of software programs that has the ability to do harm and might have devastating effects. "Opera redirect virus" refers to a group of potentially undesirable applications that are associated with the Opera web browser. Adware and browser hijackers are two examples of these kinds of programs. PUPs are potentially unwanted programs that are often placed on a device via the use of software bundling or voluntarily by the user from a fraudulent website.
The Opera virus, once it has infiltrated a system, has the potential to make a great many important alterations to the browser or the system as a whole. Even though persistent pop-up advertisements cause users a great deal of annoyance, the greatest threat comes from the possibility of malware infections. These infections could result in the inclusion of a user's computer in a botnet, the mining of cryptocurrency, the collection of sensitive data, and other privacy issues. Recently, customers have been reporting that their browser is taking them to redirector.opera.com and its subdomains. This behavior is most likely caused by an infection with adware.
The Opera web browser is compatible with a variety of operating systems, including Windows, macOS, and Linux. Because it is one of the oldest browsers that are still somewhat popular, it should not come as a surprise that criminals target the users of this browser. The undesirable applications seem to be focusing their attention just on Opera browsers while ignoring other popular web browsers such as Google Chrome, Internet Explorer, Mozilla Firefox, and Safari — thus the label "Opera virus."
Know how to use Google Voice Typing on WhatsApp
The following are indicators of an Opera browser hijacking:
Homepage, default search engine, and new tab all get changed
Web browser reroutes to potentially malicious websites during online searches when clicking on links, or while browsing random websites
An increasing number of advertisements or pop-up windows
The appearance of browser extensions, add-ons, or toolbars that are unknown to the user
The Opera redirect virus is comparable to those seen in Chrome, Firefox, and Internet Explorer. The infection's objective is to coerce the user's browser into opening new tabs and drive traffic to websites that belong to the infection's affiliates. Users have complained about being routed to travel, music, gaming, and other similar sites on a number of different forums. Without a doubt, this behavior is frustrating, and it has a substantial negative impact on the browsing experience.
It's possible that Opera's redirection issues may turn out to be worse than predicted. Some potentially unwanted programs (PUPs) will link you to websites that might be harmful. For instance, you may wind yourself on a site that is a phishing or tech support scam, both of which are operated by cybercriminals with the intention of obtaining your personal information. In addition to this, it is possible that you will be coerced into visiting a website where malicious JavaScript code might exploit a security vulnerability in unpatched software in order to implant malware.
In addition to this, the Opera redirect virus may also show deceptive pop-ups and advertisements when it infects your computer. It's possible that they'll try to sell you fake antivirus software, alert you to available upgrades, or warn you about a purported viral assault. You should avoid clicking on these advertisements at all costs since there is a high risk that you may get infected with a trojan horse.
Keep in mind:
If you have seen any strange actions on Opera, such as redirection, altered homepages, or anything else of the kind, you should ensure the safety of your computer. Installing software that protects against spyware and malware is highly recommended by us in order to rid your computer of possibly undesirable applications such as the Opera virus and any other material that may have been brought on by it. In addition, after the process has been terminated, you may utilize Reimage to remediate your system and guarantee that it will continue to function as it did before.
There is furthermore the option of manually removing the Opera redirect virus. However, it is difficult to determine which software is responsible for the infection. This may be a process that is difficult to complete. If you want to attempt to identify and locate harmful components, you should not forget to check the opera:/extensions page and delete any unfamiliar add-ons. This is especially important if you want to try to find and locate malicious components.
On the other hand, the Opera redirect issue may sometimes be traced back to the settings of the browser itself. As a result, you have the choice of checking or unchecking the "Enable automatic redirection" option. You may achieve your goal by proceeding in this manner: Disable automatic redirection by going to Settings > Preferences > Advanced > Network and unchecking the box that says "Enable automatic redirection."
See what's trending: Enable Dark Theme in Notepad++ on Windows
Redirector.opera.com — a fraudulent redirect virus
On the Opera web browser, users have lately noticed a rise in the number of redirects coming from the domain name Redirector.opera.com. As is the case with the vast majority of potentially unwanted applications, it is installed together with shareware and freeware programs. Nevertheless, users may unwittingly install dubious applications such as system optimizers and other useless software after being tricked by deftly executed social engineering techniques.
During the course of a browsing session, a huge number of pop-ups, banners, bargains, offers, and in-text links may be expected to appear for users whose browsers have been infected by the Redirector.opera.com malware. Additionally, these disruptions are able to manifest even when Opera is not running in the background. Because of this, eliminating Redirector.opera.com is an absolute must.
You need to remove the adware that is related to the redirect if you see pop-up advertising that is tagged by the domain name Redirector.opera.com. For that, kindly follow the guidelines that are below.
Methods to avoid the Opera redirects virus:
Attached to software packages is the typical method by which potentially harmful applications, such as the ones responsible for Opera redirection to sponsored websites, are distributed. Security specialists from Poland suggest that appropriate installation of applications is vital to prevent the unintentional installation of PUPs:
You should only download apps from reputable sources.
Stay away from file-sharing websites and stick to legitimate sites maintained by reputable developers instead.
Instead of choosing the Quick, Standard, or Recommended installation option, you should always go for Advanced/Custom.
The latter options almost never provide information about third-party applications that are included with the product. Therefore, by using this configuration, you are inadvertently giving permission to install them without even being aware of it.
Read the Terms of Use and other official papers before clicking the "Agree" button.
Unmark any pre-selected supplementary applications or agreements to swap your current search engine with an unfamiliar supplier.
However, potentially unwanted programs (PUPs) are often disguised as beneficial browser add-ons, extensions, or apps.
In other instances, they will claim to be updated for widely used software like Adobe Flash Player.
Because of this, you should keep in mind at all times that pop-up reminders to install available updates that appear in the form of advertisements are phony, and you should avoid clicking on them.
How to Eliminate Opera redirect virus?
You are aware that a potentially undesirable application, often a browser hijacker like the Opera malware, is the source of redirection. Therefore, in order to put a stop to this behavior, you will need to locate and eliminate the PUP that is the root of the issue. You may choose between manual and automated deletion as a solution to this problem.
In order to manually remove the Opera redirect virus, you will need to do a careful investigation of the system. It is necessary for you to locate unfamiliar apps that have been installed on your computer and examine the list of Opera extensions. The directions that are provided below will provide you with further information on where to seek entries that are relevant to hijackers.
Nevertheless, there are certain hijackers that do not include any files. It indicates that you will not be able to locate the PUP on your own and remove it manually. As a result of this, you will be required to choose an option for automatically removing the Opera redirect virus.
Keep in mind that you need to do a comprehensive scan of the system using an anti-malware or anti-spyware program that is both competent and up to date.
With the assistance of Reimage, you will be able to repair any damage caused by the virus.
It is advised that you make use of SpyHunter 5 and Malwarebytes in order to identify possibly undesirable applications and viruses along with all of the files and registry entries that are associated with them.
Also, Check Out Our Guide To Fix Jar File on PC using JarFix Software
Conclusion:
So, that is all about the Opera Redirects virus and how to get rid of it. We hope that you will find our content helpful.