All the questions related to Quest Diagnostics and its related topics like how to pay MyDocBill quest are answered in this article. Continue reading this article. You will find section-wise content on the topic which will answer you in a structured way. First, we will go on to the section that describes what Quest Diagnostics is. The clinical lab Quest Diagnostics is based in the United States. Quest, a Fortune 500 business, has operations in the US, Puerto Rico, Mexico, and Brazil. Additionally, Quest has joint venture partnerships with other clinics and hospitals across the world.
The business employed about 48,000 employees as of 2020 and brought in more than $7.7 billion in revenue in 2018. The business provides clients with access to diagnostic testing services for neurological illnesses, cancer, cardiovascular disease, infectious diseases, COVID-19, employment, and court-ordered drug testing. Now let's jump on how to pay the MyDocBill quest.
Here's our list of 10 must have Healthcare Gadgets You Need at Home
How to Pay the MyDocBill Quest?
It might be challenging to pay medical expenditures. It can be really difficult to grasp what you'll need to pay for in advance because insurance billing is frequently perplexing and unnecessarily complicated. This makes trying to budget and keep track of your medical costs a significant hassle. If you frequently receive Quest Diagnostics bills, your health is probably unknown or you're dealing with a persistent medical problem. In that instance, it's best to put your wellbeing ahead of paying medical bills because you might be under stress or not feeling well. DoNotPay, fortunately, can make paying your medical bills less burdensome.
Medical lab test costs are frequently a one-time or infrequent expense for many people. However, people who have continuing medical illnesses that need monitoring or who develop new health issues that call for several tests may be hit with repeated Quest Diagnostics fees. Bills from Quest Diagnostics can be paid using a credit card or debit card in person, by mail, or through an online portal at the time of your visit. Here are the instructions for each of the three payment methods.
By Mail
A "Send Payments To" address will be shown on your bill. You can pay by mail by mailing your check or money order to the following address, along with the payment coupon found on your statement. To ensure that the payment is completed properly, be sure to include the bill number in the memo line of your check or money order.
Online
To facilitate online payments, Quest Diagnostics makes use of the online billing platform MyDocBill.com/Quest. Your date of birth and the account number on your bill will be used to log into the site. You may check and pay your bill as well as verify your health insurance details from there.
In-person
You will be offered the choice to give a credit or debit card when you check in at Quest Diagnostics for your testing appointment, and that card will be used to bill any services you need to pay for.
What Will Happen If Quest Diagnostics Bill Isn't Paid?
Unpaid Quest Diagnostics bills may result in severe repercussions. If you owe Quest money, they might refuse to give you further diagnostic services. Neglected bills may also be recorded to credit bureaus as unpaid debts, which could lower your credit score. Your options for obtaining credit in the future may then be limited.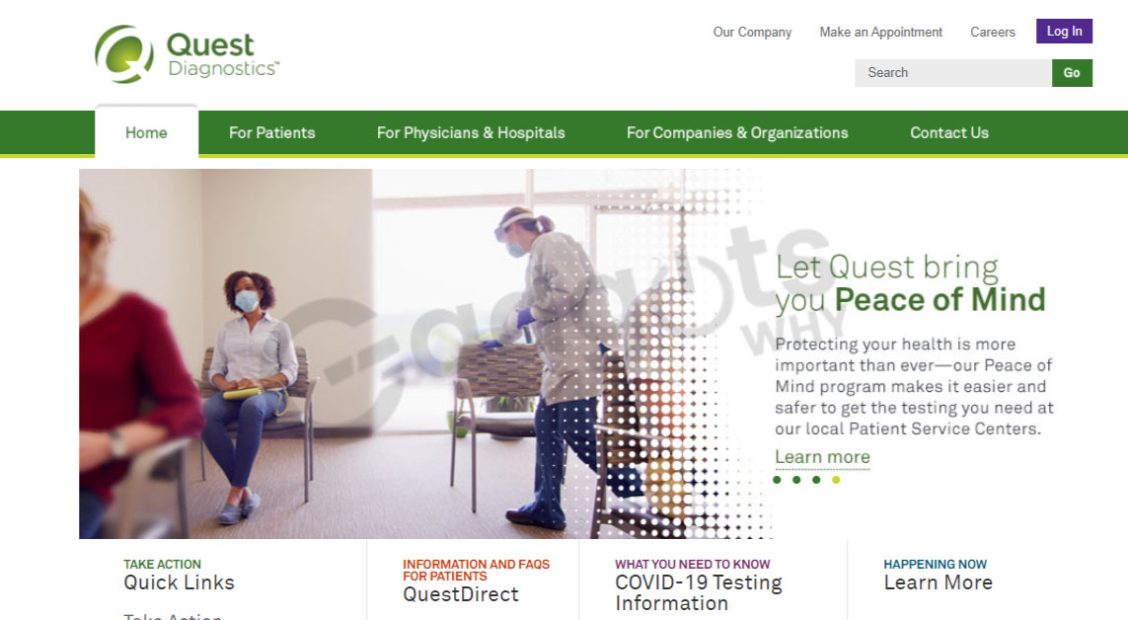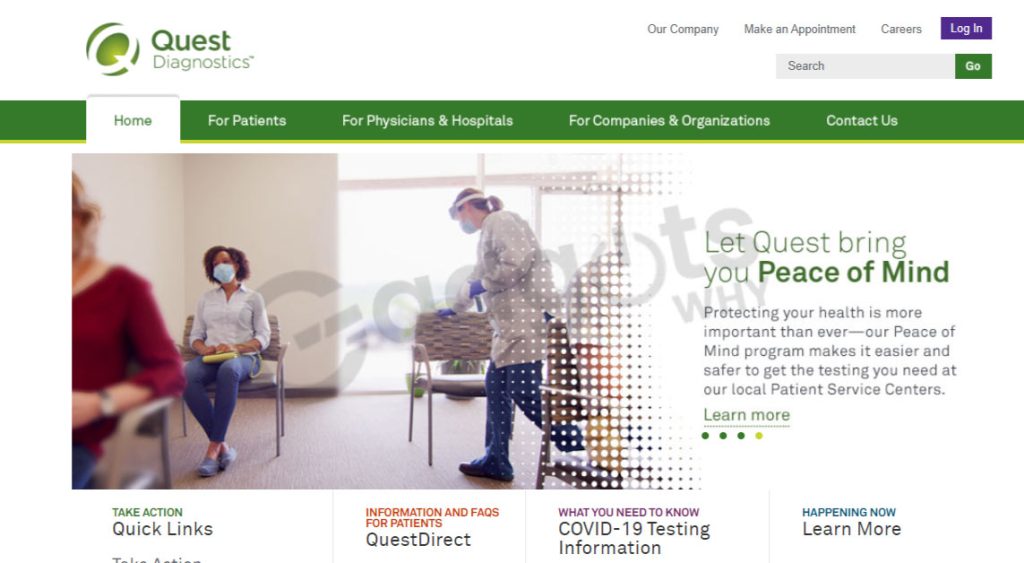 Recommended: American Family Insurance Review
Security of payment- Quest Diagnostics
We're all concerned about online privacy and the safety of the data we send over the Internet. You can trust that your information is secure when using the Quest Diagnostics hosted bill payment application to pay your bill online and while it is being transmitted over the Internet and stored within the program.
Every page in this application employs industry-standard SSL encryption. Banks and brokerages also utilize these encryption and validation technologies to protect your financial data. Look for the SSL padlock in your browser to confirm that this system is served over a secure SSL connection.
Insurance
Many insurance companies have Quest Diagnostics as one of their in-network providers, so be sure to submit accurate information about your coverage to avoid being charged for services that your insurer should pay for. It's also a good idea to call your insurance carrier in advance to be sure Quest is a recognized lab testing service under your policy.
In case you need to change the insurance information then you can update it by selecting "update my insurance," you can change the insurance that is reflected on a bill you have received. Please make sure the data you submit is correct and comprehensive. Your healthcare insurance company may delay or refuse to reimburse you if the information you provide is inaccurate or missing. Additionally, you can send or fax a copy of your insurance card's front and back to the corresponding address or fax number indicated on your bill.
Trending: Activate your weight watchers monthly pass
Payment schedules and Financial Aid
There are still a few options available to you if you don't have insurance or if you get a hefty charge suddenly.
Make sure there are no mistakes by carefully reviewing the bill.
To talk with a person, contact Quest customer care. You will need to talk about your particular circumstance because each bill adjustment is handled on a case-by-case basis. Healthcare providers are typically open to negotiating a fair cost with uninsured patients.
Inquire about payment schedules. If you're having difficulties paying your payment, Quest Diagnostics offers installment arrangements.
Inquire about aid for hardships. In rare circumstances, Quest offers payment assistance to customers who are having financial issues.
Frequently Asked Questions
Why did Quest Diagnostics send you a bill?
You were billed by Quest Diagnostics for laboratory services that were prescribed by your doctor. This invoice, which is distinct from any bills you may have gotten from your doctor and/or paid at their office, is for the costs associated with laboratory tests only.

Your doctor may have submitted your sample to a Quest Diagnostics facility for testing even though you may not have personally visited one. For more detailed information about why you got a charge, please refer to the statement on your Quest Diagnostics invoice or the Explanation of Benefits (EOB) from your insurance provider. You might have gotten a bill for a number of reasons, including but not restricted to the following-

On your test order, insurance information was either not received at all or received incorrectly.
After processing the claim, the insurance company declined to pay.
The insurance company processed the claim and assigned the remaining funds to your deductible or co-pay. The insurer's response to the claim was nonexistent.

Why do you have to pay a draw fee?
When a patient visits one of their Patient Service Centers (PSC) for the drawing of a specimen, a draw fee is assessed. For many of their patients, their insurance may pay this cost. Patients without insurance or whose insurance does not cover the draw fee, however, are liable for the draw fee.
Why do you receive a unique bill number each time you receive services? What impact does this have on online payments?
The billing software produces transaction-specific invoices. The system does not retain patient data from transaction to transaction due to patient privacy concerns. A new bill number is generated for each transaction. Therefore, for online payments to be applied to the proper bill, the online bill number needs to match the one on the actual paper bill.
How do you provide information about supplementary insurance?
As a one-time courtesy, Quest Diagnostics will submit valid claims to a secondary insurance provider in a few specific geographic locations. Please call the Customer Service phone number on your bill for the Customer Service phone numbers by area to confirm the availability of this courtesy service and to input your secondary insurance information. Additionally, you can reach their customer service team online.
How can you find out about prices?
Before your blood is drawn, you can inquire about patient pricing at a Quest Diagnostics Patient Service Center (PSC). You can also get in touch with the laboratory that serves your area's billing customer service or the customer service division. The right service code from the test order must be supplied in order to receive appropriate price information.
Why is an Advance Beneficiary Notice (ABN) necessary for some tests and what does it mean?
Medicare demands an Advanced Beneficiary Notice (ABN). The ABN is designed to assist patients in making an informed decision about whether or not they want to get specific laboratory tests for which Medicare funding is likely to be rejected. Only when it finds that a service is fair and essential does the Medicare program pay for it. Only if the patient has specific medical problems, symptoms, or diseases is a test considered medically required by Medicare. These tests are known as Limited Coverage Tests by Medicare. The patient will be liable for the cost of the tests if Medicare rejects them if they decide to undergo the Limited Coverage tests.