Even though there are many online streaming platforms available for watching online material, we only use a few carefully chosen player programs on our devices. Because it is unsafe to stream our content on a player from a third party. It's possible that not all media players support data security and HD streaming. The Plex software makes it possible to stream around 1000 hours of video and helps to keep them up to date. Does Samsung Smart TV have Plex? The following article on setting up the Plex app on a Samsung TV can help you find the answer to your query. So here we go to learn the latest guide to install Plex on Samsung smart TV. 
Things to know about Plex Media Player:
The user can control more media types like audio and photographs using Plex. 
Additionally, Plex offers the latest releases in movies, television shows, and videos to its users.
There are both free and premium versions of the Plex program.
With the free version, we can get access to playback and movie watching. 
Whereas, more fresh recommendations for movies and television shows are available in Plex's premium version.
Apple TV, Fire TV Stick, Roku TV, Android TV, and Android/iOS Smartphones are among the devices that support Plex. 
Check out our latest guide to Watch Crunchyroll on Smart TV
Ways to install Plex on Samsung smart TV
Obviously, the Samsung smart TV supports Plex. Android TV, Apple TV, Roku TV, Amazon Firestick, and Android/iOS smartphones are all compatible with Plex. However, there are multiple ways to get plex on Samsung smart TV. The majority of users visit the Samsung App Store to install the Plex app on a Samsung Smart TV. The alternate method involves using Android or iOS smartphones to screen mirror content. To learn more about these two options, and how to install the Plex app on the Samsung Smart TV, read further. 
Option 1: Install plex on Samsung smart TV 
Plex is readily available on Samsung TVs, therefore installing Plex on Samsung Smart TVs is simple. To learn how to install the Plex app on the Samsung TV, read the following instructions.
Ensure that your device is logged in to the fast Wi-Fi network.
The smart hub/home button on your TV remote should be tapped.
Explore the apps menu on the pop-up window.
Use the on-screen keyboard to enter "Plex" at the search icon (the magnifying glass).
Choose the Plex app from the list of recommended apps.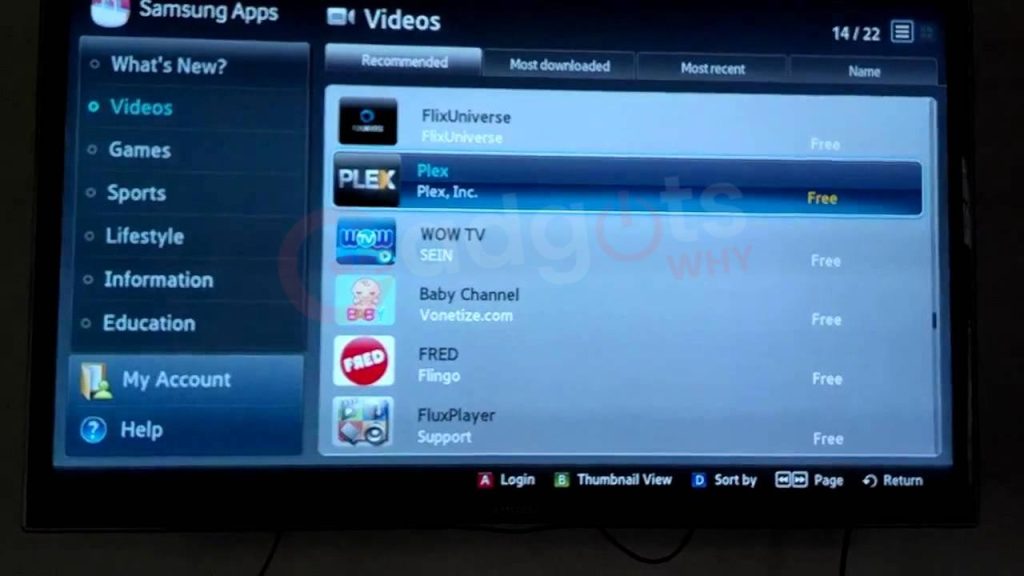 The Plex app page will be promoted to you; click the install button there.
After the installation procedure has been completed, click the open button.
To launch the Plex media server, sign in using your Plex account credentials.
Plex will automatically update your media and libraries from the Plex media server once the login process is complete.
To make the Plex Samsung Smart hub accessible, make sure the Plex media server is turned on.
Recommended: Download Zoom on Samsung Smart TV
Option 2:  Plex on a Samsung TV through screen Mirroring
Another way to stream Plex to a Samsung TV is by using screen mirroring on mobile devices. Follow the steps below after first enabling the Screen mirroring feature on the Samsung Smart TV.
First, connect the Samsung Smart TV and the Android/iOS smartphone to the same network.
Second, launch the appropriate App Store or play store on the smartphone to download Plex.
On the search bar, enter and look up Plex.
Select the Plex app from the applications listed above.
On your smartphone, download and install the Plex app.
Next, use Screen mirroring to link the smartphone to the Samsung Smart TV.
Lastly, choose and watch the content you want on your Samsung Smart TV.
Check out the guide to Troubleshooting Samsung Smart TV issues
Wrapping up:
So, in this article, we went through the specifics of the Plex on Samsung Smart TV. Then, you just read and understand this post to learn how to install the Plex on Samsung Smart TV. The Samsung Smart TV supports the Plex streaming service. Therefore, you can download the app directly from the built-in App Store on your Samsung TV. Alternatively, you can screen mirror content from your smartphones in case you have old versions of Samsung TV. If something is unclear to you, please leave a comment with your queries in the comments section below. Will try to solve your queries as early as possible. Thanks for investing your time. 
Frequently Asked Questions
On a Samsung TV, is Plex free?
Everything on your server, as well as movies and shows, live TV (provided by Plex), podcasts, and online series, are all playable with Plex's free basic capabilities.
How can I update the Plex application on my Samsung Smart TV?
Follow these snappy steps to update the Plex app on Samsung smart TV:
1. Activate the Smart Hub button.
2. Then, Select Featured
3. To update an app, find it on your device.
4. Then hit and hold the Enter key until a submenu appears.
5. Now, select the update apps option.
6. Then select All.
7. Click on Update.
8. Any apps with a new update will start updating.
Why won't Plex install on my smart TV?
Plex has made a crucial disclosure, outlining how some older smart TVs won't be able to make secure connections to Plex servers, via its forums and emails. The afflicted TV models' manufacturers no longer provide updates for them, therefore they are no longer certified as being current.
Why is Plex TV not working?
Ensure that Plex Media Server is installed and that it is the most recent version. Check to see if Plex Media Server is truly operating. Check to see if your Server is displayed under Devices. Turn off any VPN software on your router or computer.
How do I activate Plex on my TV?
Go to https://plex.tv/link on a desktop or mobile browser, and make sure you're signed into the correct Plex account. To submit, enter the 4-character code. Your player app will refresh itself and connect to your account a few seconds after you enter the code, which will cause it to refresh itself.
How can I get Plex activated for free?
Use the Activate App button at the bottom of the activation screen to unlock Plex for Android by a one-time purchase in the Google Play store. To let you approve the in-app purchase, a purchase window will open.