During the unpacked event, South Korean smartphone manufacturer, Samsung, unveiled the three new phones (Samsung Galaxy Trio)- the Galaxy S21, Galaxy S21 Plus, and Galaxy S21 Ultra. When it comes to serving top-elected performance, Samsung never disappoints its premium customers. With the latest flagship announcement, the brand is all set to amaze with this full swing series launch. The Galaxy S21 trio has come with a major price structure, as the first two, starts from $799 and $999, respectively, while the $1,379.99 S21 Ultra aims to be on the list of the top-specced phone in Samsung's family.
Herein, we have highlighted some of the pros and cons, along with the major features of the device, which makes you keen to buy one of them.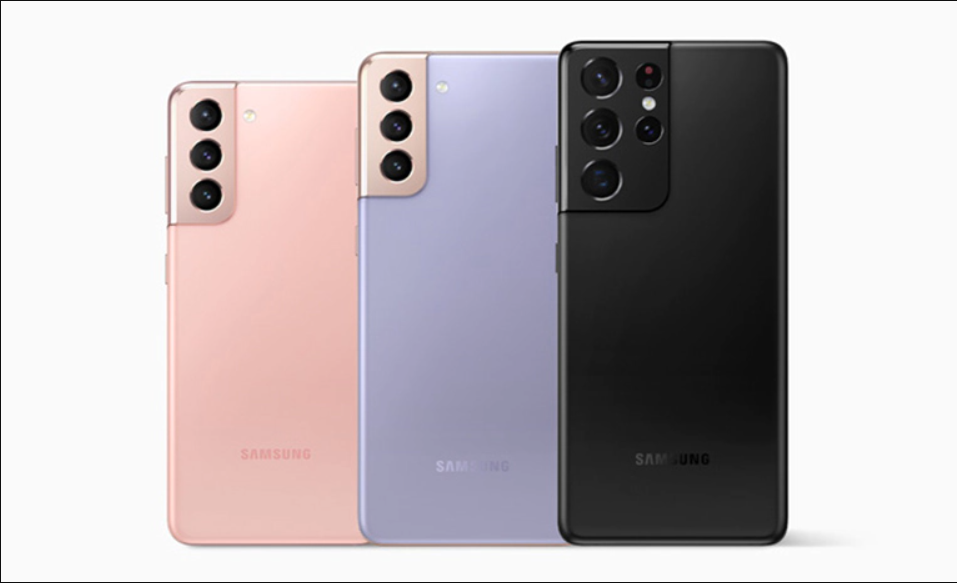 The Samsung Galaxy Trio – A Complete Feature-Rich Comparison
The Samsung Galaxy S21 5G comes with a 1080p+ resolution with a 6.2-panel screen, while the Samsung Galaxy S21+ 5G comes with 6.7 inches of screen. If we consider the best in the segment then the Samsung Galaxy S21 Ultra 5G is far away from the best-equipped phone, as it the first device in the brand that comes with a 1440p+ 120Hz display (10-120Hz), 1,500 nits. Talking about the camera quality and features all three of them come with the latest Android 11.0.
From this post, you can review the full features of these newly introduced family members of Samsung.
Samsung Galaxy S21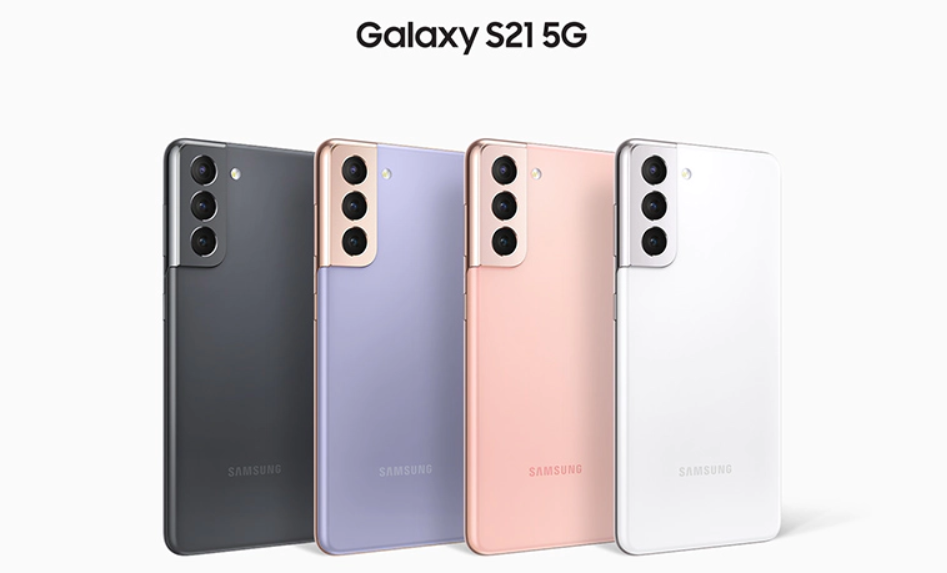 With the Samsung Galaxy S21, users can get a "glasstic" back with a Gorilla Glass Victus on the front. The device comes with a faster data transfer speed and can easily detect the direction of a device with great precision. Check out the major pros and cons of the Samsung Galaxy S21 5G.
Major Pros
Major Cons
• Lightest and compact device with 151.7 x 71.2 x 7.9 mm screen resolution and 202 g of weight.
• Affordable as compared to the other two devices with a price of $799.
• Comes with the latest Qualcomm Snapdragon 888 chipset with a 5G integration.
• The device offers a beefy 4,000mAh battery.
• The gadget offers a 1080p+ display, with a 48-120 Hz refresh rate that makes the user's experience seamless.
• Access the 12MP main camera, a fixed-focus ultra-wide camera with a 10MP selfie camera.
• The Camera bump is still present.

• "Glasstic" rear panel with no UWB support.
Samsung Galaxy S21 Plus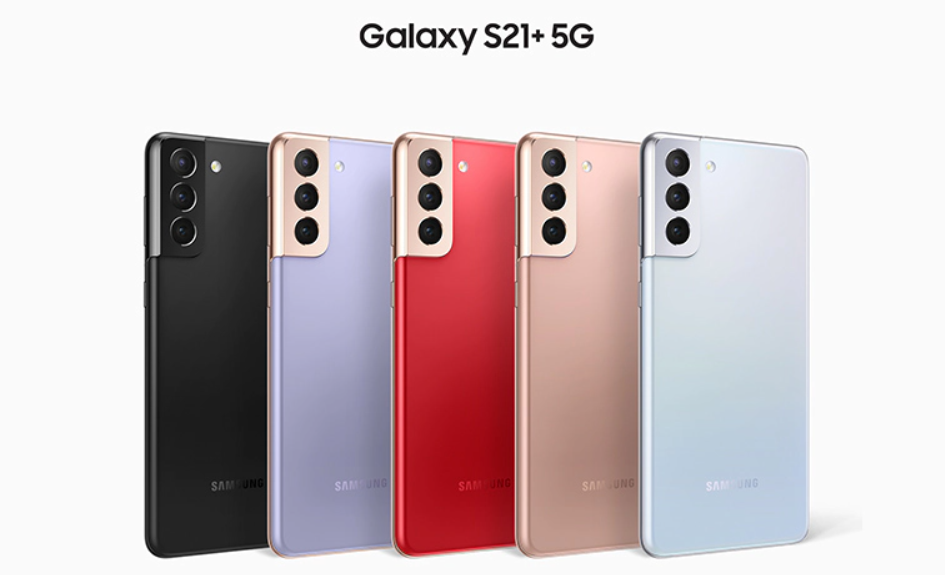 The Samsung Galaxy S21+5G is similar in the aspects of performance with Samsung Galaxy S21, however, their price is different. The plus model costs you around $999 with a screen size of 6.7 inches. Scroll down the page to know the model benefits.
Major Pros
Major Cons
• The S21 Plus model comes with a flat-screen almost as large as Ultra's, 6.7 inches.
• You will get a battery backup of 4,800mAh that will last a day.
• Ultra Wideband UWB support that will be useful for fast phone-to-phone file sharing and direction-finding.
• 30x Space Zoom mode with a new "Director's View" mode.
• 1080p+ display with a 48-120Hz refresh rate.
• Offers you a 12-megapixel wide-angle camera, a 12-megapixel fixed-focus ultrawide camera, along with a 64-megapixel telephoto lens and a 10MP selfie.
• No depth sensor.





Samsung Galaxy S21 Ultra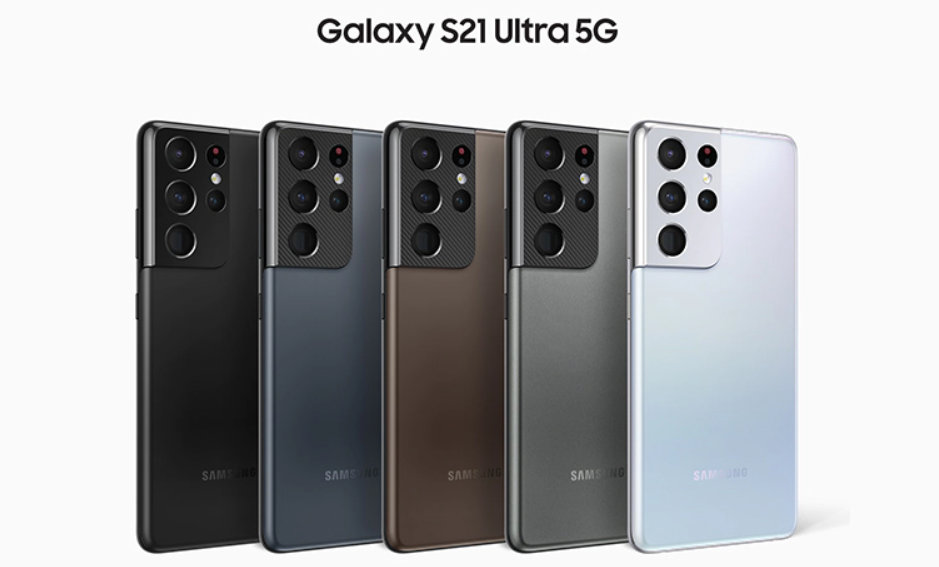 In this new Samsung Galaxy S21 trio, Ultra 5G is considered the best-equipped phone with a screen resolution of 1440p+ and has the most advanced adaptive refresh rate that can reach up to 120Hz. The camera quality is also up-to-the-mark considered in its price range. With the Samsung Galaxy S21 Ultra 5G, you can record 4K video at 60 frames per second.
Major Pros
Major Cons
• Experience the best 108MP main camera with two telephoto cams.
• Ultra-wide camera lens with autofocus. A 40MP selfie camera record a 4K video at 60 fps filming on all lenses (front and back).
• Come with an optional 512GB storage with a larger battery capacity of 5,000mAh.
• UWB feature
• The device screen is large.
• The price of the device is $1,379.99.



How to Preorder Device?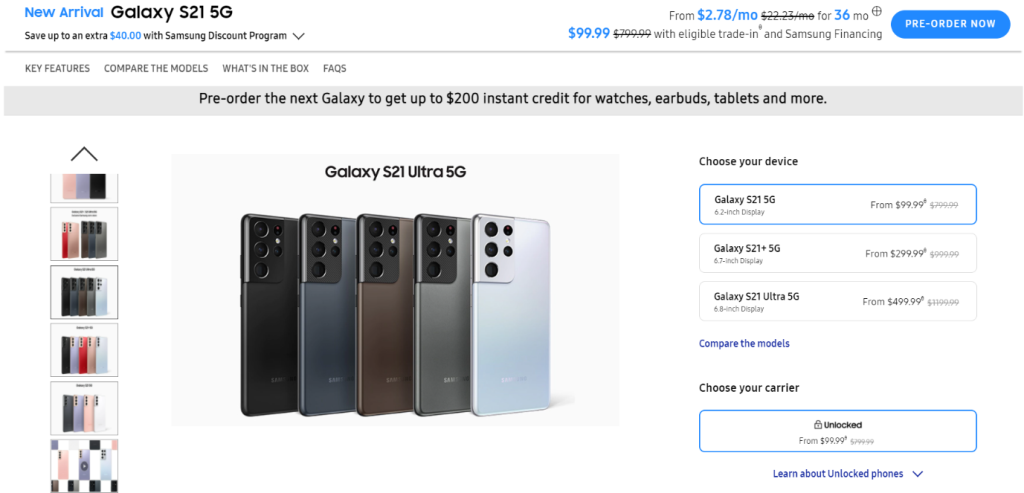 All the enthusiast buyers, looking to preorder these smart devices, must know that pre-orders have been started already from January 14, and will run till January 29, 2021. So, if you are thinking to buy one, you can get them online by visiting the official website of Samsung.