You would be mistaken to assume that it is tough to log into the Priceline credit card account. There is a simple method for logging into your account, but there is also another issue that is frequently raised: how to pay off your Priceline credit card. We will discuss the two main issues as well as some other fundamental information regarding the Priceline credit card.
You should be informed that this card is a Visa card and that Barclays bank authorized its issuance. This card, which is offered by Priceline, enables customers to maximize their spending by taking advantage of the points-rewards system. The potential to earn 10,000 bonus points after making $1,000 in purchases within the first 90 days of opening your account is, in my opinion, this card's best feature. You also get two points for every dollar you spend on gas and one point for every dollar you spend at restaurants and on Priceline reservations. This also applies to delivery services.
We will be getting straight into the process of logging in to the Priceline credit card account.
Correct way to log in to Priceline credit card account
Here you are given the steps to log in to the Priceline visa credit card account, however, you need to be aware of a few things before you get into the account. Here is the list of these pointers-
Applying for a Priceline Credit Card is simple if you stick to the instructions on this page if you don't already have one. You may then just sign in.
Before you begin the login process, be sure your machine is running dependable internet security software. There are now two basic ways to sign in: either a website or an application. Both of these methods call for the use of a smartphone, laptop, tablet, or another device with an internet connection.
Start your preferred web browser, then create a new tab. We suggest using a trustworthy internet browser like Chrome for Windows or Safari for Apple devices to secure your account and any financial activities.
Now its time for the steps-
Visit the Priceline Credit Card website. Click this link to access the Priceline Credit Card login page: https://cards.barclaycardus.com/
Enter your identification. Specify your login information. You can check the "Remember username" box if you wish to save your username for signing into your account later. Click "Log In" after that.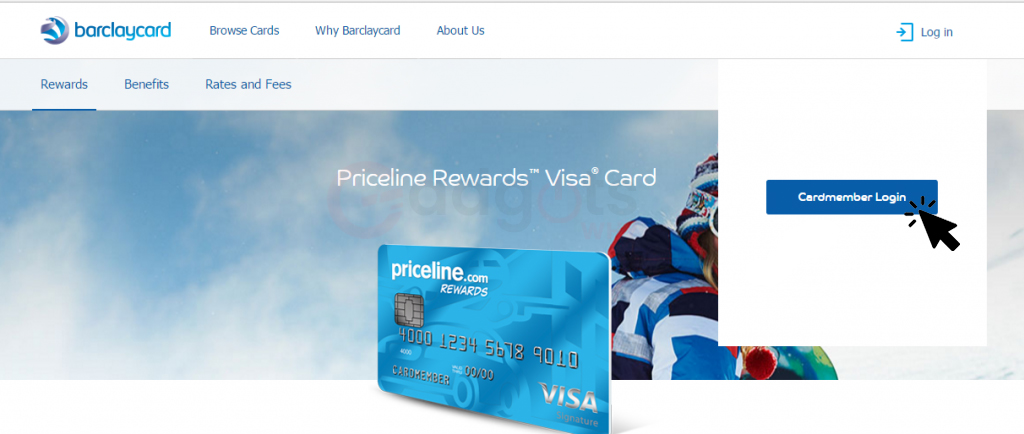 Now that you know the login process, there should be a sign-in process given in case you have not signed in yet.
Also Read: Activate your Ollo Card Online
Perks of Priceline credit card
You should be aware of the following benefits of having a Priceline credit card-
With the Priceline VIP RewardsTM Visa® Card, fans may save. Priceline.com: $5 worth of points. For dining out and gas, you get two points for each dollar. $1/point. Get 10,000 bonus points after spending $1,000 in 90 days.
It costs less to cancel on Priceline. Priceline.com is available for $25 or 2,500 points. For $50 in non-Priceline credit, exchange 5,000 points. bought gift cards lose value over time. Each $25 gift card is worth 3,000 points.
Holders of Priceline VIP RewardsTM Visa® Cards receive VIP Gold after five visits. At 30,000 VIP Gold hotels, receive a 50% discount. a 20% discount on rentals. Express Deals from Priceline are discounted 8%.
With the Priceline VIP RewardsTM Visa® Card, there are no annual or foreign transaction fees. 45-day balance transfers with 0% APR for 15 months. Transfers of balances are $5 or 5% of the balance.
The Priceline VIP RewardsTM Visa® Card has a significant balance transfer bonus. Prospective buyers pay interest. Rates might rise to 26%.
Sign in process for Priceline credit card on smartphone
The Barclays US Credit Cards app can be downloaded.
To log in, launch the Barclays US Credit App.
You launch the downloaded software. There will be a login screen. For online access to your Priceline Credit Card account, enter your username and password. Next, select "Sign In" to gain access to your account.
In case you have forgotten the password or the username. Follow the instructions below-
Access to the account recovery page
Log in to your account. The website login section above already contains the URL.
Click "Forgot username or password?" after that.
Submit your data
Enter your date of birth, account number, and the last four digits of your social security number to confirm the information on your account.
Additionally, you must use a security code to confirm. Next, select "Continue" from the menu.
Finish. To the final page, keep following the instructions.
You can then reset your login or password. I'm hoping the preceding steps will make regaining your username on the official website easier for you.
Also, check out our latest guide that will help you to Apply for FIT Mastercard
Payment information for Priceline credit card
Each credit card company is aware that not everyone will pay for their purchases in the same way. All credit card companies, therefore, maintain a variety of payment options for credit card bills. So let's quickly go over all of your available debt repayment options for Priceline credit cards.
Meeting in person. One of the most frequent offline methods for paying with a credit card is going straight to the credit card company. You may easily pay your bill without stress or technical difficulties.
Online technique Visit the official Priceline website and seek the bill payment option. Now that Easy Pay is available, paying your credit card bills is quick and simple.
via mail Simply add the required cash and send the mail to the Priceline postal address, which is easily accessible online (you can find it in the FAQs).
Using a mobile device. You can look at Priceline's contact details by searching the "contact us" section of their website. If you phone them, they'll make sure you have no trouble paying your account.
Customer service number for the Priceline Credit Card-
Call to Reach-
Call (866) 928-8598 for general inquiries.
Call (877) 408-8866 for assistance with credit card activation, or send a fax to (866) 823-8178.
1-302-255-8888 for international collection.
ADA/Accessibility Services: Dial 711 and use the relay service.
+1 (800) 309-6191 for the accessibility coordinator.
Frequently asked questions:-
How to reach the priceline credit card login page?
To reach the priceline credit card login page follow these steps:

1. Visit the Priceline Credit Card's official website.
2. On the Login button, you have to click.
3. Then fill out the necessary information, such as your Username and Password, on the login page.
4. Once you click the Login button, you're done!
What is the process for Priceline credit card payment via phone?
Call the customer support number shown on the back of your card or Just dial 1-866-951-1440. You will be guided through the procedure by an automated system or representative. To effectively pay your card bill, heed their directions. You just need to give basic details like your account number and verifying the payment amount, etc.  You should then receive a confirmation of your payment and be good to go. You can also pay the priceline credit card bill via online, mail or using a mobile app.
Where can I get a priceline credit card phone number?
You can find the Priceline credit card phone number on the back of your credit card. If not you can visit the priceline credit card official website and from there you can get priceline credit card phone number by clicking on the contact details icon on the website. You will find multiple phone numbers based on the requirement like general assistance, credit card activation, for international collection so pick the number according to your need.
What is the priceline credit card promo?
Priceline credit card promo is nothing but the rewards point that you earn on every eligible purchases at flight tickets, hotel rooms, special packages etc. you can redeem your cashback point to cash and use them in your next purchases at priceline services.
Can I get priceline credit card pre approval?
Anyone can get priceline credit card pre approval but you have to Have Good Or Exceptional Credit: The Priceline Credit Card comes in two varieties: a Visa Signature offer for individuals with excellent credit (i.e., a score of 720 or more) and a Visa Platinum version for those with "good" credit (660-719).
Can I immediately use my Priceline credit card?
Unfortunately, after your Priceline Credit Card has been approved, you cannot use it. The card issuer does not provide the card number or security information over the phone or online, therefore you will need to wait until you receive the physical card.