If you're reading this, it's likely that your computer has suddenly become slow. You looked in the Task Manager (CTRL+SHIFT+ESC) and noticed that spoolsv.exe was utilizing nearly all of your CPU. That's bad enough, but it's considerably worse. If you have no idea what process is running or how to fix Printer Spooler Service High CPU Usage in Windows 10 & 11. Here are a few pointers to get you started.
What exactly is spoolsv.exe?
First, let's figure out what is running the spoolsv.exe process on your computer. Normally, spoolsv.exe is a process associated with the Windows Print Spooler Service. This service is an important part of your printing. Because it allows you to print documents in the background without interfering with other operations. When your printer is running, the spoolsv.exe service should appear in the Task Manager. If it isn't, highlight spoolsv.exe and click End Process.
However, malware may masquerade as spoolsv.exe at times. It will appear in Task Manager as the legitimate service, but you can tell if it's malware by inspecting the file's path. The actual Spooler Service file is typically 61,440 bytes in size and should be located in the percent SYSTEM percent subfolder. If you suspect that the spoolsv.exe process is being run by malware, immediately scan your computer with your security suite and remove anything it finds. This malware may be responsible for 100% CPU usage as well as a slew of other errors.
Also Read: Fix Error DLG_FLAGS_INVALID_CA in Windows 11
How can I reduce Printer Spooler High CPU Usage in Windows 10 & 11?
Remove completed print jobs from the spool manually to fix Printer Spooler High CPU Usage in Windows 10 & 11
To begin, type control into the Windows search box and select the Control Panel.
Go to Administrative Tools and choose it.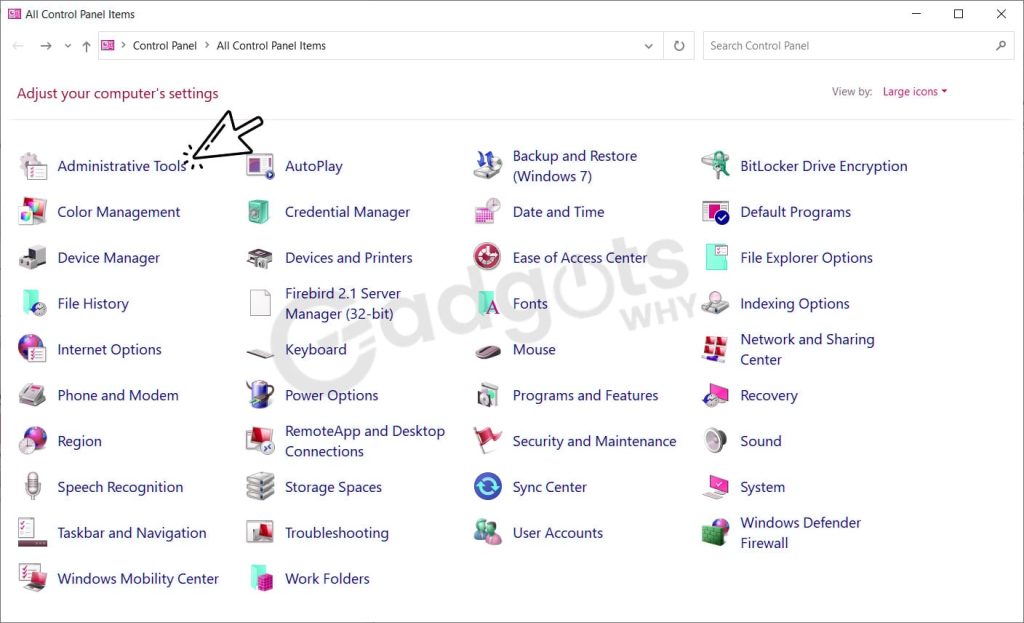 Now select Services from the drop-down menu.
Locate the Print Spooler service, and then click on it.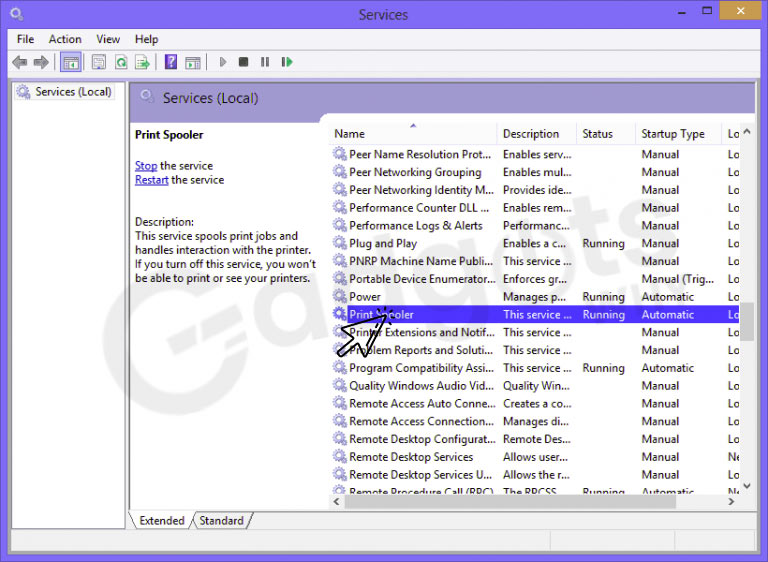 Stop it by right-clicking on it.
Keep the Services folder open in a separate window.
After that, open Windows Explorer and navigate to the Printers folder using the navigation string below: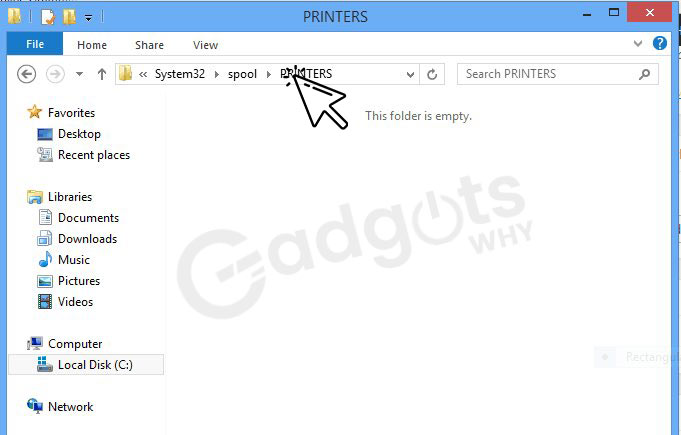 Remove all of the contents of the folder by hand. Mine is already empty, as you can see. Return to the Services folder after that and restart the Spooler Printer service.
Simply right-click on the service and select the Start option from the menu. Your computer should function normally.
Reinstall the printer and make sure your drivers are updated to Fix Printer Spooler High CPU Usage
Even cleaning everything in the spooler may not cure the printer spooler high CPU usage problem, or there may be no print tasks clogging up the queue.
You should probably check to verify if your machine is configured appropriately at this point.
The most straightforward method is to access Print Management and uninstall your printers. You should also check for and uninstall any Bluetooth printers you may have.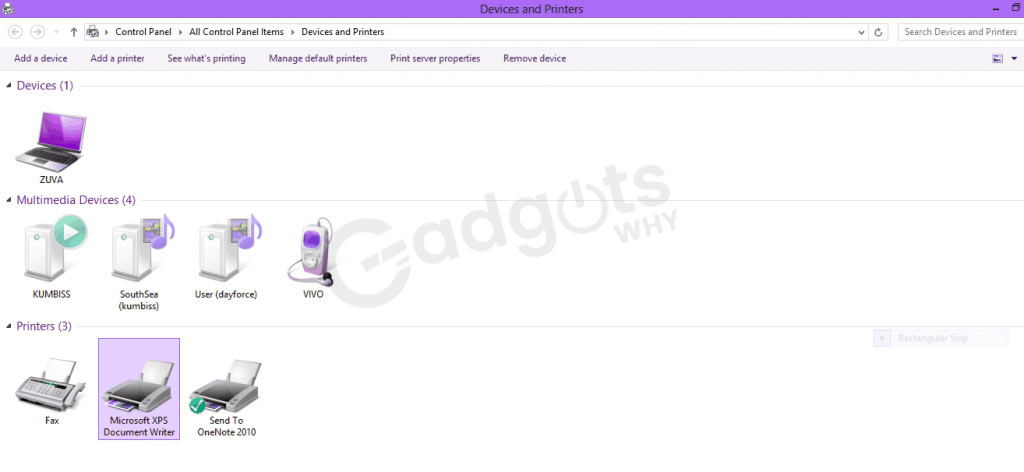 Make sure all of your printer drivers are up to date before reinstalling your PC.
You can also contact the manufacturer of your printer to discover if your existing printer drivers are still compatible with the Windows version you're using.
There's always the possibility that you missed an update, especially if your PC isn't set up to receive updates automatically.
Trending: Fix CPU Performance Issues in Windows 11
Fix Printer Spooler High CPU Usage: Scan and clean your computer on a regular basis to keep viruses and malware at bay.
Hackers can disguise malware and viruses as the spoolsv.exe executable file to gain backdoor access to your computer. That is a major concern.
Because this spyware and viruses can be used to steal your passwords and other personal information. The Printer spooler high CPU usage may be the last thing on your mind if you are attacked.
Update your malware defenses and anti-virus software on a regular basis. Also, make sure you're using the most recent versions of any internet security software you're using.
To remain on top of potential dangerous entries to your PC's registry files. It's also a good idea to invest in a reliable registry scanning application.
However, the easiest approach to keep oneself secure is to use caution and attention. When visiting websites, opening email attachments, and connecting portable devices to your computer.
Causes of the Printer Spooler High CPU Usage:
Regardless of how little your processor is, the Spooler service is not a resource-intensive activity that should overwhelm your computer.
When you look in Task Manager and see that the service is utilizing up to 100% of the CPU, logic dictates that there are too many print jobs waiting to be completed in the spool.
Due to system difficulties, completed print jobs can get stuck in the spool.
You almost never have too many queues to the point where the spool becomes overburdened. The only plausible scenario is if there is a system flaw that prevents completed print jobs from being automatically cleared from the queue. This implies that the computer will keep allocating memory and resources to tasks that have previously been performed, overworking the CPU and depleting your RAM.
The Microsoft Office image writer's printing jobs were backed up:
Some users have been perplexed by excessive spooler CPU utilization when there were no print jobs now going or completed but still waiting to be removed from the spool.
After further research, they discovered that there were indeed printing tasks awaiting completion. These were, however, on the Microsoft Office Image Writer, not the installed printer.
When your computer slows down and the task manager shows a high spooler CPU utilization, always check to see if this isn't the cause.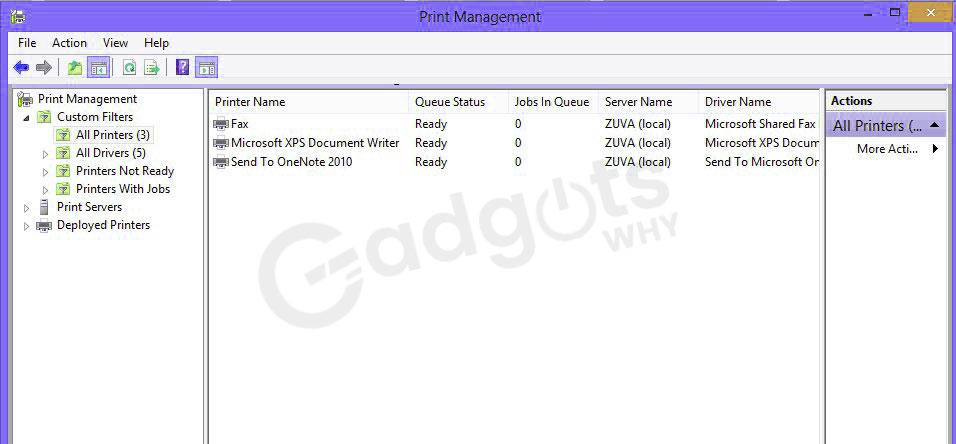 The Print Management folder is a nice place to look for all print jobs that are currently queued for printing. To get there, use the navigation string below: Print Management may be found under Control Panel > Administrative Tools > Print Management.
You can see all of the print jobs that are currently queued in the Print Management folder. The folder will also show you how many print jobs are queued on each of the printers installed on your printer.
Virus or malware:
There's always the risk that a virus or malware has attacked your machine. If you can't figure out what's generating the strangely high spooler CPU utilization.
In some Windows OS versions, the Spooler service has been discovered to be vulnerable to security flaws.
A worm reported to be linked to this issue is known to ingeniously disguise itself by registering with the identical spoolsv.exe process name. It is critical that you install capable Internet security software as soon as possible. Clean your computer and eliminate this threat before it spreads and does even more harm.
Also, follow our guide to Cast Android Screen To Windows 10 PC
A Quick and simple workaround:
A slow computer may be a major inconvenience as well as a productivity killer. Fortunately, most issues are simple to resolve. As previously stated, if you currently have an anti-malware application installed on your computer, this is the signal that you need to beef up your protection and update it or install a stronger one.
However, one can consider simply terminating the spoolsv.exe process in the task manager. While this may provide some respite, it isn't a long-term solution because you will eventually need to print certain documents. Stopping the spoolsv.exe process in Task Manager while documents are printing or are still printing will also stop the printer.
When the printer queue won't clear, or while you figure out what's causing the spooler's high CPU utilization, printing straight to the printer is a workaround. Simply choose it from the print options menu.
Conclusion:
Too many outstanding jobs might cause the Print Spooler to utilize a lot of CPU in Windows 10, which can put your operation to a halt. Check to see if any of the files are still in the queue, even if they were completed. You may wish to reinstall the printer and install the most recent drivers. Because malware might create this problem, it's never too late to invest in a good antivirus.
Hopefully, the options shown here have assisted you in resolving the spooler's excessive CPU utilization issue. If the problem persists, you should always seek advice from a professional, especially before making any modifications to the Windows registry. If you have anything to share you can drop your ideas in the comments section below. See you all with another interesting blog.
Frequently Asked Questions:
What's the deal with my spooler subsystem app hogging so much CPU?
The spoolsv.exe process has been observed to use a lot of CPU in some circumstances. This is most likely the result of an issue with the Windows printing system. A print queue full of jobs, unstable printer drivers or utilities, or a misconfigured printer are all possibilities.
How do you resolve a spooler issue?

Follow these steps to fix the print spooler service is not operating" error.
To enter the Run dialogue, use "Window key" + "R."
Select "OK" after typing "services.msc."
Change the startup type of the "Printer Spooler" service to "Automatic" by double-clicking it.
Try installing the printer again after restarting the computer.
On a Windows OS, how do you restart the Print Spooler Service?
Start by going to the Start Menu.
Services of this nature.
Select the Print Spooler Service from the drop-down menu.
Stop the Print Spooler service by right-clicking it.
Allow 30 seconds for the service to terminate.
Start the Print Spooler service by right-clicking on it.
Is Microsoft's Print Spooler issue now resolved?
Microsoft has finally patched the last in a series of security flaws in its Windows Print Spooler service, which could have allowed attackers to take control of a system and install malicious software or create new accounts remotely.
What causes a Printer spooler error?
The printer spooler can also fail due to outdated printer drivers (software installed on the PC to interface with the printer). Look for a new 'printer driver,' which is an updated version of the software, on the website of your printer maker, then install the most recent driver on your PC.