Are you a die-hard movie lover who desires a reward? Become a member of AMC Stubs right away. Members of AMC Stubs receive free birthday gifts, waived online ticket fees, exclusive Tuesday discounts, and points toward incentives, among many other benefits. In this guide, we will instruct you on how you can register at AMC Stubs along with the process to log in to your account. The three-tiered AMC Stubs reward program offers two premium membership levels (Insider) and one free level (Insider) (Premiere and A-List). The privileges, which include complimentary cinema passes, cash back incentives, upgraded concession options, and more, are more exclusive the higher the tier. The best AMC Stubs package for you will mostly rely on your movie-going preferences. Let's examine each strategy and discuss its advantages and disadvantages to assist you in selecting the best option. Prepare some popcorn.
In case you are new to this topic, then you must be wondering how can you enroll in this? Then, wait no further we will tell you right away.
Register at AMC Stubs account to manage it further
AMC Theatres' loyalty program is called AMC Stubs. Anyone may join, and you can do so online at the AMC website, via the AMC mobile app (available for iOS and Android), or in person at any AMC cinema.
By registering an account, you can take charge of your online experience. You may examine your previous and future tickets, manage your points and prizes, get Tuesday ticketing discounts, forego ticket costs, and much more.
There is no big deal while registering at AMC Stubs account as it is super easy.
Following is the picture is given for your reference. You just need to enter the details that have been asked of you and that's it.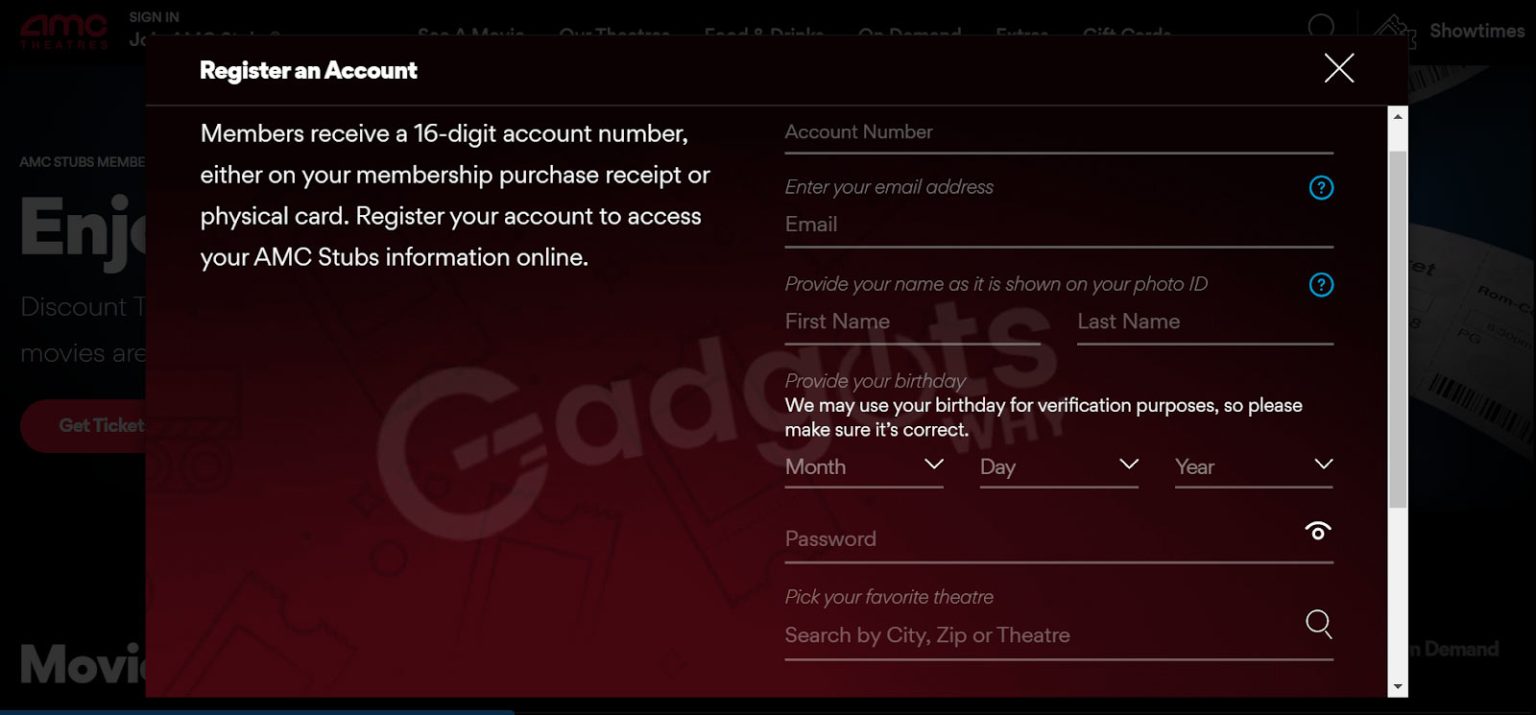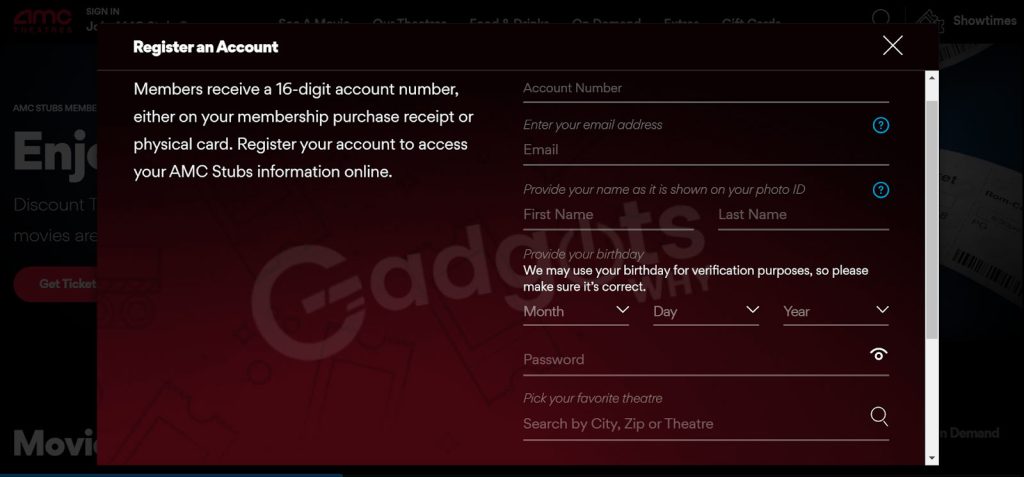 The information that you will need to enter includes your Account number, email address, name, date of birth, password, and theater according to your preferred location.
Lastly hit the continue button.
You just need to follow these easy steps to register at AMC Stubs!
Also Read: Watch AMC Plus Channel
Reset your password
If you are wondering how could you change your password then the steps are simple. You need to navigate to the sign-in page. There you can see the option ''Forgot password''. And further, follow the on-screen instructions. The other option to change the password is by visiting the profile section present on the AMC Stubs dashboard.
Make sure to look for the email in your spam or promotional folders. Before making another request to reset your password here, double-check that your email address is accurate. Still not getting the email requesting a password reset? If you registered at the theatre, you might need to register your account. Don't feel obligated to sign up for a premium plan straight away because you may change your membership at any time. As soon as you enlist, you'll start getting the advantages of your current tier.
Sign in to the AMC Stubs account to review everything
Visit the official website of AMC Theatre.
You can see the option on the left-hand side on the top ''SIGN IN''.
Tap on that option.
You will be provided with the pop-up containing the fields.
Enter your username and the password you have set before.
Hit the SIGN IN button.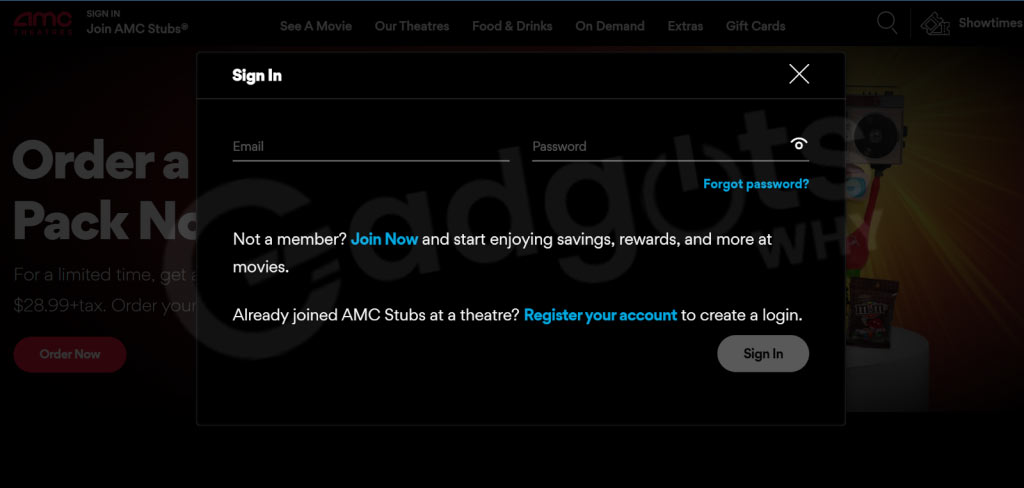 Cost of AMC Stubs membership
AMC Stubs is completely free to use when you first sign up. But members can increase their privileges by signing up for one of two elite tiers:
Stubs Insider at AMC. Free. The standard features of AMC Stubs are available to you for free.
AMC Stubs Premiere. A $15/year annual package. Increased perks and reward points are available.
A-List on AMC Stubs A monthly package that costs $19.95 to $23.95 annually. includes three free movie passes per week and the highest level of privileges.
Related: Here's how you can activate AMC Channel for Unlimited Classic Movies
There are three price tiers for A-List subscribers. The best choice will depend on where in the United States you want to view movies:
Monthly cost: $19.99 34 states will allow A-List members to use their membership. CA, CO, CT, DC, DE, FL, GA, IL, MA, MD, MN, NJ, NY, OR, PA, VA, and WA are excluded.
Members will have access to theatres in every state, with the exception of CA, CT, MA, NJ, and NY, for $21.99 a month.
At a cost of $23.99 per month, members have access to their perks at all 600+ AMC theatres nationwide.
While a more uniform pricing structure would be ideal, it is the case that certain states have greater movie ticket costs than others. However, it would have been good if AMC had taken this risk.
FAQs
What is Tuesday's discount at AMC?
On Tuesday showings, all AMC Stubs members, including Insiders, are eligible for substantial savings.

We've never spent more than $10 a ticket for a matinée or other less preferred showing, and evening showtimes are sometimes discounted by up to 50% of the regular ticket price.

Additionally, Tuesdays are a special day for concessions at AMC. For $5, you might be able to get a Cameo-sized bag of popcorn and a few beverages.

Do they have a free trial at AMC Stubs?
No, however AMC Stubs does provide a level of free membership. Many of the advantages enjoyed by higher echelon members are also available to insider members, including reward points, exclusive deals, and discount Tuesdays.

Try Insider first if you're not sure whether to pay for a Premiere or A-List membership.

Do Stubs users receive birthday presents?
Yes. An offer for a free big popcorn will be made to AMC Stubs Insiders. You can get free big popcorn and a free large fountain drink if you're a Premiere or A-List member.

Birthday offers are added to your account on the first day of the month that you were born, and they remain valid through the last day of that same month. Simply have a concessions worker scan your virtual card to pay out.