Instagram is amongst the most prominent social media networks among people of all ages. There are so many interesting features on Instagram that it's difficult not to use them. Along with enjoying the platform, there are times when you don't want someone to become too involved in your social life, but you also don't want to insult them. But what if something similar occurred to you? Don't you want to know if you've been restricted on Instagram?
Many times, we don't want some of our Instagram followers to know what we're doing, and we also don't want to be bothered by their continual DMs. At the same time, we do not aim to block them because we believe this would be damaging to them. In order to deal with such problems, Instagram has developed a special function that allows you to establish a barrier between yourself and your chosen followers while being in contact with them at the same time. However, there's a potential that someone has done the same thing to you and you're not even aware of it. Isn't this the question on your thoughts right now: how can you know if you are restricted on Instagram? So, what do you have to lose? Let's take a look at how to tell whether you've been restricted on Instagram. If you have any doubts that certain people have placed restrictions on you, this article will pique your interest by explaining how you might unravel the riddle. But first, let's define what the Instagram Restricted function is and how it works.
What Is Restricted on Instagram Feature, Exactly?
Aside from the many fantastic features on Instagram, there is one function that allows you to restrict someone's access to the platform. This function was introduced in 2019 and has already shown to be extremely beneficial. This function restricts the level of access a person with whom you've set a restriction has to your Instagram account. Isn't it true that some of your followers irritate you and cause you problems? However, if you want to keep the social order, you can't block them since they'll find out straight soon.
This tool has been launched on Instagram for such situations. When you restrict someone on Instagram, Instagram will automatically conceal that person's comments and messages, which you won't be able to see until you unrestrict them. The key advantage of this Restrict function is that you won't have to block the person, but you will be able to prevent them from accessing certain areas. And, perhaps most importantly, Instagram does not provide any type of notification to the person you've prohibited.
Isn't that fantastic? Isn't it like a dream come true to finally get rid of some people without them even knowing? On the other side, when you read this, you're probably wondering if this tactic has been used on you as well. And you're eager to find out who they are. Because the person who has been restricted by someone on Instagram does not receive a notification, there is no formal way to find out who has restricted you on Instagram. However, there are a number of indirect methods for determining this.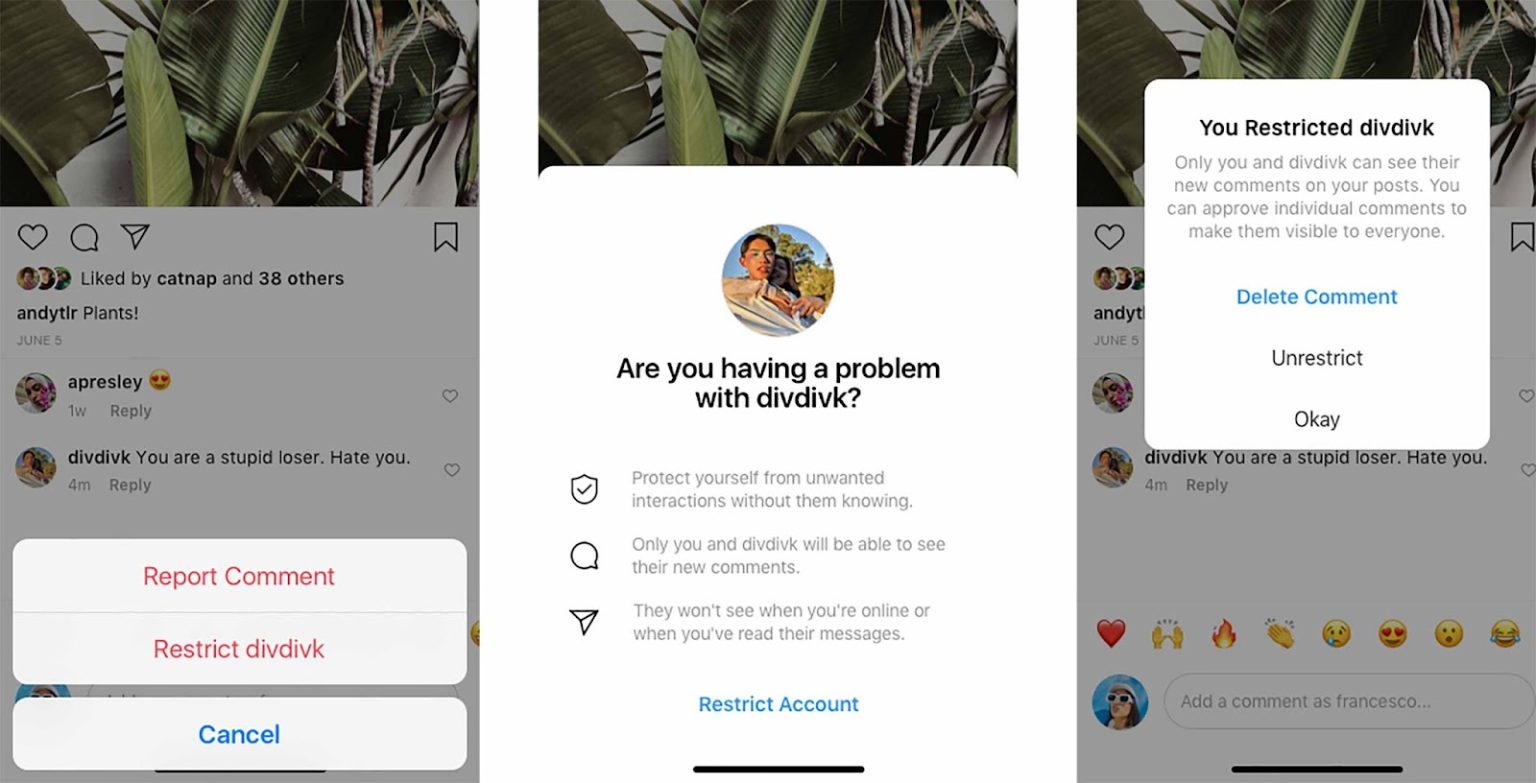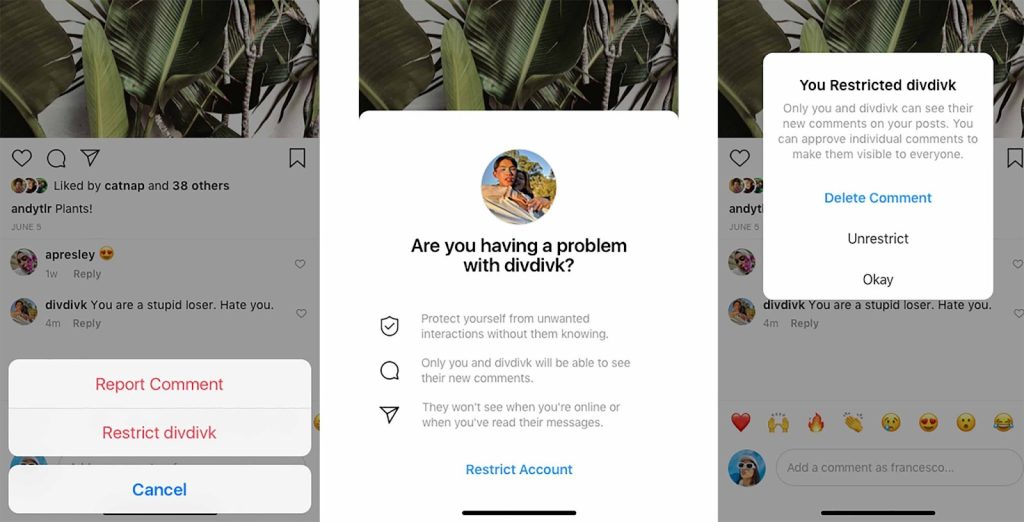 Also Read: Post Your Instagram Pictures From Phone and PC
How to Tell If Someone Has Restricted You On Instagram?
Whether you're wondering how to find out if someone on Instagram has restricted you, you can use the following strategies. The more these strategies are used, the more likely it is that you have been blocked on Instagram.
Not Being Able To See Their Story
Instagram's Story feature is so widespread that every active user uploads at least one story per day. And a user's Instagram stories are viewable to all of his or her followers. However, if you are suddenly unable to read someone's Instagram stories, there may be an issue. There may be other technical reasons or challenges on your end that prevent you from viewing their Instagram story, but being restricted by that person could be one of them.
Through comment section
As previously stated, if someone on Instagram has restricted you, your comments on their photos will only be accessible to you. However, because you can only access your comments on your own account, you won't be able to find out. So you may use someone else's Instagram account or establish a new one to check this out. If you can't see your comments through another account, it's because you've been restricted.
Activity status
If the individual has restricted you, you won't be able to check if they are online on Instagram. However, it's possible that the person has disabled the activity status for everyone. To be certain, you should also check the person's activity status on another account. If you can't access your account's activity status but can see it on another account, someone has restricted your Instagram account.
Know how you can add Music To Instagram Reels, Stories, and a Post
DM them
If you've determined that the person has restricted you by using all of the techniques listed above, there's one last step you may take that will endure indefinitely if the individual has truly restricted you. Simply send a message from your account to them. If the individual has restricted your account, they will not be notified of your message, and you may not receive a response. This way, you'll be able to see if you've been blocked on Instagram.
Is It Possible To Be Unrestricted On Instagram?
If you've been blocked by someone on Instagram and are looking for a means to unblock them, you'll be disappointed to learn that there is no such option. Every user has the exclusive right to restrict anyone they wish, and no one else can override their decision. So, if you are confined by someone, you have no choice except to accept it.
This was all about how you can know if you are restricted on Instagram. What if you want to restrict someone on Instagram? How would you do that? And also why would you do that? In order to know the answers to these questions, continue reading the following section.
Know how you can earn through Instagram reels
How can you restrict a user on Instagram?
Online bullying has been a big concern in recent years, particularly among young teenagers. Instagram appears to have tightened the privacy screw in order to combat online bullies and provide the younger generation with a sense of normalcy. And now they've added a new function to bolster their claims even further. Users will be able to shadow-ban numerous nasty comments and accounts using the Instagram Restrict Account tool. A shadow ban is when a user or their content is "partially blocked" from an online community. This implies that only the limited commenter (and you, with a small adjustment) will be able to access his or her messages, but none of the other users will. This may appear unusual to you, but the reason behind this is quite simple. Remember to ensure online privacy with these web browsers for Android for a safer surfing experience.
If you get a DM (Direct Message) from a restricted user, it will be automatically forwarded to the Message Request area. If they send you a message, you will not be notified. Furthermore, the limited user will have no way of knowing whether or not you have seen their messages or whether or not you are online. They will be unable to see any of your personal settings. Following are the steps to restrict someone on Instagram-
There are three different ways to restrict an Instagram account. Either swipe left on their remarks, go to your Privacy Settings, or go to their Accounts directly. The last two are discussed further below.
Limiting an account's access to privacy settings
Open Instagram and go to the part where you may edit your profile ( the last option of the bottom bar).
Now, at the top right, hit the menu symbol (the three horizontal stacked lines).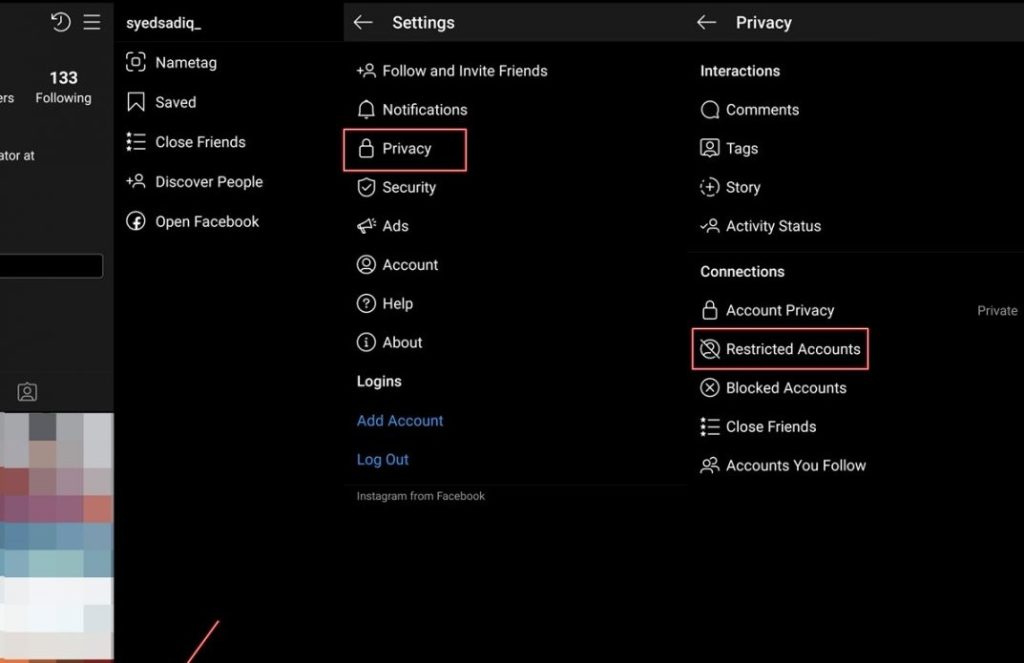 At the bottom of the page, select the Settings option.
Select Restricted Accounts Connections from the Privacy menu.
The next screen will provide some information about this feature. Simply press the Continue button.
Then, using the search box, locate the account you want to restrict and hit Restrict. That is all there is to it. You've restricted an Instagram account successfully. There is a different technique to accomplish the same goal. Follow the steps outlined below.
Restriction can be done by visiting their accounts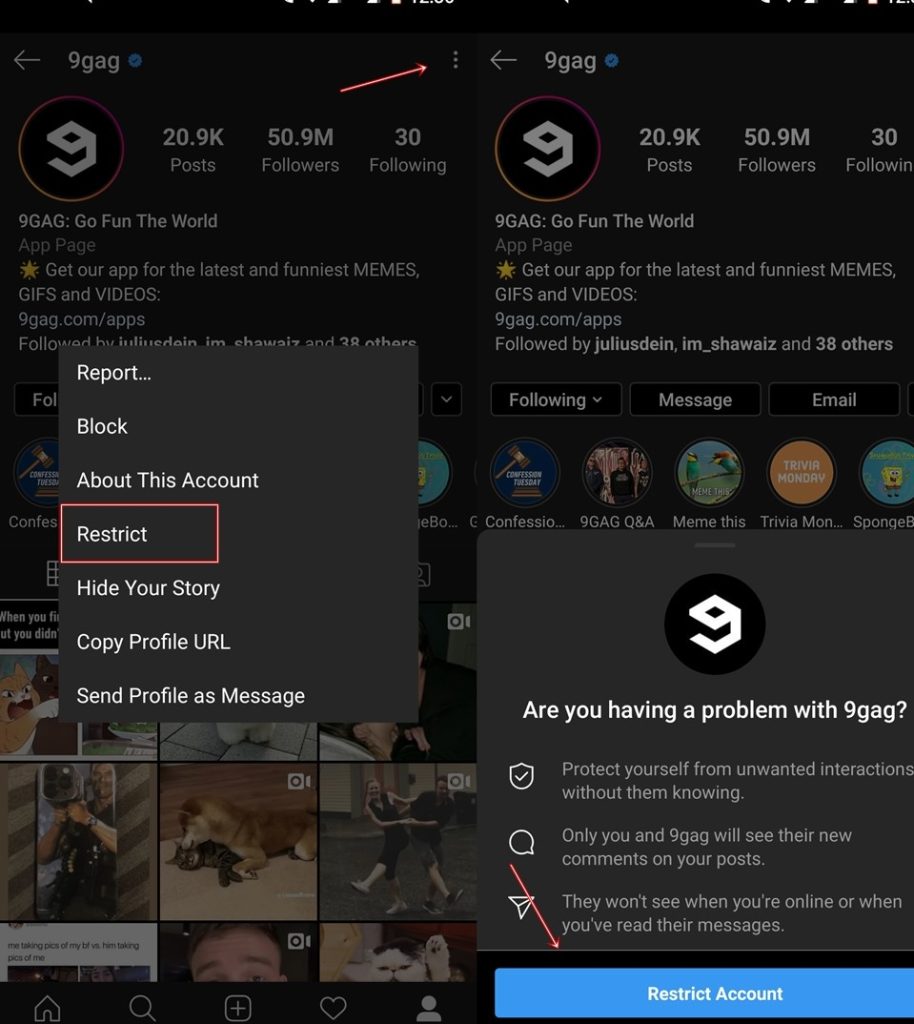 Search for the individual you want to block in the Instagram app. You can use the search option, which is located next to the home button.
To access their account, go to the upper right corner and tap on the three vertical dots.
Choose Restrict from the drop-down menu.
A confirmation dialogue will now appear. To confirm your option, tap on Restrict Account.
Also, Check out how you can Fix Instagram Stories No Audio Issue on iPhone
So there you have it: the several ways to use Instagram's new Restrict Account feature. If you want to Unrestrict an account, simply follow the same procedures as before, but instead of selecting Restrict, select Unrestrict.