In the past couple of years, the COVID-19 pandemic has affected the way that many individuals work, shop, and carry out numerous other daily tasks. Personal banking is included in this list as well. There are many benefits to using internet banking. Your bank is ready and waiting for you whenever you have an internet connection. Everyone is trying to know more about managing the online usage of credit and debit cards. So today we came up with the latest ultimate guide to assist our readers in Login Sears credit card in easy steps without going to the bank.
We'll discuss Sears credit card in this article, along with the procedures for logging into your online account, which will make it easier for you to manage your account. There are additional advantages to this online account. Additionally, you can use your online account to pay bills, purchase tickets, and claim presents using your Credit Card.
What is a Sears credit card?
It is a credit card that may be used anywhere MasterCard is accepted and offers points for Sears purchases issued jointly by Sears and Citibank. Since Citibank manages the card, your bill will be sent from a Citibank address. These co-branded cards are increasingly often offered by American retailers.
Along with providing a conventional in-store Sears Card, Sears has teamed up with Citibank of Citigroup to provide its customers with a selection of co-branded "Shop Your Way" credit cards with rewards and perks programs. These cards allow users to accumulate points through regular purchases like food and petrol and redeem them at participating Sears stores.
Customers can use this card, which is the most basic version of the Shop Your Way credit card, online or in-store at Sears and Kmart. Anywhere MasterCard is accepted, you can use the Citibank Sears "Shop Your Way" MasterCard to make purchases.
How can I get a Sears Credit card?
Sears Offers two types of cards to its customers. They are "The Shop Your Way MasterCard" and the "Sears Credit Card". Applying for this card is possible online, in person, or at any Sears or Kmart location. You are ready to use your card on the same day you apply once it is approved. Check out both cards before you apply because the two separate cards have different rewards and restrictions.
Trending: Login to Blaze Credit Card
Steps to apply for Sears credit card online:
If you want to apply for a Sears credit card online, follow these simple steps to get your card.
Initially, open a browser on your phone or desktop.
Now visit Citi bank's official website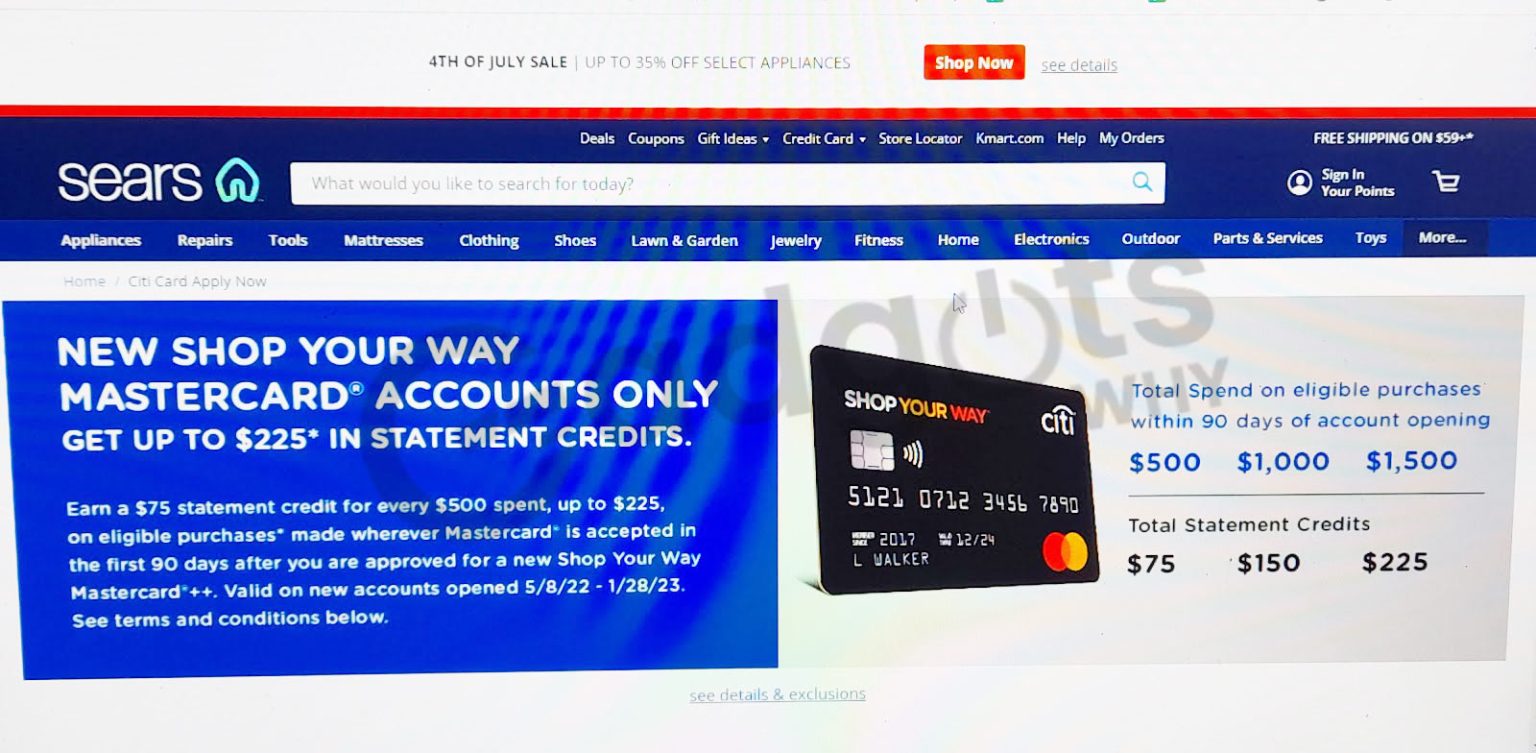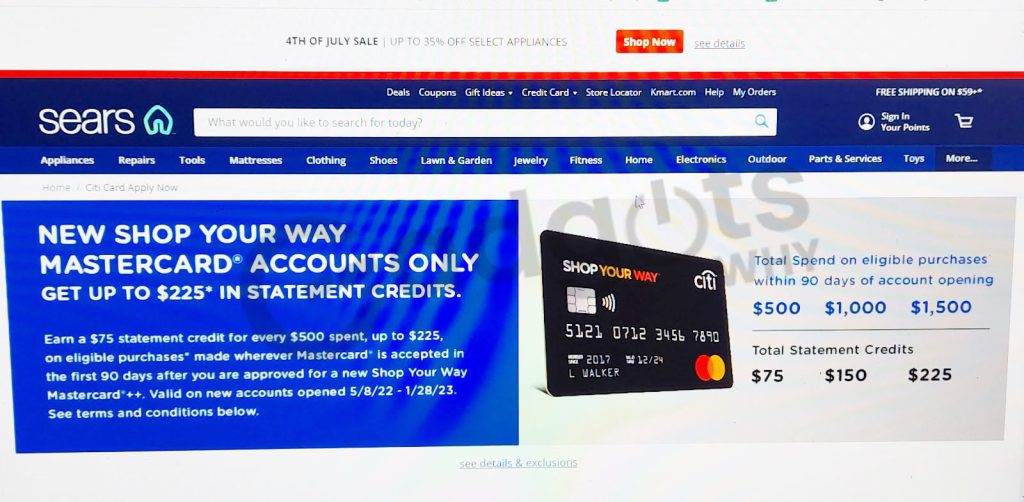 Now you have to navigate to the Credit cards section located at the top of the page.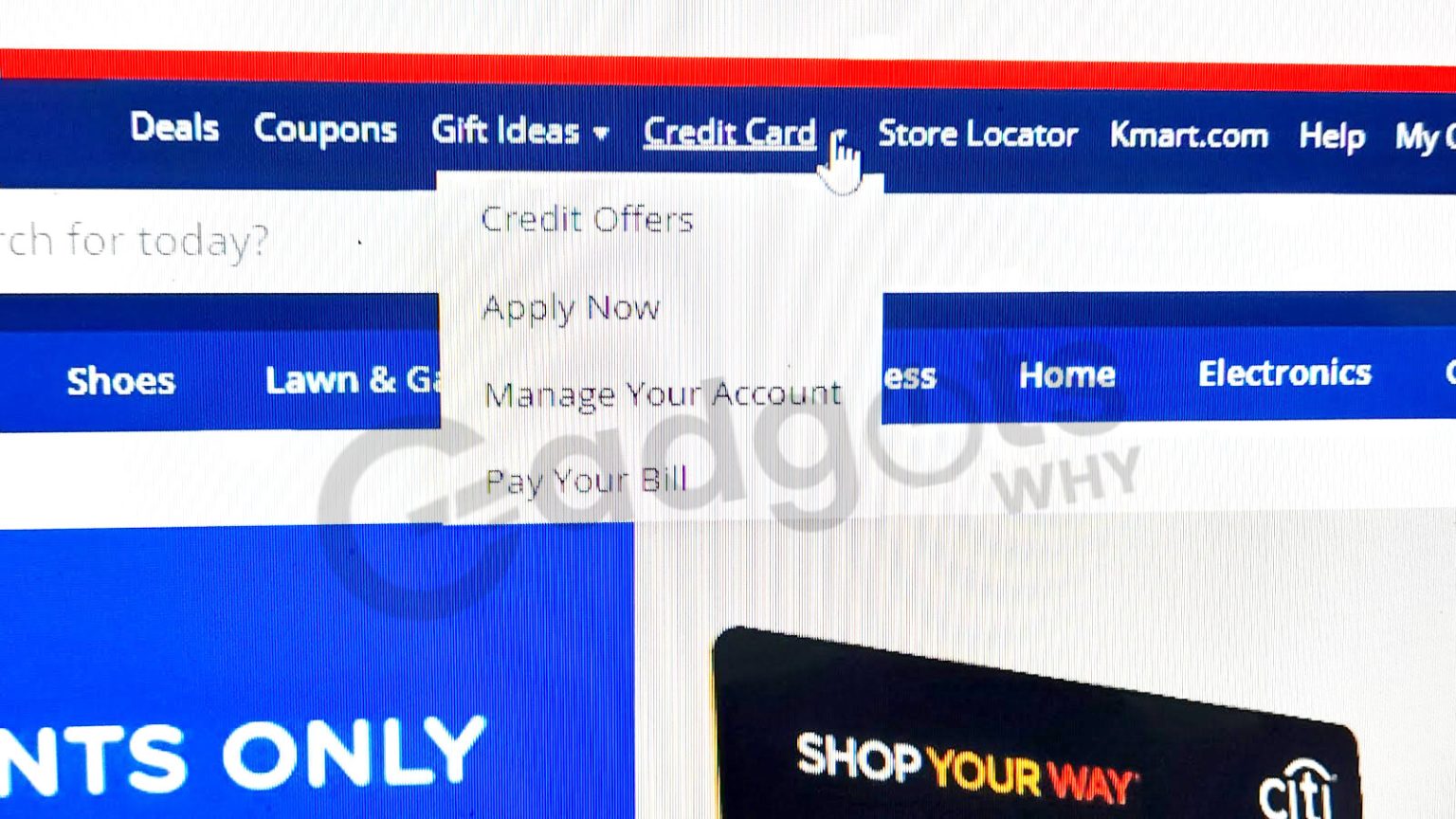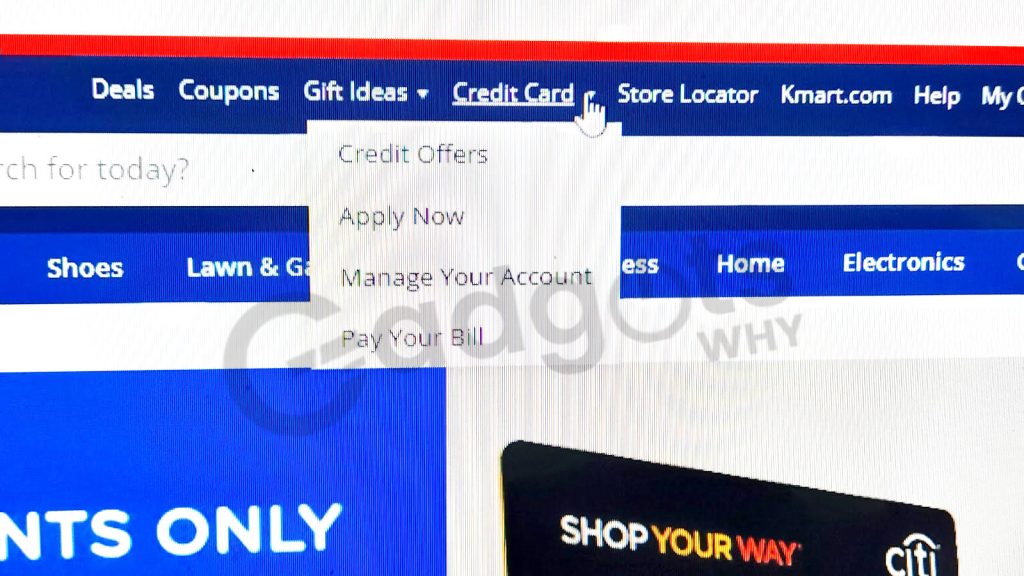 From the drop-down menu choose the Apply Now button.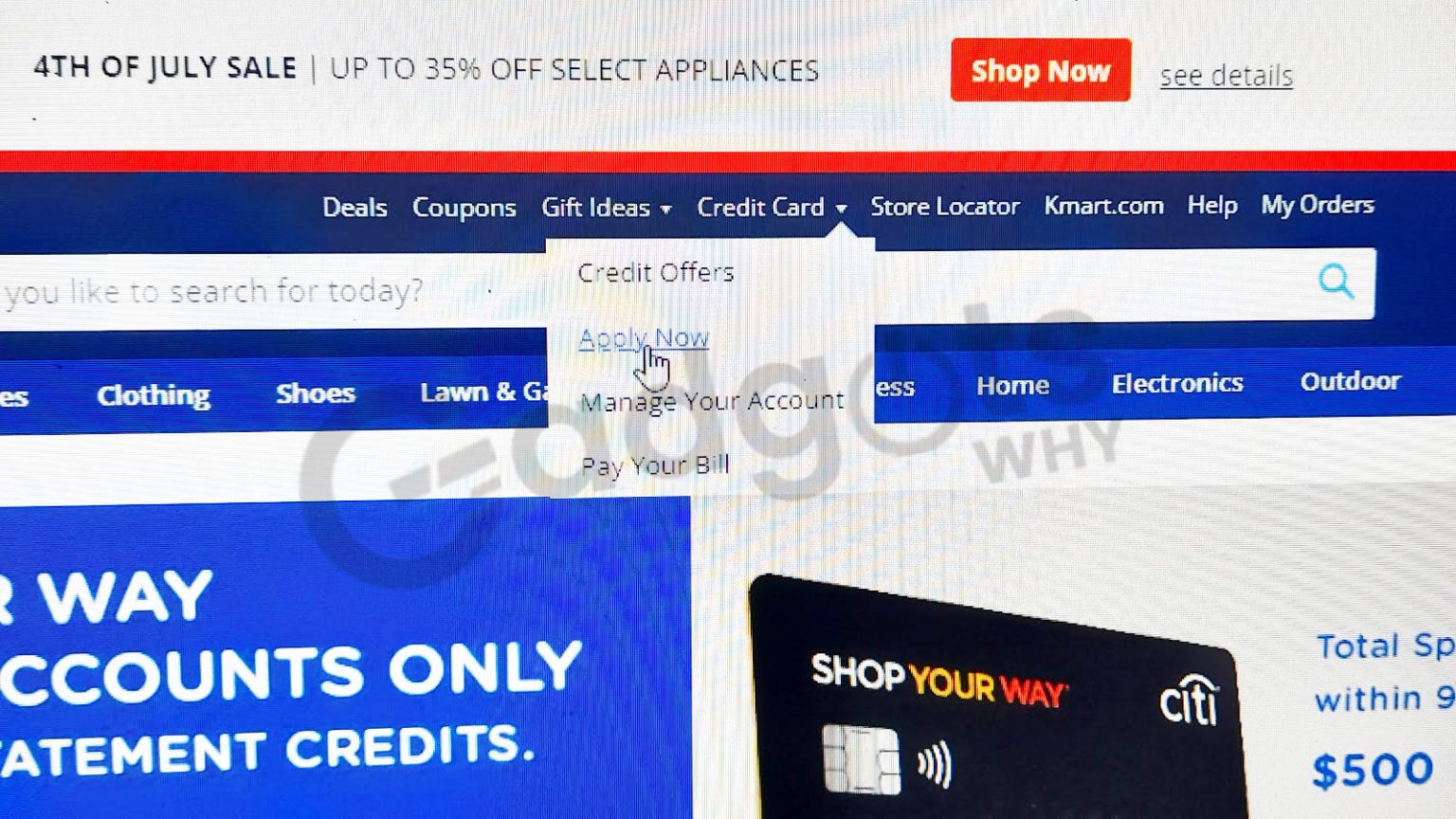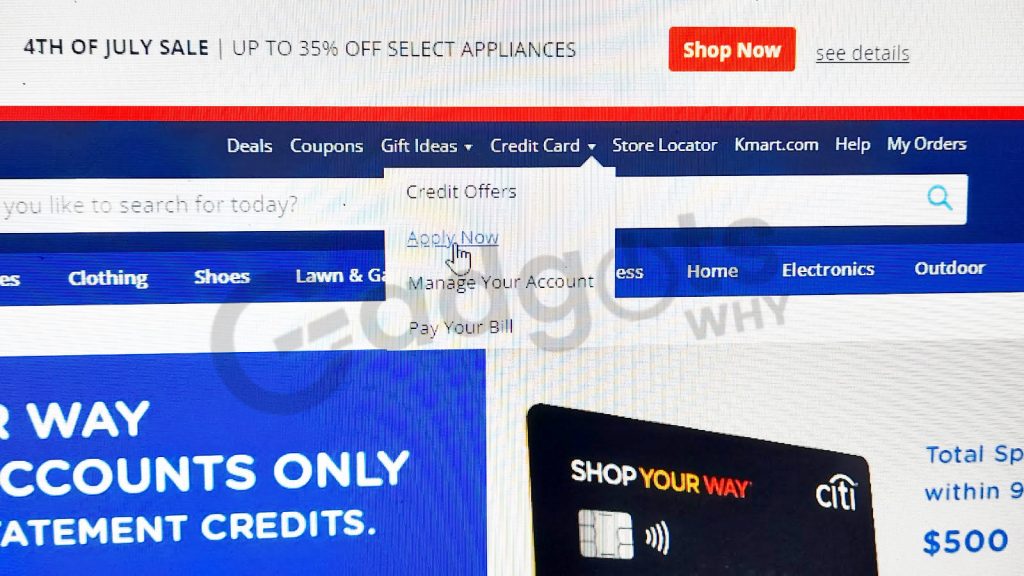 You will get options for two types of cards ( The shop your way Mastercard and Sears credit card).
Choose your card and click on the apply now option.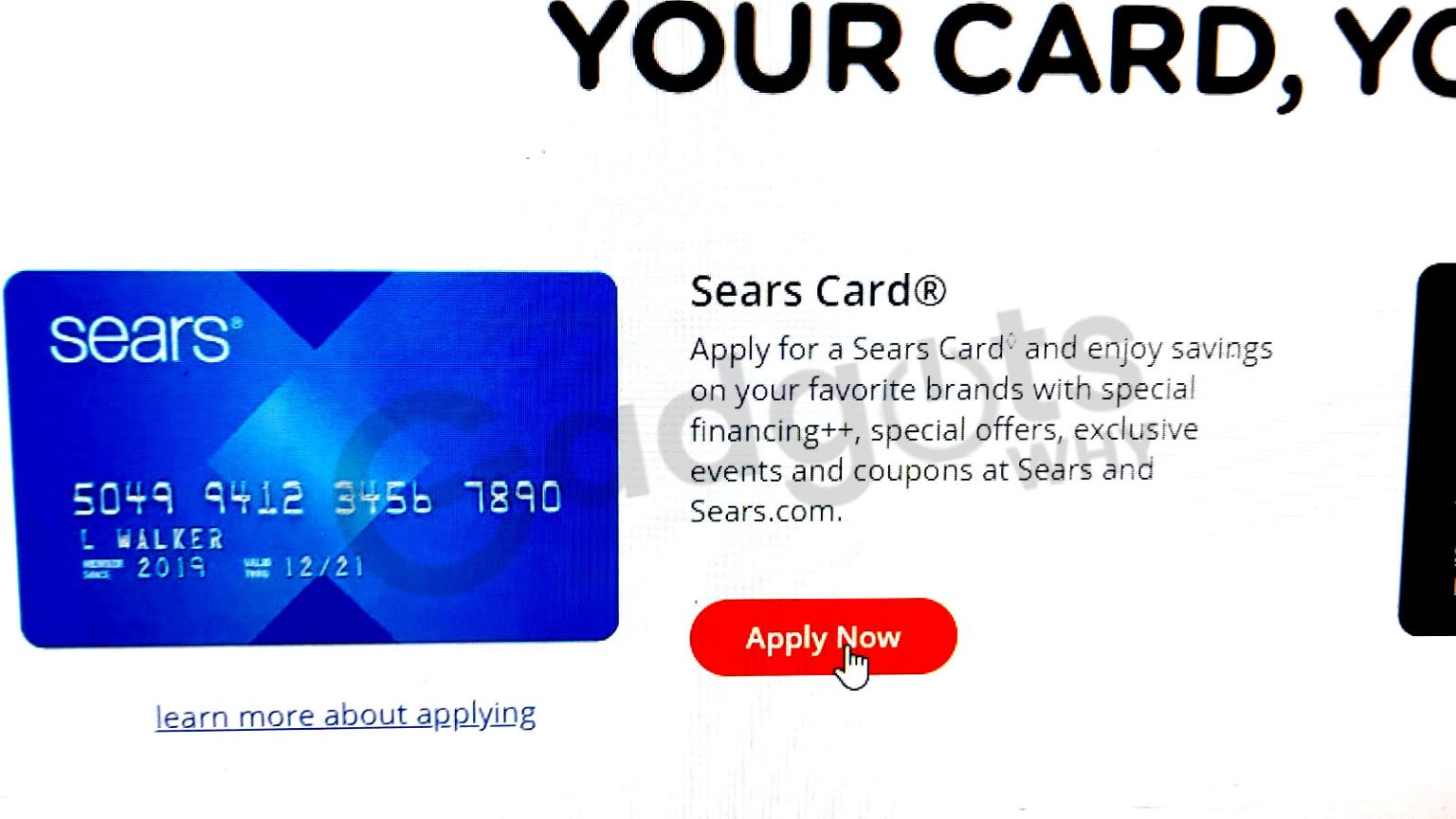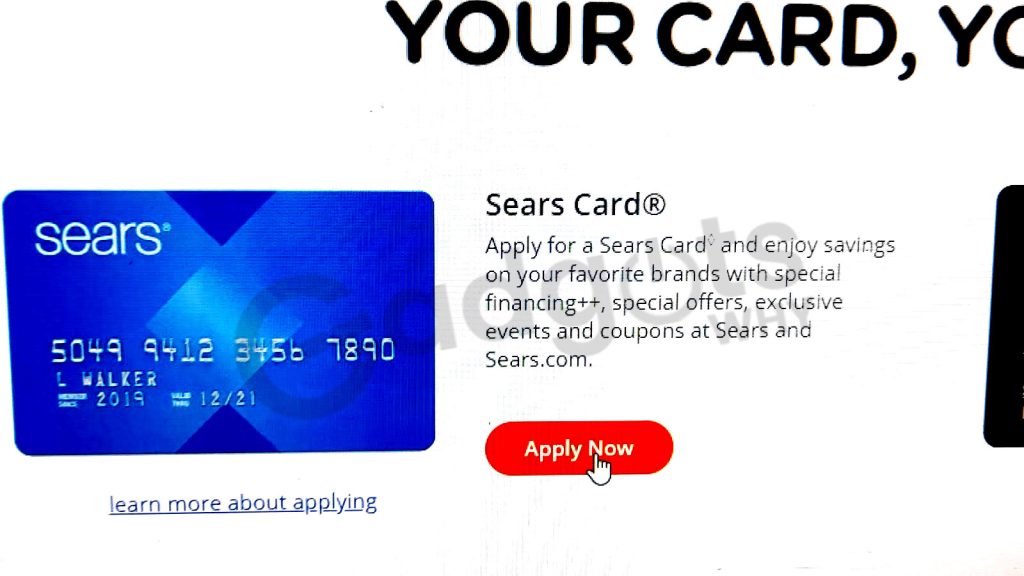 You will get an application form on the screen.
Fill in all the required details, and follow onscreen instructions to complete the form.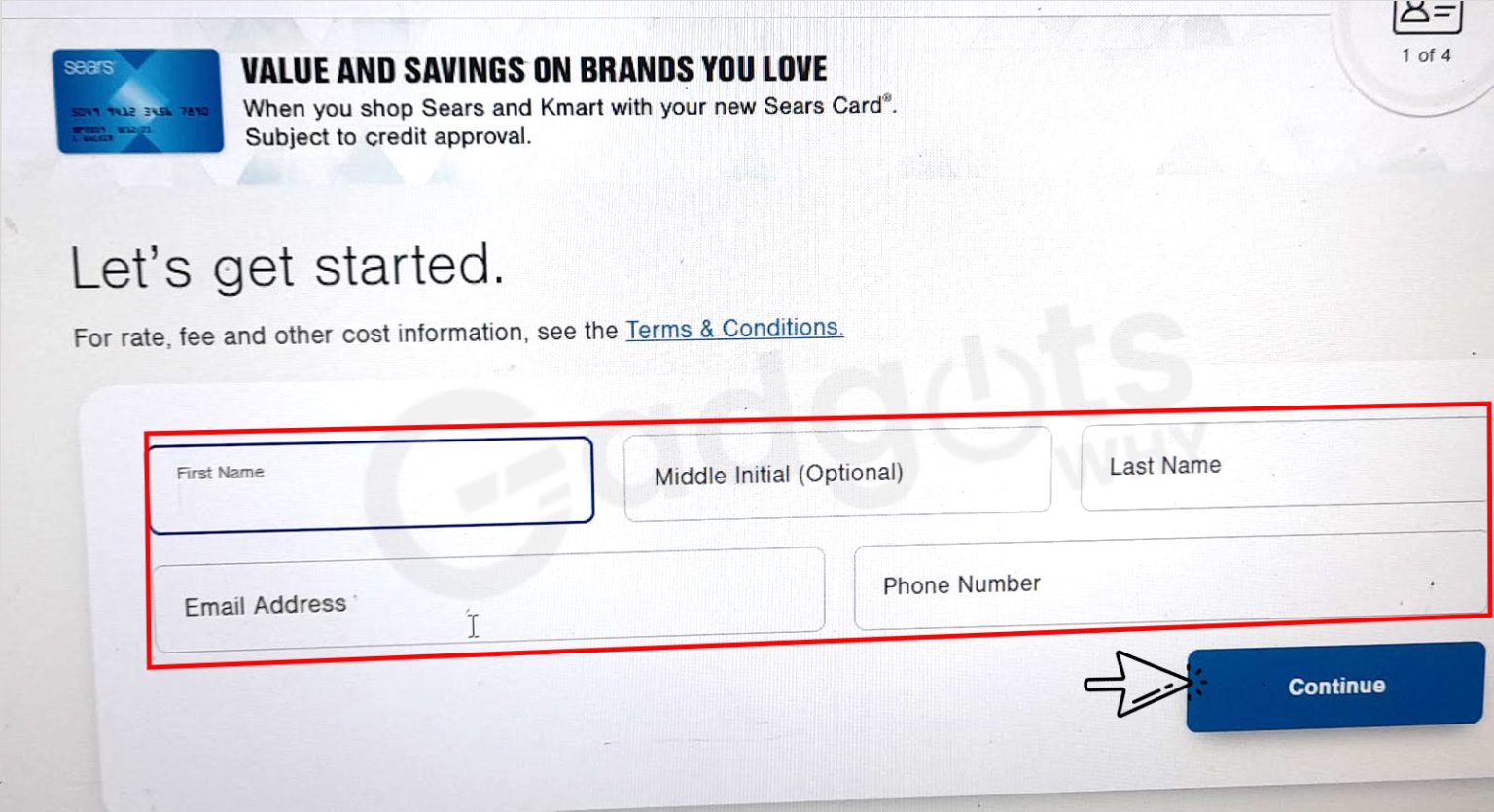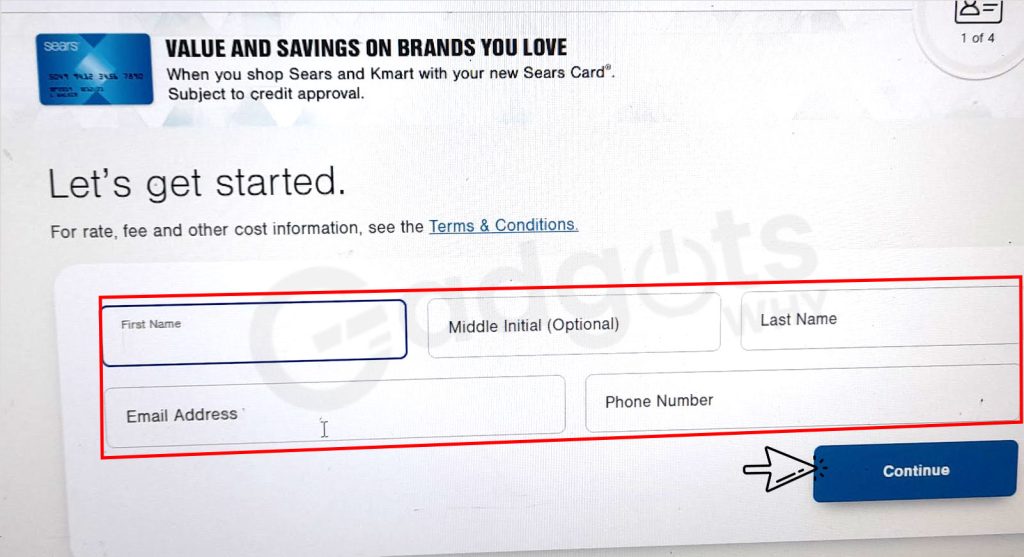 Once you are done with the form, submit it for review. And wait for the confirmation.
If your application is approved you will receive the Sears credit card within 14 days.
After receiving the credit you start using it at Sears or Kmart stores.
Recommended: Activate GO2bank Credit Card in just 3 steps
Steps to Sign in to your Sears credit card
Customers using Sears credit cards have the choice to manage their accounts online rather than through conventional channels. You can enjoy several advantages, like convenience, effectiveness, security, and privacy, with this online account. Follow these steps to log in to your Sears credit card account. The login procedures are a little different for new customers and Existing Customers. Let us see both the procedures.
Login registration procedure for New users:
Open the browser and go to the bank's official website.
Now it's time for registration. You must register on the internet for the Sears credit card to go further.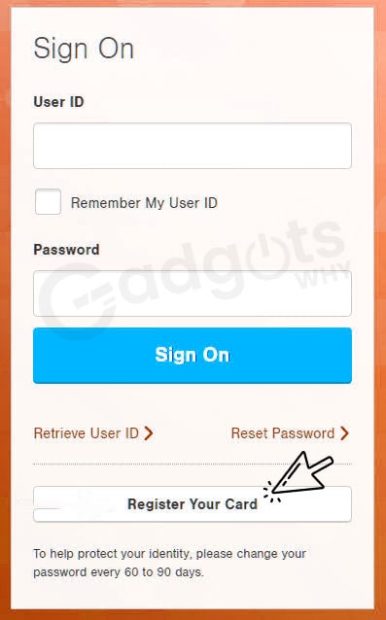 Verify your credit card information by clicking the "Register Your Card" button under the "SIGN IN" button.
Now you have to enter the necessary information like the last four digits of your social security number, your security code, your credit card number, and your name (which is embossed on the card) and if any other, and click on submit
Next, you request to fill out the form. To finish the registration procedure.
So to complete the registration enter your personal information in the fields that need to fill out and adhere to the directions.
Select a User ID and a strong password to access your account. To ensure your security, never reveal your USER ID or password to anyone.
Now For account security and privacy, choose a security question and respond to that question.
From this Account, select the services you require and then click the "Next" button.
You can now use this card to access many online services.
You will receive a confirmation in the mail once your registration is completed.
For Exciting customers sears credit card Login procedure:
Access this login page at searscard.com to log in to this website.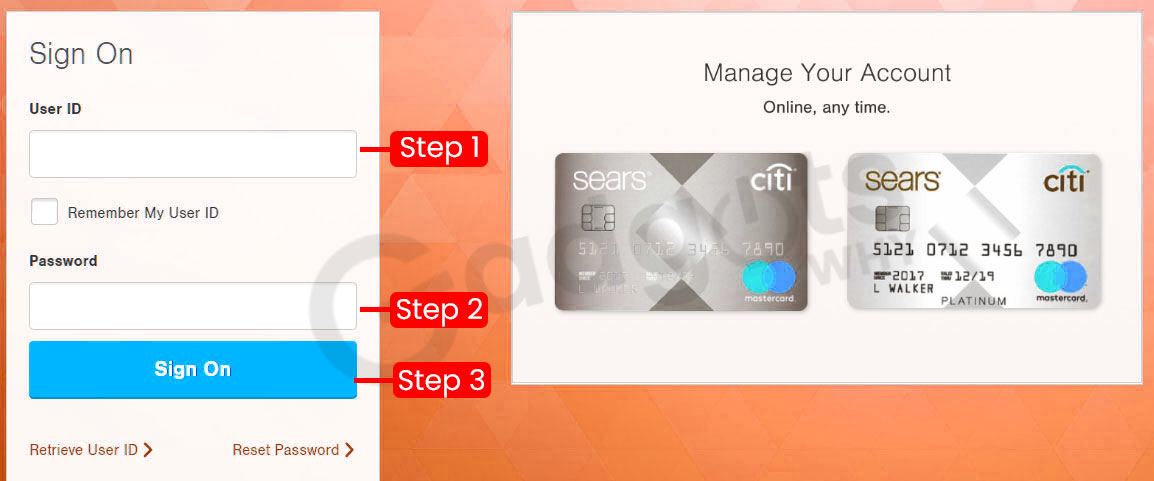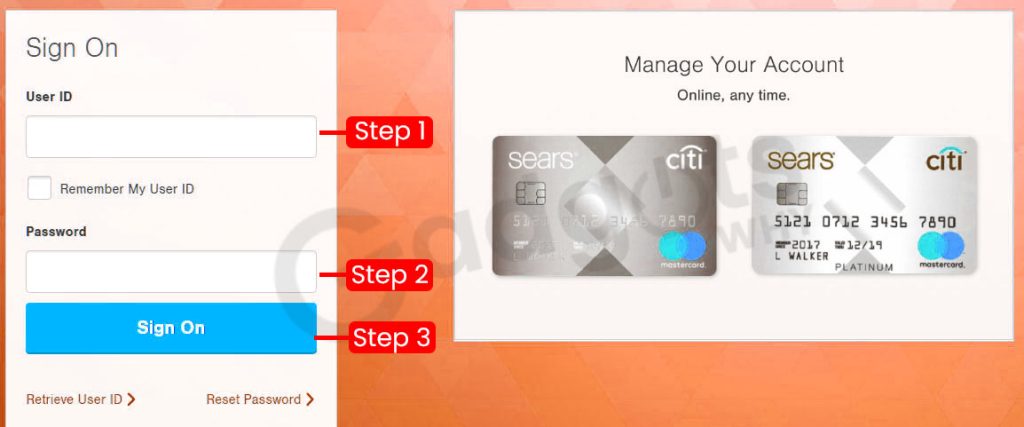 You need the USER ID and password for your to log into your account.
Once you log in, Sears will need to confirm your identification.
Simply enter your entire name exactly as it appears on your credit card and your social security number's last four digits to complete the verification.
After successfully logging into your account you can enjoy its services.
You may check your balance, see when your next bill is due, and make payments, among other things.
Additionally, you can check your purchases, balance transfers, and other services.
What to do if I forget the username and password to access the login page?
If you've forgotten your username or password for your Sears Card login. Don't panic, you can reset your password.
Visit Sears's official website.
Go to the Sears Card login page and click the "Forgot Username or Password" option.
You will have to enter your account number (not the card number).
You can find this 15-digit number on the billing statement or can find it in your bank book.
To retrieve your login details, enter this number in the appropriate field and then click "Verify."
When you've finished, click Verify. The last four digits of your social security number will then need to enter.
Once you've done so, click "Submit" and adhere to the instructions to get your Sears Card login username or password sent to your email.
Recommended: Activate Milestone credit card
Sears Credit card Benefits:
Using this card and an online account has many advantages. You should apply for that right away if you are a customer and haven't already.
When you use this Credit Card at approved gas stations, you will receive 5% back in points for the first $ 10,000 spent per calendar year and 1% back after that.
Use this Credit Card at restaurants and grocery stores, you will receive 3 percent back in points for the first combined $ 10,000 in purchases every calendar year and 1 percent back after that.
You may save 10% at Sears on many items, including footwear, mattresses, home appliances, fitness equipment, outdoor gear, jewelry, sporting goods, and clothing.
On a few chosen items from Sears, including furniture and lawn & garden supplies, you'll receive a 5 percent discount.
Every month, Sears will send you unique offers, invitations only, and other things.
When you use your Credit Card for additional eligible purchases, you'll receive 2% back in points.
Use this Credit Card for other non-eligible purchases, you will receive 1% back in points.
For purchases made using this card, special financing options are available.
After one week of eligible purchases, all the points you earn will credit to your "Shop your way" account.
Whether you are shopping in person or online, you may use your points to pay for items.
Throughout the year, you will receive further discounts and savings offers.
Conclusion
Customers of sears can easily and conveniently login to their accounts. Sears's customers have access to a wide range of alternatives, including the Sears MasterCard, Sears Discover card, and Sears Visa. Customers can also use this approach to create an account with them by signing up online at Sears.com or calling the customer service number supplied by their store location. Discounts points can exchange for incentives, and the option to manage your account online or through the Sears mobile app are just a few of the many advantages that Sears provides to its consumers.
You have greater control over these cards than ever before with the login. You can get a username and password to your email in case you forgot your login credentials. In this blog, we mentioned all these details. If you wanna share any other information related to this you can leave them in the comments box. See you all soon.
Frequently Asked Questions:
How can I get online access to my Sears account?
By going to the Sears credit card login website, you can access your Sears credit card account online. On the login page, enter your username and password. After providing your login information, click the orange "Sign On" button. As it appears on the card, type your name here.
How can I find out the balance on my Sears card?
There are several ways to check the amount on your Sears credit card:
Log into your Sears Credit Card account online through the iOS and Android mobile apps for the issuer or do it over the phone by calling (800) 917-7700 to reach Sears Credit Card customer service.
How do I use my phone to pay for my Sears credit card?
Your Sears credit card bill is always payable via phone. Call 800-917-7700, the toll-free number for Sears Credit Card Services, and follow the instructions to make a payment if you have a Sears Card. You can choose to have a customer care agent help you.
Can I shop at Walmart with my Sears card?
You can use the Sears Mastercard anywhere where master cards are accepted. This indicates that you can use this card practically anywhere that accepts credit cards. On the other hand, the Sears Store Card is restricted to usage on Sears.com and in Sears locations.
Where can I use my credit card from Sears? What stores will accept my new Sears Card?
The Sears Card is accepted at the following merchants: Sears, Kmart, Lands' End, Sears.com, Sears Essentials, Sears Grand, Sears Hardware, Sears Auto Centers, and Sears Hometown Stores (all members of the Sears Holdings family of companies).