Amazon has a wide selection of gift cards for festivals and special events. For every occasion, you can find gift cards from the world's largest e-commerce firm. You may send the eGift card to your friend, family, neighbors, or colleagues in a matter of minutes. You may choose a design and input a price. The gift card may be sent by WhatsApp or SMS. Continue reading to know the procedure for sending Amazon Gift cards on Whatsapp.
How to Send Amazon Gift Card Using the WhatsApp
Sending an Amazon Gift Card on WhatsApp is quite simple and straightforward. To simplify it furthermore we divided the process into two steps. Just follow these steps to do so.
Step-1: Choosing the Amazon Gift card
Step 2: Sending the gift card
Choose an Amazon Gift Card to send over WhatsApp.
Choosing an eGift Card on Amazon is an easy process.
Go to your smartphone's [Play Store/App Store] Amazon shopping app.
Sign in with your Amazon account next.
Enter Amazon Gift Cards in the Search box.
Choose your preferred Amazon eGift Card from the available selection based on price and style.
After you've chosen your eGift Card, click More to see gift card design selections.
Then, choose Filter to see Occasions.
Choose your occasion from the selection and then hit Apply to select your favorite.
Tip: With a redesigned interface, you may rapidly switch accounts on the Amazon app without signing out of your current account.
Steps to send an amazon gift card on Whatsapp:
Scroll down to Amount and enter your pricing after selecting your eGift Card.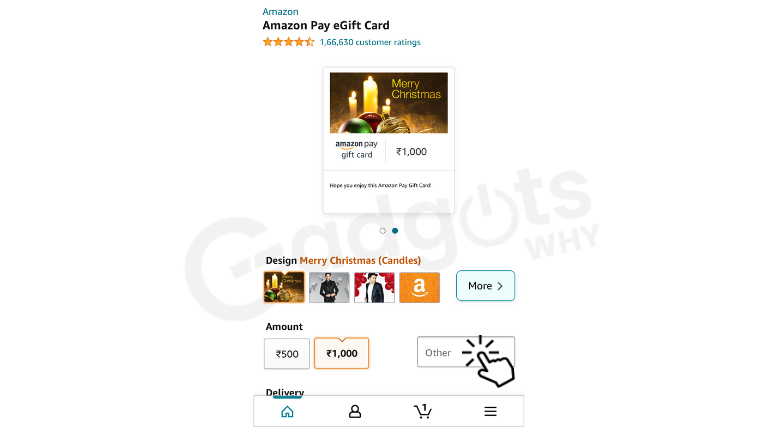 You may also input your preferred quantity by tapping Other.
Then, press Buy Now to complete the transaction.

Please keep in mind that you may only share the eGift Card after you have purchased it.
To view your Gift Cards, tap the Profile button and navigate to the Your Orders area.
Select the chosen one and then click on the Share this gift card option.

Choose WhatsApp from the listed applications.
To share your Amazon Gift Card, choose the relevant person or group on WhatsApp.
After you pick the person just click on the send button.
That all your amazon gift cards will be delivered to that concerned person in just a few seconds. They can redeem it to make online purchases at the amazon app.
Recommended: Check Balance on Starbucks gift card
Frequently asked questions
Can you send amazon gift cards via text? 
As a delivery option on Amazon online, you may send the Amazon gift cards via text Message. On your computer, go to amazon.com and look for eGift Cards. Follow the same procedures as described in the Amazon app.
Can I mail an Amazon Gift Card internationally?
Yes. You may send the Amazon Gift Card to your friends and family that live abroad. You must first buy the gift card on the Amazon website of the recipient nation.
How can I buy an Amazon gift card for someone?
To purchase a gift card, follow these steps:
Navigate to Gift Cards.
Select the type of gift card you wish to buy.
Choose or enter the desired value for your gift card.
Select Add to Cart, followed by Proceed to Checkout.
Fill out your payment details and click Continue.
Select Make your selection.
Can you send amazon gift cards via email? 
Yes, you can send it via email. Amazon has made gift cards available for buying online. This is the most effective approach to delivering a gift via email. Go to the Amazon website, navigate to the gift card section, and then right-click on the "Design your own" option. Then, in the areas provided, enter a personalized message, your name, and your email address, and then click "Continue." Following that, you must download the gift card picture by clicking the "Download image" option. Then you may share. 
Is it possible to get a refund on an Amazon gift card?
No, Amazon gift cards are not refundable. If you have a problem with an Amazon gift card, you can get help from customer service. You can only put money in it when you buy something. A gift card becomes invalid once the loaded amount is depleted.
Wrapping up:
Amazon gift cards are among the most popular types of incentives and rewards. The Amazon app has something for everyone, as well as speedy delivery and excellent customer service. This tutorial showed you how to send Amazon gift cards on WhatsApp. Hope you understood this if you have any queries you can ask us in the comments section below. Thank you for being with us.