Here you can find the process to register for Taz visa credit card along with the steps to apply for this credit card. These are some crucial steps that you need to follow in order to work further with your Taz visa credit card.
How to Apply for the Taz Visa Credit Card?
The First National Bank is the provider of the Taz Visa Credit Card. You may still apply for the Taz Visa Credit Card even if you have a poor credit score. Anyone who wants to rebuild their credit or is new to using credit cards should be able to use this card.
Requirements for the Taz Visa Credit Card application process-
You must reside in the United States.
must satisfy the minimum credit requirements
You must be at least 18 years old.
You cannot possess any other First National Bank credit cards.
Steps to apply for the Taz visa credit card-
The Taz Visa Credit Card application process is really straightforward. To apply for the Taz credit card, you must have the mail offer. You must do the following easy actions if you received the mail offer-
Please check out the following link.
You'll find the application area on the home page.
Your reservation number and access code must be entered in the designated spaces.
Simply choose to Get Started after filling out all the essential fields.
You must next follow the instructions on the page to finish the Taz Visa Credit Card application procedure.
See what's trending on our blog: Activate Free Spirit Mastercard
Register for Taz visa credit card
You need to register for an online account in order to manage your Taz Visa Credit Card. You will need the information from your Taz Credit Card to sign up for the online account. If you have your credit card on hand, you should follow these easy instructions-
You must go to the following link.
You must enter your credit card number, expiration date, CVV, and the last four digits of your SSN there.
Then, just create your username and new password for login.
Your contact information, including your phone number and email address, must then be provided.
You must accept the terms and conditions after giving all the required information.
The registration procedure is then finished by simply clicking the Register button.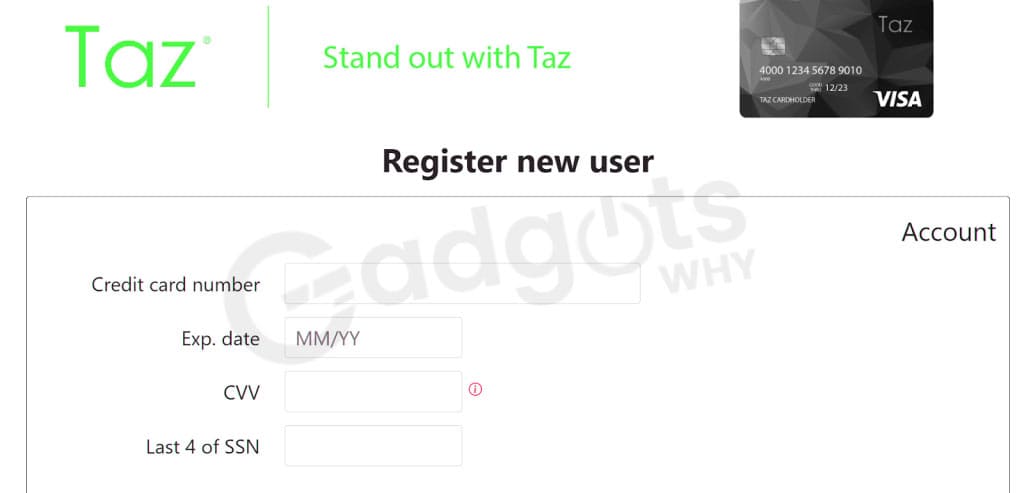 These are steps that you need to follow in order to register for taz visa credit card. These can be followed easily without any issues as they are properly explained above.
Also Read: Activate Prepaid Visa Gift Cards
Frequently Asked Questions
Are there any further payment options?
Using the automated phone system or the website, you may pay your bill without incurring any fees. Additionally, you may send money using MoneyGram's code 18862 or Western Union's City/State: Taz/SD codes. Customer service representatives accept debit card payments for a $3.95 processing fee.
What safety precautions is the Taz Visa website using?
To safeguard the information you provide them on the Internet, they employ cutting-edge encryption methods. When you see a locked padlock shown at the bottom of most browser windows, the session is secure. Additionally, they use the sign-in or registration information to confirm the cardholder's identification before publishing any transaction activity information online.
How long will an authorization that is still pending be visible in your transactions?
Until it posts to your account as a charge, the merchant releases it, or it expires, an authorization will seem to be pending. After 15 days, authorizations become void.
How can You update your payment details online?
Select the "Payments" option at the top of the screen and then click "Make a Payment" to alter any existing payment information (such as a routing number or checking account number). Then, choose "Continue" after entering the appropriate amount. There are three options available in the confirm payment window: "Yes," "Edit," and "Cancel." Choose "Edit," then input your updated payment details. This data will be saved on file for potential future online payments.
How can You update your account's name?
By writing a written request and supporting documents to the general correspondence address shown on your statement, you can request a name change on your account. This request may also be faxed to 605-782-3435.
Where to find the Taz visa Mobile application?
Both the Google PlayTM and Apple App Store® provide the Taz Visa Mobile App. Gadgetswhy.com advise you to use a reliable source, such as the App Store on your Apple® device or Google PlayTM on your AndroidTM device, to download the Taz Visa Mobile App rather than an unreliable one, like Facebook or an email.
Is Taz visa mobile app safe to use?
The same security measures as tazcc.com are used by the Taz Visa Mobile App. High-security procedures are used by the company, including timeouts after a certain amount of inactivity, the use of your current User ID and Password, which you alone know, and never disclose your account number.
What increases the security of chip cards?
Every time you insert your card into a chip-enabled terminal, a different cryptographic key is generated by the computer microchip for that specific transaction. This one-time use transaction code is unique each time, making it difficult to utilize to create fake cards. The difficulty of using stolen data reduces the incentive for fraudsters to steal it thanks to this added layer of security